Timeline: The probe into Trump's alleged hush money payment to Stormy Daniels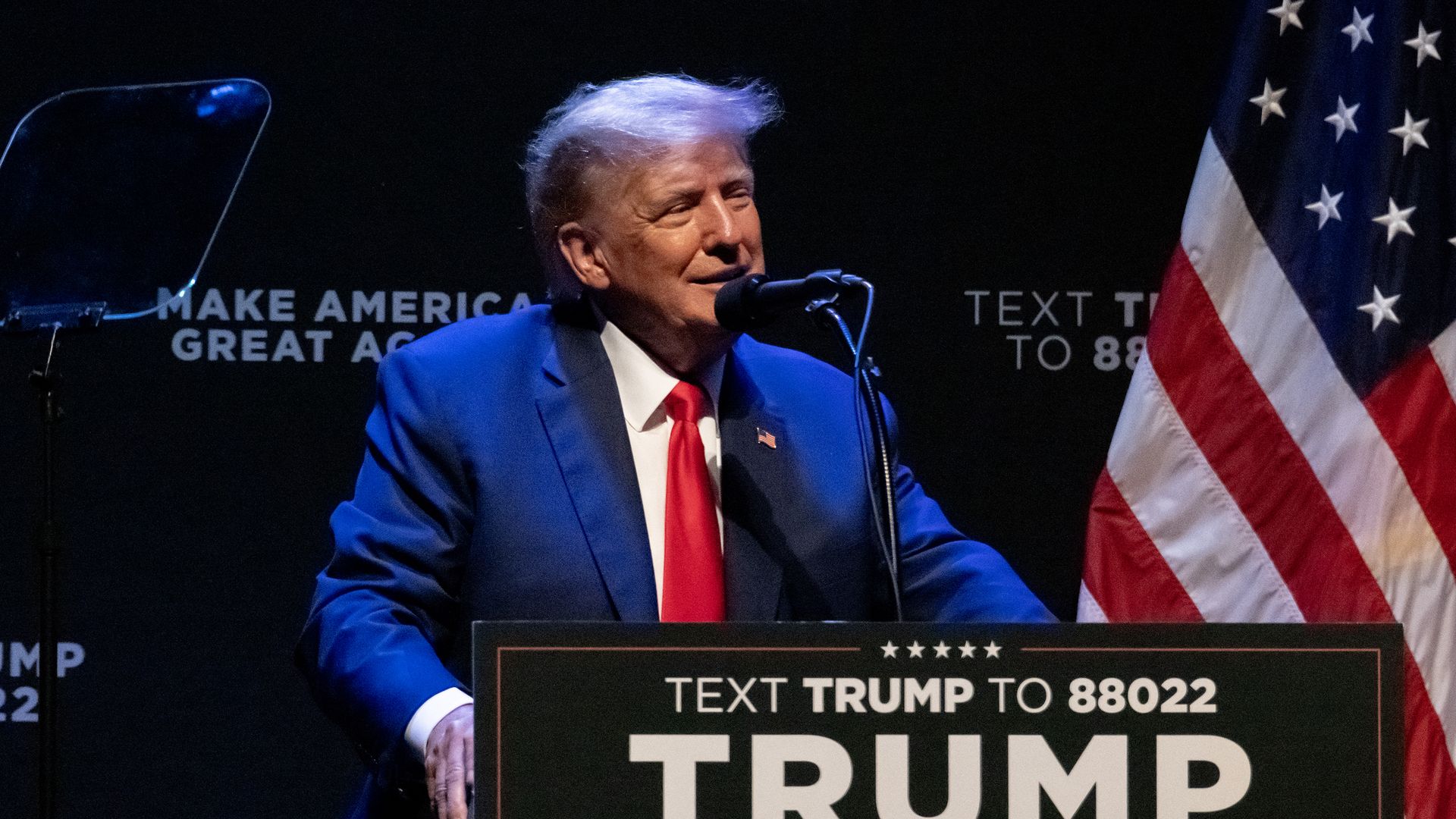 Donald Trump could soon become the first U.S. president in history (sitting or former) to face criminal charges amid new momentum in a Manhattan district attorney's probe into a hush money payment to adult film star Stormy Daniels.
Driving the news: Trump's comments on Truth Social on Saturday — that he believes he will be arrested on Tuesday — are the latest in a saga that has plagued him since Daniels publicly alleged the two had an affair. Trump has denied the claim but has changed his story regarding the payment as events played out.
How it starts
2006: Daniels met Trump at a celebrity golf tournament at Lake Tahoe, Nev., she said in a 2018 interview with "60 Minutes." The two had sex in his hotel suite after he invited her to dinner, she alleged.
Michael Cohen negotiates for silence
2016: Actress Karen McDougal's attorney Keith M. Davidson approaches the National Enquire about selling her story of an affair she had with Trump in 2006 and 2007, according to documents later filed by the Federal Election Commission.
Cohen seeks reimbursement
January 2017: As Trump is preparing to take office, Cohen requests reimbursement from the Trump Organization for the payment to Daniels — which the company's executives grant in double, per federal prosecutors who later oversee Cohen's case.
January 2018: The Wall Street Journal publishes details of the payment to Daniels — the first public account of the deal. Cohen does not address the payment itself but tells the Journal in a statement that Trump "vehemently denies" allegations of an affair.
February 2018: Cohen releases a statement saying he did make the payment to Daniels but was not reimbursed for it and that the Trump campaign was not in the loop. "The payment to Ms. Clifford was lawful, and was not a campaign contribution or a campaign expenditure by anyone," he said.
Daniels sues Trump
March 2018: Daniels sues Trump in federal court to invalidate the nondisclosure agreement, arguing that Trump never signed it.
April 2018: Trump makes his first public comments, saying he was unaware of the payment to Daniels.
May 2018: Trump's personal attorney Rudy Giuliani says Trump did in fact reimburse Cohen and knew about the "general arrangement."
Cohen pleads guilty to federal charges
August 2018: Cohen pleads guilty to eight charges of tax evasion, fraud and campaign finance violations in connection to his payments to Daniels and McDougal, which the Department of Justice called an attempt "to influence the 2016 presidential election."
July 2019: The federal investigation into the payments concludes, with Trump's team claiming victory over what he continues to call an extortion scheme.
Manhattan DA subpoenas Trump Organization
August 2019: The Manhattan District Attorney's Office subpoenas the Trump Organization for records related to the payments.
September 2019: The district attorney's office issues another subpoena for Trump's tax returns dating back to 2011. Trump sues to block the subpoena and appeals the ruling all the way to the Supreme Court, which in February 2021 finds that Trump is not shielded from the subpoena.
March 2023: Trump is invited to testify before a New York grand jury investigating the alleged hush money payment to Daniels. Trump's representatives call the "threat" of indictment "insane."
Go deeper: Looming Trump charges threaten to inject chaos into 2024 campaign
Go deeper