Key players in the Trump hush-money case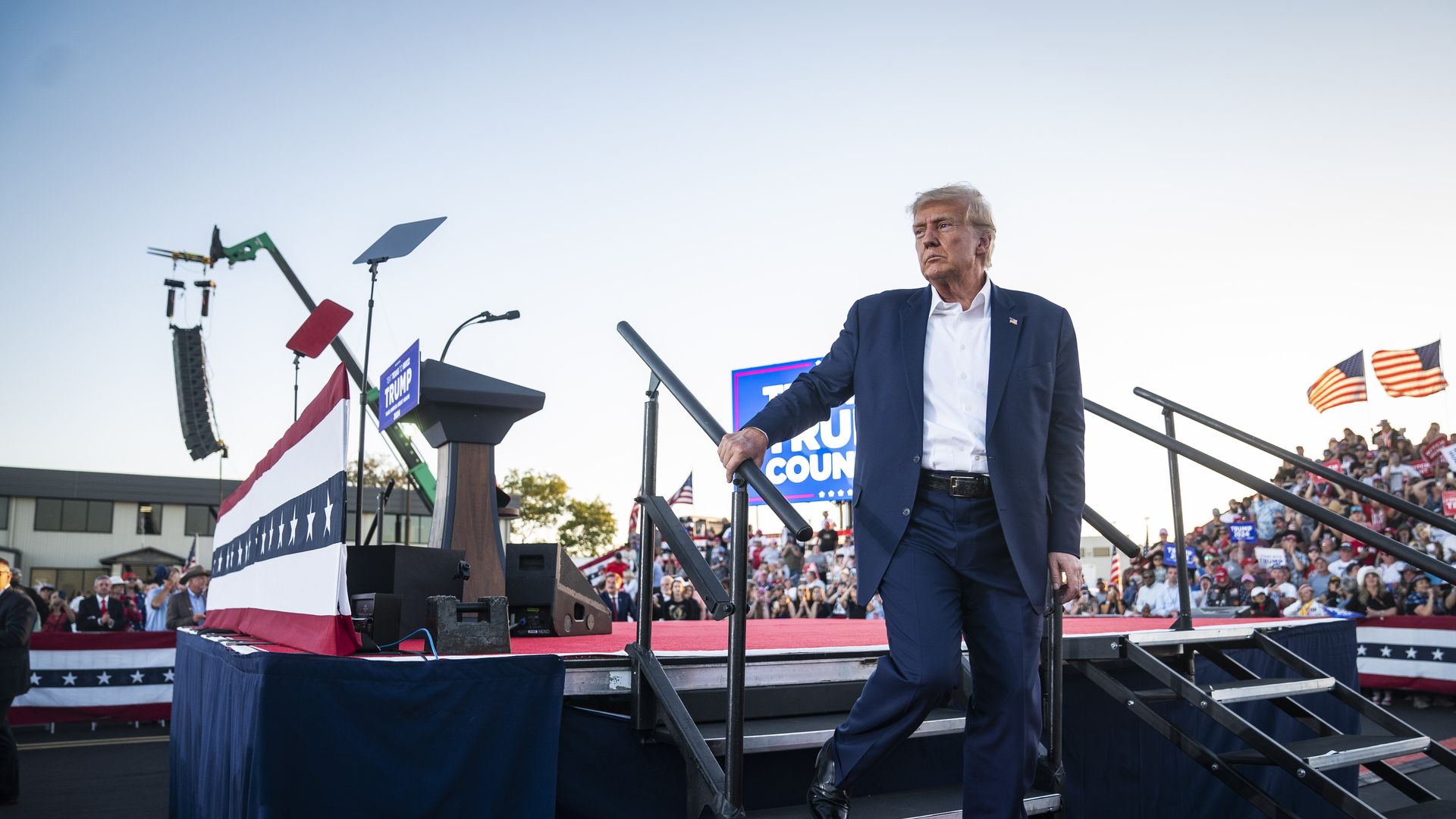 With the world watching as former President Trump makes history with his court appearance to face criminal charges, attention now turns to the key figures in the case who will help determine his fate.
Driving the news: Trump appeared in a Manhattan criminal court Tuesday after being indicted by a New York grand jury on charges related to an illegal hush-money payment to adult film star Stormy Daniels in 2016.
Here are the key players in the case:
Donald Trump
Trump, who's running for president in 2024, is the first president in U.S. history — sitting or former — to face criminal charges. He denies any wrongdoing.
He was a candidate during the 2016 presidential election when he allegedly okayed his former lawyer Michael Cohen to send a hush-money payment to Daniels — money that was recorded as legal expenses.
Trump turned himself in to authorities on Tuesday and was arraigned on 34 charges.
What to watch: Trump faces legal peril elsewhere, too. He is facing probes in Georgia, New York and by a special counsel into his efforts to subvert 2020 election results, alleged financial fraud, and his handling of presidential records.
Alvin Bragg
Alvin Bragg, the first Black Manhattan District Attorney, inherited the years-long investigation when he took office last year.
Bragg initially had doubts about proceeding with the Trump indictment case. Two of the team's top prosecutors resigned as a result.
Judge Juan Merchan
Acting N.Y. Supreme Court Justice Juan Merchan has handled several high-profile prosecutions, including some involving Trump's circle.
Merchan oversaw the criminal tax fraud case against the Trump Organization, in which a jury found two companies from the organization guilty on 17 counts and, in a separate case, sentenced the firm's finance chief to five months in jail and five years of probation for tax fraud.
The judge is presiding over a case against ex-Trump adviser Steve Bannon, who's accused of defrauding donors in a fundraiser to build a wall along the U.S.-Mexico border.
Merchan, who served as an acting justice on the State Supreme Court since 2009, previously told Trump Organization attorneys that he will not tolerate arguments that prosecutors are pursuing the case due to disdain for the former president.
Of note: "I have no reason to believe this judge is biased," Trump lawyer Joe Tacopina told CNN on Sunday.
Michael Cohen
A key witness is Trump's former personal attorney Michael Cohen, who alleges the former president directed him to pay $130,000 in hush money to Daniels to keep her from going public about an alleged affair with Trump. The former president denies both claims.
In 2018, after the hush-money payment to Daniels emerged, Cohen initially said he paid with his own money and that neither the Trump campaign nor the Trump Organization reimbursed him.
Cohen pleaded guilty in 2018 to federal charges and received a three-year prison sentence related in part to the payment to Daniels.
He testified last month before the grand jury that voted to indict Trump.
Trump's attorneys
Todd Blanche, a former assistant U.S. attorney in the Manhattan U.S. attorney's office, was brought on as Trump's lead counsel in the case, a campaign official confirmed to Axios.
Blanche previously represented Trump's former campaign chair Paul Manafort as well as Igor Fruman, a Rudy Giuliani associate who pleaded guilty in a campaign finance case brought by the Manhattan U.S. attorney's office.
He was most recently a partner at the law firm Cadwalader, Wickersham & Taft.
Trump is also represented in the case by Susan Necheles and Joe Tacopina.
Necheles previously served on the defense team in the Trump Organization tax fraud trial.
Tacopina has represented Trump campaign adviser Kimberly Guilfoyle, fiancée of Donald Trump Jr., before the Jan. 6 Committee investigating the U.S. Capitol riot.
Tacopina is also defending Trump in a defamation case involving writer E. Jean Carroll. He's frequently appeared on TV networks to discuss the hush-money case.
Stormy Daniels
Daniels, whose real name is Stephanie Clifford, says she was paid by Cohen before the 2016 presidential election to stay silent about her alleged affair.
Daniels, an adult film star and director, met with prosecutors from Bragg's office last month. She told The Times that Trump's indictment was "vindication" and she's "fully aware of the insanity of it being a porn star."
She says she was 27 when she met Trump, then 60, at a celebrity golf tournament in July of 2006 and the affair occurred after that, which the former president denies.
Karen McDougal
McDougal, a former Playboy model, is believed to be the second woman to receive a hush money payment over an alleged affair with Trump.
McDougal is believed to have been paid $150,000 by American Media Inc., the owner of the National Enquirer, for the rights to a story about the affair in order to "catch and kill" the story.
McDougal filed a lawsuit in 2018 against AMI in an effort to get out of the legal agreement that required her to stay quiet about the affair, which McDougal claimed took place in 2006. They subsequently reached a settlement agreement.
David Pecker
Prosecutors alleged in the indictment's statement of facts that Pecker, the former CEO of AMI, met with Trump in 2015 and agreed to help his campaign, vowing to look out for negative stories about Trump and to publish negative stories about his competitors.
Pecker was allegedly involved in some of the "catch and kill" payments outlined by prosecutors.
Prosecutors also alleged that Trump invited Pecker to dinner at the White House in the summer of 2017 to "thank him for his help during the campaign."
Editor's note: This story has been updated to include information on Karen McDougal and David Pecker.
Go deeper