Trump's anger over N.Y. case challenges campaign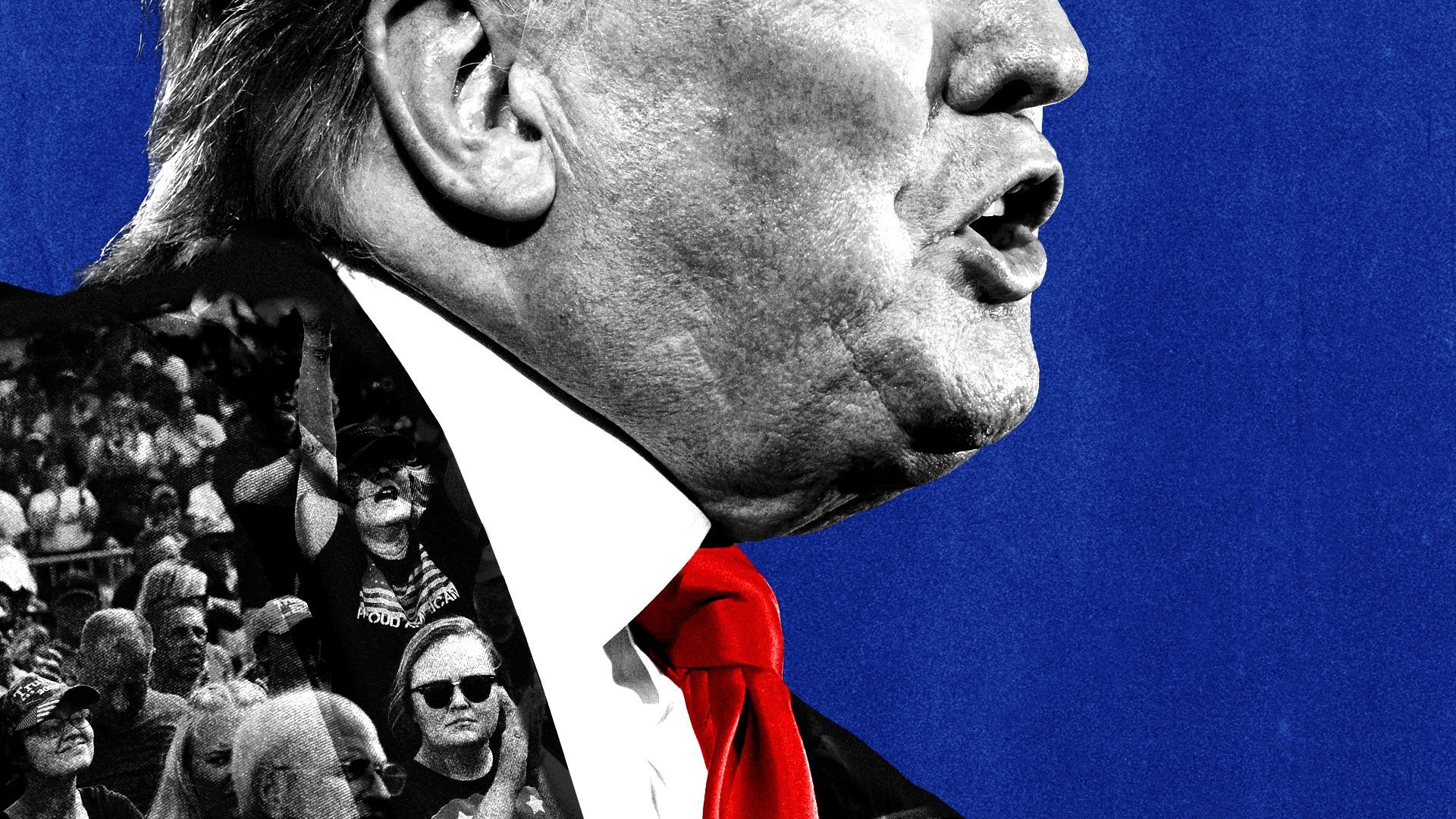 Just a week ago, former President Trump's team was touting his more disciplined approach to campaigning. But now there's a more familiar Trump: an angry, scorched-earth force on social media, trying to rally his base by casting himself as a victim.
Why it matters: Trump's tirades on Truth Social over his potential indictment in New York were filled with the type of incendiary rhetoric that preceded the Jan. 6 insurrection — and symbolized the colliding forces inside his campaign.
Those forces pit a fiery candidate who's a social media bulldozer when he feels wronged, vs. the more measured, policy focused ex-president his staff has been hoping to show voters.
"The Trump campaign team knows the former president's candidacy has to be more than a stream of consciousness and listing of grievances," said Ken Spain, an adviser to George W. Bush's 2004 presidential campaign.
"But no matter how hard they try to build a structure around him, Trump will be Trump."
Driving the news: Trump called Alvin Bragg — the Manhattan district attorney weighing charges against Trump over alleged hush money paid to a porn star — an "animal" who "doesn't care about right or wrong."
He also called for protests and warned of violence in a way that many people saw as encouraging it: "Our country is being destroyed, as they tell us to be peaceful!"
Bragg on Friday was threatened with assassination in a letter containing non-hazardous white powder, CNBC reported.
The big picture: Trump's social media posts this week reflect a Trump Truth: When he feels cornered, he attacks — and judging by the reactions (and donations) of his most loyal MAGA followers this week, his campaign could see a bounce in GOP polls.
Trump has vowed to stay in the 2024 race for the White House even if he becomes the first presidential candidate from a major party to run while facing a criminal trial. The New York case is the least serious of the investigations he faces:
An Atlanta prosecutor is nearing a charging decision in her probe of Trump's efforts to overturn the 2020 election in Georgia.
Justice Department special counsel Jack Smith has been chipping away on federal investigations of Trump's role in Jan. 6 and his handling of classified information.
Zoom in: Amid the turmoil, senior Trump aides have told Axios that they want him talking more about policies in this campaign — and they want his discussion of them to not be "fly by the seat of your pants" style.
At the same time, his advisers concede that they're not looking to manage their "principal." Trump typically has been hands-on in crafting his posts on social media, and now in editing scripts for the campaign's policy videos.
Aides say they remain focused on building a campaign structure around who Trump is — "his tour de force personality," his victory in 2016, and his supporters.
What they're saying: "President Trump sets the tone for the entire campaign, and it's our mission to amplify his message," campaign spokesperson Steven Cheung told Axios on Friday. "There is nobody more engaged or focused to beat President Biden."
"There's a tension between [Trump's] unconventional instincts — which have mostly been successful — and the assumption that a more conventional Trump campaign will be more successful," said Justin Sayfie, a former spokesman for Jeb Bush, an ex-Florida governor.
"His political brand is being unconventional," Sayfie added. "That's part of why people vote for him."
Go deeper