House GOP widens Manhattan DA probe with outreach to ex-prosecutors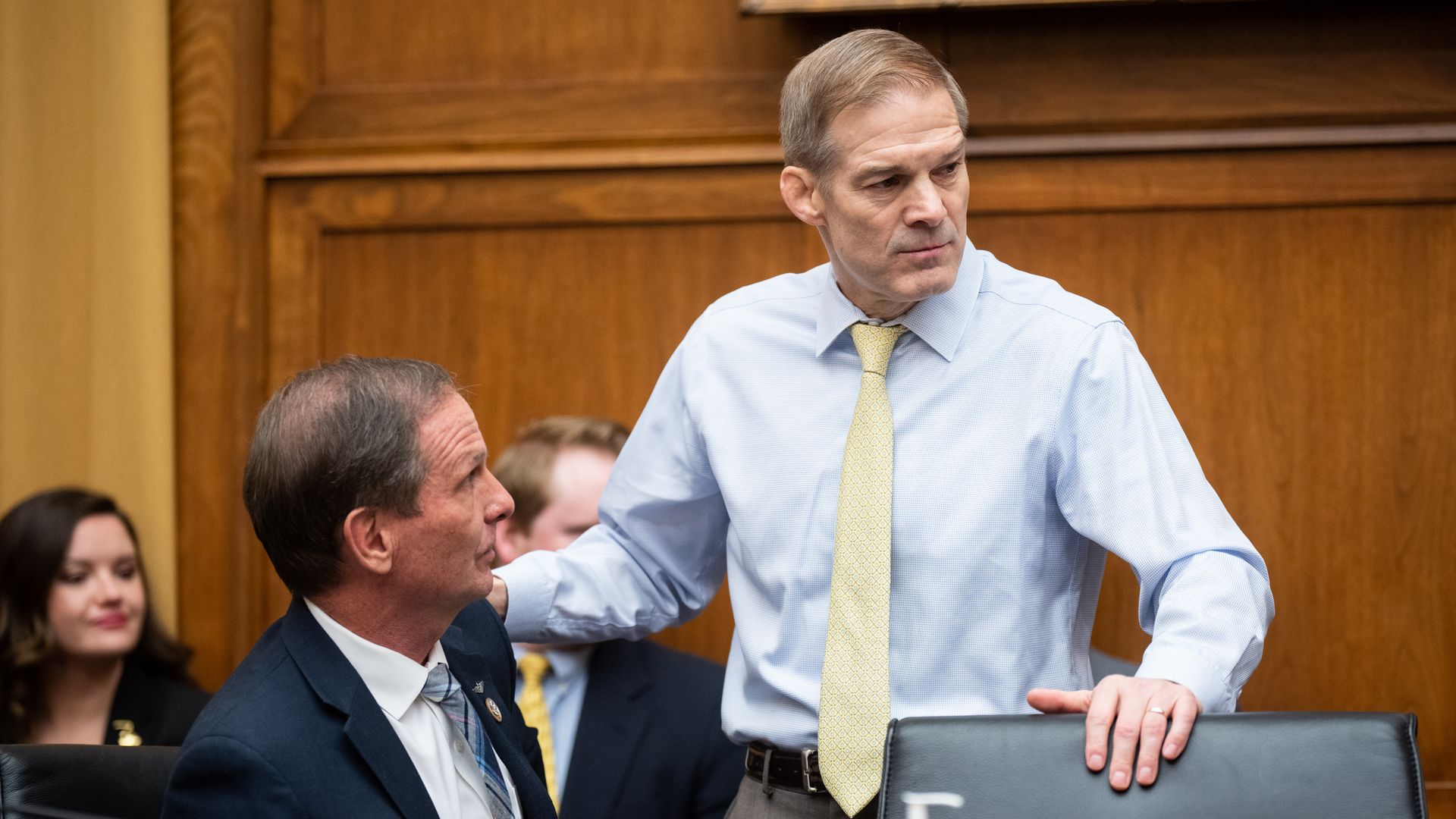 House Republicans are expanding their investigation into Manhattan District Attorney Alvin Bragg's probe of former President Trump by seeking testimony from two prosecutors who resigned from the D.A.'s office last year.
Why it matters: It demonstrates a sustained effort by Republicans to undermine Bragg's case amid reports that an indictment over hush money payments Trump allegedly paid to adult film actress Stormy Daniels could be imminent.
Driving the news: House Judiciary Committee Chair Jim Jordan (R-Ohio) sent letters to former prosecutors Mark Pomerantz and Carey Dunne, who helped lead the Trump case under former D.A. Cyrus Vance but resigned in protest last February after Bragg came into office and suspended the probe.
"Your criticisms of Bragg's investigation were widely reported," Jordan wrote, "It now appears that your efforts to shame Bragg have worked as he is reportedly resurrecting a so-called 'zombie' case."
The letters ask both men to sit for transcribed interviews and turn over documents related to the Trump investigation, including communications with federal agencies and other staffers in the D.A.'s office.
The backdrop: Jordan and two other committee chairs sent a letter to Bragg on Monday seeking his testimony and documents – including the communications of Pomerantz and Dunne.
"In January 2022, soon after you took office, you expressed doubts about President Trump's case and suspended the investigation," wrote Jordan and Reps. Jim Comer (R-Ky.) and Bryan Steil (R-Wisc.), the chairs of the Oversight and House Administration Committees.
The other side: Bragg has not responded to the request for testimony beyond a statement to Axios saying his office "will not be intimidated by attempts to undermine the justice process."
Pomerantz and Dunne did not immediately respond to requests for comment.
Between the lines: Several Senate Republicans have expressed reservations about the House GOP probe — though some Democrats also worry Bragg's investigation could backfire for them politically and for other prosecutors legally.
But Republicans are forging ahead with their efforts to defend Trump and undermine the credibility of Bragg's investigation.
What's next: The letters direct Pomerantz and Dunne to turn over the requested documents and schedule interviews by the morning of March 27.
Go deeper