House GOP demands Manhattan DA testify on Trump probe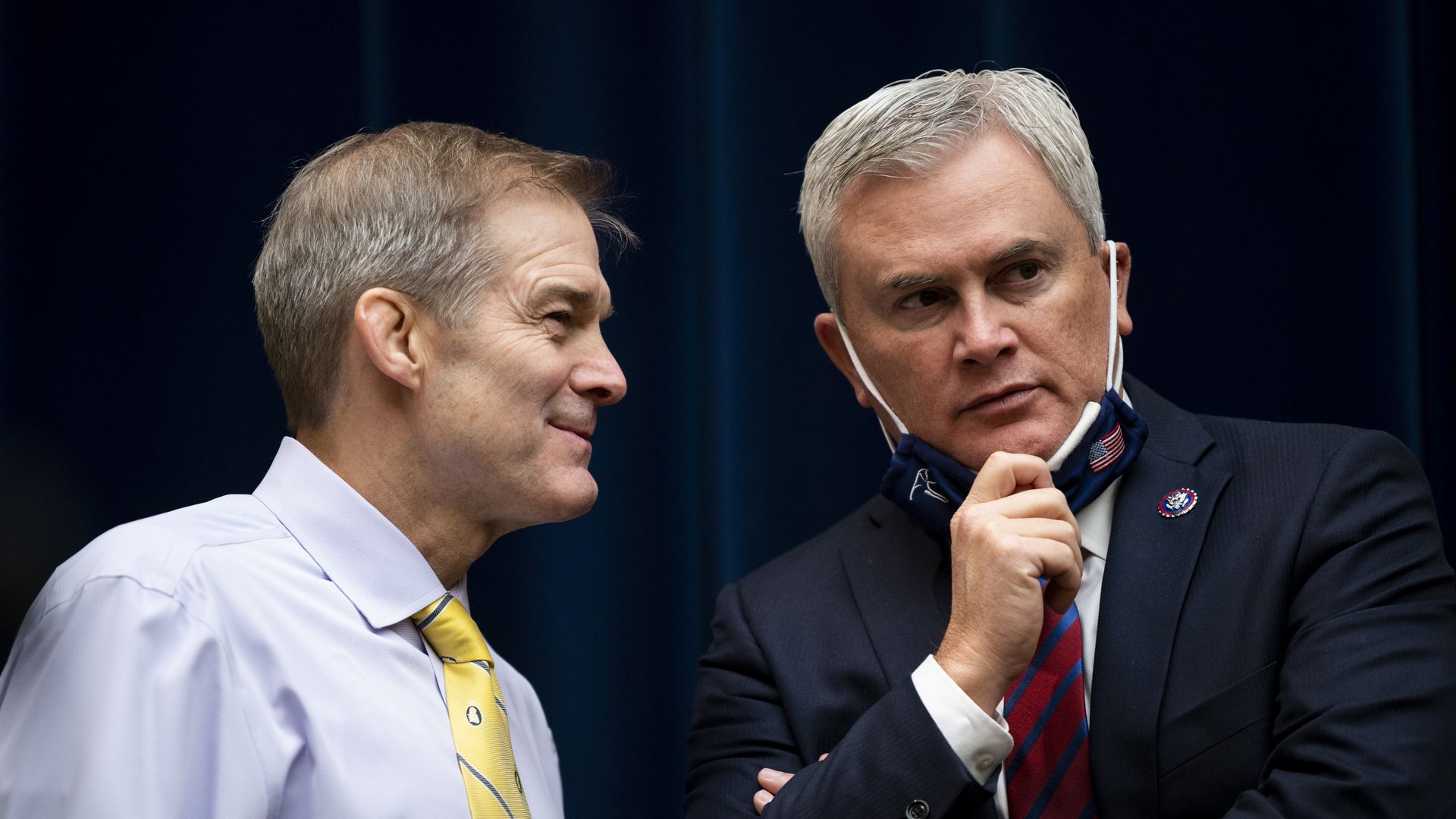 Three House GOP committee chairs are seeking testimony from Manhattan District Attorney Alvin Bragg as they launch an investigation into his office's probe of former President Trump.
Why it matters: It's an unusually heavy-handed federal intervention into a local government office after Trump claimed he was facing arrest over a hush money payment to adult film star Stormy Daniels.
Driving the news: In a letter to Bragg, House Judiciary Committee Chair Jim Jordan (R-Ohio), House Administration Committee Chair Bryan Steil (R-Wisc.) and Oversight Committee Chair James Comer (R-Ky.) requested testimony from Bragg and documents and communications from his office.
"You are reportedly about to engage in an unprecedented abuse of prosecutorial authority," they wrote. "We expect that you will testify about what plainly appears to be a politically motivated prosecutorial decision."
The letter points to the Trump-era Justice Department's decision not to pursue charges and requests communications between the DA's office and the DOJ and other federal agencies about the Trump probe, as well as documents about the office's use of federal funds.
The committee chairs also want the communications of two prosecutors who resigned in protest of Bragg's decision last year not to pursue a financial fraud case against Trump.
The other side: "We will not be intimidated by attempts to undermine the justice process," a Manhattan D.A. spokesperson said in a statement to Axios, "nor will we let baseless accusations deter us from fairly applying the law."
"In every prosecution, we follow the law without fear or favor to uncover the truth. Our skilled, honest and dedicated lawyers remain hard at work," the spokesperson said.
Democratic lawmakers hit back at the letter's arguments and accused Republicans of abusing their power to try to counter local law enforcement.
"The [DOJ] did not charge Trump with campaign finance fraud because AG Barr intervened, not because of the evidence, which was very strong (and includes a tape recording)," tweeted Rep. Dan Goldman (D-N.Y.), a member of the Oversight Committee.
Rep. Ted Lieu (D-Calif.), a member of Democratic leadership, tweeted, "Local prosecutors, including DA Bragg, owe you nothing. In fact, it is illegal for you ... to interfere in an ongoing criminal investigation, or a criminal trial (if there is one)."
What's next: Jordan, Steil and Comer set a March 23 deadline for Bragg's office to hand over the requested materials and schedule a transcribed interview.
"Your testimony is necessary to advance our oversight and to inform potential legislative reforms," they wrote.
Go deeper