Axios China
September 27, 2023
Welcome back to Axios China. Today we're looking at a looming Pacific Islands deadline, climate change, growing tension in the South China Sea, and lots more.
I'll be off next Wednesday. Axios China will be back in your inboxes on Oct. 11.
Today's newsletter is 1,624 words, a 6-minute read.
1 big thing: Biden courts Pacific Island leaders as deadline looms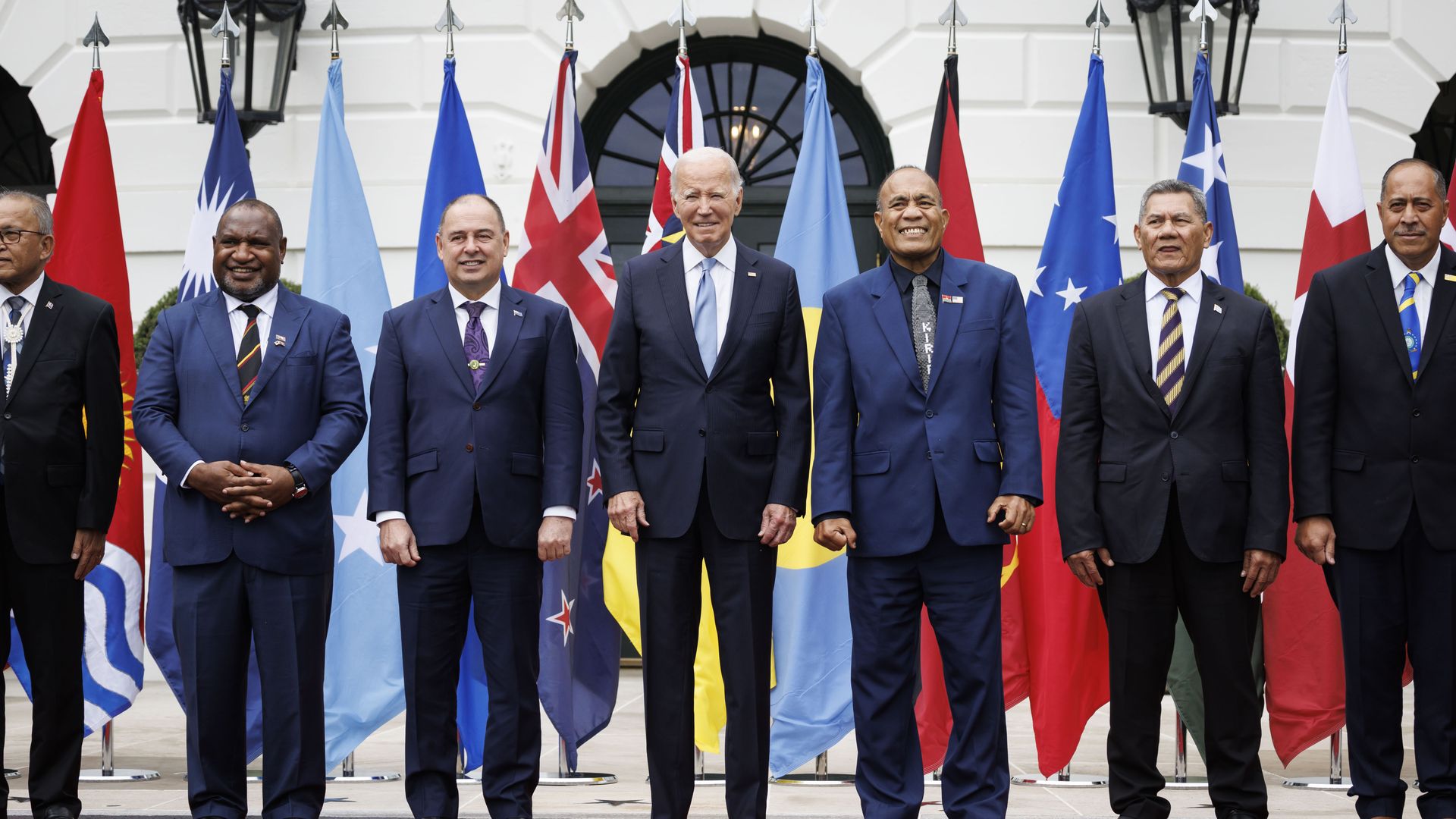 Leaders from more than a dozen Pacific island nations visited Washington this week for a forum intended to underscore America's commitment to the region — even as key agreements set to expire this weekend have not yet been renewed, I write with my colleague Dave Lawler.
Why it matters: After decades of disinterest, the U.S. is trying to reengage with the Pacific Islands region just as it has become an epicenter of U.S.-China competition, with both superpowers courting the tiny island nations for access to waterways and landing strips.
If the U.S. doesn't renew agreements with three of the island nations, "we severely risk our credibility vis-à-vis the region and obviously vis-à-vis what we are saying on competing with China," Joseph Yun, the envoy leading U.S. negotiations with the three Pacific island nations told the WSJ.
Driving the news: The two-day summit at the White House — the second in just under a year — saw an expansion of U.S. diplomatic and development commitments in the region.
President Biden promised the leaders an additional $200 million in funding to help fight climate change and grow local economies, though the money has not yet been approved by Congress. He also said the U.S. would establish diplomatic relations with the Cook Islands and Niue and open embassies there, and that the U.S. aims to open an embassy in Vanuatu next year.
Beijing, meanwhile, is highlighting the strategic nature of America's motivation for courting leaders in the region. "The Pacific island countries were largely forgotten by the West," the state-run China Daily wrote in an editorial on Monday.
"They had not been back on the Western radar until very recently, when the United States and its allies started viewing China as a rival. All of a sudden, the region has become an area of interest on their geopolitical chessboard."
Between the lines: "For the United States, countering China in the region is driving its renewed engagement with the Pacific Islands. For the Pacific islands, the current moment offers a chance to advance its goals on climate change, fishing rights, sustainable development and regional cohesion," Charles Edel, Australia chair at the Center for Strategic and International Studies, told Axios.
"This convergence of interests could prove mutually beneficial to both the United States and the Pacific Islands and serve as an effective counterweight to Chinese investment and influence in the region," Edel said.
Yes, but: The chaos and uncertainty of the looming U.S. government shutdown for two of America's closest partners in the Pacific comes just as Biden is attempting to make the case the U.S. is a more reliable partner than China.
The summit took place just days before 20-year agreements with the Federated States of Micronesia and the Marshall Islands are due to expire on Oct. 1.
That's also the deadline for the U.S. to pass its budget and avoid a government shutdown that could freeze the renewal process, pushing it past the expiration date.
Details: The U.S. provides hundreds of millions in funding to those two countries, along with Palau, grants access to certain U.S. government programs, and allows their citizens to live, work and study in the U.S. without visas. Those agreements are renewed every two decades.
Meanwhile, the U.S. gets unimpeded access to the countries' strategically located waters and airways in perpetuity.
"We are deeply aware of the stakes and the challenges and we're doing everything possible in our negotiations with island nations to conclude a strong deal as quickly as possible," a senior U.S. official told reporters over the weekend.
2. Lawmakers push Taiwan language programs as China alternative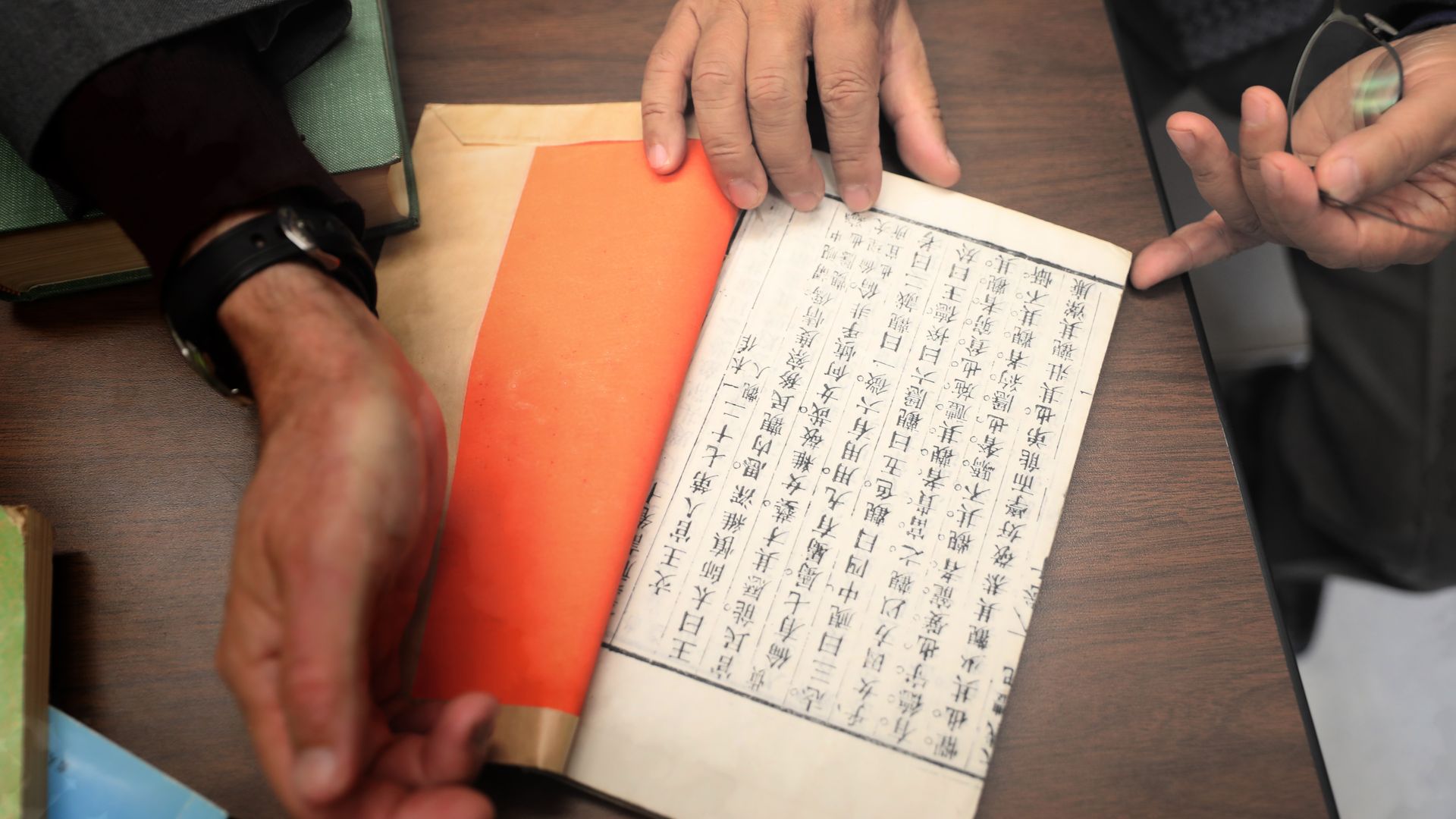 A bipartisan resolution introduced in the Senate this week urged U.S. universities to support educational ties with Taiwan as an alternative to programs funded by the Chinese government.
The big picture: China-funded language programs in the U.S. are closing amid growing scrutiny, leaving a gap that could be filled by an increasingly robust U.S.-Taiwan relationship.
The number of Chinese government-funded Confucius Institutes, which teach Chinese language and culture to U.S. university students, has dropped from more than 100 in 2017 to just seven in early 2023 amid growing U.S. government pressure.
U.S. university administrators have expressed concern that students need more opportunities to study Chinese, which continues to be an important skill in business, politics and other careers.
Details: U.S. Sens. Marsha Blackburn (R-Tenn.) and Ed Markey (D-Mass.) introduced a resolution yesterday that calls on colleges and universities to support the U.S.-Taiwan Education Initiative.
The U.S. and Taiwan launched the U.S.-Taiwan Education Initiative in December 2020 to offer funding and support for Americans to learn Chinese from Taiwanese teachers both in the U.S. and Taiwan, and for Taiwanese to study English.
Background: China's Ministry of Education-funded Confucius Institutes have been known on some occasions to censor discussion of sensitive topics in the classrooms and elsewhere on campuses.
The 2019 National Defense Authorization Act prohibited universities that receive Defense Department funding for language programs from also accepting language program funding from the Chinese government.
The U.S. designated Confucius Institutes as foreign missions in August 2020, requiring them to provide the State Department with disclosures about their personnel and funding.
3. Catch up quick
1. More than one-third of U.S. businesses said they have paused or reduced investment in China over the past year amid growing bilateral tensions and a more difficult business environment, the Wall Street Journal reports.
2. The U.S. placed an additional 28 companies from Russia, China and elsewhere on an export blacklist, citing national security reasons, the Wall Street Journal reports.
Commerce Secretary Gina Raimondo said last week that there are now more than 700 Chinese companies on the department's entity list.
3. The leaders of China, South Korea and Japan have agreed to meet at a summit later this year, restarting trilateral dialogues on hold since 2019, Reuters reports.
4. A prominent Uyghur ethnographer was sentenced to life in prison in China after being detained in 2017, the New York Times reports.
4. China says no to fossil fuel "phase out" language at COP28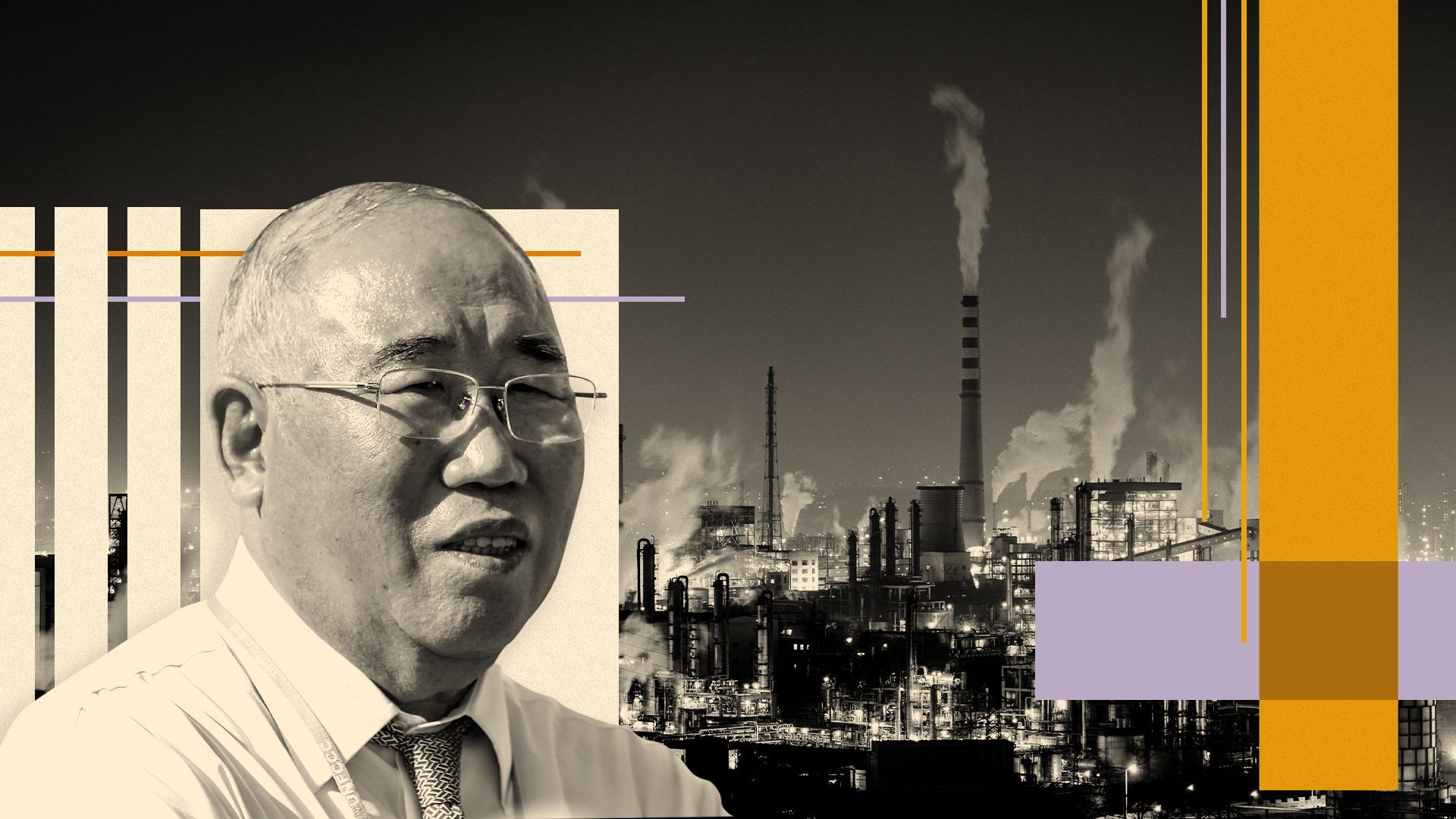 China's chief climate diplomat, Xie Zhenhua, has laid out the country's climate positions in advance of the UN climate summit in Dubai later this year, Axios' Andrew Freedman writes.
Why it matters: China is the world's top current emitter of greenhouse gases, and it can either pave the way or block a new climate agreement.
Xie said China opposes fossil fuel "phase out" language, which pits the country against small island states and some other countries that are pushing for such language to be in any COP28 agreement.
He called such language "unrealistic," pointing to the intermittency of renewables and lack of a ready supply of large battery storage infrastructure.
China has been approving dozens of coal-fired power plants in recent years. A recent report from Generation Investment Management found that China is building more new coal plants than any other nation, and until that stops, global emissions are likely to climb.
The big picture: Biden's special climate envoy John Kerry has consistently tried to carve out climate change from myriad points of contention between the U.S. and China.
China's opposition to a phase-out provision actually puts the country in line with the U.S., given the fact that the U.S. is a fossil-fuel production powerhouse and an increasing exporter of natural gas.
What they're saying: "In a nutshell, both sides are testing the water gingerly and trying to see if they should de-escalate the relationship ahead of the APEC summit" in November, said Li Shuo of Greenpeace East Asia.
"If they do so, it will have big (and hopefully positive) implications for global issues, including climate and COP28."
What to watch: Xie also expressed a willingness to travel to the U.S. or a third country to meet with Kerry, who visited Beijing for climate talks in July.
5. What I'm reading: South China Sea edition
Maritime militia: Blasting bullhorns and water cannons, Chinese ships wall off the sea (New York Times)
Times correspondent Hannah Beech spent four days sailing through the Spratlys, a group of contested islets claimed by both China and the Philippines but largely controlled by aggressive Chinese ships.
"The P.L.A. tugboat responded with more barrages of its horn, a sonic assault so piercing that we felt it in our bodies," Beech writes. "Then, with its floodlights nearly blinding us, the P.L.A. tugboat rushed at our vessel, swiping within 20 meters of our much smaller boat. This was a clear breach of international maritime protocol, maritime experts said."
Related: Filipino diver with a knife helps remove floating barrier installed by China in South China Sea (CNN)
"Video released by the Philippine Coast Guard on Monday showed a Filipino diver cut what it said earlier was a 300-meter (984-feet) long string of buoys near Bajo de Masinloc, also known as Scarborough Shoal," and installed by three Chinese Coast Guard boats and a Chinese maritime militia service boat
"The video is a vivid illustration of a fraught power struggle that has been playing out for years in the South China Sea as Manila tries to push back against increasingly assertive claims to the disputed strategic waterway by Beijing."
And: Vietnam protests against China's vessel ID stations in Paracel Islands (Straits Times)
"Vietnam is protesting against China's installation of two automatic vessel identification stations in the Paracel Islands, saying it is a violation of the South-east Asian nation's sovereignty."
Both Vietnam and China claim the Paracels.
6. 🏛️ 1 thing to watch: Today's Senate Intelligence Committee hearing on Beijing's influence operations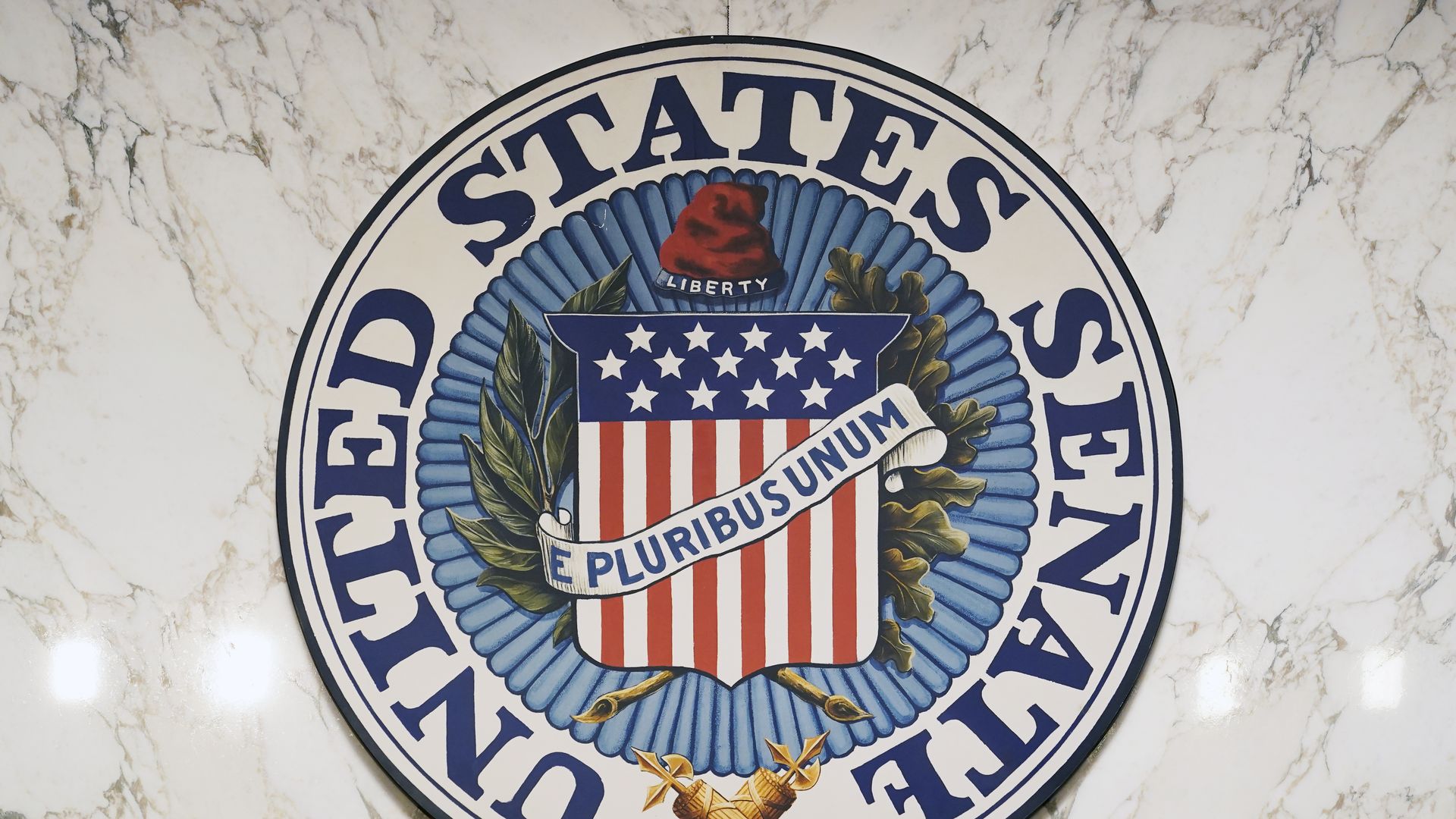 Tune in here at 2:30pm ET today to watch a rare open hearing at the Senate Intelligence Committee.
Former FBI Counterintelligence Division assistant director Alan Kohler, Freedom House's Sarah Cook, and the Hoover Institution's Glenn Tiffert will be giving testimony about countering the Chinese Communist Party's malign influence operations.
A big thank you to Alison Snyder for edits, Sheryl Miller for copy edits, the Axios visuals team, and Dave Lawler for contributing.