August 09, 2022
Welcome back to Axios China. Over the weekend I traveled to the place in Taiwan closest to the live-fire drills to see if people there were worried about tensions. Read further to find out.
Forward this newsletter to friends or colleagues who are interested in China. They can subscribe here. (It's free!)
Today's newsletter is 1,626 words, a 6-minute read.
1 big thing: Nationalism rules China's internet during Taiwan tensions
Online nationalist sentiment in the wake of U.S. House Speaker Nancy Pelosi's visit to Taiwan last week urged Beijing to take more aggressive actions and pushed celebrities to publicly support China's position.
Why it matters: Nationalism thrives on China's highly censored internet, but it comes at a cost for Beijing. If Chinese leaders are perceived as responding too weakly to what people online might consider a foreign provocation, nationalist ire could turn against Beijing.
Driving the news: Beijing announced new drills this week after completing four days of live-fire exercises on Sunday.
The Chinese government sanctioned Pelosi and halted numerous channels of communication with the United States.
What's happening: Chinese social media users shared their anger over what they perceived as a violation of China's sovereignty over Taiwan.
Hu Xijin, a former editor of the party-run tabloid Global Times, wrote that the Chinese military should "shoot down Pelosi's plane."
Many social media users shared a list of celebrities who had not yet publicly expressed support for China's position on Pelosi's visit.
Censors hurried to delete posts calling the government's response too weak, the Financial Times reports.
What they're saying: "Pelosi's visit to Taiwan created a sense of unity on social media, which was flooded with comments expressing support for the Chinese military and calls for a unification with Taiwan," Manya Koetse, who monitors Chinese social media for the website WhatsOnWeibo, told The Guardian.
"Multiple netizens also said: 'I hope that when I wake up tomorrow, we'll be unified with Taiwan.' I'd never seen such strong unification sentiments on Weibo before," Koetse said.
The backstory: The Chinese government in the past has taken action to censor fervent nationalists who express sentiment that isn't in line with the Party's official position.
In 2012, Chinese authorities suppressed anti-Japanese protests, fearing the demonstrations could tarnish China's international reputation, damage trade ties or turn against the Chinese Communist Party.
After a Hague court ruled against China's claims in the South China Sea in 2016, inflaming anger online, censors deleted posts calling for war.
In April 2020, as nationalism surged amid the pandemic, censors shut down social media accounts that called for territories in Vietnam and Kazakhstan to unify with China.
Between the lines: Excessive nationalism raises the cost for Beijing to exercise restraint, Jessica Chen Weiss, political scientist at Cornell University and author of a book on Chinese nationalism, wrote in a 2020 article for Foreign Affairs.
Yes, but: Rigid censorship means dissenting views are erased, making the Chinese internet a poor barometer for the true range of views among people in China.
2. The world reacts to China-Taiwan tensions
1. The G7 and the EU issued a joint statement expressing concern over China's "threatening actions" and calling drills near Taiwan "unnecessary escalation," Taiwan's Central News Agency reports.
2. Switzerland said it would match EU sanctions if China invades Taiwan, Reuters reports.
3. Leaders of Southeast Asian countries attending the ASEAN Summit in Cambodia last week tried hard to avoid offending either China or the U.S., the Wall Street Journal reports.
"This is a dangerous, dangerous moment for the whole world," Singapore's Foreign Minister Vivian Balakrishnan said.
4. Secretary of State Tony Blinken and the foreign ministers of Australia and Japan called on China to end its military drills near Taiwan, The Guardian reports.
3. Taiwanese shrug off China drills: "Everyone becomes numb to it"
LIUQIU ISLAND, Taiwan — Families collected shells on the beach and tourists took selfies at sunset on the tiny resort island of Liuqiu, less than 6 miles away from one of the "danger zones" where China is conducting live-fire military drills.
The big picture: While international attention focuses on an emerging cross-strait crisis, the Taiwanese have been living with Chinese government threats for decades. Few people appeared seriously concerned about a possible military conflict — even on this islet, closer to the drills than any other part of Taiwan.
What's happening: Tourists still flocked to the island about 8 miles off the southwest coast of Taiwan, even as the drills were underway.
Divers swam with turtles close to the shore, and fishing boats traversed the nearby waters as usual. In the evenings, seaside restaurants and bars were filled to capacity.
What they're saying: In interviews with more than 20 tourists and local residents, nonchalance seemed to be the most common attitude toward the live-fire drills happening just a few miles away.
When asked if they were nervous about the close proximity of Chinese ships and planes, numerous people laughed and shook their heads. Others said the drills were only intended as a show of intimidation rather than a serious military threat.
"They are putting political pressure on us, but me personally, I don't think anything bad's gonna happen," said Chi Tsao, who came to Liuqiu with a group of friends. "If they wanted to do something militarily, they would have done that a long time ago."
The military drills haven't affected business, Jen Yu, a woman who works at a diving school on Liuqiu, told Axios.
The number of customers has declined slightly in the past week, Yu said, but that's because it is "ghost month," the seventh month of the lunar calendar when ghosts are believed to come out of the water and curse those unlucky enough to run into them.
Yes, but: A few people did express anxiety about the drills and the rise in tensions between China and Taiwan.
"I feel a little nervous. It's a feeling of being squeezed," said Xie Hui-ju, a school teacher who had come to the beach with her husband and three daughters.
Even so, Xie said she wasn't worried about an actual military conflict. Taiwanese people have heard threats from China all their lives, she explained. "After a long time of this, everyone becomes numb to it. People think it's just words, that they won't take real action."
4. Catch up quick
1. About 80,000 tourists were stuck in the Chinese beach resort city of Sanya as the city entered strict lockdown amid a COVID outbreak, CNN reports.
2. Samsung announced it would invest $3.3 billion in Vietnam to manufacture semiconductor parts there, the South China Morning Post reports.
3. U.S. spy agencies are pivoting toward China as America's commitments in the Middle East have lessened, the Associated Press reports.
The pivot has broad support and many intelligence officials believe it is long overdue.
4. Shipping routes began to recover from the disruptions caused by China's extensive military drills encircling Taiwan, which ended Sunday, Bloomberg reports.
5. Competition in South Pacific heats up
U.S. Deputy Secretary of State Wendy Sherman and U.S. Ambassador to Australia Caroline Kennedy traveled this weekend to the Solomon Islands, a small South Pacific archipelago that's become a hotspot for U.S.-China competition, Axios' Dave Lawler writes.
Why it matters: Many of the same factors that made control of the islands pivotal during World War II — their importance for maritime supply lines and proximity to U.S. allies Australia and New Zealand — are still relevant today.
Sherman and Kennedy officially made the trip to mark the 80th anniversary of the Battle of Guadalcanal, which was fought on the largest island in the Solomons.
Both of their fathers fought in the Solomon Islands during World War II.
Details: Sherman met with Solomon Islands Prime Minister Manasseh Sogavare and discussed the bilateral relationship, COVID cooperation, and efforts to mitigate unexploded mines left over from World War II.
What they're saying: "President Biden has made solidarity with the Pacific Islands a priority for his entire administration from the very beginning," Sherman said at an event in Honiara commemorating World War II.
"Some around the world ... seem to have forgotten the awful lessons learned here," she said, without referring to China directly.
Sherman criticized "leaders who believe that others must be diminished if they are to rise (and) believe that coercion, pressure, and violence are tools to be used with impunity," Reuters reports.
Of note: Sogavare skipped the commemoration, which local media called a "snub."
Sherman said the prime minister "missed a real opportunity to commemorate how strong these bonds were 80 years ago that allowed for freedom here in Solomon Islands."
The backstory: Given their population of under 700,000, the islands have seen a remarkable level of engagement from Washington, including a high-level delegation in April.
The attention has largely been due to a planned security pact between the Solomon Islands and China, which the Biden administration feared could allow Beijing to dispatch security forces there or even establish a naval base.
Sogavare signed the agreement over U.S. objections but insisted last month that there would be no Chinese base.
6. What I'm reading
On the ballot: China's role at the heart of Kenya's election campaign (Financial Times)
Kenya's two presidential candidates have both focused on China during the election campaign, though on different issues.
"Chinese workers are an increasingly common sight in cities and a large proportion of repayments for debts racked up over the past decade are owed to Chinese lenders. Total debt servicing eats up 3 per cent of the country's gross domestic product."
View from Taiwan: I'm Taiwanese, and I want to thank Nancy Pelosi (New York Times)
"Each of Taiwan's 23 million people is a living, breathing rebuttal of the Communist Party's insistence that its repressive, authoritarian model is superior to democracy and the only mode of government suitable for Chinese society," writes researcher Yu-Jie Chen.
7. 1 fun thing: Taiwan poster parodies Chinese meme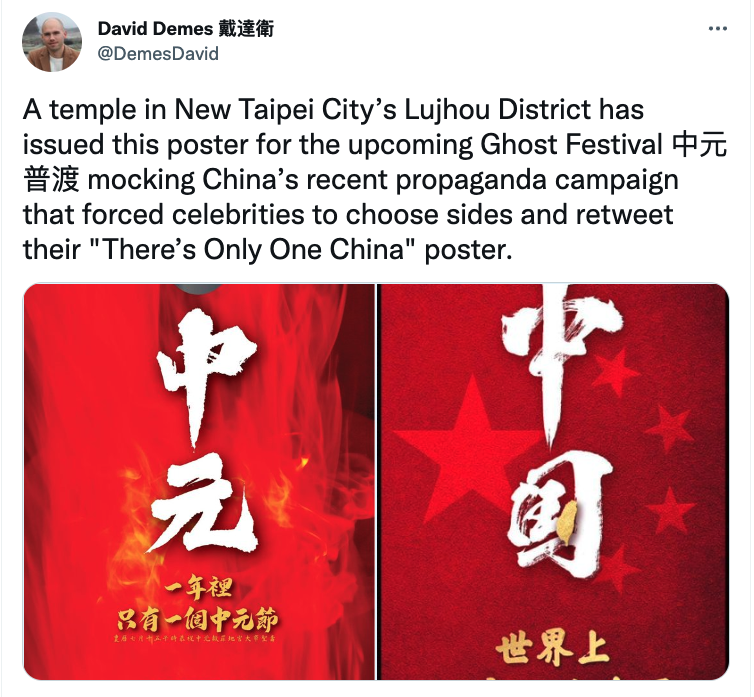 Last week, an online campaign in China shamed celebrities who hadn't yet shared a poster stating "China: There is only one China in the world," with the shape of Taiwan superimposed over one of the characters.
Taiwan-based freelance journalist David Demes wrote on Twitter on Aug. 7 that he spotted a parody of this poster issued by Shouxuan Temple in New Taipei City, celebrating the arrival of Ghost Month.
"Ghost month," the Taiwanese poster reads. "There is only one ghost month each year."
A big thank you to Laurin-Whitney Gottbrath and David Nather for edits, Sheryl Miller for copy edits, Sebastian Kjeldtoft for photos, and Dave Lawler for contributing.