August 08, 2022
Happy Monday! On this day in 1988, the Cubs were set to play their first-ever night game at Wrigley. The game was rained out, but not before several players, including Greg Maddux, famously slid across the infield tarp.
🌦 Today's weather: Watch out for flash flood conditions on your morning commute. Heavy rain the rest of the day with a high of 81.
👋 Situational awareness: We are out of office this week but will still have full newsletters for you each and every day.
Today's newsletter is 706 words — a 3-minute read.
1 big thing: Bears among most valuable franchises
The Chicago Bears may have won only one Super Bowl, but they are still one of the most valuable franchises in the NFL.
Why it matters: The value ranking from Sportico comes as the Bears are weighing whether to move out of Soldier Field.
The city of Chicago offered to redevelop Soldier Field for $2.2 billion, which would include a dome and possibly naming rights. The Bears have repeatedly said they are currently only working on one stadium project, in Arlington Park.
Driving the news: The Bears are valued at $5 billion, No. 6 in the NFL.
They rank well below the No. 1 Dallas Cowboys — America's Team — and the No. 2 Los Angeles Rams. Both have built new stadiums within the last 15 years.
Context: The Bears are one of the original NFL franchises, owned by Virginia McCaskey since her father, George Halas, passed away in 1983.
Zoom out: The team is worth the same as Barcelona, the world's second-most valuable soccer franchise, and the L.A. Dodgers, the second-most valuable MLB franchise.
Separately, the Bulls are valued at $3.65 billion, fourth in the NBA.
The bottom line: Aaron Rodgers and the Packers may own us on the field, but they lag behind in the pocketbook.
What's next: The Bears play their first preseason game this Saturday.
2. Float the Chicago River
👋 Hey, it's Monica. I grew up in a time when jumping into the Chicago River with a floaty seemed unthinkable.
What they're saying: "Thanks to decades of hard work and advocacy by Friends, elected officials, government agencies and our many partners, the Chicago-Calumet River system is healthier and more accessible for recreation than it has been in over 150 years," Friends executive director Margaret Frisbie said in a press release statement.
Flashback: Friends piloted a successful Summer Float Party in Skokie last year with dozens of floaties, and everyone lived to tell the tale.
What's next: The group is bringing the event to Chicago with a float between River and Clark parks next Sunday.
"The Summer Float Party is an easy way for people to find their way to the water and have some fun while supporting the work that Friends is doing to bring the river back to life," Frisbie said. "All they need is a life jacket and a floaty toy."
If you go: Tickets start at $45. Register and watch a webinar on water safety before leaving.
3. Readers: How to pronounce "gyros"
We featured Chicago's beloved gyros last month as part of our regular Food Fight segment and got a lot of great suggestions on where to eat them.
Why it matters: Gyro is a delicious roasted meat that inspires lots of creative variations on how to make and use it. Gyro pizza, anyone?
But Chicagoans have also come up with some pretty creative takes on how to pronounce the word.
Here's how the 323 readers who responded to our survey pronounce "gyros":
YEE-ros: 74.6%
GEE-ros: 18%
JIGH-roh: 7.4%
Of note: We forgot to include an option for GUY-roh, as in GUY-roh sauce, which is the proper local pronunciation for a certain garlicky sour cream condiment on the South Side.
4. Bite Club: Shirokuma
👋 Hi, it's Justin! If you're a fan of desserts that are tasty and cute, head to Lake Street for dinner at Paul Virant's Gaijin.
The Japanese restaurant specializes in okonomiyaki, an Osaka-style cabbage pancake cooked on a griddle.
You can order them vegetarian or with beef, chicken, tofu and more, but I highly recommend the shrimp with corn and a creole sauce.
Best bite: My go-to here is shirokuma, a dessert in the shape of a teddy bear.
It's a mixture of shaved ice, cherries and pineapple sherbet.
The dessert uses coffee beans for the eyes and sugar cookies for the ears, with a delicious coconut syrup drizzled all over.
It's pricey ($16), but can you really put a price on sweet treats that look like Teddy Ruxpin?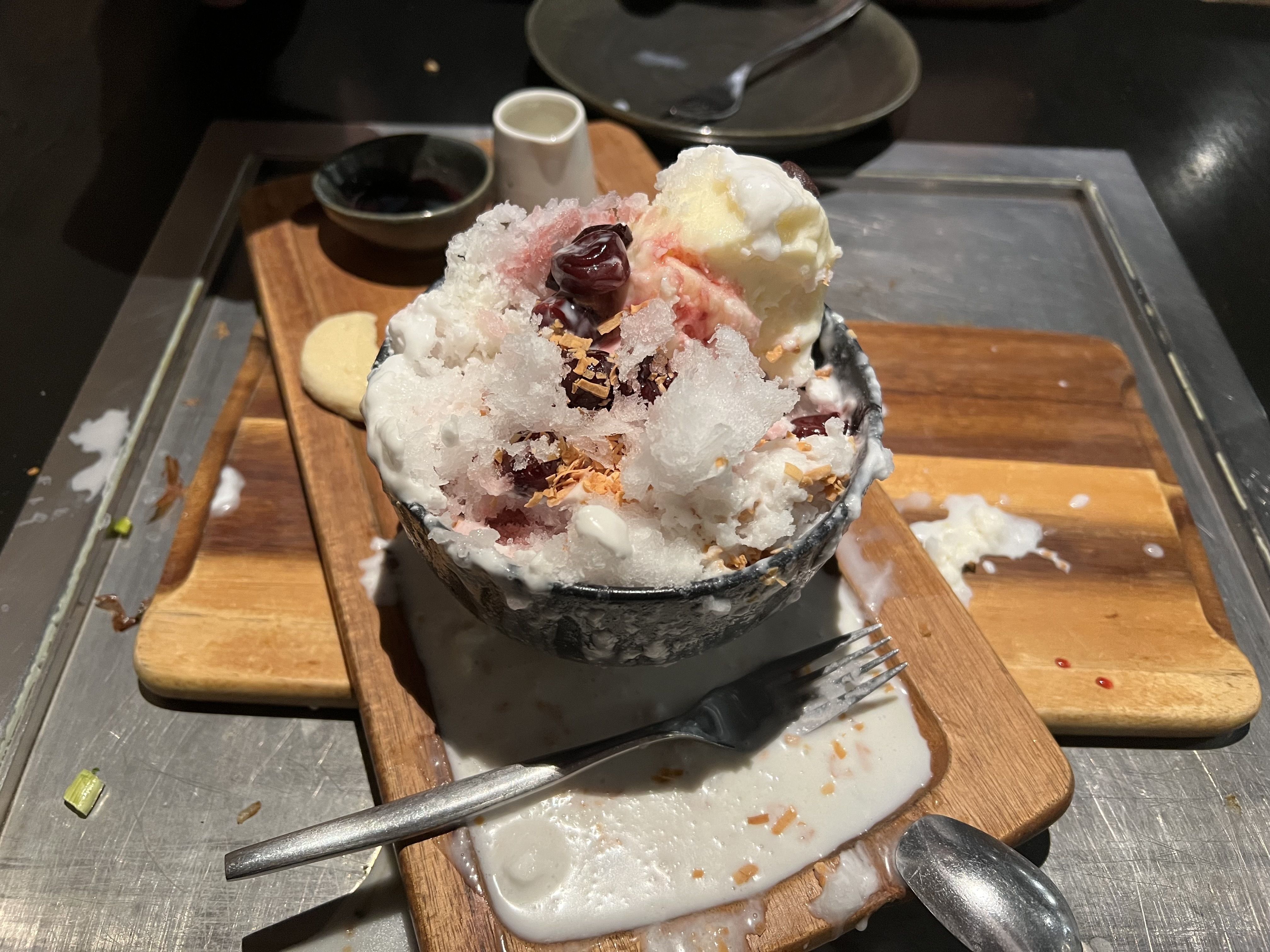 Our picks:
😋 Monica is going to try to make it to Monday Night Foodball, which she has missed for too long.
⚾️ Justin is fresh out of things to watch in his final days of quarantine. He watched all of the Derek Jeter documentary. Are there any other baseball docs he could watch? Did Tug McGraw ever put a film out? What about Chili Davis? Nobody did a Netflix series on Biff Pocoroba?
Want free Axios swag? Refer your friends to Axios Chicago and get cool merch like stickers, totes, hats, T-shirts and more!