January 27, 2023
1 big thing: The problem with your truck
Three of the Chicago area's 10 best-selling vehicles are pickup trucks — yet pedestrian and road safety advocates say today's massive trucks are a hazard, given their size, weight, and driver blind spots.
In a new special project, Axios' Will Chase, Jared Whalen and Joann Muller looked back over the past 50 years to examine the societal and lifestyle changes behind pickups' ever-increasing size.
Why it matters: "Not only do taller vehicles pose line-of-sight and visibility issues, they are more likely to cause fatal and serious injuries by striking a person closer to their vital organs," Chicago Department of Transportation spokesperson Erica Schroeder tells Axios.
"Decades of innovation have made cars safer for people inside vehicles, but the same cannot be said for people outside vehicles."
State of play: Last year, CDOT commissioner Gia Biagi sent a letter to the National Highway Traffic Safety Administration urging officials to update criteria so cars and trucks can't get 5-star safety ratings unless they're also safe for pedestrians.
The backstory: In the 1980s, about half of U.S. pickup trucks were categorized as small or midsize. But by the 2010s, small pickups had nearly vanished as Americans increasingly bought into the big truck lifestyle.
As pickups transitioned from workhorses to lifestyle vehicles, their design shifted accordingly: Cabs expanded to accommodate more passengers, while beds shrank.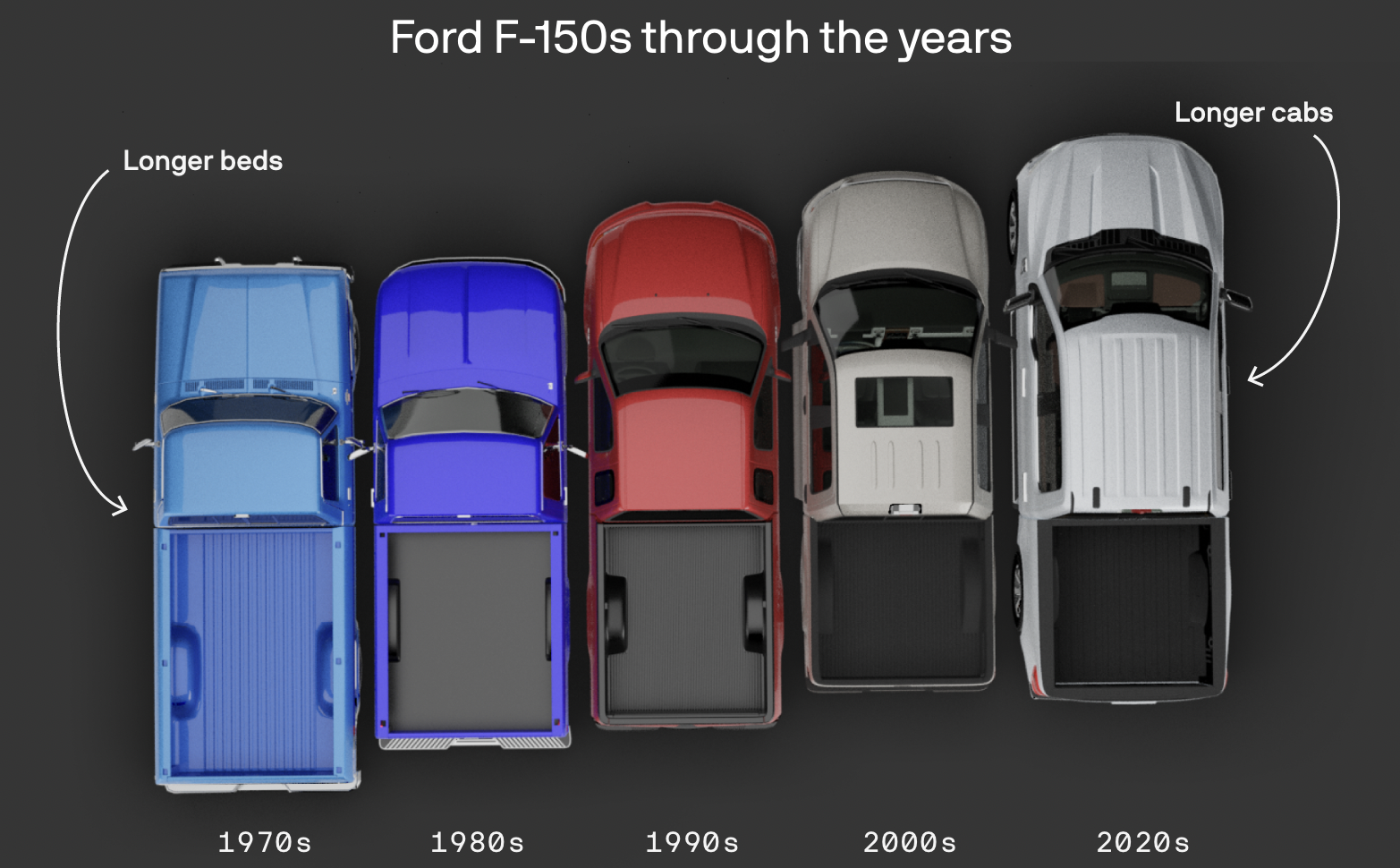 2. Your neighborhood needs a slogan
The city's tourism arm Choose Chicago just scored $5.5 million in federal funds to promote overlooked neighborhoods for tourism.
Zoom in: The neighborhoods include Auburn Gresham, Austin, Back of the Yards, Englewood, Lincoln Square, Lincoln Park, Hyde Park and more.
The challenge: If you were the advertising geniuses (think Darrin Stephens or Don Draper), how would you entice people to come to these spots? Here's a few to help with your brainstorm:
Englewood: Come visit Kusanya Cafe before touring some of the great locations featured in the HBO show "South Side." Then stop by the most famous Whole Foods in the city (well, where it used to be).
Lincoln Park: Come for the zoo, stay for the ponds!
Hyde Park: Sure we have award-winning restaurants, architecture and the University of Chicago, but we also have the Baskin-Robbins where Barack and Michelle Obama had their first date.
Roseland: Did you know that Peter Cetera was born here? Three of the members of Styx, too. Plus, Old Fashioned Donuts!
Lincoln Square: We still have one or two German places.
📫 Email us (at [email protected]) your ideas for neighborhood tourism slogans, and we'll publish them!
3. Tips and hot links
👩‍🚒 The Kenwood high-rise where the fatal fire occurred this week had been cited 11 times for fire code violations since 2021. (Tribune🔒)
🏁 Downtown Ald. Brendan Reilly wants to cancel the NASCAR street race contract during his next term. He's running unopposed in this election. (Block Club)
📚 Governor Pritzker is warning the national College Board that Illinois will reject any revised changes to the AP African American studies course that doesn't include "a factual accounting of history." This comes after Florida Gov. Ron DeSantis blocked the course because of topics surrounding "queer theory" and "abolishing prisons." (Sun-Times)
🛒Some Englewood residents are mad that a Save-A-Lot will replace the neighborhood's former Whole Foods. (Tribune🔒)
4. Tips for Polar Plungers
This Saturday marks the return of the Chicago Polar Bear Club's annual Polar Plunge, when hundreds jump in Lake Michigan at noon on Oak Street Beach to benefit local families in need.
What's happening: To help out first-time plungers, we asked for some tips from our favorite year-round swimmer and former WBEZ host Alison Cuddy. She recently wrote about her cold weather swimming and is now working on a book.
Pro tips: "Use the buddy system. The fun of the Plunge is both the sensation and the socializing, so bring a pal! You can also keep an eye out for each other."
Acclimate. "Pause when you first get in or splash some water on your face so it isn't a total gut punch."
Gear up. "If you want to make a habit out of cold water swimming or plunges, get some neoprene gear — a swim cap, thick gloves and booties — to protect your extremities from the cold and conditions on the shore."
5. Best Day Ever: Alison Cuddy
When Cuddy isn't finding joy in a frigid swim, she's out exploring Chicago. So we asked her to curate her perfect day in the city.
🏊‍♀️ Morning activity: "Sunrise swim in Lake Michigan at the Point, of course."
🍳 Breakfast: "Plein Air for their omelet, which is so delicious, and they have these great side salads."
👗 Midday activity: "I will head to one of Chicago's many thrift stores [in various neighborhoods] and spend a happy hour there digging in the racks."
🌮 Lunch: "Tacos! I don't have a favorite place because the whole point — just like thrifting — is exploring, so I go to whatever taco place I noticed on the way there."
"There is one on Whipple and 25th in Little Village, La Chaparrita, that is so good. I get tacos al pastor, and you always have to try the house salsa."
Edited by Alexa Mencia and copy edited by Rob Reinalda and Keely Bastow.
Our picks:
🥣 Monica was inspired to see the resurrection of Soup & Bread this week at The Hideout, where folks ate soup and raised money for local food pantries. The next one is Feb. 22. RSVP preferred.
🏈 Justin is rooting for the former Bears still left in the playoffs. That includes Robbie Gould and Tashaun Gipson (49ers), Robert Quinn (Eagles) and Michael Burton and Deon Bush (Chiefs).
Want free Axios swag? Refer your friends to Axios Chicago and get cool merch like stickers, totes, hats, T-shirts and more!