Subscribe to Axios Chicago
Get smarter, faster with a daily look at the biggest stories in Chicago
Hometown hero Candace Parker collected the final rebound and ran off the court to embrace her family as the Chicago Sky defeated the Phoenix Mercury on Sunday, 80-74, to take home the franchise's first WNBA title.
Why it matters: The Chicago Sky become the latest sports franchise to bring a championship to Chicago, but the first since the Cubs in 2016.
Packers quarterback Aaron Rodgers continued his dominance over the Bears with a 24-14 win at Soldier Field. Rodgers is now 22-5 in his career against Chicago.
Why it matters: The Bears lost an opportunity to take over first place in the NFC North, instead falling to .500 and losing to the rival Packers for the fifth time in a row.
"My nurse's mind has me just shaking my head... If only these reluctant folks could spend some real time in a COVID unit and see how patients struggle to breathe before usually being intubated and placed on a ventilator." — Bobbi F.
Why it matters: If this basic health measure — requiring city workers to report their vax status — is as popular as it seems, defying it could further crumble public support for Chicago police officers just as they're trying to win it back.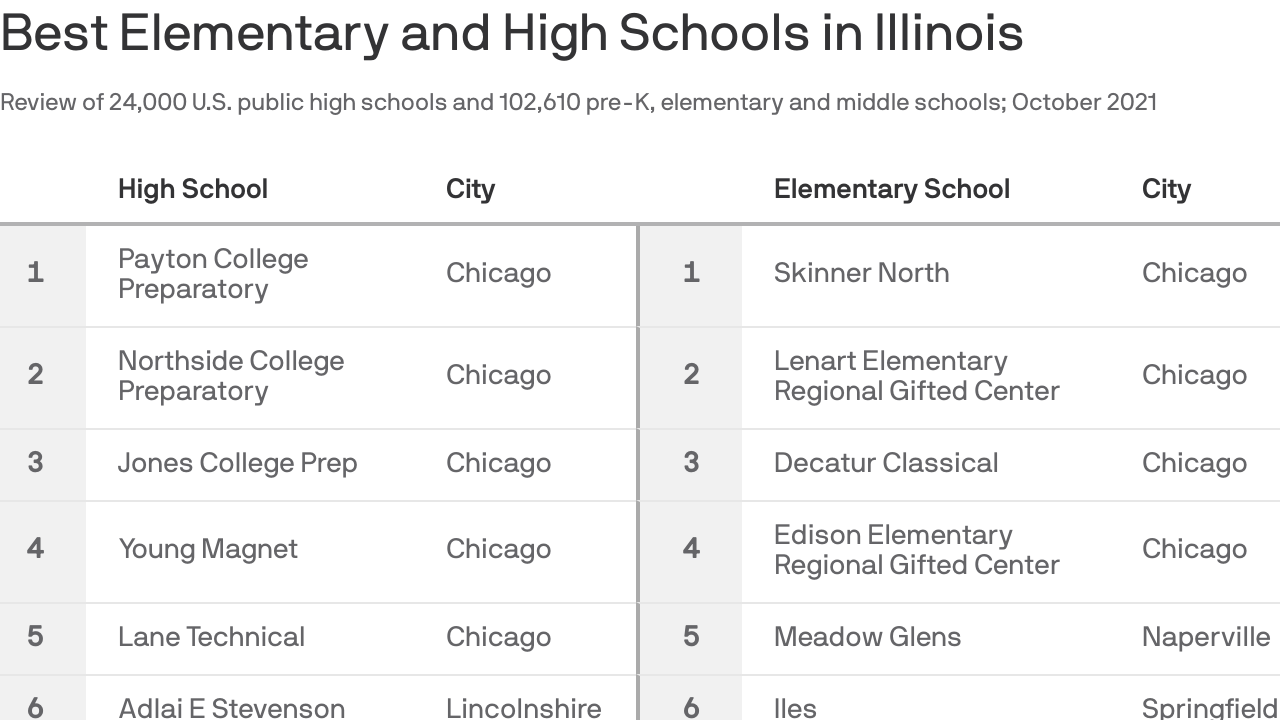 Chicago scored big with both high schools and grade schools in this year's rankings of the top 10 schools in the state, according to U.S. News & World Report.
Why it matters: The Chicago Public School system is often maligned for its failures but also runs the best schools in the state.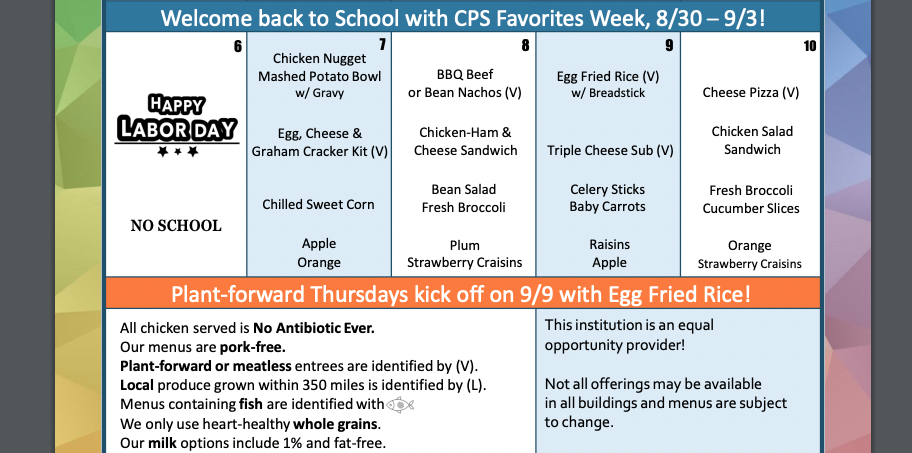 Chicago Public Schools and the environment both face major crises these days. So we were thrilled to discover good news for both buried in one line of a CPS lunch menu.
"Plant-forward Thursdays kick off on 9/9 with Egg Fried Rice!"
Why it matters: In a district that serves daily lunch to the majority of its 300,000-plus students, one meatless day could remove the environmental impact of several tons of meat every week. And that's not even counting the meatless breakfasts, snacks and dinners CPS serves on Thursdays.
The Chicago Sky return home tonight for Game 3 of the WNBA FInals. The five-game series against the Phoenix Mercury is tied, 1-1.
What's happening: It's not too late to hop on the Sky bandwagon. Here's what to know to get up to speed on the best sports story in Chicago.
Ever since Mayor Lightfoot announced late-August that all city workers had to be vaccinated by October 15th, there has been skepticism surrounding compliance. But today is the day and the skepticism was justified.
Why it matters: FOP President John Catanzara posted a video posted to Facebook encouraging officers not to comply.
If officers follow that guidance, we could see half of the entire police force not on the job this weekend.
This Saturday artist Tony Fitzpatrick opens "Jesus of Western Avenue," his last-museum show ever.
Why it matters: Fitzpatrick is one of Chicago's most celebrated visual artists, not to mention an actor, poet and writer. His decision has also sparked big questions about the role of art and museums.