A few weeks ago I walked into my local Sichuan restaurant with a bunch of empty plastic containers and an odd question:
"Would it be OK if I ordered my food for here, but then packed it all in my containers to go?"
Why it matters: The pandemic has seen a sharp rise in single-use plastic, including food containers, as people try to support restaurants with takeout. But less than 9% of US plastic is recycled.
Longtime Chicago food journalist Steve Dolinsky is back on TV as NBC's "The Food Guy" and back on bookshelves with "The Ultimate Chicago Pizza Guide," following 2018's "Pizza City USA."
Why it matters: Few can match Dolinsky's knowledge and passion for Chicago pizza.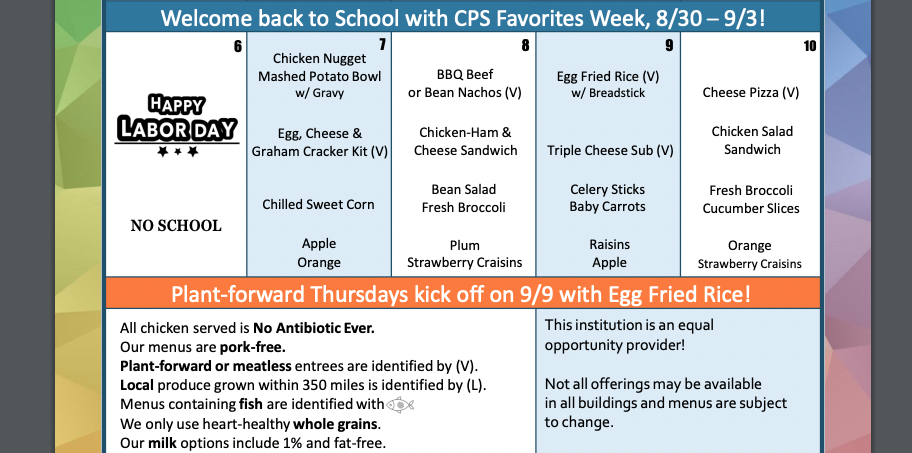 Chicago Public Schools and the environment both face major crises these days. So we were thrilled to discover good news for both buried in one line of a CPS lunch menu.
"Plant-forward Thursdays kick off on 9/9 with Egg Fried Rice!"
Why it matters: In a district that serves daily lunch to the majority of its 300,000-plus students, one meatless day could remove the environmental impact of several tons of meat every week. And that's not even counting the meatless breakfasts, snacks and dinners CPS serves on Thursdays.
A new documentary called "Love, Charlie: The Rise and Fall of Chef Charlie Trotter" gets its world premiere Monday at the Chicago International Film Festival.
Why it matters: Trotter may be the most consequential chef Chicago has ever produced. Most portrayals of him come off as either scathing or completely reverential.
But director Rebecca Halpern goes deeper to find a young dreamer and culinary genius who adopted a punishing persona in order to succeed, and never found his way back.
She also reveals a man who secretly struggled with brain complications in his final years that left him erratic and misunderstood.
If you've eaten outside lately, you've probably experienced yellow jackets getting all up in your business. So what should you do?
"Do not under any circumstances swat them or move in an erratic manner," entomologist May Berenbaum tells Axios, "because that will lead to defensive behavior" like stinging, which they can do multiple times.
Why it matters: Yellow jackets are a staple of early fall outdoor life, but even more so with increased COVID-era al fresco dining.
We've asked about your favorite tacos and your responses have made us (very) hungry. Here are a few:
Illinois ranks in the top third when it comes to high childhood obesity rates, according to a report released today by the Robert Wood Johnson Foundation (RWJF). But it's a big improvement from the state's ranking a decade ago.
Context: In 2009 Illinois ranked 4th worst in the nation for childhood obesity among kids 10-17. But today the state is No 16. Our rates fell from 20.7% to 17.4%, still above the national average of 16.2% but much improved.
If you feel comfortable dining indoors and are longing for the past (think 50s filtered through the '80s), you might want to slip into a booth at Ed Debevic's diner downtown at Ohio and St. Clair.
Why it matters: Fans of the old restaurant, which closed after 30 years in 2015, want to know if this relaunched version, now run by Bravo Restaurants, delivers the same magic.
Get a free daily digest of the most important news in your backyard with Axios Chicago.