"My nurse's mind has me just shaking my head... If only these reluctant folks could spend some real time in a COVID unit and see how patients struggle to breathe before usually being intubated and placed on a ventilator." — Bobbi F.
Why it matters: If this basic health measure — requiring city workers to report their vax status — is as popular as it seems, defying it could further crumble public support for Chicago police officers just as they're trying to win it back.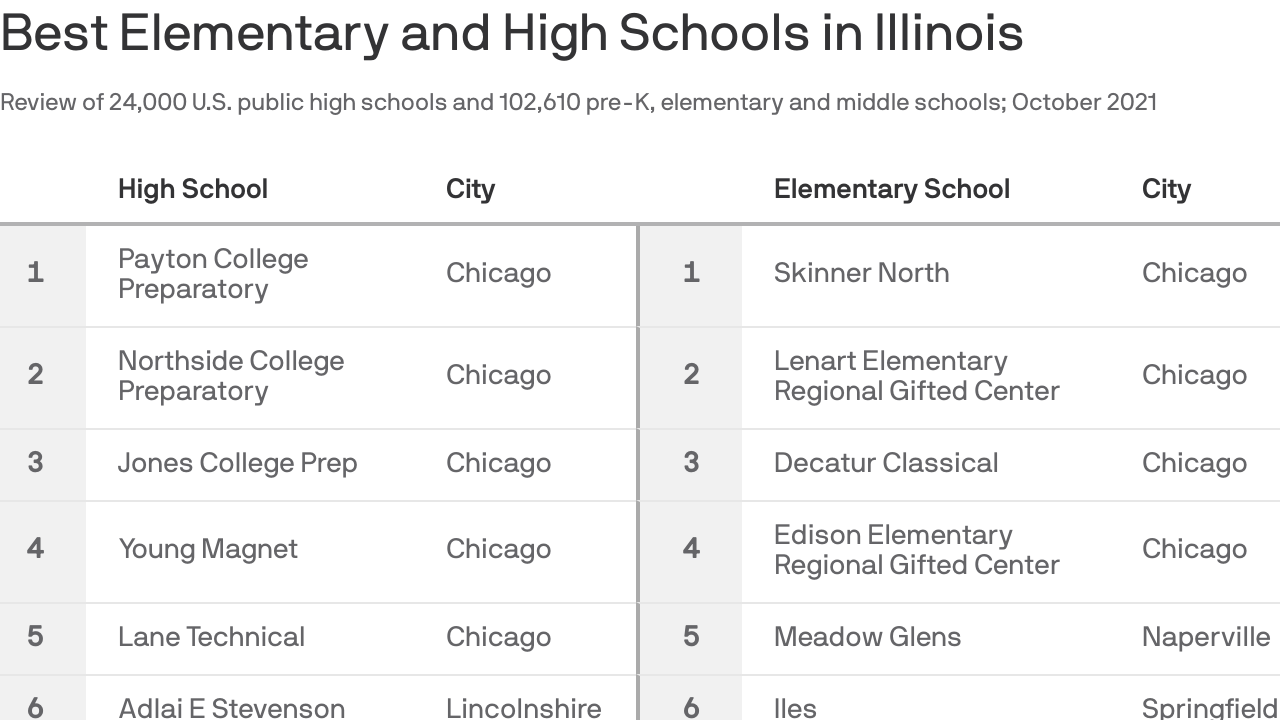 Chicago scored big with both high schools and grade schools in this year's rankings of the top 10 schools in the state, according to U.S. News & World Report.
Why it matters: The Chicago Public School system is often maligned for its failures but also runs the best schools in the state.
Illinois ranks in the top third when it comes to high childhood obesity rates, according to a report released today by the Robert Wood Johnson Foundation (RWJF). But it's a big improvement from the state's ranking a decade ago.
Context: In 2009 Illinois ranked 4th worst in the nation for childhood obesity among kids 10-17. But today the state is No 16. Our rates fell from 20.7% to 17.4%, still above the national average of 16.2% but much improved.
Next week, Patricia Smith will receive the Poetry Foundation's Ruth Lilly Poetry Prize, one of the highest honors in American poetry.
Why it matters: The $100,000 Ruth Lilly Poetry Prize is a big deal in itself. But it's even more impressive considering the Chicago-born professor launched her poetry career, not as an academic poet, but as a contestant in the Uptown Poetry Slam.
It's been 15 months since Mayor Lori Lightfoot ordered crews to take down the Columbus statues in Chicago after protesters tried to tear them down themselves.
Why it matters: The statues became the focal point of protest and vandalism over Columbus' genocidal past as the entire country had a reckoning over historically racist statues and symbols.
Now, the Italian American community is demanding they are put back up.
Fans from all over the world are sending support and warm messages to historian and Civil Rights activist Timuel Black, who, friends say, is receiving hospice care in his home.
Why it matters: The beloved 102-year-old dedicated his life to documenting Black Chicago history, of which he was a big part.
Black came to Chicago from Alabama during the Great Migration.
He fought in World War 2, at both Normandy and the Battle of the Bulge, and wrote three books, including "Sacred Ground: The Chicago Streets of Timuel Black."
Today is the 150th anniversary of the Chicago Fire.
Why it matters: The fire burned our city to the ground in 1871. Much of how our city is designed and organized today is a direct result of this tragedy.
By the numbers: Nearly 300 people died, 17,500 buildings were destroyed and 90,000 Chicagaons were left homeless.
Get a free daily digest of the most important news in your backyard with Axios Chicago.