Axios AM
September 28, 2023
Happy Thursday! Smart Brevity™ count: 1,494 words ... 5½ mins. Edited by Dave Lawler and Bryan McBournie.
📚 Axios editor-in-chief Sara Kehaulani Goo signed with Flatiron Books for a memoir, coming in 2025, about her family's struggle to hold onto their ancestral Native Hawaiian land in Maui.
The working title, "Kuleana" — responsibility, with pride, in Hawaiian — speaks to Goo's search for her identity and generational duty. She interweaves untold history of Hawai'i, urging visitors to embrace the richness of this legacy before enjoying its paradise.
🐘 1 big thing: Deflated debate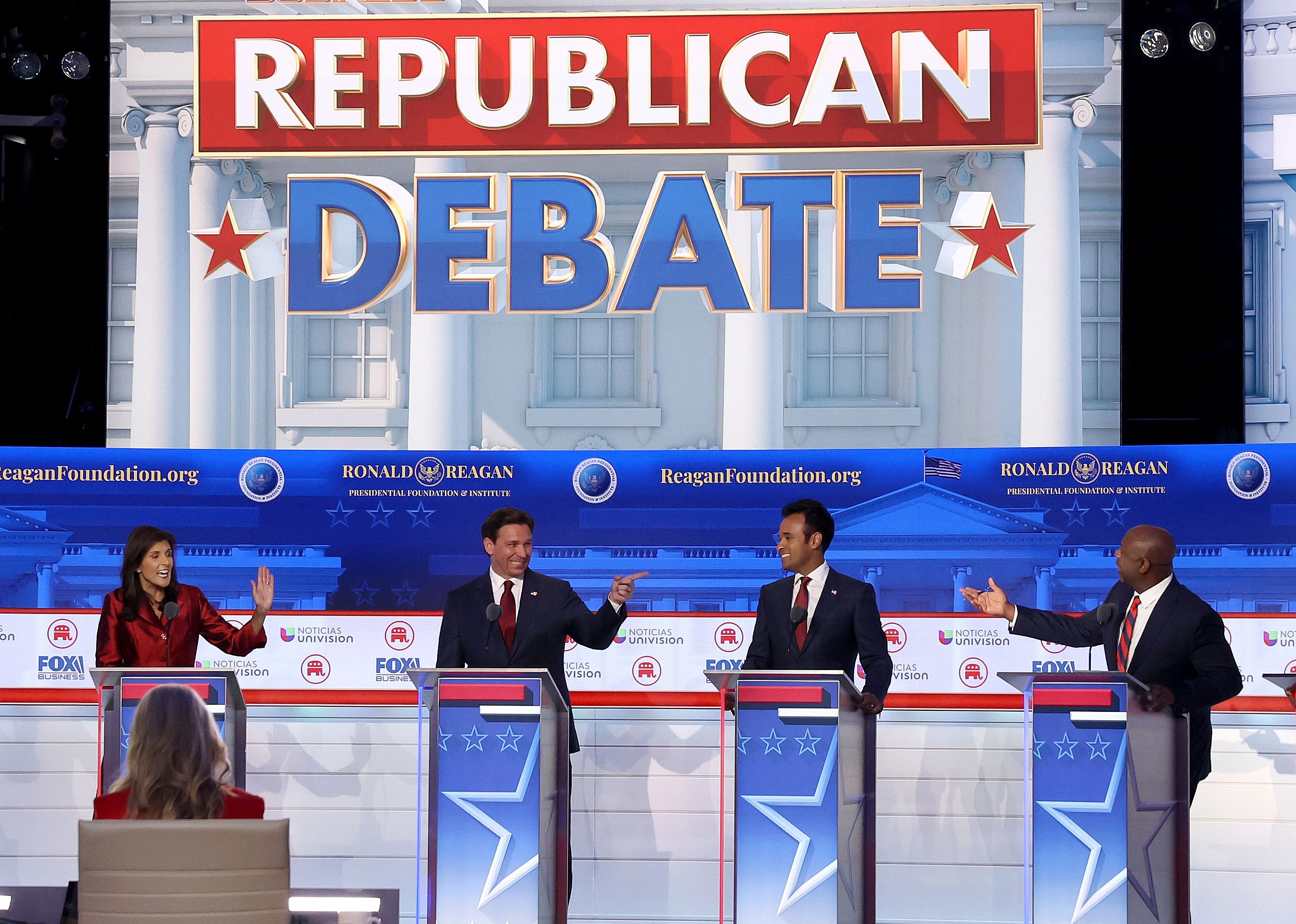 Chaos reigned in the second GOP presidential debate, which brought together seven candidates collectively polling at 37% — 16 points below former President Trump, Axios' Zachary Basu and Alex Thompson report.
Why it matters: In a debate marred by the candidates talking over each other — often with three or more talking at once — none of the seven showed signs of making a dent in Trump, who was in Michigan.
"Does anybody see a V.P. in that group? I don't think so," Trump quipped as he counterprogrammed the debate with a speech just before show time.
Between the lines: Trump has paid no price for skipping the debates. His polling share has actually increased from 52% to 54% since the August affair — and he looks set to steamroll his way to the GOP nomination absent a political earthquake.
As the two-hour spectacle wound down at the Ronald Reagan Presidential Library in Simi Valley, Calif., strong performances by Florida Gov. Ron DeSantis, former UN Ambassador Nikki Haley and Sen. Tim Scott (S.C.) seemed unlikely to reshape the race.
Our takeaways:
1. Trump loomed.
DeSantis finally made his move at Trump after ignoring the former president during the first debate: "Donald Trump is missing in action. He should be on this stage tonight."
Former Gov. Chris Christie dubbed Trump "Donald Duck" for skipping the debates — a line that produced groans from the audience but achieved its apparent goal of trending on social media.
2. Haley: "Bring it!"
Haley, who saw the biggest polling boost after her first debate performance, was sharp on policy details and came prepared to brawl — including by launching the first attack DeSantis had faced in either of the two debates.
The former South Carolina governor had a heated exchange with Scott, at one point responding: "Bring it, Tim."
"Honestly, every time I hear you, I feel a little bit dumber for what you say," Haley snapped at Vivek Ramaswamy after he defended his campaign's decision to join TikTok.
In a sign of Haley's rise, the Trump campaign circulated a fact sheet titled: "The Real Nikki Haley."
3. Knives out for Vivek.
Former Vice President Mike Pence piled on Ramaswamy over his business dealings in China: "I'm glad Vivek pulled out of his business deal in 2018 in China. That must have been about the time you decided to vote in presidential elections."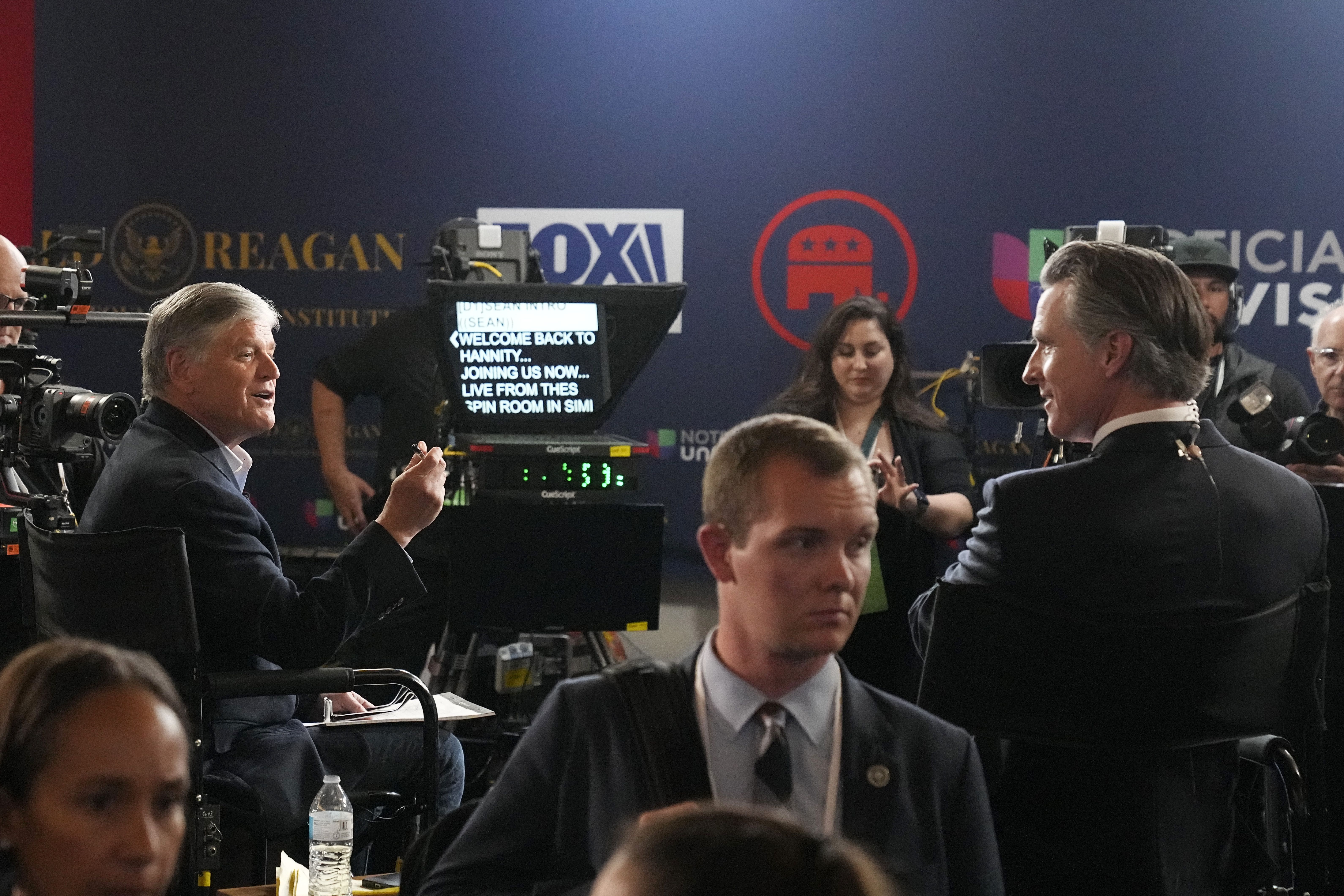 The other side: California Gov. Gavin Newsom (D), who was in the post-debate spin room to make the case for President Biden, gleefully jumped between TV hits — including on Fox News.
Newsom called the debate "JV — it's XFL, it's veepstakes, maybe."
The bottom line: Trump's absence deflated the debate. The media area had dozens of empty seats.
2. 📺 Ads steal spotlight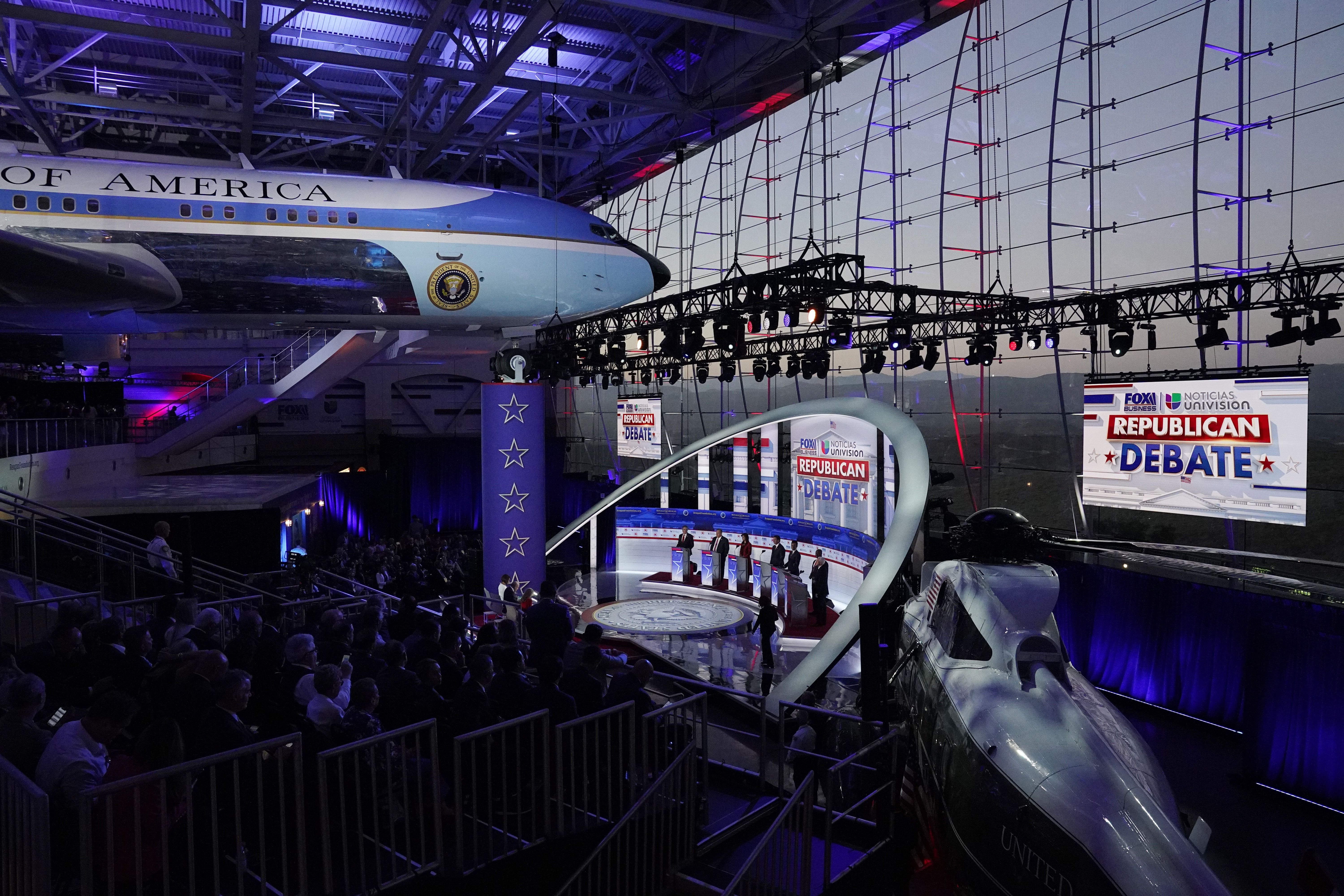 Part of the night's intrigue played on-screen during commercial breaks on Fox News and Fox Business, Axios' Erin Doherty writes.
Just before the debate, the Biden campaign aired its first ad this cycle attacking Donald Trump. The spot focuses on the former president's record with autoworkers and manufacturing jobs.
As the candidates wrapped up a heated debate over the national security threat from TikTok, Fox cut to a commercial from the Chinese-owned social media app that several of them have vowed to ban.
Republicans for Ukraine aired an ad highlighting how U.S. aid has helped degrade Russia's military without putting American boots on the ground — a highly divisive issue within the GOP.
South Dakota, where Gov. Kristi Noem (R) is a potential V.P. for Donald Trump, ran one of the tourism ads frequently seen on Fox News.
3. 🛢️ Oil price is warning for D.C.
U.S. crude oil yesterday posted its biggest daily jump since May, climbing to its highest level this year, Axios' Matt Phillips writes.
Prices are up more than 10% this month.
Why it matters: The rise in oil prices, along with a recent upswing in housing prices, suggests a possible resurgence in inflation.
🖼️ The big picture: One reason for rising prices is that the U.S. economy has been stronger than expected. So more oil is being consumed.
Global supplies are tight. Saudi Arabia and Russia have struck deals to reduce production and prop up prices.
The bottom line: The rise in oil prices — and by extension gas prices, along with the recent stock-market downturn, is a perfect recipe for sour consumer sentiment — and peril for incumbent politicians.
4. 🦾 Meta previews AI coming attractions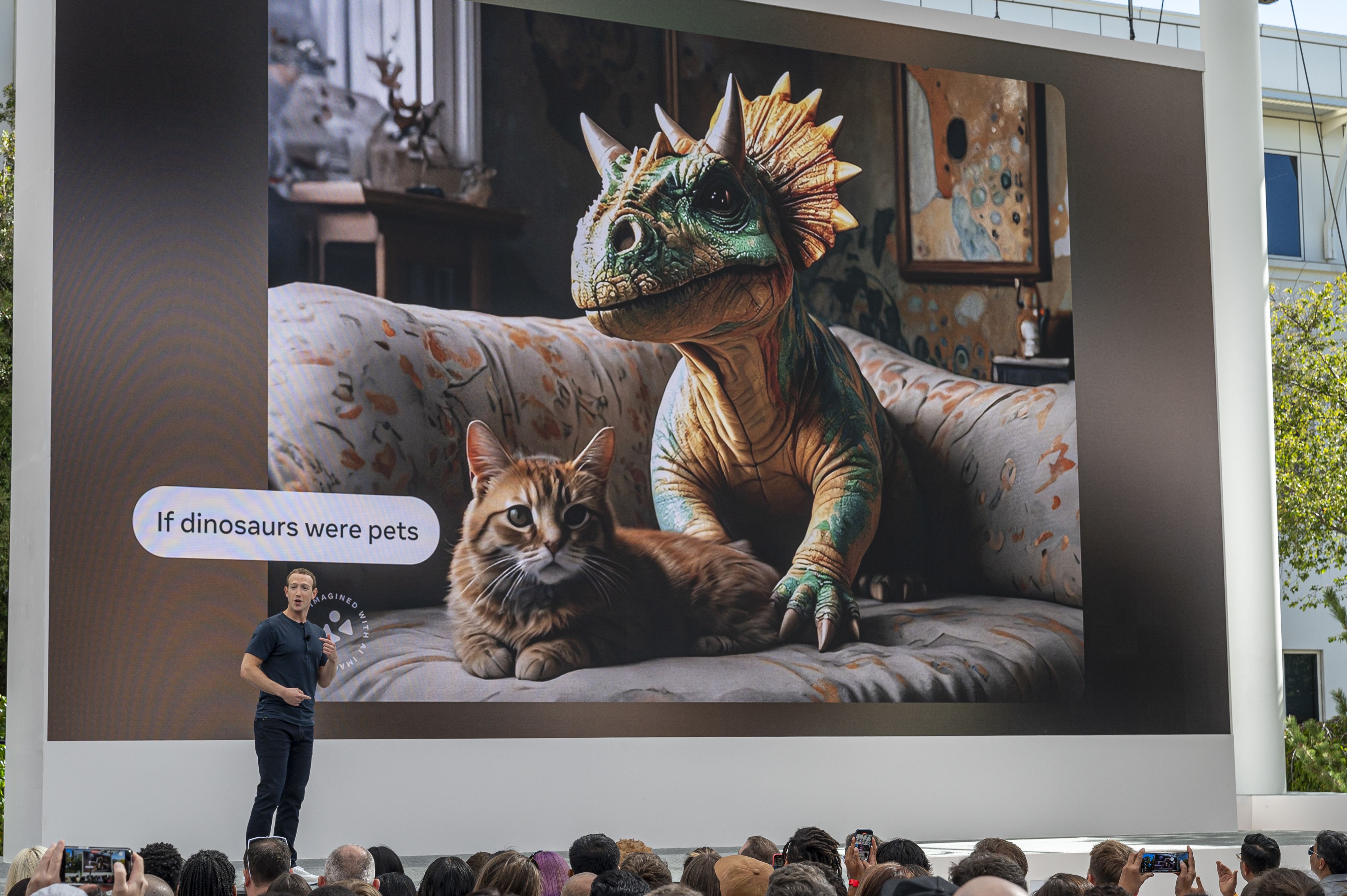 Meta CEO Mark Zuckerberg debuted a slew of new AI-focused products, including a new "Meta AI" chatbot assistant and more than two dozen AI characters that will live across its social media and messaging apps, Axios' Sara Fischer writes.
Meta AI, the company's new conversational assistant, will be available in WhatsApp, Messenger, and Instagram. The company said it will eventually make Meta AI available to users of its Ray-Ban smart glasses and its Quest 3 virtual reality headset.
Image generation (photo above) will be available using the chatbot. Meta AI will be able to generate photorealistic images from text prompts.
28 new AI personalities have launched in beta. Some personalities are played by Snoop Dogg, Tom Brady and Naomi Osaka.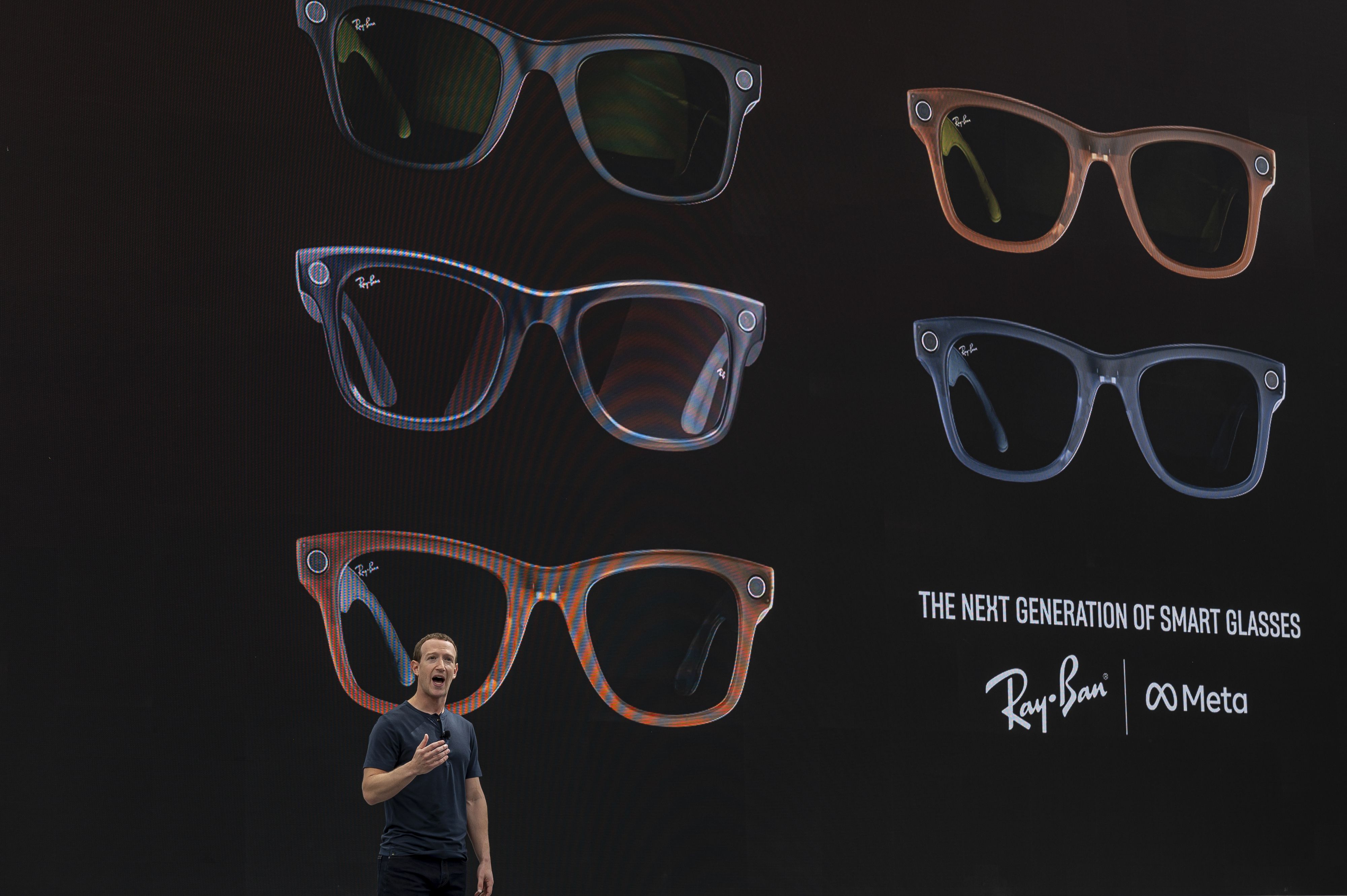 New Ray-Ban smart glasses enable users to access Meta's chatbot, are lighter and have improved audio and cameras.
Meta Quest 3, Meta's new mixed-reality headset will be available in October for roughly $500 to $650, depending on storage capacity.
5. 🤖 States fill AI void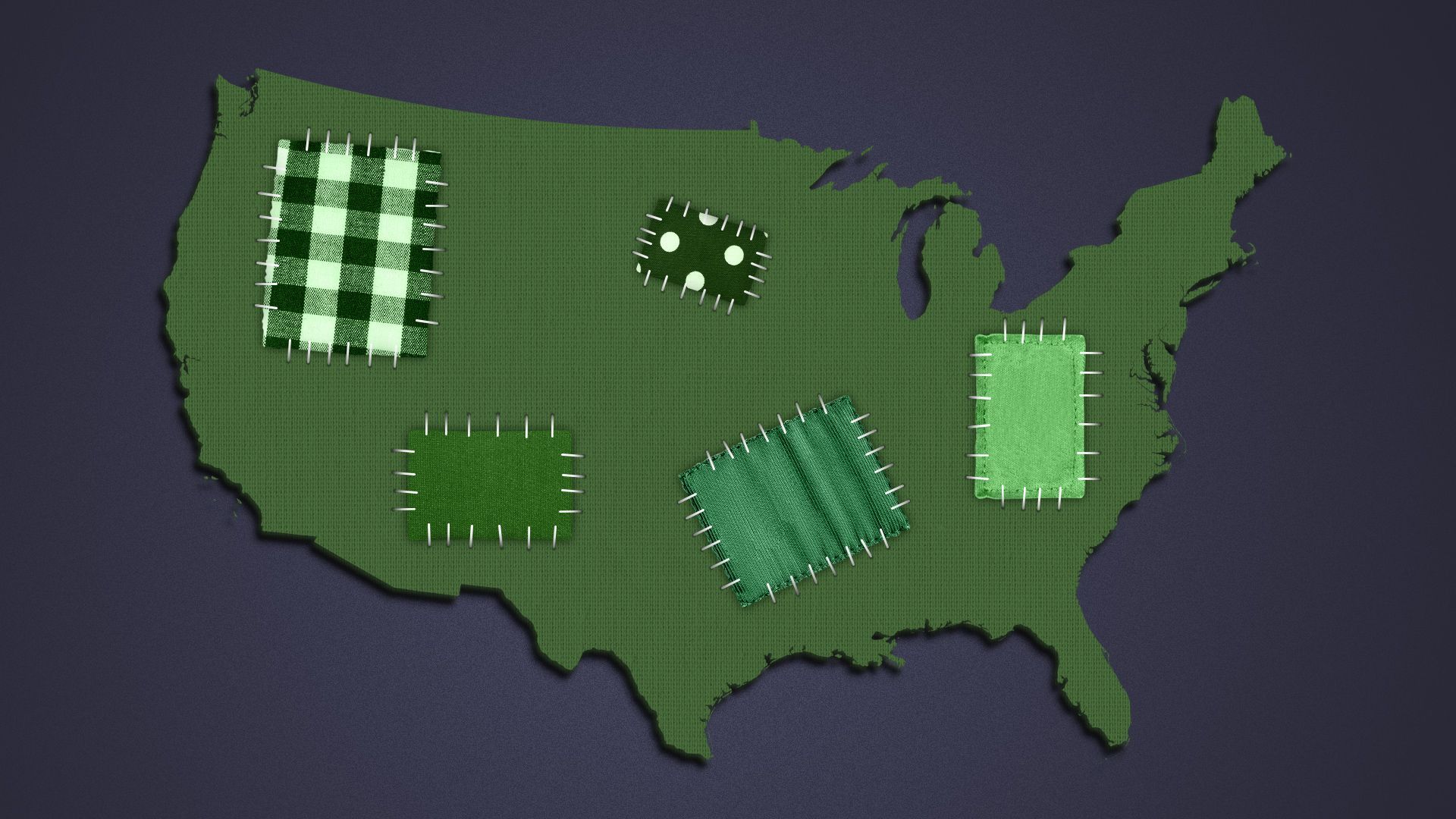 Nearly 200 AI-related bills have been introduced nationwide in state legislatures so far in 2023 — a more than four-fold increase compared with last year, Axios global tech correspondent Ryan Heath writes.
Why it matters: States are beating D.C. in the AI regulation race. The software industry alliance BSA expects a wave of legislation to become law in 2024.
Legislators in 31 states have introduced at least 191 bills focused on AI — but only 14 have become law, a BSA analysis found.
California legislators are among the most prolific drafters, and their legislation often serves as a basis for legislation in other states.
What's happening: Much of the action is concentrated in a few Democrat-controlled states.
Deepfakes bills are the most popular theme.
Read the 2-page study ... Get Axios AI+, our daily newsletter.
6. 🚙 Motor City model for revitalization

JPMorgan Chase's $200 million investment in Detroit "could show other cities how to bounce back," Fortune says in an article in conjunction with the magazine's annual "Change the World" list of innovative companies.
The bank was on the list for the fourth time, in recognition of its role in Detroit's comeback after the city entered the largest municipal bankruptcy in U.S. history 10 years ago.
"Detroit has rebounded to a degree that few would have thought possible," Fortune says, "reflecting the work of dozens upon dozens of community leaders, businesses, and nonprofit institutions, not to mention a maniacally focused city government."
"But one particularly impactful and innovative part of the effort has been a major investment of time and capital by JPMorgan Chase, America's biggest commercial bank."
Go deeper: The bank has published a playbook of lessons learned from the Detroit efforts, arguing that it's good for business to invest in everything from affordable housing to skills training.
JPMorgan Chase vice chairman Peter Scher told us: "When neighborhoods grow, our business is stronger. Detroit was a great lesson in this — and an example of what happens when government and business work together to focus on the real needs of a community."
The playbook — which will be distributed to clients, elected officials and community organizations — will be used to guide the bank's future investments in other communities in the U.S. and around the world.
7. 🪖 Milley battens down after Trump blast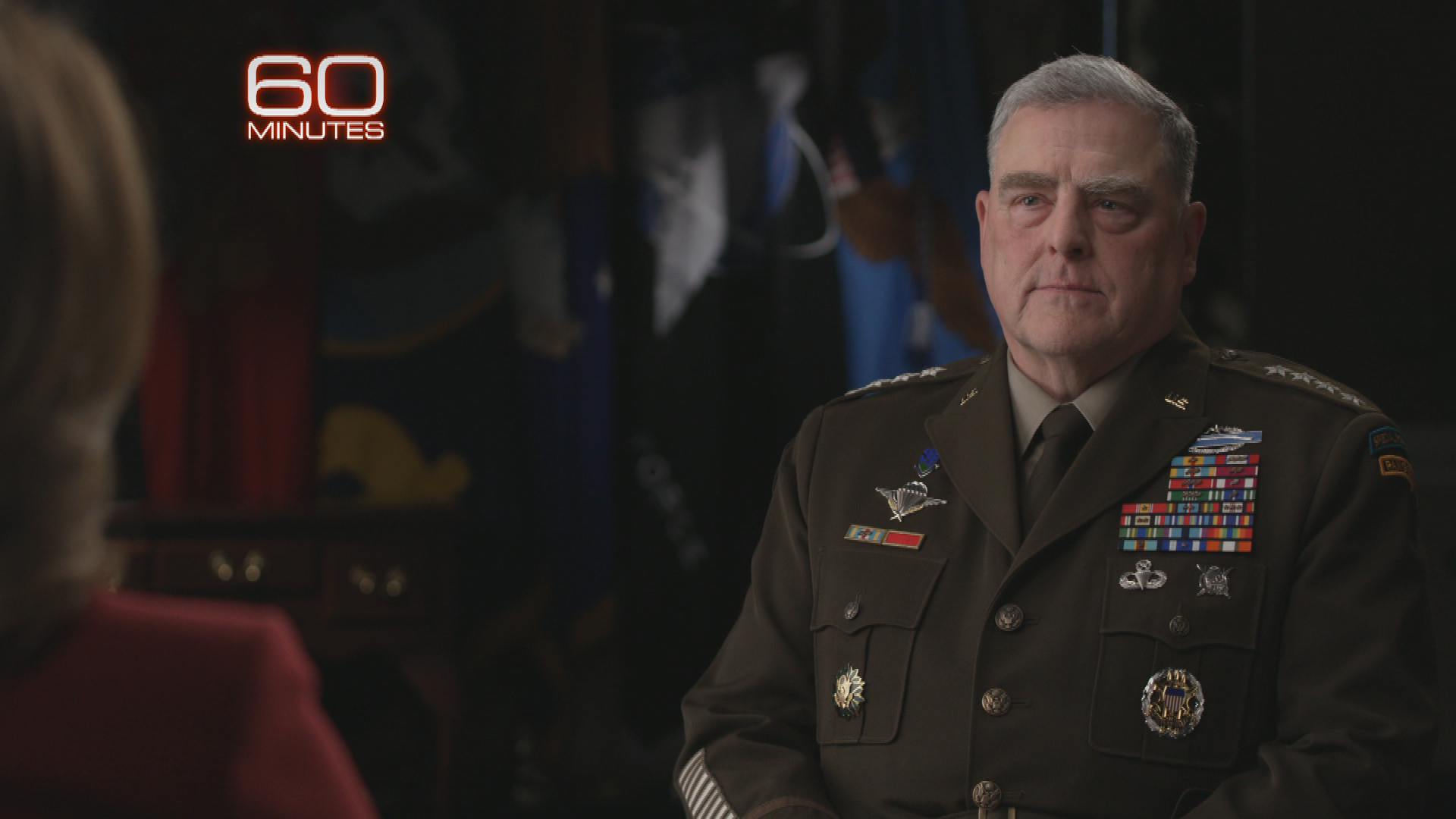 Retiring Joint Chiefs of Staff Chair Gen. Mark Milley told Norah O'Donnell in an interview for a future "60 Minutes" that he's taking precautions after former President Trump (who appointed him!) accused him of treason in an online post:
"I've got adequate safety precautions. I wish those comments had not been made, but they were. And I'll take appropriate measures to ensure my safety and the safety of my family."
8. 📷 Parting shot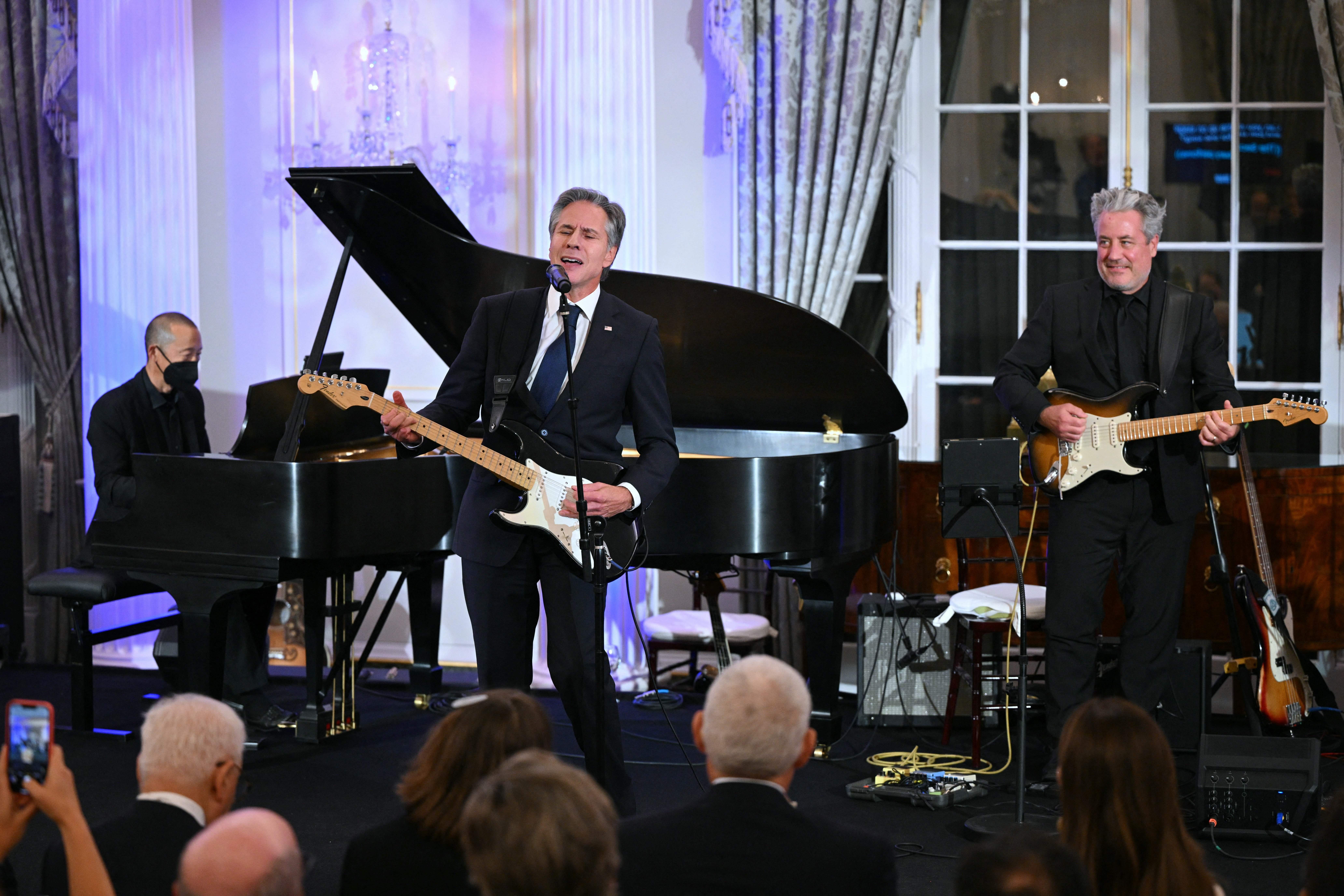 Secretary of State Tony Blinken — who once played with friends in a "wonk rock" band — performs a Muddy Waters song yesterday while launching the Music Diplomacy Initiative in the State Department's Benjamin Franklin State Dining Room.
📬 Thanks for starting your day with us. Please invite your friends to sign up.