November 23, 2022
🐪 It's Wednesday!
☂️ Today's weather: 20% chance of showers, and cloudy with a high near 61.
🎂 Happy birthday to our Axios Austin member Meghan Womack and happy early birthday to member Brian Beck!
⚡ Situational awareness: Twitter could be "dual-headquartered" in California and Texas, company owner Elon Musk suggested in a meeting with staffers, per The Verge.
Today's newsletter is 829 words — a 3-minute read.
1 big thing: Holiday travel is back
Austin-Bergstrom International Airport officials are gearing up for a busier-than-usual Thanksgiving travel period, estimating that the number of passengers flying out of the airport this month will be the most in at least three years.
Why it matters: Holiday travel across the country is returning to pre-pandemic levels, and this year the number of Thanksgiving week sojourns falls behind only those in 2005 and 2019, per AAA, which started tracking in 2000.
By the numbers: Officials expect the daily number of passengers flying out of the Austin airport to reach roughly 30,000 today, according to data provided to Axios.
Officials do not yet have an estimate for this month's total, but a spokesperson said 2022 numbers will likely exceed 2019, 2020 and 2021 because airlines are offering 35% more seats for sale this month.
Driving the news: Nearly 55 million Americans will travel 50 miles or farther this week.
Most people will travel by car, but road-tripping for the holidays remains 2.5% below 2019 levels.
Zoom out: Nationwide, 4.5 million people are expected to fly during the holiday week, which starts today.
And 1.4 million people will travel by train or bus or take a cruise, an increase of 23% compared with last year.
Travel tips: Airport officials have already warned travelers to arrive two and a half hours before their flight.
Passengers parking at ABIA can reserve a space and check for real-time availability before arriving at the airport.
And if you are obligated to bring cranberry sauce to Thursday's dinner, the canned version is allowed in your checked luggage, per the TSA.
💭 Our thought bubble: This might be a good time to brush off those New Year's resolutions and finally try meditation.
2. 🦃 How not to fry your turkey
If you're deep-frying your turkey this year, be careful.
Yes, you want a crisp, juicy bird — but you also want to keep your eyebrow hairs unsinged.
What's happening: The Austin Fire Department on Tuesday demonstrated how not to fry your turkey.
The big picture: U.S. fire departments respond to more than 1,400 fires on Thanksgiving, more than three times the average of any other day during the year.
Texas ranks first among states for the most grease and cooking fires on Thanksgiving Day.
What not to do: The main causes of deep-fryer fires include:
Too much oil in the fryer pot. Oil spilling out of the pot can hit the burner and cause flare-ups.
Dropping a frozen or partially thawed turkey — which has a lot of frozen water inside it — into oil. "Water and oil are explosively destructive together," Angela Martin, a lieutenant with the Austin Fire Department, told reporters at the demonstration.
Frying too close to buildings. Cook away from flammables and keep your distance from wooden structures.
What they did: "We did pretty much everything you're not supposed to do to get an amazing, cool flame," Martin said.
They overfilled the fryer pot and heated it to 500 degrees — and dropped a frozen turkey into it.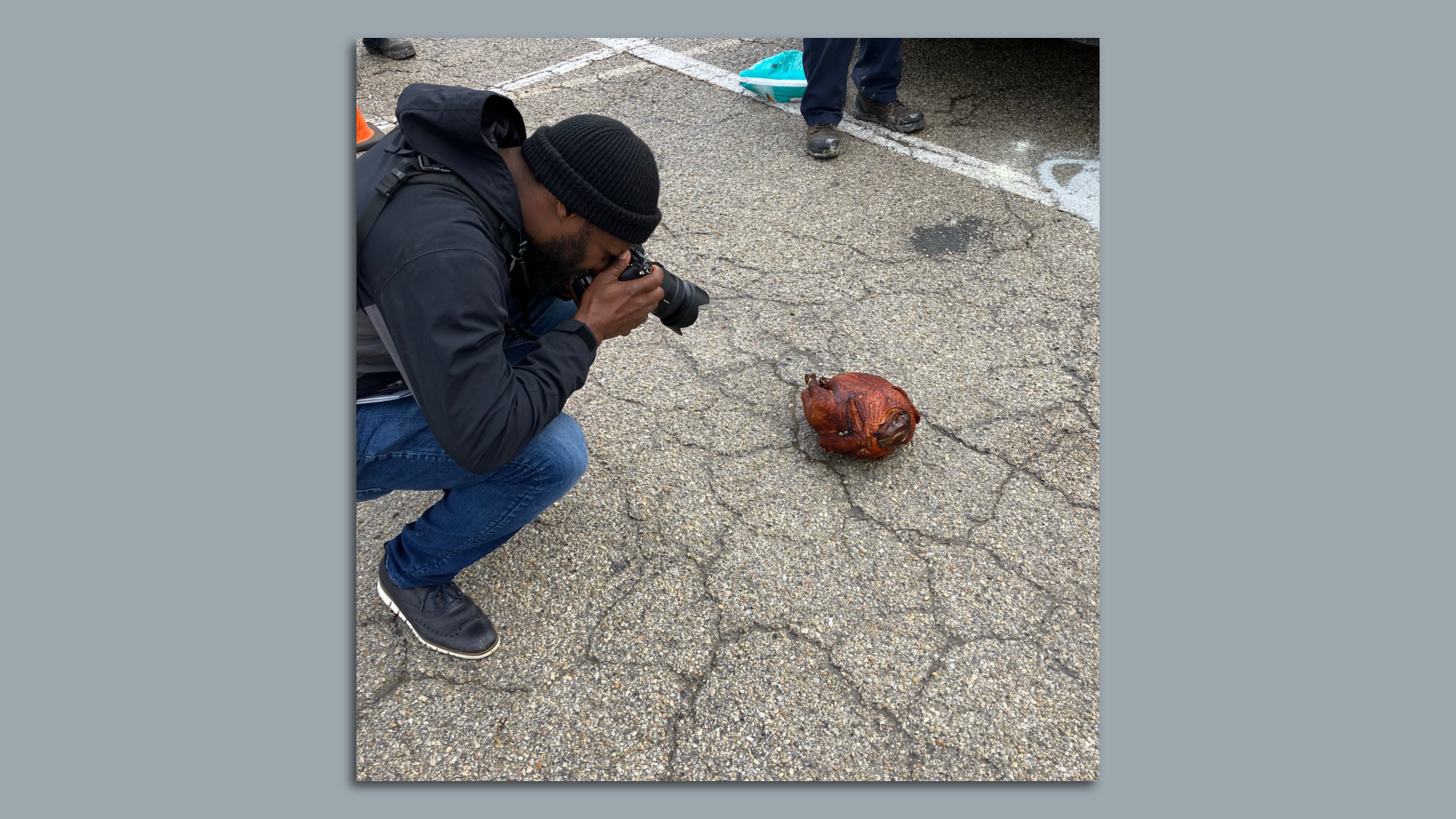 Be smart: Martin recommended deep frying with an apron.
"Nobody wants to cook bacon naked. It's the same thing."
3. 🤠 The Roundup: Wrangling the news
👩‍💻 Meta, the parent company of Facebook, is laying off a total of 222 workers on Jan. 13 across its West Sixth, McAllen Pass, Alterra Parkway and West Third locations. (KXAN)
📚 Austin officials are seeking national historic status for the former Faulk Central Library, at Eighth and Guadalupe. (Austin Towers)
😔 Indie bookstore Malvern Books, which became a hub for writers in Austin, will close Dec. 31. The store's closure comes after owner Joe Bratcher died from COVID-19 complications. (Austin American-Statesman)
4. Your long weekend lineup
If you're staying put for Thanksgiving, we've got you covered. Here are a few events we're eyeing for the long weekend:
🛍️ Get your holiday shopping done during Small Business Saturday. Many Austin-area shops, restaurants, breweries and other businesses will offer deals and specials this weekend.
🎭 Catch Jane Austen's "Sense and Sensibility" on stage at the Long Center through Sunday.
🤠 Wrap up your turkey day at the Continental Club, where Dale Watson and his Lone Stars will perform their Thanksgiving show and dance. Doors open at 9pm. $15 cover.
🏀 Watch the Texas women's basketball team take on Princeton at 1pm Sunday at the Moody Center.
5. 🧈 Charted: Our butter consumption
Even as Texans are world-famous eaters, we're not all that big on butter.
The big picture: We love butter on our mashed potatoes, but we noticed that butter consumption lags in Texas, the Southwest and the West.
Between the lines: "The butter 'divide' is not surprising considering that much of the Midwest and East Coast was settled by Europeans who brought with them a long tradition of dairying and buttery cuisine," Elaine Khosrova, author of "Butter: A Rich History," tells Axios. "In the West and Southwest, of course, you have more settlers from Hispanic cultures, where butter was not a prominent ingredient in their dishes."
Yes, but: Deep fried butter won the Most Creative award at the 2009 Texas State Fair.
Thanks to Lindsey Erdody for editing and Kathie Bozanich for copy editing this newsletter.
Programming note: We're off Thursday and Friday for the Thanksgiving holiday, but we'll be back in your inbox bright and early — and still quite full — Monday morning.
🎧 Asher is listening to this catchy new song from the Austin band Wild Child.
😬 Nicole is headed to Omaha, Nebraska, for Thanksgiving. Send happy thoughts.