Axios Boston
June 09, 2023
It's Finally Friday.
Today's weather: 🌦️ Scattered storms in the mid-60s.
📍 Welcome to a special edition for Boston Pride.
Today's newsletter is 962 words — a 3.5-minute read.
1 big thing: 🌈 Pride for everyone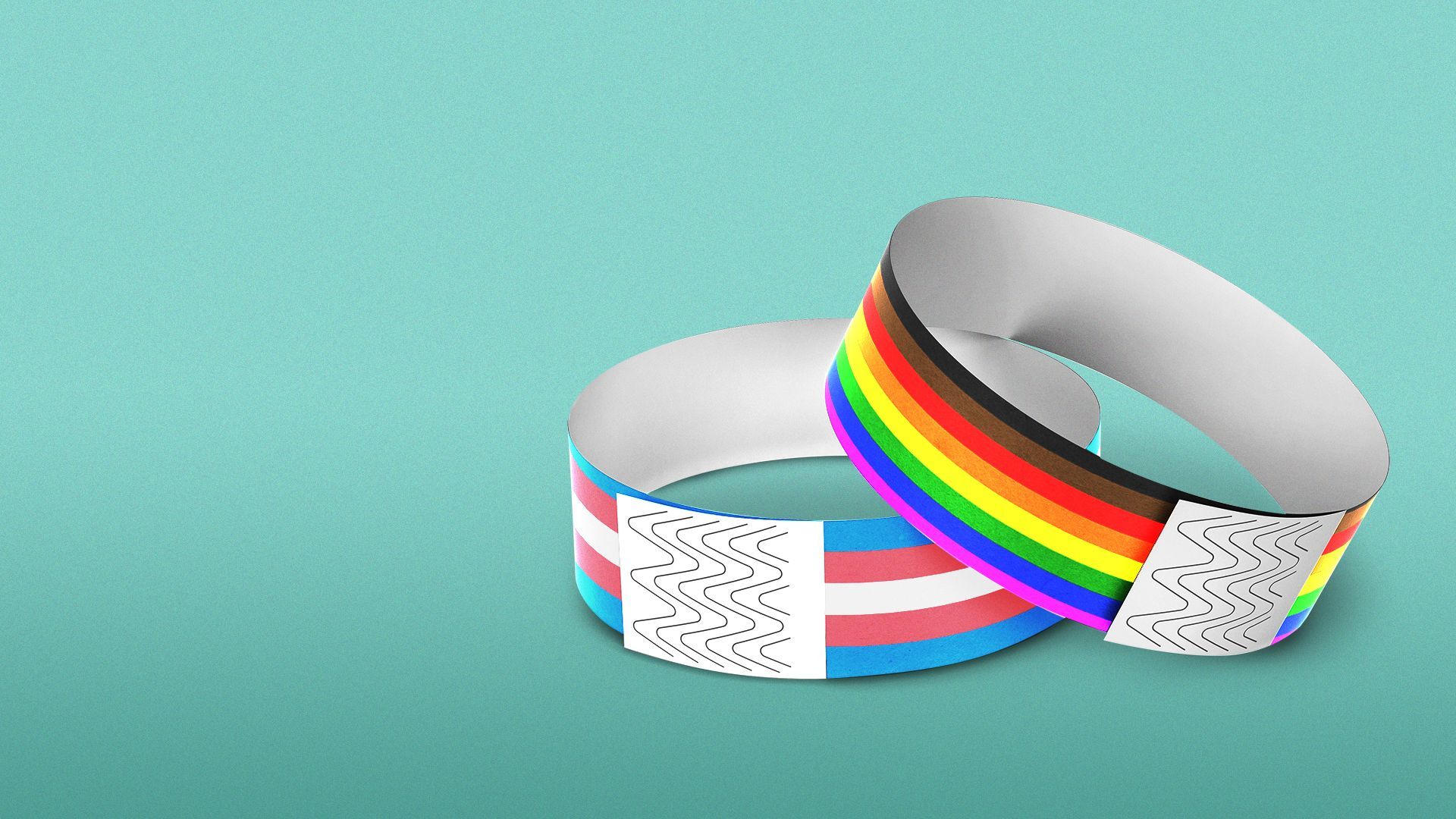 Boston's Pride parade is fully back for the first time in three years, and the organizers aim to set a new standard for inclusivity.
Driving the news: The parade starts at 11am tomorrow at Copley Square. It ends at the Boston Common, where locals can enjoy a festival or a block party at City Hall Plaza from 12-6pm for ages 21 and up.
Gov. Maura Healey — the state's first openly lesbian governor— will be among those marching.
The nearly 2-mile-long parade route is shorter than in previous years, and there are no hills to make it as accessible as possible, says Jo Trigilio, vice president of Boston Pride for the People.
Zoom in: The festival on the Common will have live music on two stages, vendors and food. Also: dedicated areas for families, teens, elders, plus a quiet area.
Both stages will have accessible viewing areas.
There'll be alcohol and a DJ at the block party. Think: dayside dance party + food trucks.
💡 Pro tip: Bring a blanket and water if you want to watch the performances on the common, Trigilio says.
What they're saying: The LGBTQ+ community is as diverse as any other, and the parade and festival should offer something for everyone, Trigilio tells Axios: "We're trying to provide opportunities for more engagement."
Flashback: The Boston Pride organization dissolved in 2021 amid a boycott — the culmination of years-long clashes with other LGBTQ+ groups.
The reckoning briefly left the city without a full-fledged parade and festival.
What's next: "This is only our first year," Trigilio says. "If people have more ideas on how we can create more spaces for engagement, our ears are open."
2. 🥳 Be safe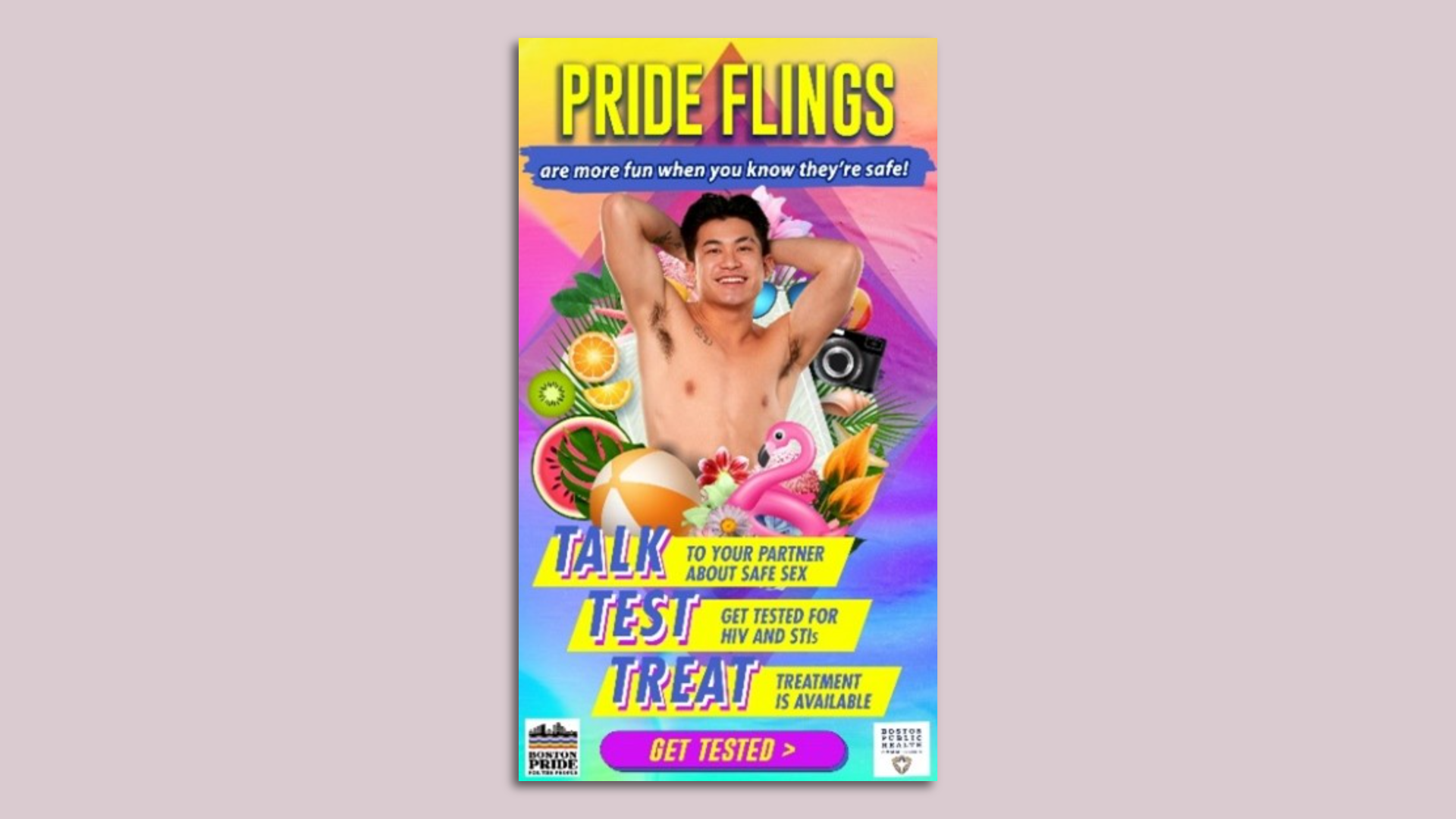 Pride is love, liberation — and health, says Gary Daffin, parade co-chair.
What's happening: Boston Pride for the People partnered with the city's public health commission to share dating advice, condoms and resources for HIV and other communicable illnesses.
Why it matters: LGBTQ+ people and particularly LGBTQ+ people of color tend to have higher risks of mental health conditions, HIV, cardiovascular disease and other illnesses. At the same time, they have less access to quality health care.
What they're saying: "We want them to have health care like everybody else," Daffin tells Axios. "That's the thing I would like people to take away from this whole concept that Pride is health — that you belong."
Details: The city is posting ads on Grindr, Tinder and other apps to promote safe sex, HIV and STI testing and treatment for infections and illnesses, says Dr. Bisola Ojikutu, the commission's executive director.
The city plans to give out 10,000 condoms.
3. 🫶 Love for LGBTQ-owned businesses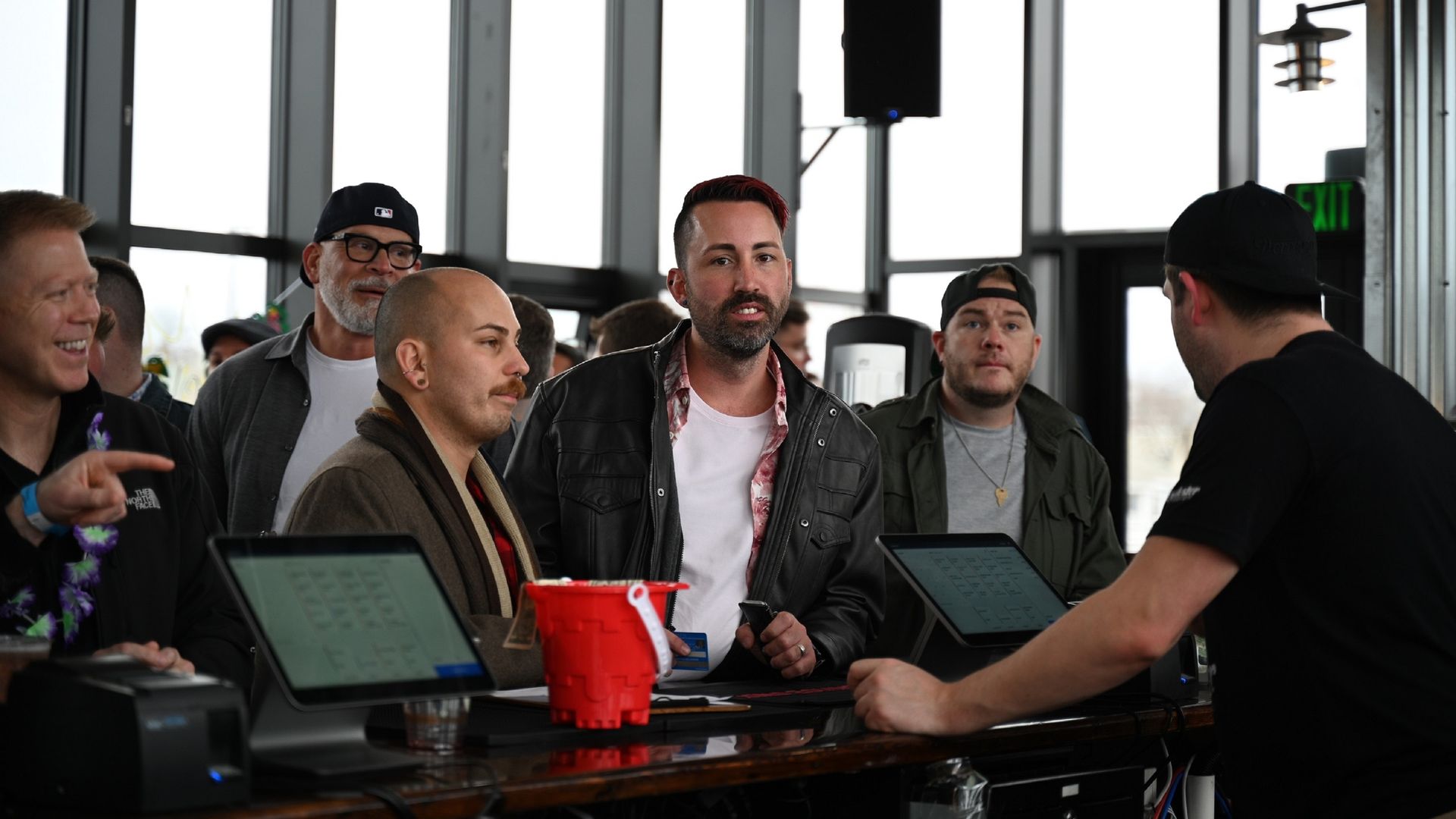 The state's LGBTQ+ business community is a big deal: Around 20,000 queer-owned businesses generate almost $50 billion for the economy each year, according to the LGBT Chamber of Commerce for Massachusetts.
Why it matters: We have a better track record for embracing inclusion than much of the country and that's reflected in how we spend money.
What they're saying: "The demand is pushing the supply of inclusion in our community," chamber executive director Grace Moreno told Axios.
Young people in particular are more willing to go out of their way to support LGBTQ-owned stores, bars, restaurants and other businesses.
By the numbers: Millis-based Commonwealth Cannabis Co. was the largest LGBTQ-owned business in the state last year, according to a review by the Boston Business Journal.
Chef Tiffani Faison's Big Heart Hospitality, which owns Sweet Cheeks Q, Fool's Errand, Bubble Bath and other restaurants was the second largest.
Another restaurant group, Boston Urban Hospitality, was the third largest, with locations including dBar, Boston Chops and Deuxave.
🍺 1 beer thing: Dorchester Brewing Company co-founder Matt Malloy told Axios building a safe space for LGBTQ+ people is part of the brewery's mission.
DBCo. hosts events for the bear community, queer women and other communities.
4. 🔙 Back that Mass. Up: Tax breaks talks latest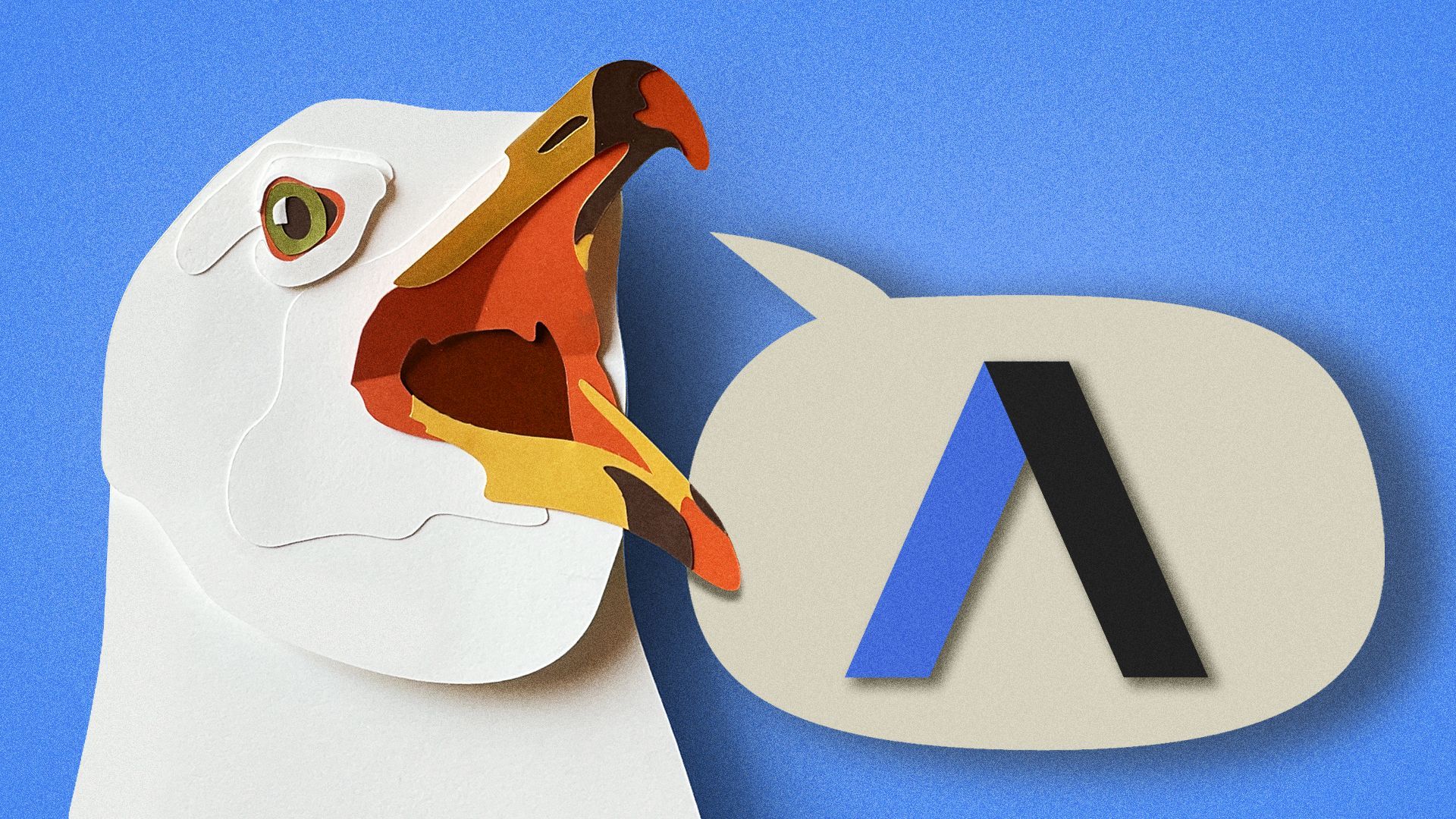 The State Senate is offering a tax relief plan without breaks for capital gains investments, something Gov. Healey and the House prefer. (Herald)
A lawsuit filed by two sexual assault survivors of Patrick Rose, the disgraced Boston police union leader, says the state's child welfare agency investigated allegations against Rose in the 1990s and didn't protect children from him. (Globe)
Mayor Wu isn't answering questions about why the police cruiser she uses to get around had its lights and siren on when it was struck by another car this week, even though it wasn't an emergency. (WCVB)
Wu won't say if it was wrong to use the cruiser to cut through traffic, but said there will be an internal review of the incident.
🍨 Helados Juli's, an East Boston dessert shop, is adding a second location near the Market Basket in Chelsea. (RestaurantTalk)
Yes, even in Massachusetts: Someone sprayed homophobic graffiti on the First Baptist Church in Jamaica Plain, police say. (Universal Hub)
💰 Boston-based Laudio, a health care operations management software company, raised a $13 million Series B to shore up AI capabilities. (Axios Pro)
A man was forced to strip naked by an assailant in Central Square. (Cambridge Day)
The clothes-less victim managed to meet up with police who found his clothes nearby.
A new career is waiting for you
5. Supporting LGBTQ+ creators
Here's where to hang with LGBTQ+ creators and performers this weekend:
Boston Dyke March
The march is back this year with music, poetry and speakers.
6:30pm today at the Parkman Bandstand on the Boston Common.
🍸 Pride Bar Festival
LGBTQ Nightlife Events, which hosts events for queer women and nonbinary people, organized a festival with DJs, drag, art and live music.
Cost: $25 + fees via Eventbrite. Tickets get you into 10 venues and the Lansdowne Street block party.
🛍 Pride Market at Time Out Market Boston
Sellers include Nubian Rainbow, KyElla Design Co. and Mad's Art.
Deehan wants to know if you saw the Pixies last night.
Steph can't wait to sport their new binder and leather harness at Pride, thanks to Leather Pixie.
This newsletter was edited by Kristen Hinman and copy edited by James Farrell.