September 23, 2022
It's Friday, and it's National Dogs in Politics Day, aka #NationalCheckersDay.
🌤 Today's weather: Sunny, but under 60 degrees. High tide: 10:47am.
Today's newsletter is 698 words — a 3-minute read.
1 big thing: 🎞 Boston's Film Festival brings local talent home
Boston is the site of three feature film premieres the next few days as the city hosts the 38th annual Boston Film Festival.
The big picture: The theme of this year's nonfiction films is environmental and wildlife challenges. The festival started yesterday and runs through Sept. 26.
Movies are playing at the Regal Fenway and the Boston Public Library. Check the schedule for times and tickets.
What they're saying: "For the first time, the BFF also will feature a night of comedy films on Sept. 23 at the Wilbur Theater with 'Bromates,'" a release from the festival organizers said.
The intrigue: The festival launched last night at the Regal Fenway with a screening of "Don't Worry Darling," Olivia Wilde's film with Florence Pugh, Chris Pine and Harry Styles that's caused so much commotion.
"Darling" opens nationwide today.
Three movies are set to debut:
Dude-roommate comedy "Bromates" from executive producer Snoop Dogg and writer/director/New Englander Court Crandall plays at the Wilbur Theater, Boston's stand-up headquarters.
"The Wind & the Reckoning," a true story about 19th century Hawaiians' resistance to colonialism amid a leprosy outbreak.
"Always, Lola," a drama starring Roxy Striar, who grew up in Newton, about a group of young women discovering secrets about their dead best friend.
And there are two films making their American debuts in Boston:
"American Murderer" starring Ryan Philippe and Idina Menzel.
An environmental documentary, "The Temptation of Trees."
2. 🔙 Back that Mass. Up - News from around the commonwealth
🎭 The long-vacant Harvard Square Theatre could get a new lease on life as its American billionaire owner decides how to redevelop his $17.5 million investment. (GBH News)
🚊 A Green Line train derailed Monday just as the Orange Line reopened after a 30-day shutdown. It took the T until yesterday to disclose the derailment. (WCVB)
🍀 Celtics head coach Ime Udoka has been suspended for the entire NBA season for violating team policies by reportedly having a consensual relationship with a team employee. (ESPN)
Federal prosecutors have reached a deal with Shelly Joseph, a Newton judge who was indicted three years ago for allegedly helping an undocumented immigrant evade immigration agents. (Globe)
3. 🎼 Hear, here! Boston-area concerts this weekend
It's a busy weekend for Boston music, with some superstars and local greats taking the stage. Check out this playlist Deehan made featuring nothing but acts playing in Boston this weekend.
Tonight
Saturday
Indie rockers Speedy Ortiz play with Haasan Barclay at ONCE at Boynton Yards — noon
The Get Up Kids celebrate the 25th anniversary of their album "Four Minute Mile" at Brighton Music Hall — 7:30pm
Cool is dead! The Shrek Rave comes to the Royale — 9pm
Sunday
Banjo boys Caamp and their folksy AF vibes come to the Leader Bank Pavilion — 7:30pm
Yet another sick punk band from Australia, Spotify's entry on Amyl and the Sniffers describes their live show as "ball-tearing." They're at Big Night Live — 7pm
4. 🗯 Tell us what you think!
Now that we've been around for a few months, Axios Boston wants to know what you think of our newsletter.
If you have a moment, please fill out this reader survey that asks for some details about yourself, your dining habits, social network use —that kind of stuff.
Most importantly, we'll get a better sense of what part of Mass. you're in and what interests you.
Why it matters: Your feedback will help Mike and Steph know what topics to focus on and how to pick stories relevant to you.
Do you see yourself with a new career?
5. 🐶 Pet pick: Lil Draco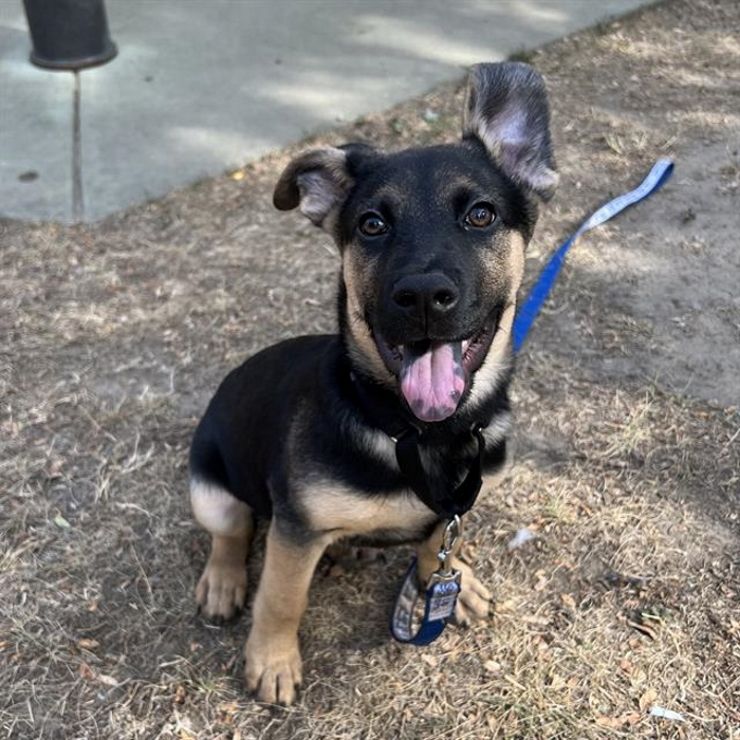 Lil Draco isn't only a great name for a rapper, it's a great name for this German shepherd mix pup.
Draco's under six months old, but has spent much of his life so far recovering from hip surgery.
Yes, but: He's "a little bit behind on learning his puppy manners," according to the MSPCA, so he's looking for a home with plenty of play time and puppy patience.
He would benefit from a grownup dog or dog-savvy cat in the household to show him how to behave.