September 27, 2022
It's Tuesday. Happy Rosh Hashanah to those who celebrate.
Today's weather: A high of 73 and a low of 53. High tide: 12:54pm.
Situational Awareness: City Councilor Ricardo Arroyo, the ousted chair of Boston's redistricting committee, has filed a map proposing new boundaries for the city's nine voting districts, GBH News reports.
Arroyo said the map "unites more neighborhoods" along racial and ethnic lines and increases diversity within the Dorchester district represented by Councilor Frank Baker, Arroyo's political rival.
Today's newsletter is 916 words — a 3.5-minute read.
1 big thing: 🗳 Can Geoff Diehl beat Maura Healey?
Local political experts say time is running out for Republican nominee for governor Geoff Diehl to attract enough attention from voters to have even a glimmer of hope to defeat Attorney General Maura Healey.
Why it matters: Historical trends, recent election results and factors unique to 2022 make Diehl's chances of becoming the next governor very slim 25 days before voting begins.
Polls suggest that Healey has a clear lead over Diehl that's only now beginning to slightly narrow as the general election nears.
A July 20 poll from Suffolk University found Healey up by 31 points against Diehl. Suffolk's Sept. 10 follow-up survey put Healey's lead at 25 points.
What they're saying: Republican strategist Rob Gray tells Axios that Diehl's path to victory is "less than narrow."
Diehl lacks name recognition, and more importantly, the campaign funds to become better known, according to Gray.
"He's unknown, but among those who know him, he's seen as somebody who got trounced by Elizabeth Warren, who's still pretty popular here."
By the numbers: There is no apples-to-apples way to compare Diehl's electoral record to Healey's, since they've never run against each other. However, both were on the ballot in 2018, when Healey was reelected as AG and Diehl lost the U.S. Senate race to Elizabeth Warren.
Diehl got 979,210 votes to Warren's 1.6 million.
Healey did even better than Warren that year, with 1.87 million votes to her opponent's 805,000.
Running in very different races, Healey, an incumbent, received nearly 895,000 more votes, or 62.7% more than Diehl did challenging Warren.
MassINC Polling Group president Steve Koczela tells Axios there's been a historical advantage for Republicans running for the corner office for the last few decades, but it looks like that trend could be over.
"There's no evidence so far of that advantage continuing this year. Polls throughout the year have shown Maura Healey with a comfortable lead," Koczela said.
2. 🏗 Wu-era zoning shake-up begins
Boston Mayor Michelle Wu has nominated a new slate of members to the city's Zoning Board of Appeal.
Why it matters: The ZBA has rejected housing plans in recent years even after applicants were approved by the Boston Planning and Development Agency.
One of the most controversial instances was the rejection of a mixed-use development with 31 apartments in Roslindale Square. It would have had 13 income-restricted units, per BBJ.
Details: The ZBA consists of a seven-member board and seven alternates who can fill in at meetings. Wu announced yesterday morning that she was nominating seven members and six alternates, including three holdovers from previous administrations.
She named Giovanny Valencia, an affordable housing advocate, as an at-large member from West Roxbury, as well as 12 other members and alternates.
Some of the nominees — Jeanne Pinado of Jamaica Plain and Sherry Dong of Dorchester and Hansy Better Barraza of Roslindale — are current members first nominated by former Mayor Marty Walsh.
What they're saying: "The appointees live across the City and represent the diversity of Boston, including members who are multilingual, renters in income-restricted housing, homeowners, building trades members, first generation immigrants and multigenerational Bostonians," the city said in a release yesterday.
What's next: City Council must approve the nominees.
Editor's note: This piece was corrected to show that Jeanne Pinado, Sherry Dong and Hansy Better Barraza were first nominated by former Mayor Marty Walsh.
3. 🔙 Back that Mass. Up: News from around the commonwealth
👮🏻‍♀️ Boston Police logged nearly $4 million in overtime pay between 2019 and 2020 for work at "Mass. and Cass," an area marked by a seemingly unending cycle of homelessness, crime, substance use and poverty. (GBH News)
💸 Susan Collins, the new head of the Federal Reserve Bank of Boston, told business leaders that she thinks "a more modest" economic slowdown is a realistic possibility despite concerns about inflation. (SHNS via WBUR)
🏈 New England Patriots quarterback Mac Jones suffered an ankle sprain in Sunday's loss to Baltimore that could knock him out for weeks. (NFL.com)
4. ✈️ Guess where Logan ranks in satisfaction
Surprising virtually no one in eastern Massachusetts, Boston Logan International Airport ranked 17 out of 20 mega airports for customer satisfaction in a recent survey, Axios' Joan Muller reports.
Why it matters: It's 2019 all over again. After a blissful period during the pandemic when passengers could breeze through security checkpoints, baggage claims and restaurants, airports are again a source of frustration, according to J.D. Power's latest annual North America Airport Satisfaction Study.
Who beat Boston: Minneapolis-Saint Paul International Airport's passenger satisfaction topped the list with a score of 800 on a 1,000-point scale, followed by San Francisco International Airport (796).
Detroit Metropolitan Wayne County Airport tied with New York's John F. Kennedy International Airport for third (791).
Meanwhile, Logan's score is 754.
Who's worse: Los Angeles International Airport (753), O'Hare International Airport (751) and Newark Liberty International Airport (719).
Take your career to the next level
5. 🍻 An end of summer ode to the Beachcomber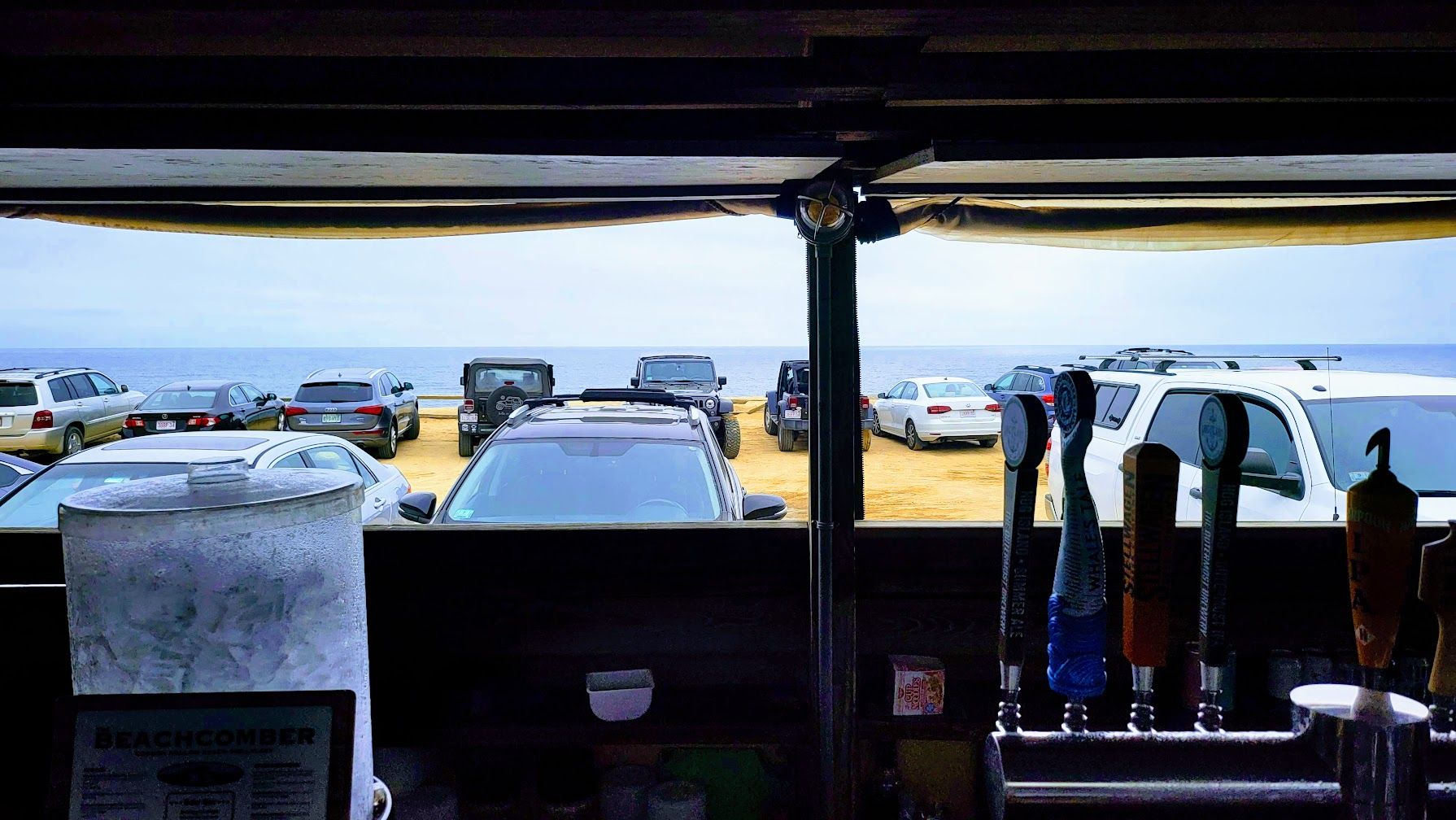 Another summer season rolls on by and it's time to say goodbye to one of our favorite seasonal restaurants: the legendary Beachcomber in Wellfleet.
As Cape Cod's only ocean-facing beachfront bar, the 'Comber provides seafood, strong mudslides, live music and a nearly constant party for outer cape tourists and locals alike.
Details: The Beachcomber is only open for three more days this year until it closes up until Memorial Day 2023.
Thursday and Friday 11:30am to 5pm
One last bash on Saturday from 11:30am to 6pm
Deehan's thought bubble: I love the place, but can someone explain to me why 'Comber merchandise has become such a thing?
Deehan thinks there should be pumpkin spice mudslides available until late November, when we switch to nogslides.
Steph is looking for some Lil Nas X M&Ms.