February 08, 2023
Hello, Wednesday! It's Laura, making my way back to Charlotte from D.C. with the rest of the team.
Weather: Mostly cloudy with a high of 69.
🥳 Happy birthday to Axios Charlotte members Judy Fahl, Jon S., Kay Tawney and Katie Trotter.
💼 On the job hunt? Here are 50 fresh openings to check out.
Today's Smart Brevity™ count is 823 words, a 3-minute read.
1 big thing: 💰 What our local leaders make
Who doesn't love pay transparency? Axios' Alexandria Sands compiled a list of the highest-paid government employees for Mecklenburg County and the City of Charlotte.
Why it matters: Local government must walk a fine line to retain talent while saving taxpayer money for residents' greatest needs.
Driving the news: Last November, Charlotte City Council members were asked to approve a proposed 14% raise for city manager Marcus Jones, which passed 9-3. One opponent — council member LaWana Mayfield — called the move "tone deaf."
Meanwhile, the city and county minimum wage is $20 an hour.
Charlotte's mayor makes around $41,000 and city council members make nearly $34,000, not including expense allowances, according to a city spokesperson.
County commissioners are paid $32,666 and the chair earns $40,835. Commissioner Pat Cotham — who declined an across-the-board raise increase in the current budget — specifically takes home $30,964 annually plus allowances, the county budget shows.
Read more: The 50 highest-paid government employees in the City of Charlotte and Mecklenburg County
2. 🤖 A robot's restaurant reviews
ChatGPT, an artificial intelligence chatbot that answers users' questions, is poised to transform how we learn, work and live.
But it's also breaking the internet because it's honestly pretty fun!
Zoom out: ChatGPT has already proved to be much more advanced than many in the tech industry expected, Axios' Erica Pandey, Dan Primack and Ina Fried report.
Inspired by our colleagues at Axios San Antonio, we decided to test the chatbot's Charlotte savvy and asked for its hot takes on our city's best restaurants. Here's what it said:
Bardo
Fig Tree Restaurant
5Church Charlotte
The Asbury
Stoke Charlotte
💭 My thought bubble: We can agree on two! But maybe we leave the best restaurant lists to the professionals.
Go Deeper: Catch up on this AI technology and what it might mean for the future via this Axios AM issue.
3. 🥙 Halal cart gets an upgrade
The halal food cart in Uptown has rolled out a fresh new look, Axios' McKenzie Rankin writes.
Why it matters: Charlotteans LOVE their tried and true halal cart. In fact, "Halal white sauce" was Charlotte's top searched recipe on Google in 2022, as Axios' Katie Peralta Soloff reported last year.
What to expect: The same classic halal foods you know and love — like gyros and chicken over rice — plus, new desserts like flan and cookies.
Details: Find the halal cart on 101 North Tryon St. every day.
4. 🍻 Speed reads: New logo, who dis?
🍺 After 14 years, Charlotte's oldest craft brewery released a new logo and packaging. ([email protected])
📚 Johnson C. Smith University added Onondaga Community College (Syracuse, NY) to its JCSU Connect Program. It's a pathway from community college to JCSU. (Axios)
🚧 Central Avenue's 1300 block, near Hawthorne Lane, will be closed to through traffic for at least the next two weeks for an emergency repair on a water pipe. (WFAE)
🍷 The highly anticipated Rosemont Market and Wine Bar will open in Elizabeth this spring. (Axios)
5. 😊 Speaking of beer...
WeldWorks, a popular Colorado brewery, has expanded distribution into North Carolina. The brewery has partnered with Charlotte-based Artisan Beverage Group, an independent craft beverage distributor, Katie reports.
You'll be able to find WeldWorks favorites at a number of retailers across Charlotte, including Salud, Barley Market, Tip Top Market and Pop the Top, a WeldWorks spokesperson tells Axios.
💭 Axios Denver's John Frank's thought bubble: WeldWerks Brewing is one of the nation's cult favorites and makes more than 100 different beers a year.
From the start, the brewery's special beer releases have excited beer fans across the nation. It's not uncommon to see customers exiting with dollies full of fruity sours and rare stout bottles.
6. Football 🤝 Food
Planning a super bowl party? Consider ordering takeout from one of these local spots:
🍕 Alternatively, you can't go wrong with pizza. Here are a few of the best slices in town.
Stay booked and busy
📆 Check out what's going around Charlotte.
Want more things to do? Check out our Event Board.
Hosting? Purchase an Event Listing.
7. 📸 Photos du jour: Charlotte in D.C.
Congresswoman Alma Adams of Charlotte brought Mayor Vi Lyles as her guest to President Biden's State of the Union Address to Congress on Tuesday in Washington.
And, right down the road, the Axios Charlotte team was meeting up with several hundred of our colleagues for karaoke and other shenanigans.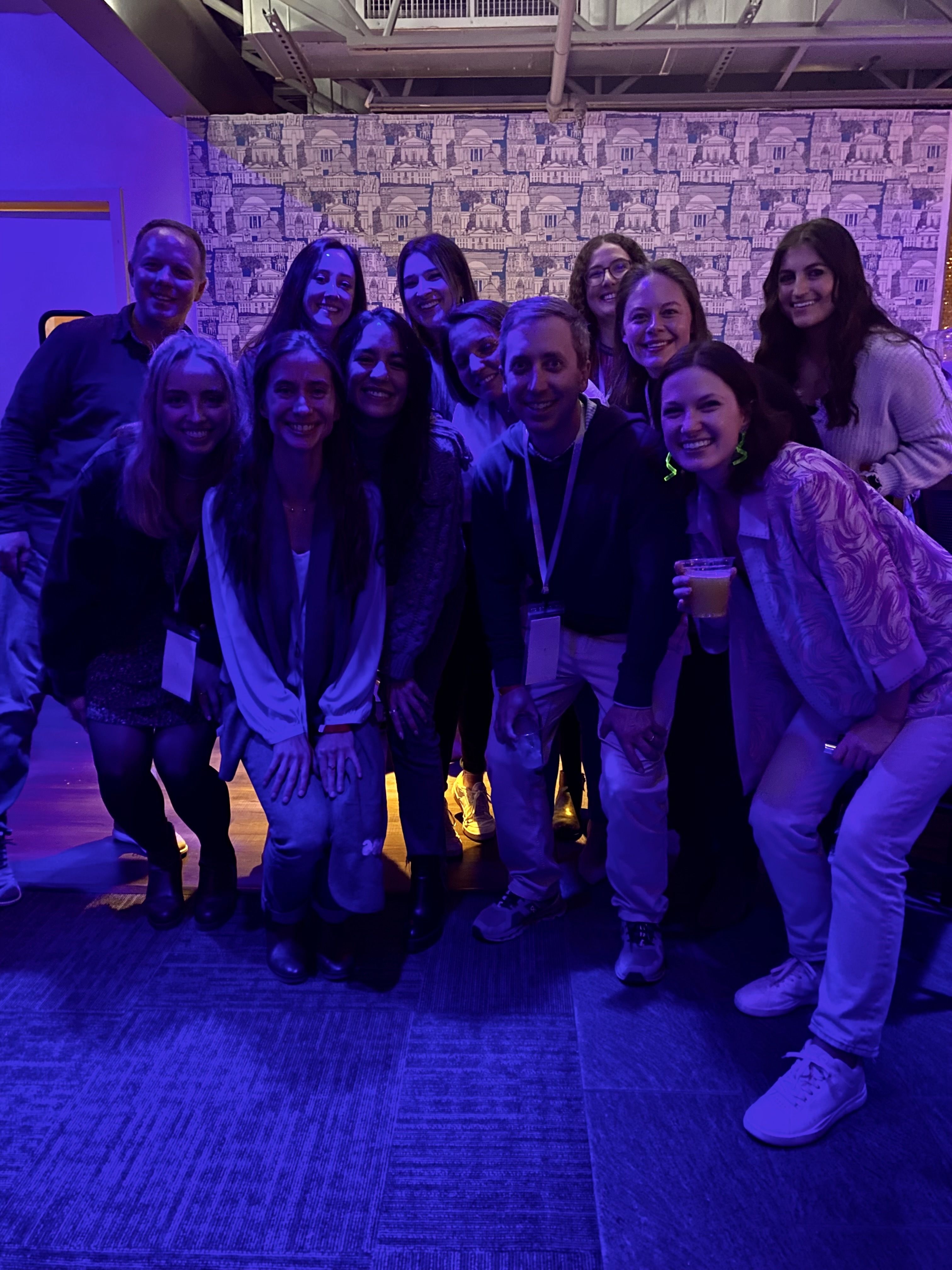 Believe it or not, this photo is as scarce as hen's teeth —  even though we all work in the same office, we're rarely in the same room together.
Axios Charlotte is the largest Axios Local team, with about 18 people in the editorial, revenue and national teams working together to get in your inbox every day. Plus Ted!
📖 For the flight home, I'm trying to finish "Lessons in Chemistry" by Bonnie Garmus before I meet up with a book club at the end of the month.
S/O to Kayla Sharpe for editing and Lucia Maher for copy editing this newsletter.