Axios Media Trends
March 28, 2023
Today's Media Trends, copy edited by Sheryl Miller, is 1,821 words, a 7-minute read. Sign up.
📅 I am excited to interview the new head of YouTube Neal Mohan and Vimeo CEO Anjali Sud at the annual Axios #WhatsNextSummit on Wednesday in Washington, D.C. Register to livestream.
🇫🇷 Axios will be on the ground at Sport Beach hosted by Stagwell at this year's Cannes Lions International Festival of Creativity.
I'll be hosting daily programming and events on media, culture, fandom and sports featuring athletes, newsmakers and more. 🏖️ Join us.
Situational awareness: Layoffs are underway at Disney, which is expected to cut 7,000 jobs this year. Disney's new metaverse division is out, per WSJ.
1 big thing: 🐦 Pay to play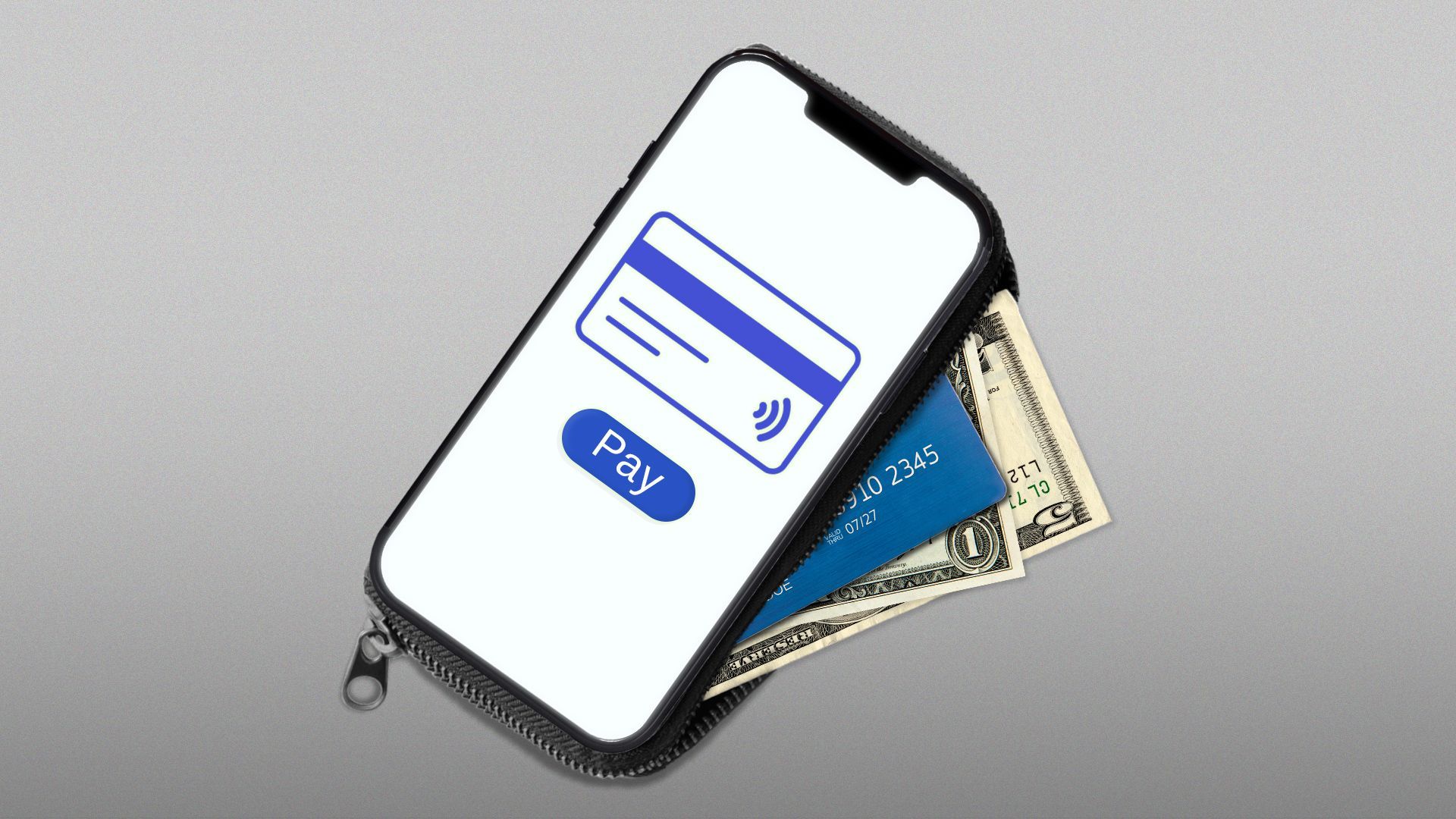 Social media is getting pricier for users who want to unlock special features and privileges.
🤑 Why it matters: Users who once believed they were contributing their time and creativity are now being asked to pay up by cash-hungry platforms.
Elon Musk tweeted Monday that beginning April 15, only tweets by verified users will show up in Twitter's default main feed of "For You" recommendations.
Verification, formerly a service Twitter offered to public figures, is now available only to $8-a-month subscribers.
The new strategy "is the only realistic way to address advanced AI bot swarms taking over. It is otherwise a hopeless losing battle," Musk argued. "Voting in polls will require verification for same reason."
Between the lines: Musk has tried to shift more of Twitter's business toward charging for subscriptions amid advertising pullback.
In addition to charging users to be verified, he also began charging companies for access to Twitter's API, or backend interface, something many accessed for free.
💡 Reality check: Musk has announced many new policies and promises from his Twitter account that have fallen by the wayside or remain unfulfilled.
Be smart: Other social networks have made changes to their feeds to prioritize paid traffic over organic posts, but Musk's moves are more drastic.
When Facebook transitioned its algorithm to prioritize posts from friends over Pages, brands and news companies were forced to buy ads if they wanted to be seen, the New York Times' Mike Isaac notes.
🔭 Zoom out: Other social networks, having reached a point of maturity and a slowdown in the ad market, are also looking to make more money from subscriptions and licensing.
Meta launched its version of a paid verification subscription service in the U.S. last week. Snapchat introduced a consumer subscription last year.
Snapchat also last week launched its first enterprise software business, licensing its augmented reality software and tools to enterprise companies.
2. ✍️ NEW: Substack invites newsletter writers to invest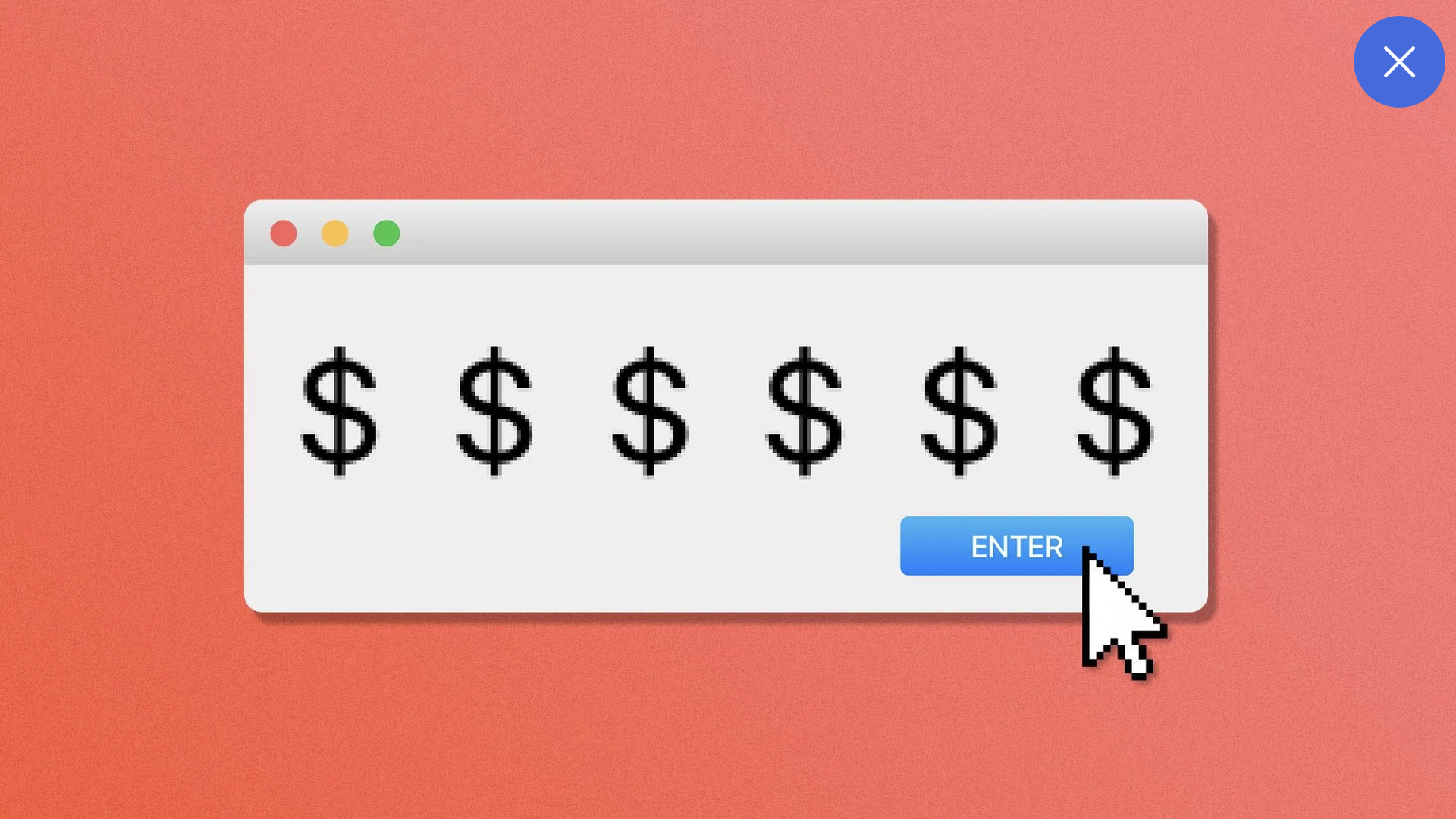 Substack will open up a community fundraising round today, allowing writers on the platform and others to invest in the company.
Why it matters: The newsletter company tried to raise money last year but scrapped its plans amid a harsh financing environment.
How it works: The raise is technically an extension of the company's $65 million series B raise in 2021, a source confirmed.
The company's fundraising goal, according to its community fundraising page, is $2 million.
As of last night, it had already raised $194,300.
The company's pre-money valuation is $585 million.
Bill Bishop, a former Axios writer and Substack's first publisher, is leading the round so far with $25,000 invested. Bishop previously invested $100,000.
By the numbers: The new fundraising page offers a closer look at Substack's business.
The top 10 publishers on the platform collectively make more than $25 million annually. In 2020, the top 10 publishers collectively made $7 million in annual revenue.
Today, there are more than 17,000 writers earning money on Substack.
3. Gannett CEO forecasts more daily newspaper sales
More newspaper sales could be on the way for Gannett, which has lost roughly half of its workforce since merging with GateHouse in 2019, Axios reported.
Why it matters: Gannett's strategy in the wake of the merger has been to shed assets and focus on fewer, more lucrative, markets.
Details: Gannett's top 100 or so daily newspaper markets bring in roughly 90% of its newspaper business revenues, CEO Mike Reed told Axios on stage at Mather Economics' annual Media Revenue Symposium in Atlanta.
While it's unclear how many more daily papers the company will shed, Reed suggested that the company would ultimately land somewhere between the 217 daily newspaper markets it's in today and its top 100 performing markets.
The top 100 or so performing markets is "probably where most of our focus will be," he said, while acknowledging that many of the markets outside of the top 100 are still "highly profitable" and don't have declining revenues.
Between the lines: Gannett has tried to focus on selling its newspapers — often to local or family-owned chains — rather than shuttering them, but some have still been squeezed.
The Salinas Californian, for example, no longer employs any reporters, the Los Angeles Times wrote Monday. Instead, it carries stories from Gannett's flagship newspaper, USA Today, and its other California papers.
What's next: Asked if the company was exploring another major strategic merger, like the one with GateHouse, Reed said the company's focus is on serving subscribers rather than achieving more scale.
4. U.S. ad forecast cut, again
Experts at Magna, one of the world's largest ad-buying firms, have trimmed their 2023 U.S. advertising spend forecasts slightly to account for continued uncertainty in the economy.
Yes, but: The ad market is still growing, just at a slower rate.
It remains healthy largely due to innovation in formats, said Vincent Létang, Magna's EVP of global market research.
Details: The 2023 ad market is expected to grow 3.4% this year, down from the 3.7% that Magna predicted in December.
That figure accounts for the absence of cyclical events, like the U.S. elections and the Olympics.
Still, the ad market will reach a record high of $326 billion this year, thanks to huge growth in streaming and short-form video ads.
What to watch: Looking ahead, Magna predicts that the market will start to show signs of improvement in the second half of the year, which will make up for the minimal to flat growth in the first two quarters.
Categories to watch:
🛒 E-commerce, driven by consumer package goods brands shifting their retail marketing budgets toward digital advertising from in-store placements, will help fuel digital ad growth organically.
🖥️ Streaming will continue to grow as more linear dollars shift to over-the-top networks.
🚗 Automotive advertising, following two years of supply chain hurdles, is growing again. Competition from EV brands is forcing legacy automakers to spend more on marketing.
⛱️ Travel and entertainment industries are also slated to grow.
🍲 Restaurants and retail brands will show less momentum.
5. Goodbye, Grid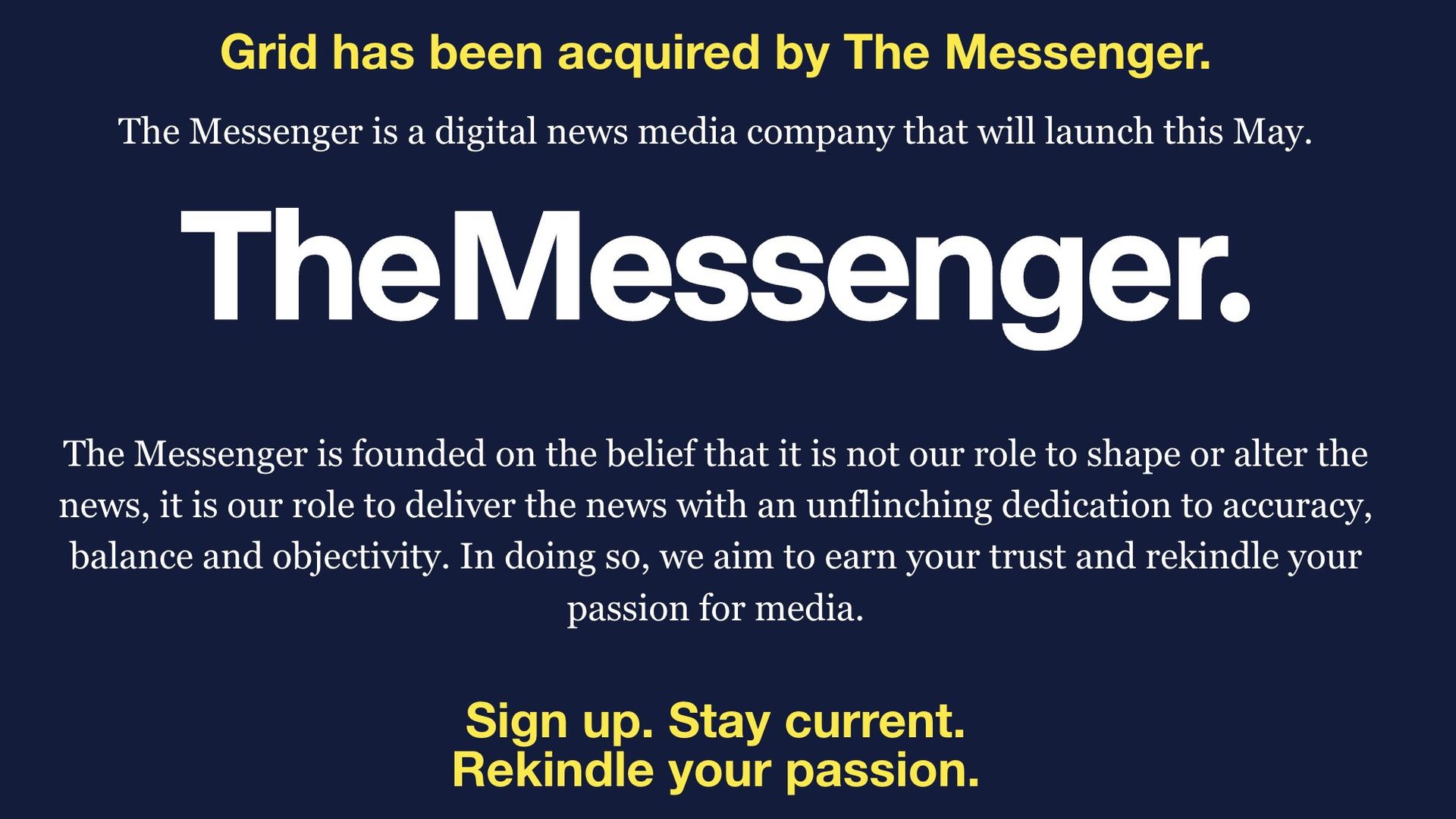 The website for Grid News, the D.C.-based digital news startup that sold last week to Jimmy Finkelstein's new media startup The Messenger, shut down Monday afternoon at 4pm ET.
Why it matters: While The Messenger is still evaluating what to do with Grid's products, it's likely that Grid's branding will not live on, a source told Axios.
Details: Grid's roughly 50 employees were told last week that the site would shutter, a source told Axios.
The Messenger's team is currently interviewing Grid employees for roles at The Messenger, with the hope that most of the company's editorial talent can join the startup, a source told Axios.
The Messenger plans to keep Grid's newsletters, but it's unclear if its podcast will continue, a source said.
With the acquisition, The Messenger will have access to Grid's back catalog of content.
Catch up quick: In November, Axios reported that Grid, which launched in early 2022 with more than $10 million in funding, was losing money.
The company's founders assured its staff last year that it had raised enough money to continue operating for the foreseeable future.
Grid's co-founder and president/CEO Mark Bauman stepped down late last year, Axios reported. Grid never announced a replacement.
Between the lines: Last week, The Messenger said it would acquire Grid, and as part of that deal, Grid's owners — Abu Dhabi-based investment firm International Media Investments (IMI) — would make a minority investment in The Messenger's parent company.
Grid News' founders said at launch that the firm raised more than $10 million from IMI and Brian Edelman, a technology executive.
But they never said how much more than $10 million, or how much Edelman invested versus IMI. In a statement announcing the acquisition last week, The Messenger said Grid was "owned by" IMI.
The big picture: Finkelstein, a longtime media investor and entrepreneur who formerly owned The Hill, has raised $50 million for The Messenger, which is expected to launch later this spring.
A source said Finkelstein is still eyeing other news sites to potentially acquire.
6. 🇨🇳 Americans hooked on Chinese apps
Most U.S. apps can't operate in China — but Chinese apps are booming in America.
Why it matters: Mobile apps are one of the most powerful ways of expanding trade and exporting soft power.
Chinese companies are able to "leverage China's one billion internet users to test user preferences and optimize their AI models at home, then export the tech overseas," the Wall Street Journal notes.
But given censorship in China, American tech firms can't reciprocate.
In the past 30 days, the top four most-downloaded apps in the U.S. (Apple's iOS store and the Google Play store) have been owned by Chinese companies:
Reality check: While an increasing number of Chinese apps are becoming popular to download, they still struggle to provide American users with the same sense of daily utility as those made by U.S. companies.
Case in point: TikTok is the only China-affiliated app in the top 20 most-visited apps in the U.S. last month, per Comscore. Eight of the top 10 are owned by Google or Meta. The vast majority of the top 20 are owned by Google, Meta, Amazon or Apple.
Go deeper: TikTok's fate may be decided by the courts
7. 🎬 1 fun thing: Franchise frenzy
So much for franchise fatigue. "John Wick" was the third film this month to open to franchise-best numbers, following "Creed III" and "Scream VI," Axios' Tim Baysinger writes.
By the numbers: "John Wick: Chapter 4" earned more than $73 million at the box office this weekend, a new record for the Keanu Reeves-led film franchise.
The big picture: Despite the underperformance from the latest "Ant-Man" and "Shazam" sequels, audiences will still flock to theaters for franchise films with strong word of mouth and critical reviews.
Be smart: "John Wick's" success comes as Lionsgate is in the midst of separating its studio business from Starz, which many in the industry believe is designed to make Lionsgate look more attractive for a buyer.
Sign up for Axios Pro Media Deals authored by Tim Baysinger and Kerry Flynn.