May 25, 2022
Today's deal news obviously pales in comparison to yesterday's elementary school massacre in Texas, and the furious knowledge that such horrors are almost certain to occur again in the future.
So, before getting into regular programming, two stories worth highlighting by Axios' Erin Doherty: One on the history of failed gun legislation after mass shootings, and one on what is known so far about the victims.
Top of the Morning
Andreessen Horowitz this morning regained its crypto crown, raising the largest-ever venture capital fund dedicated to web3 startups and projects.
The big picture: It's always sunny in the metaverse.
Backstory: A16z was one of venture's earliest and most aggressive movers into crypto, raising $350 million for its first fund in 2018. Its third fund nabbed $2.2 billion last year, but was surpassed by a $2.5 billion first-time fund from Paradigm (led by Coinbase co-founder Fred Ehrsam and ex-Sequoia Capital partner Matt Huang). It also saw partner Katie Haun leave to raise $1.5 billion for her own eponymous firm.
The new a16z fund totals $4.5 billion, split between two "sleeves": $1.5 billion for seed-stage opportunities and $3 billion for more mature efforts.
The big question is if a16z is raising record sums at the wrong time, based on what the firm itself wrote in its recent "State of Crypto" report:
"Whereas prices are often a lagging indicator of performance in some industries, in crypto they are a leading indicator. Prices are a hook. The numbers drive interest, which drives ideas and activity, which in turn drives innovation."
Prices, of course, are down. Both Bitcoin and Ethereum are down around 50% over the past six months, while Coinbase shares are off nearly 80% over that same time period.
What they're saying: Arianna Simpson, a general partner with a16z Crypto, talked past that discrepancy during a conversation with me about the new fund, emphasizing long-term opportunity over short-term price fluctuations
"Many of the best companies are really built in quieter markets, and many of the best builders are today are drawn to web3" she said. "The same way that the Internet now powers all sorts of businesses that aren't viewed as tech businesses, crypto components are being embedded into games and online communities and other things that aren't traditionally crypto."
She also addressed the skepticism of many Web 2.0 titans toward web3, which wasn't exhibited a decade ago by Web 1.0 entrepreneurs.
"The critical difference is that Web 1.0 was about open platforms and foundational protocols, with a really strong open-source ethos," she argues. "That went away and was replaced by walled gardens in Web 2.0. So it makes sense that the pillars of Web 2.0 aren't in favor of these new models, taking away power — and eventually money — from them ... Platforms like Twitter and Facebook have been extractive, taking without giving back to users. Web3 can incentivize participation by giving both some ownership and financial upside."
The bottom line: There are some signs of a crypto VC slowdown, but the market's biggest player is still sprinting forward.
The BFD
MSP Recovery, a Coral Gables, Fla.-based provider of Medicare and Medicaid payment recovery services, began trading on the Nasdaq yesterday after completing its merger with a SPAC called Lionheart Acquisition Corp. II. Then those shares promptly lost over half their value.
Why it matters: This was the second-largest SPAC deal in history, just behind Grab, worth $32.6 billion upon announcement in July 2021.
By the numbers: MSP Recovery shares plunged more than 60% within their first hour of trading, closing down 53.06% at $5.06 per share.
Lionheart's earlier SPAC bought fast food chain BurgerFi, whose shares have lost more than 80% since going public.
The bottom line: "With the SPAC boom veering toward a bust as risk appetite wanes, the merger could end up being one of the last outrageous deals to reach the market. It stands out for its transactions between stakeholders, huge fees and lack of capital raised." — Tom Maloney, Bloomberg
Venture Capital Deals
🎆 Firework, a San Mateo, Calif.-based livestreaming commerce startup, raised $150m in Series B funding led by SoftBank. http://axios.link/Dh2S
• Nowports, a digital freight forwarder for Latin America, raised $150m in Series C funding led by SoftBank at a $1.1b valuation. http://axios.link/bXPu
• StarkWare Industries, an Israeli blockchain scaling startup, raised $100m in Series C funding at an $8b valuation. Greenoaks Capital and Coatue co-led, and were joined by Tiger Global. http://axios.link/aM9d
• Babel Finance, a Hong Kong-based provider of institutional crypto products, raised $80m in Series B funding at a $2b valuation from Jeneration Capital, 10T Holdings, Dragonfly Capital, BAI Capital and Circle Ventures. http://axios.link/zu9J
• Zip, an SF-based intake-to-procure solution, raised $43m in Series B funding at a $1.2b valuation. YC Continuity led, and was joined by Tiger Global and CRV. www.ziphq.com
• Regrow, a Durham, N.H.-based crop management startup, raised $38m in Series B funding. Gavanize Climate Solutions led, and was joined by Time Ventures and Rethink Impact. http://axios.link/0Aso
🚑 Moka.care, a French provider of mental wellness support solutions for HR departments, raised $16m in Series A funding. Left Lane Capital led, and was joined by Singular, Origins and Antoine Griezmann. http://axios.link/B0ES
• Nisos, an Alexandria, Va.-based managed intelligence startup, raised $15m in Series B funding. Paladin Capital Group led, and was joined by insiders Columbia Capital and Skylab Capital. www.nisos.com
⚡ Neara, an Australian provider of digital twin solutions for utilities, raised US$14m in Series B funding. Skip Capital led, and was joined by insider Square Peg Capital. www.neara.com
🚑 Miga Health, a heart health startup, raised $12m in seed funding. Quiet Capital led, and was joined by Asymmetric Capital Partners, Floating Point, VamosVentures, Alumni Ventures, Adapt Ventures, Lux Capital and Wilson Sonsini. www.migahealth.com
🚑 Circles, a New York-based virtual emotional support startup, raised $16.5m in Series A. Zeev Ventures led, and was joined by Lior Ron, NFX, Flint Capital and Ronald Cohen. www.circlesup.com
• MetaKing Studios, a New York-based developer of web3 MMO games, raised $15m in seed funding. Makers Fund and BitKraft Ventures co-led, and were joined by Delphi Digital, Animoca Brands, Shima Capital, WW Ventures, Spartan Group and Huobi Ventures. http://axios.link/CSjc
• Zowie, a Polish chatbot for e-commerce brands, raised $14m in Series A funding from Tiger Global, Gradient Ventures, 10xFounders, Inovo and Jack Altman. www.getzowie.com
• XONA, an Annapolis, Md.-based user access platform for critical infrastructure, raised $7.2m in Series A funding. DataTribe led, and was joined by TFX Capital. www.xonasystems.com
• Preql, a New York-based no-code data transformation startup, raised $7m in seed funding. Bessemer Venture Partners led, and was joined by Felicis Ventures. www.preql.com
• Shellworks, a London-based developer of plastic-free packaging, raised $6.2m in seed funding. LocalGlobe led, and was joined by Founder Collective, True Global, BoxGroup and Divergent Capital. www.theshellworks.com
• Altan Insights, an alternative asset intelligence platform, raised $4m in seed funding. Slow Ventures led, and was joined by Courtside VC, Operator Partners, Alexis Ohanian and Good Friends. www.altaninsights.com
• Flexa Careers, a London-based flexible working platform, raised £2.3m in seed funding. Ada Ventures led, and was joined by HERmesa and Auxxo Female Catalyst Fund. www.flexa.careers
• Natrion, a Binghamton, N.Y.-based EV battery parts maker, raised $2m in seed funding from Mark Cuban, TechNexus Venture Collaborative (lead), and Tamarack Global. www.natrion.co
⚡Flowcarbon, a carbon credits via blockchain startup co-founded by Adam and Rebekah Neumann, raised $70m in token funding. http://axios.link/3hjI
• TripActions, a Palo Alto-based corporate travel and expense reporting platform, is in talks to raise new funding at a $9b valuation, per Bloomberg. Last fall it raised at a $7.25b valuation led by Greenoaks Capital. http://axios.link/PIof
Private Equity Deals
• Brentwood Associates bought a majority stake in Hissho Sushi, a Charlotte-based franchisor of "turnkey sushi solutions," from Jeff Vinik. www.hisshosushi.com
🚑 Clayton Dubilier & Rice and TPG agreed to buy Covetrus (Nasdaq: CVET), a Portland, Maine-based provider of animal health tech and services to vets, for around $4b. www.covetrus.com
• Five Arrows Principal Investments agreed to buy Groupe EDH, a French private higher ed provider, from Quilvest Capital Partners and IK Partners. http://axios.link/qpQP
• Japan Investment Corp., a state-backed investment fund, is considering a takeover bid for Toshiba (Tokyo: 6502), which also is being circled by private equity firms, per Bloomberg. http://axios.link/bsE1
🚑 Lab Logistics Management, a portfolio company of Atlantic Street Capital, bought Allied Group, a provider of healthcare and life sciences fulfillment solutions, from Compass Group Equity Partners.
Lab Logistics was on the auction block last year, but is now a buyer, per Axios Pro.
• Supergoop, a skincare brand majority owned by Blackstone, announced minority investments from Main Street Advisors, I Promise School, G9 Ventures, SC Holdings, Hugh Jackman, Jenna Lyons, Michelle Wie, Sara Blakely and Whitney Wolfe Herd. http://axios.link/KvFO
• Threshold Brands, a trade services franchisor acquisition platform of The Riverside Company, acquired Granite Garage Floors, a Roswell, Ga.-based provider of garage floor coatings for residential and commercial customers. www.granitegaragedoors.com
• WilliamsMarston, a Boston-based portfolio company of Align Capital Partners, acquired Moffett & Associates, a Bellevue, Wash.-based corporate tax consultant. www.williammarston.com
Public Offerings
• Ivanhoe Electric, a Vancouver-based minerals exploration company, filed for a $200m IPO. It plans to list on both the Toronto Stock Exchange and the NYSE American exchange. http://axios.link/wOgS
🚑 YSB, a Chinese pharma sales platform, plans to raise around $300m in a Hong Kong IPO, per Bloomberg. It's raised around $500m from firms like Tiger Global, DCM, H Capital, Green Pine Capital Partners and Shanghai Fosun Pharma. http://axios.link/vcFd
SPAC Stuff
• Asia Innovations Group, a Chinese social media and dating app operator whose brands include Uplive, is in talks to go public at around a $2b valuation via E.Merge Technology Acquisition, a tech-focused SPAC led by former Eastman Kodak CEOs, per Bloomberg. Asia Innovations has raised over $200m from firms like Kleiner Perkins, Yorkville Capital Management, White Star Capital, Block VC and Ventech. http://axios.link/6WCR
• Digital World Acquisition (Nasdaq: DWAC), the SPAC taking former President Trump's social network public, is expected to soon disclose the investors behind a $1b PIPE tied to the deal. That's according to the NY Times, which obtained a draft that identified such investors as: Pentwater Capital, Sabby Management, Anson Funds Management, Kershner Trading Americas, K2 & Associates, Yorkville Advisors and MMCAP.
• Revolution Acceleration Acquisition II, a SPAC led by former U.S. Congressman John Delaney (D-Md.), pulled plans for a $250m IPO. http://axios.link/Xpys
Liquidity Events
⚡ Arcadia, a Washington, D.C.-based utility data insights software provider valued by VCs at $1.45b, acquired Atlanta-based utility data broker Urjanet, per Axios Pro. Urjanet had raised over $40m from firms like Grotech, Imlay Investments, Equifax, Correlation Ventures and Oak HC/FT. http://axios.link/RNzf
• EQT is seeking a buyer for a minority stake in GlobalConnect, a Nordic fiber network operator that could be valued at between €7b and €10b, per Bloomberg. http://axios.link/Jk66
More M&A
🍔 Nelson Peltz, whose Trian Fund Management is the largest outside shareholder in Wendy's (Nasdaq: WEN), is considering a takeover bid for the chain, per a regulatory filing. http://axios.link/eflX
In other fast-food news, Carl Icahn appears poised to lose his proxy fight with McDonald's, over its treatment of pigs.
• Citigroup (NYSE: C) is weighing a takeover of Deutsche Bank's Mexican bank, per Bloomberg. http://axios.link/7k5g
🚑 Dexcom (Nasdaq: DXCM) is in talks to buy diabetes device maker Insulet (Nasdaq: PODD), which has a $14b market cap, per Bloomberg. http://axios.link/E5zQ
🚑 Genocea (Nasdaq: GNCA), a Cambridge, Mass.-based antigen developer, will delist its shares and close up shop. Backers include NEA (17.65% stake) and Avoro Capital (8.65%). http://axios.link/8weV
• CDPQ is in talks to buy a 65% stake in BALL, a Canadian processor and marketer of canned and frozen vegetables, from The Bonduelle Group at a C$850m enterprise value. http://axios.link/6dz4
• Paddle, a British provider of payments infrastructure for SaaS companies, bought ProfitWell, a Boston-based subscription revenue and retention analytics, for around $200m. Paddle recently was valued at $1.4b in a KKR-led round. http://axios.link/a0ke
Fundraising
• Bain Capital set a €5b hard cap for its sixth Europe-focused fund, per public pension docs. http://axios.link/8O3x
🚑 Cathay Capital of France raised €500m for a new health tech fund. http://axios.link/cqUJ
• Dallas Venture Capital raised $80m for its second fund focused on B2B SaaS startups. www.dallasvc.com
• FFL Partners, an SF-based midmarket PE firm focused on healthcare and tech-enabled services companies, raised $917m for its fifth fund. http://axios.link/ALYS
• KKR raised $1.1b for its first Asia credit fund. http://axios.link/Zd7Z
• Maveron, a Seattle-based VC firm focused on consumer startups, raised $225m for its eighth fund. http://axios.link/cQxF
• New Enterprise Associates has secured nearly $2.9b for its 18th flagship fund, which will focus on early-stage deals, and $2.3b for its first growth fund ($3.7b target), per SEC filings. http://axios.link/MwE5
• Synthesis Capital, a London-based food tech and alt protein investment firm, raised over $300m for its debut fund. The cornerstone LP is Jeremy Coller. www.synthesis.capital
• TA Associates is premarketing its next flagship fund, just over a year after raising $12.5b for Fund XIV, per WSJ. http://axios.link/Y9EN
• Trivest Partners, a Coral Gables, Fla.-based PE firm, raised $950m for its seventh flagship fund and $600m for its second fund focused on smaller companies. http://axios.link/fkC6
It's Personnel
• Aunkur Arya joined Menlo Ventures as a fintech-focused venture partner. He previously advised TPG and, before that, was with Paypal and Braintree. http://axios.link/rwyt
• Akriti Dokania joined Ridge Ventures as a partner. She previously was with Octopus Ventures and, before that, founded CoderBhai. www.ridge.vc
⚡ Christine Gabbianelli joined Green Rock Energy Partners as a principal and head or investor relations. She previously was with Fairview Capital Group. www.greenrockep.com
• David Junod is joining VC firm Bedrock as head of investor relations and capital formation. He previously was with Lombard Odier. www.bedrockcap.com
• Eimear Palmer joined Pantheon as a partner and global head of ESG. She previously founded the U.K. network of Initiative Climate International. www.pantheon.com
Final Numbers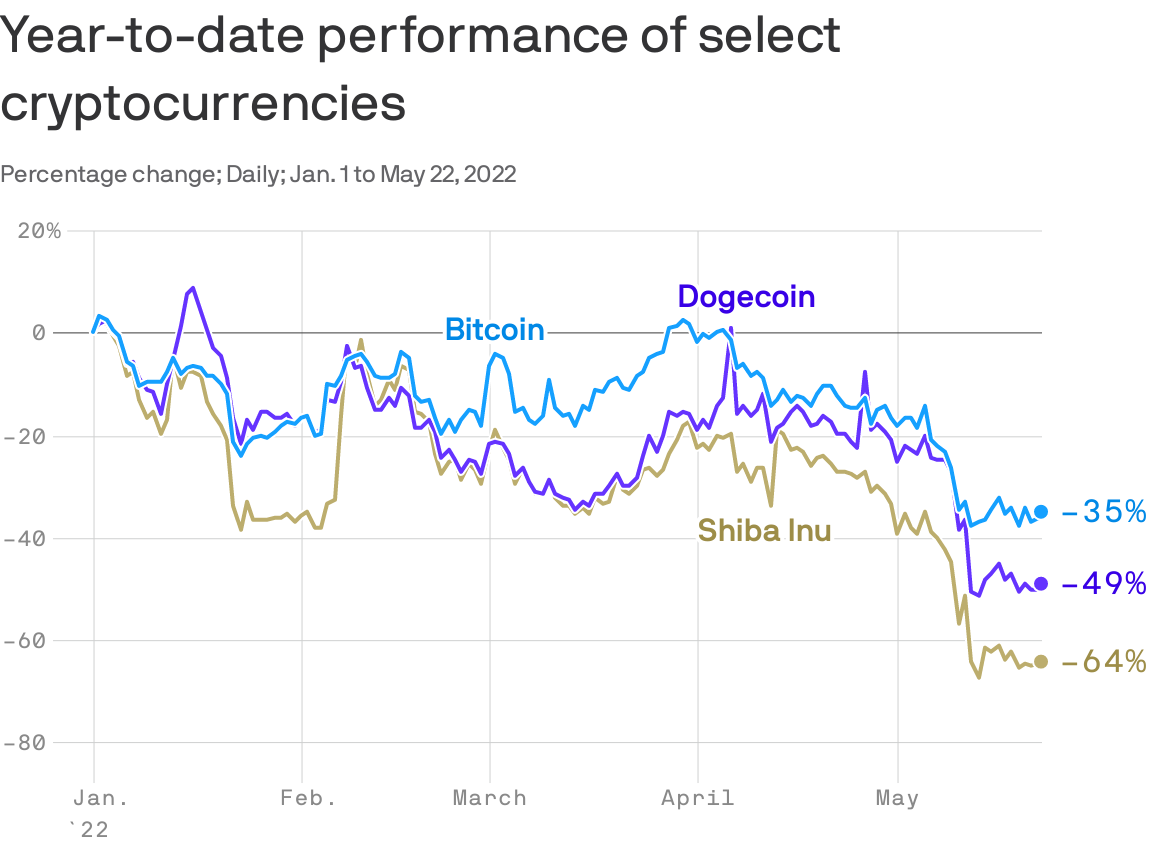 ✅ Thanks for reading Axios Pro Rata! Please ask your friends, colleagues, Matt Damon and Larry David to sign up.