Axios Sneak Peek
June 27, 2023
Welcome back to Sneak. Smart Brevity™ count: 1,096 words ... 4 minutes.
⚡ Situational awareness: White House chief of staff Jeff Zients responded to an NBC poll showing Vice President Kamala Harris has a historic low net favorability rating, telling Axios that "[w]e just need to make sure that we do a good job of exposing" her to the public.
1 big thing: Inside the House's right-wing schism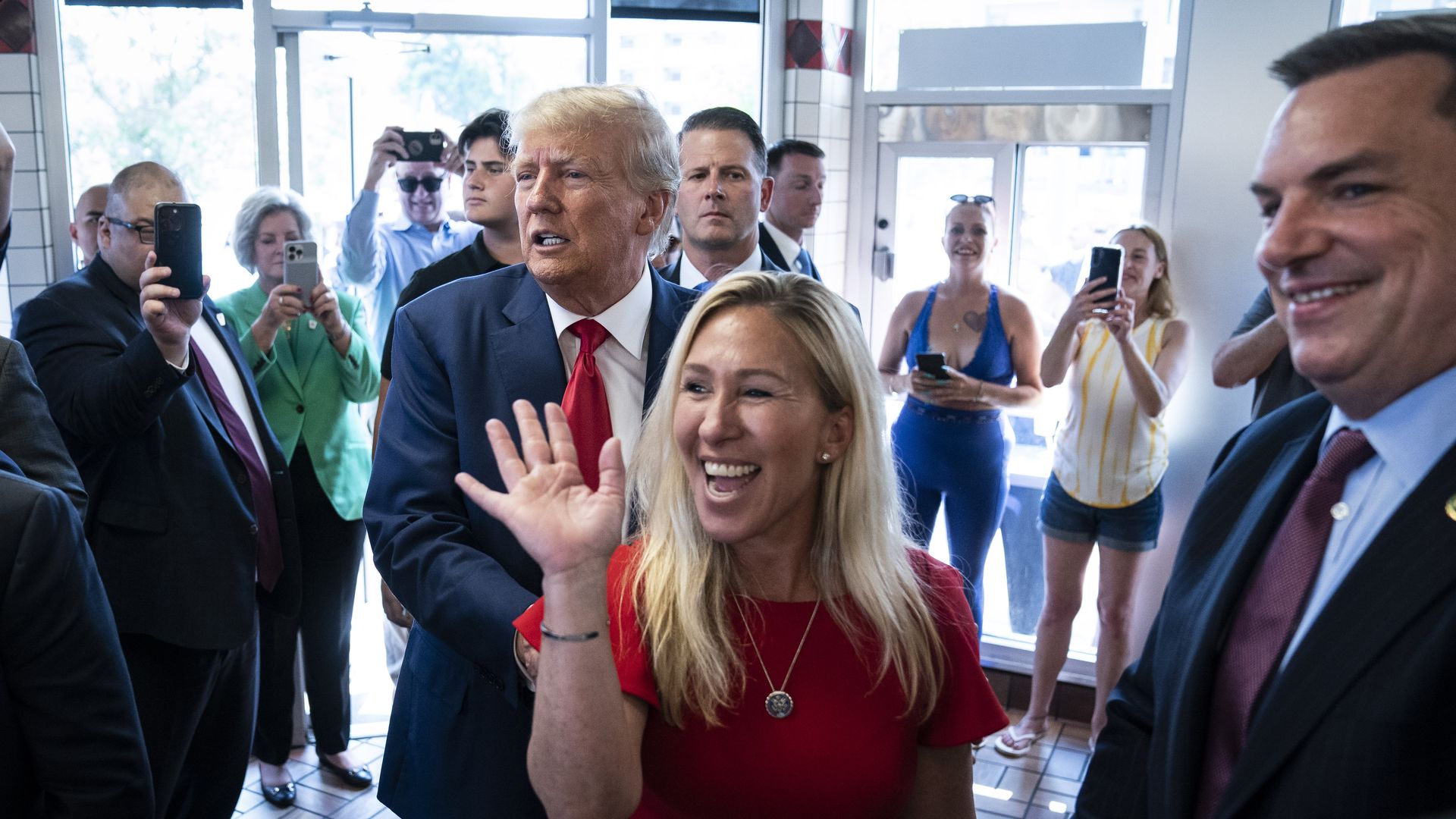 Rep. Marjorie Taylor Greene (R-Ga.), once the darling of Congress' hard-right, now faces an uncertain future within a group of her own ideological allies.
Why it matters: New tensions are the byproduct of a long-growing divide among the right-wing Freedom Caucus' most vocal members over strategy, style and support for former President Trump, Axios' Andrew Solender reports.
Driving the news: The Freedom Caucus discussed whether to kick Greene out during a meeting last Friday morning, though no final decision has been made.
An internal vote on Friday reflected "there is the support to kick her out," a source familiar with the matter told Axios, but the group — which has never ejected a member — is in uncharted territory.
The backdrop: Greene quickly emerged as one of House Speaker Kevin McCarthy's (R-Calif.) biggest right-wing headaches when she was first elected in 2020.
Between the lines: Greene and McCarthy share a close alignment with Trump, who — facing state and federal indictments — has demanded more loyalty of his congressional allies in recent months than perhaps any time since leaving office.
Like Jordan, Greene has been given plum postings on high-profile committees investigating the Biden administration.
The other side: Several ascendant Freedom Caucus members have taken a different path with both McCarthy and Trump.
The genesis of the split with Trump can be traced as far back as January 2021, when Reps. Chip Roy (R-Texas) and Ken Buck (R-Colo.) signed onto a statement opposing Trump-backed efforts to decertify Biden electors.
Roy and Rep. Bob Good (R-Va.) have since endorsed Florida Gov. Ron DeSantis for president. Rep. Ralph Norman (R-S.C.) has endorsed former South Carolina Gov. Nikki Haley.
All four have been among McCarthy's most vocal antagonists — Roy, Good and Norman during the speaker fight, and Buck in a protest of McCarthy's debt ceiling deal with Democrats.
Yes, but: Greene's case is at least as personal as it is political.
She became embroiled in an expletive-laden feud with Rep. Lauren Boebert (R-Colo.) last week while accusing the Coloradan of copying her articles of impeachment against President Biden.
The big picture: The House dramatics are playing out against the backdrop of a broader internal war over the direction of the GOP.
Trump, who maintains a commanding lead in primary polls, has attacked DeSantis, a Freedom Caucus member when he was in the House, as "too harsh" on abortion and supportive of cuts to Social Security and Medicare.
2. 🔎 McCarthy's impeachment threat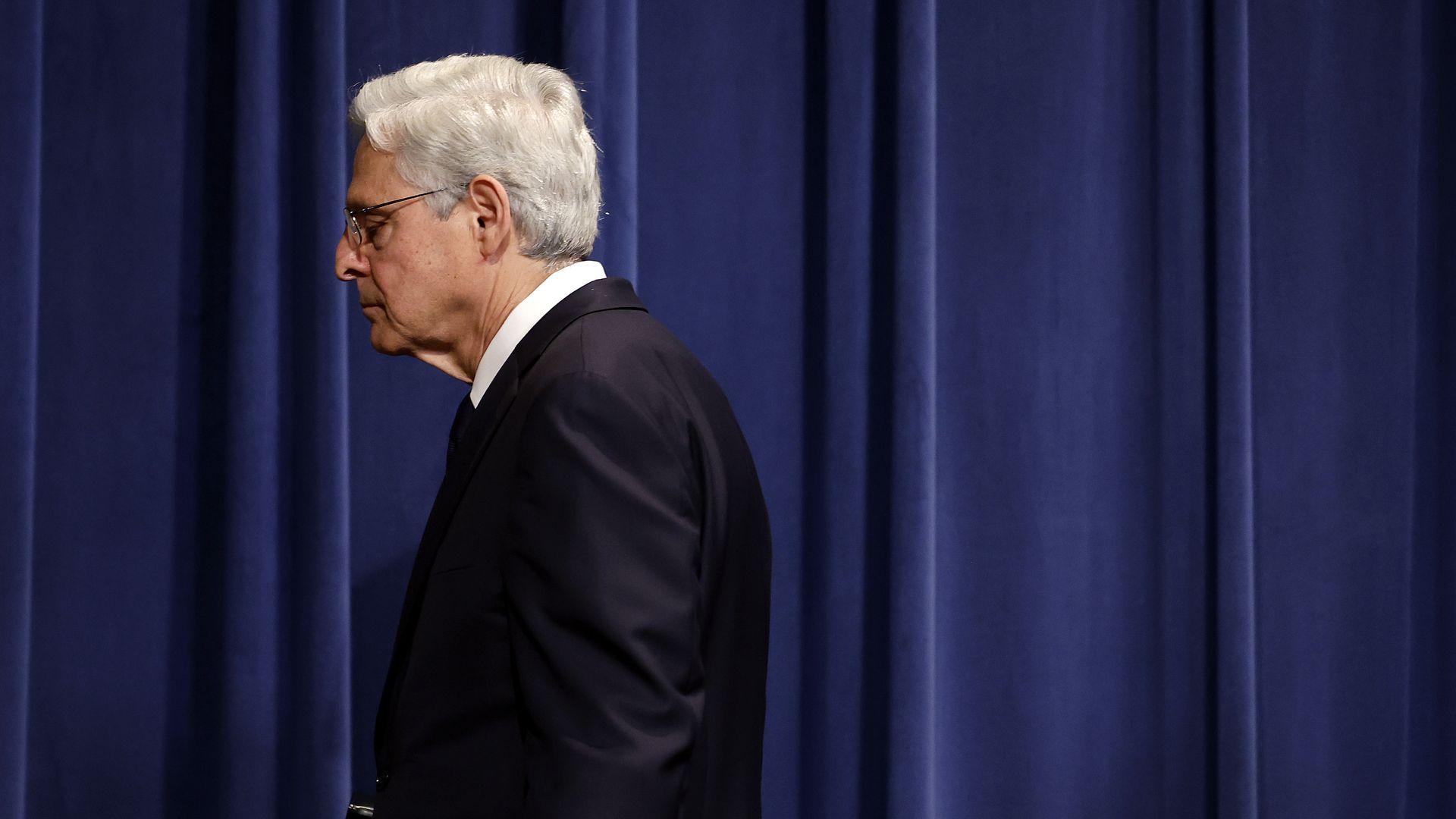 McCarthy is threatening to open an impeachment inquiry into Attorney General Merrick Garland over allegations of political interference in the investigation of Hunter Biden, Andrew reports.
Why it matters: McCarthy had until now been reluctant to pursue impeachment against Biden or any of his top officials, despite intensifying pressure from right-wing House Republicans.
That appears to have changed following testimony from two IRS whistleblowers, who told the GOP-led House Ways and Means Committee that the Justice Department exhibited preferential treatment while investigating the president's son.
Hunter Biden agreed to plead guilty last week to misdemeanor counts for not paying taxes in 2017 and 2018, while also entering a probationary agreement for a felony gun charge.
Driving the news: House Judiciary Chair Jim Jordan (R-Ohio) is demanding answers from U.S. Attorney David Weiss — the Trump-appointed prosecutor who investigated Hunter Biden — about a June 7 letter in which he stated Garland had granted him "ultimate authority" to make charging decisions.
IRS whistleblower Gary Shapley testified Weiss privately told at least six witnesses that he did not have the authority to charge Hunter Biden outside of his Delaware district and was denied special counsel status by Garland.
McCarthy told Fox News this morning that if the whistleblower allegations are true and Weiss does not provide clarity by July 6, the House will begin an impeachment inquiry against Garland.
The other side: Garland has denied Shapley's allegations and said he would support Weiss "explaining or testifying on these matters when he deems it appropriate."
Between the lines: The impeachment threat against Garland doubles as a defense strategy for allies of Trump, who has been indicted once by the Justice Department and could face additional charges related to his role in Jan. 6.
3. ❌ DeSantis rolls out "no excuses" border plan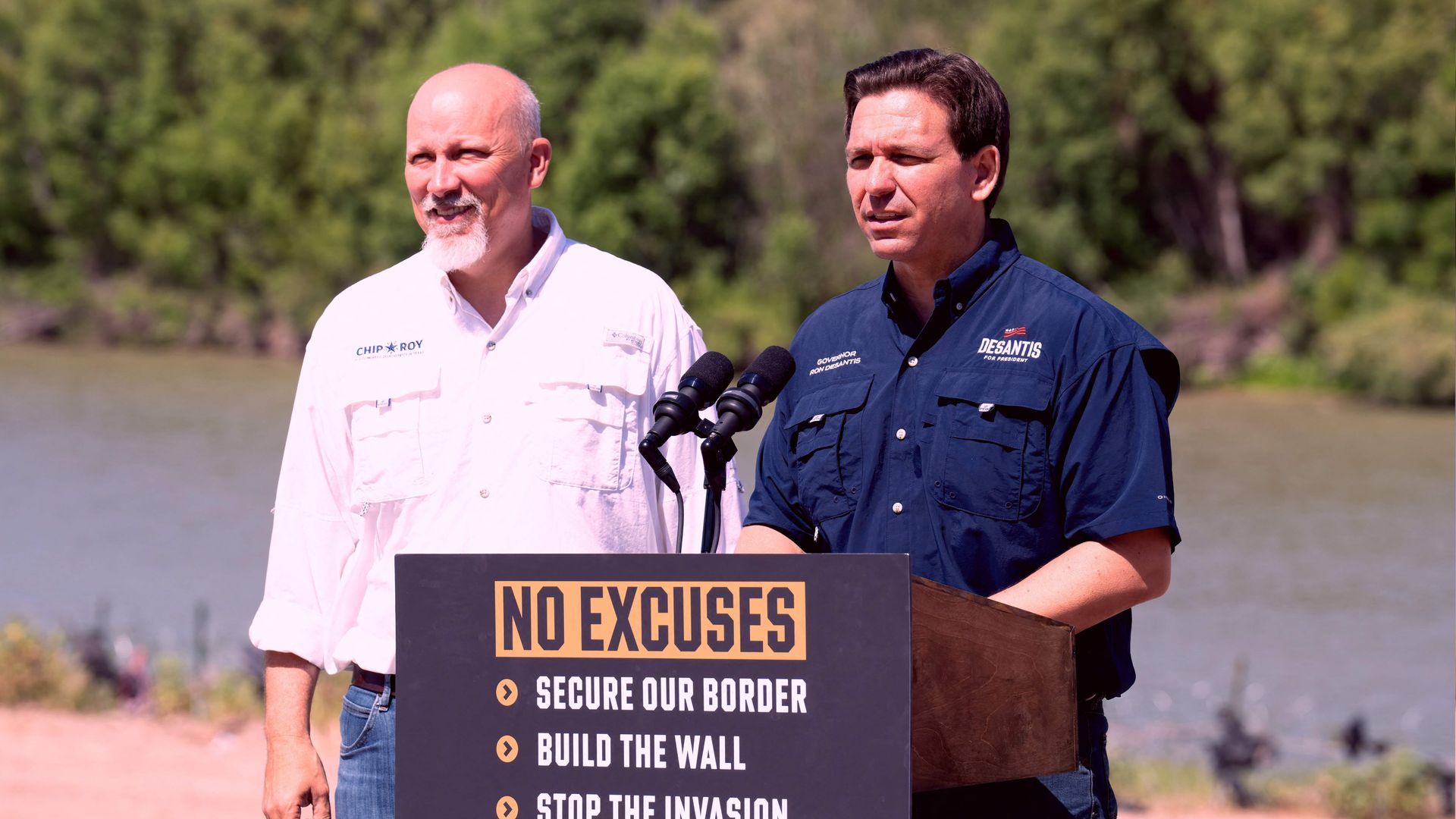 DeSantis unveiled his first detailed policy proposal of the 2024 campaign today, dubbing it a "no excuses" border plan that — among other things — calls for:
Finishing Trump's border wall
Carrying out mass deportations
Allowing the use of physical force against migrants
The big picture: Almost every Republican running for president supports constructing a border wall, including candidates who were previously skeptical of the idea such as Haley and fellow former Gov. Chris Christie, Axios' Alex Thompson and Stef Kight report.
The GOP's full embrace of a concept that most Republican candidates mocked or criticized during the 2016 primary is the latest example of how Trump has transformed the party's approach to immigration.
The Trump campaign has responded by portraying his rivals as followers rather than leaders, accusing DeSantis today of "copying and pasting President Trump's Agenda47 policy plan."
4. 🇷🇺 Biden: U.S. had "nothing to do" with Wagner uprising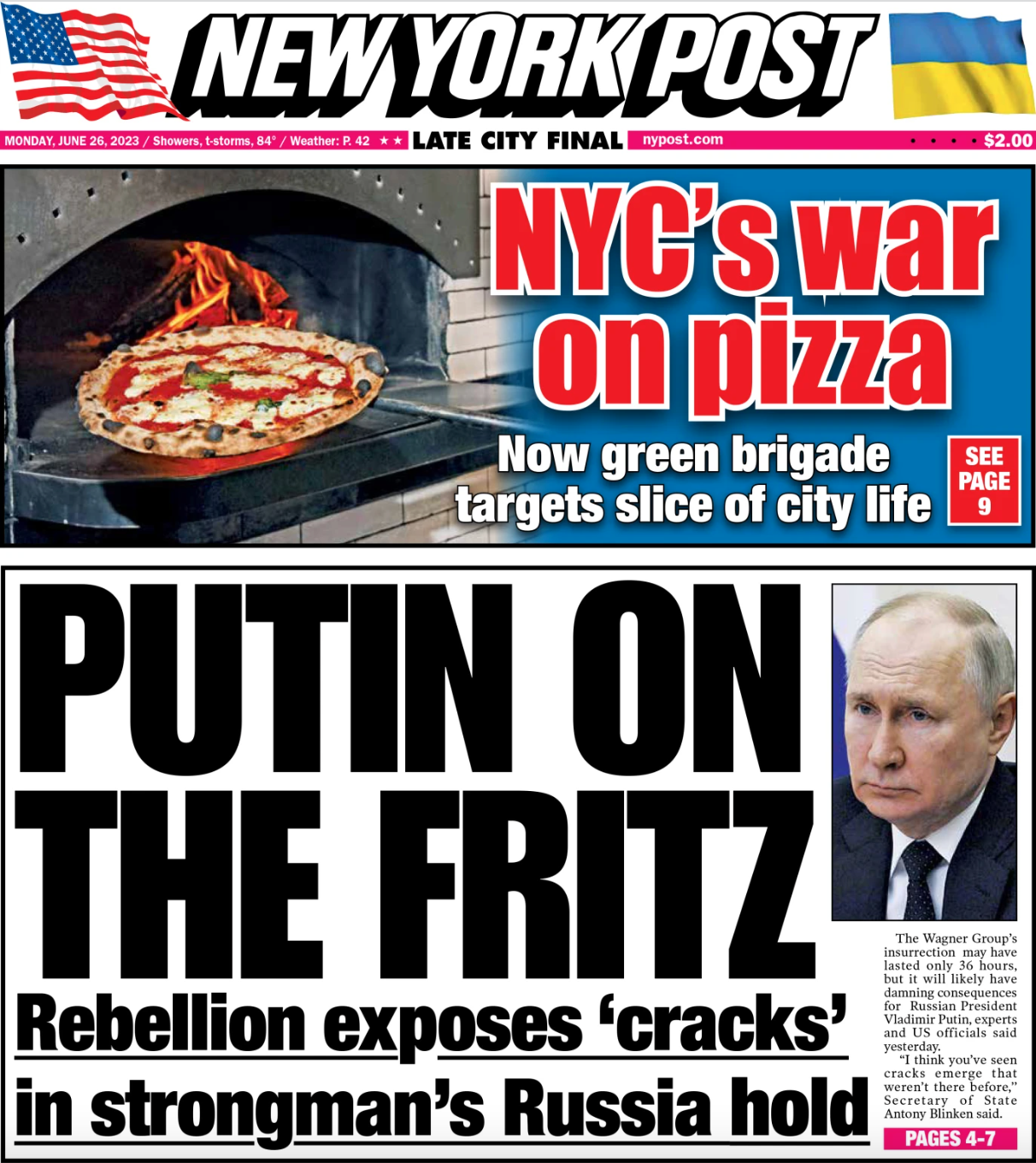 Biden stressed today that the U.S. and its allies played no role in this weekend's brief rebellion by Wagner mercenaries, calling it a "struggle within the Russian system" whose "ultimate outcome ... remains to be seen."
The latest: Russian President Vladimir Putin declared in a televised address this afternoon that uprising organizers would be "brought to justice," though he did not name Wagner leader Yevgeny Prigozhin directly.
Prigozhin, who called off his march on Moscow after allegedly striking a deal with the Kremlin, insisted today the short-lived mutiny was not intended to overthrow the Russian government.
Putin's comments suggest the oligarch-turned-warlord — believed to be in exile in Belarus — could still be punished.
📬 Thanks for reading. This newsletter was copy edited by Kathie Bozanich.