White House slams far-right Republicans' committee assignments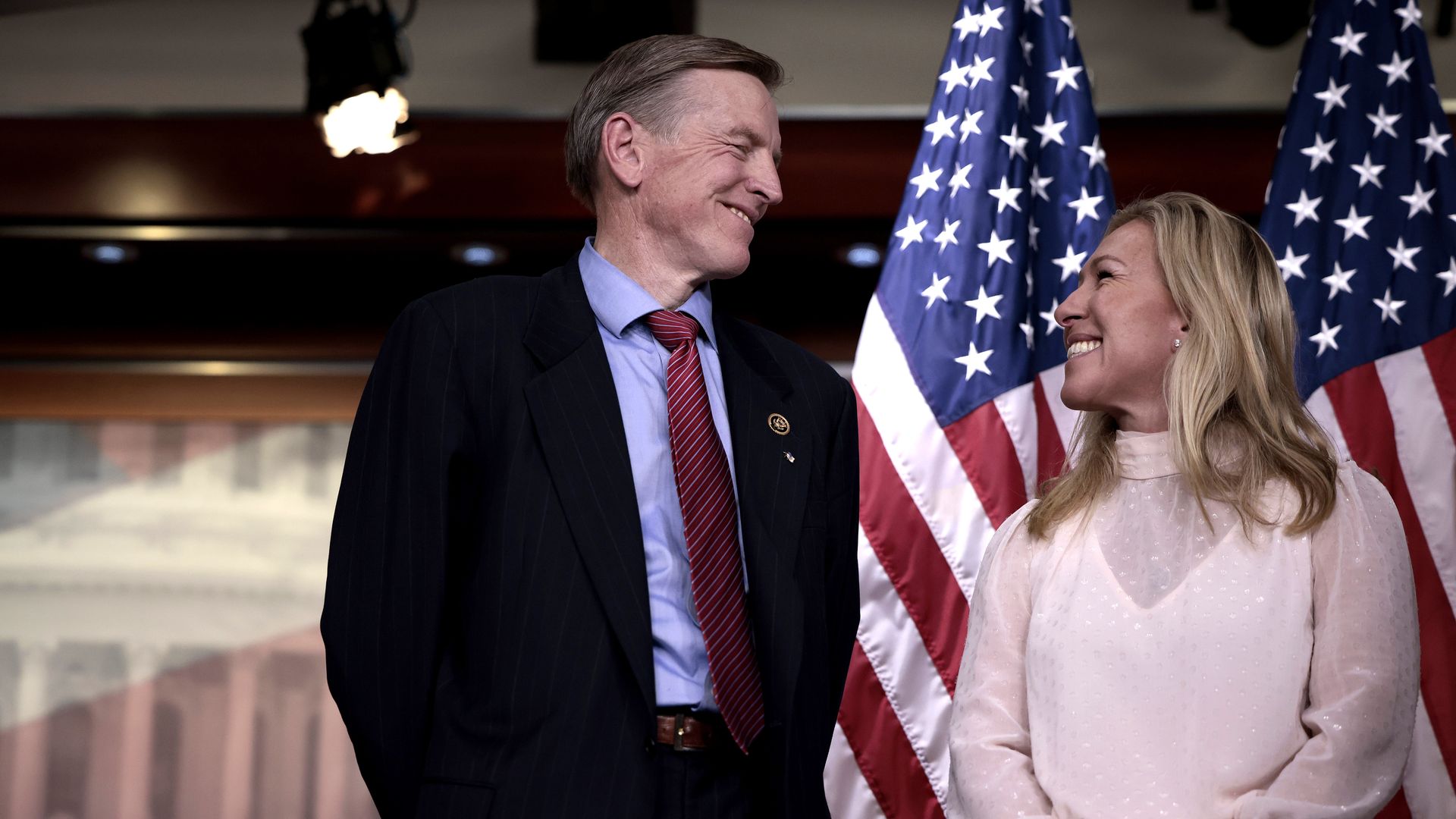 The White House on Wednesday condemned the addition of far-right Republicans to the House Oversight Committee, including Reps. Marjorie Taylor Greene (R-Ga.), Paul Gosar (R-Ariz.), Scott Perry (R-Pa.) and Lauren Boebert (R-Colo.).
Why it matters: The blistering statement foreshadows the tension that will fester in Washington over the next two years, with the Oversight Committee set to be ground zero for investigations and high-profile standoffs between House Republicans and the Biden administration.
Driving the news: "[I]t appears that House Republicans may be setting the stage for divorced-from-reality political stunts, instead of engaging in bipartisan work on behalf of the American people," White House spokesperson for oversight Ian Sams said in a statement to Axios.
"Chairman Comer once said his goal was to ensure the Committee's work is 'credible,' yet Republicans are handing the keys of oversight to the most extreme MAGA members of the Republican caucus who promote violent rhetoric and dangerous conspiracy theories," he added.
Sams called on House Speaker Kevin McCarthy to "reveal transparently once and for all what secret deals" he made with Republican rebels to secure their support during the speaker election.
Between the lines: The White House did not explicitly name the four members, but cited examples of Greene and Gosar promoting violence against other members of Congress that led to them being stripped of their committee assignments in 2021.
What they're saying: Democrats on the Hill are reacting to the new committee assignments in similar fashion.
Rep. Ritchie Torres (D-N.Y.) said he was "horrified," tweeting: "A QAnon conspiracy theorist + Jan 6 insurrectionist doesn't belong on a committee that exists to fight extremism," in reference to Greene's new role on the House Homeland Security Committee.
What's next: The House Oversight Committee is preparing to ramp up its investigations into Hunter Biden, the Afghanistan withdrawal and COVID origins, among other issues.
"Joe Biden, be prepared. We are going to uncover every corrupt business dealing, every foreign entanglement, every abuse of power, and every check cut for The Big Guy," Greene said in a statement Tuesday.
Meanwhile, Republicans plan to remove Reps. Adam Schiff (D-Calif.) and Eric Swalwell (D-Calif.) from the House Intelligence Committee, as well as Rep. Ilhan Omar (D-Minn.) from the House Foreign Affairs Committee.
Go deeper