How the Wagner rebellion inside Russia affects the war in Ukraine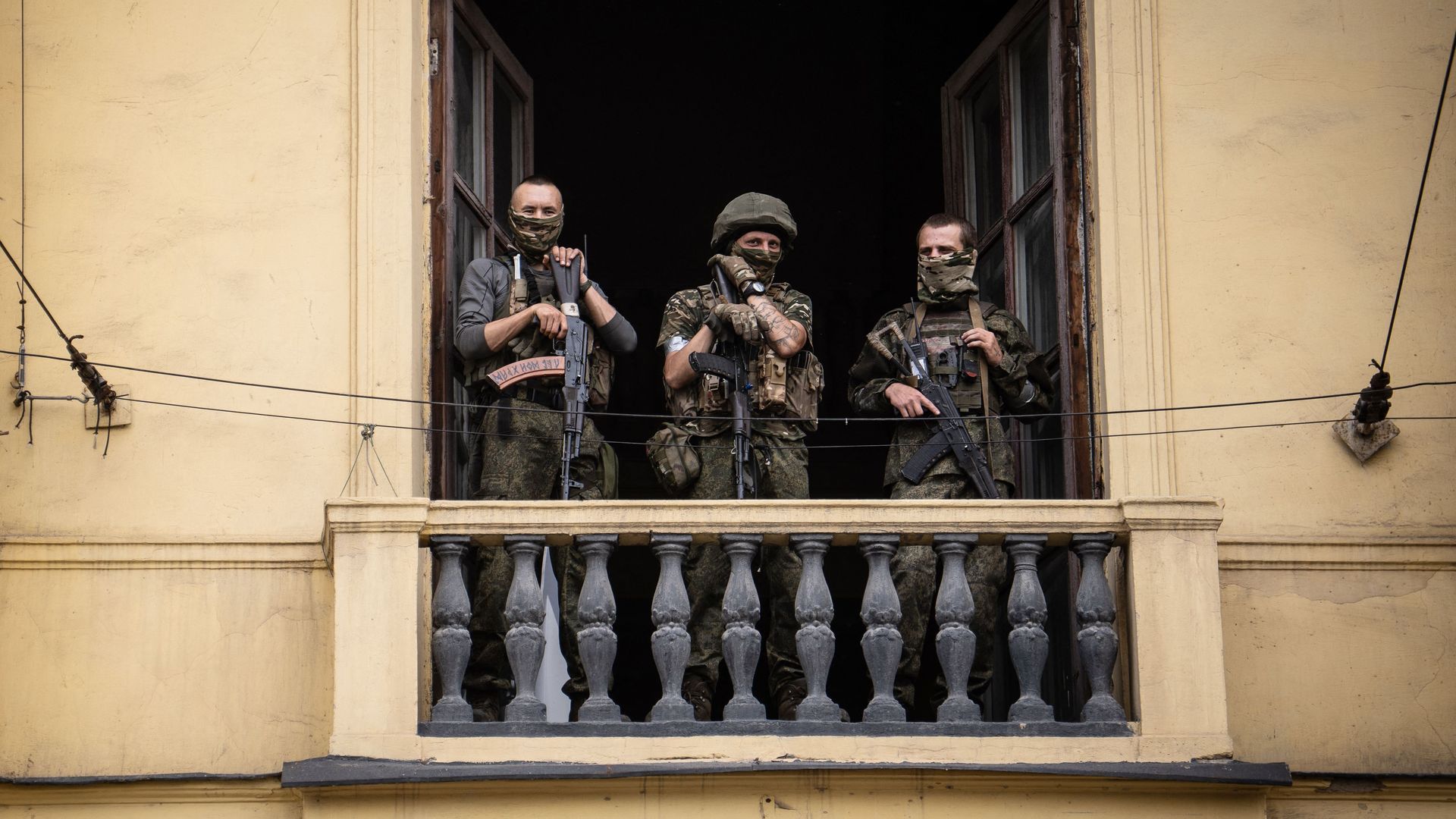 Wagner boss Yevgeny Prigozhin's unexpected offensive into the Russian interior may breathe new life into the counteroffensive across the border in Ukraine.
The big picture: Ukraine's forces have made only gradual progress so far in attacking well-defended Russian positions in the south and east of Ukraine. Wagner mercenaries, meanwhile, took control of the major Russian city of Rostov-on-Don and seemed to face little resistance as they covered three-quarters of the roughly 600 miles from there to Moscow.
On the one hand: The short-lived uprising in Russia doesn't appear to have left any major gaps for Ukraine to exploit. Wagner forces were not playing a major role in Russia's defenses, and the mutiny appears to have ended without Russian units being pulled out of Ukraine to help repel it, analysts say.
Wagner did play a central role in the long and bloody battle for Bakhmut, but moved out after declaring victory there as Prigozhin feuded with the Ministry of Defense over plans to integrate his fighters into the conventional military.
"[Wagner] units were not pulled off the line, hence Russian defense (especially in the south) is unlikely to suffer immediately from their absence," notes Michael Kofman, a top analyst of Russia's military at CNA.
According to the Kremlin, Wagner fighters who did not take part in the mutiny will still be allowed to sign contracts with the defense ministry.
"The fact that Wagner is returning to their training camps with military equipment indicates that the Kremlin intends to maintain at least certain elements of Wagner's manpower rather than seek to immediately demobilize them," Kateryna Stepanenko, a Russia analyst at the Institute for the Study of War, tells Axios.
On the other hand: It's unclear whether Moscow will be able to effectively integrate Wagner's forces, which include some of Russia's most battle-hardened fighters, after such a public fracture.
Wagner units reportedly shot down seven Russian aircraft and killed 13 airmen during the push toward Moscow.
Then there's the psychological blow for civilian leaders and front-line soldiers alike.
Prigozhin challenged President Vladimir Putin's narrative around the Ukraine invasion — claiming it was launched not to defend Russia but to enrich an "oligarchic clan" — and seemed to challenge the president's very hold on power.
More than a year after Russian tanks first rolled toward Kyiv, Russian authorities were blocking roads and bridges to defend their own capital against a potential coup.
"Prigozhin's rebellion has illustrated that Russian forces lack reserves in many rear areas and almost certainly will degrade the morale of Russian personnel in Ukraine," Stepanenko says, noting that Kyiv might try to use that information to its advantage.
Putin, meanwhile, "must be wondering whether it is a good idea to have so much of his army committed to the fight in Ukraine," writes Lawrence Freedman, a professor of war studies at King's College London.
Putin claimed in a televised address on Monday night that Russian society and, in particular, the security services, had "saved Russia" through their loyalty and patriotism.
In fact, there were few public displays of support for Putin from officials or ordinary citizens, notes Angela Stent, a Russia expert at Brookings. "Everyone was waiting to see which way the wind was blowing."
Stent tells Axios the weekend's events may not have much direct impact on Putin's war plans or his hold on power, but they will have planted seeds of doubt within the Russian elite that could bloom in unpredictable ways.
State of play: Officials in Kyiv seemed to relish the weekend's events, but say not much has changed on the front lines so far.
Russian Defense Minister Sergey Shoigu made a public appearance on Monday, and Putin is also likely to retain his top general, Valery Gerasimov, lest it appear that he's giving into Prigozhin's demands to fire them, says Stent.
National Security Council spokesperson John Kirby told reporters on Monday that it was too early to say whether the weekend's events would hamper Putin's ability to wage war in Ukraine or, conversely, make him use more aggressive tactics to show strength.
The White House's intention is "not to get distracted" by the "internal" Russian dispute, and to stay focused on helping Ukraine succeed on the battlefield, Kirby said.
Go deeper: Putin says Wagner rebels "will be brought to justice"
Go deeper