Putin accuses Wagner boss of treason and vows to squash uprising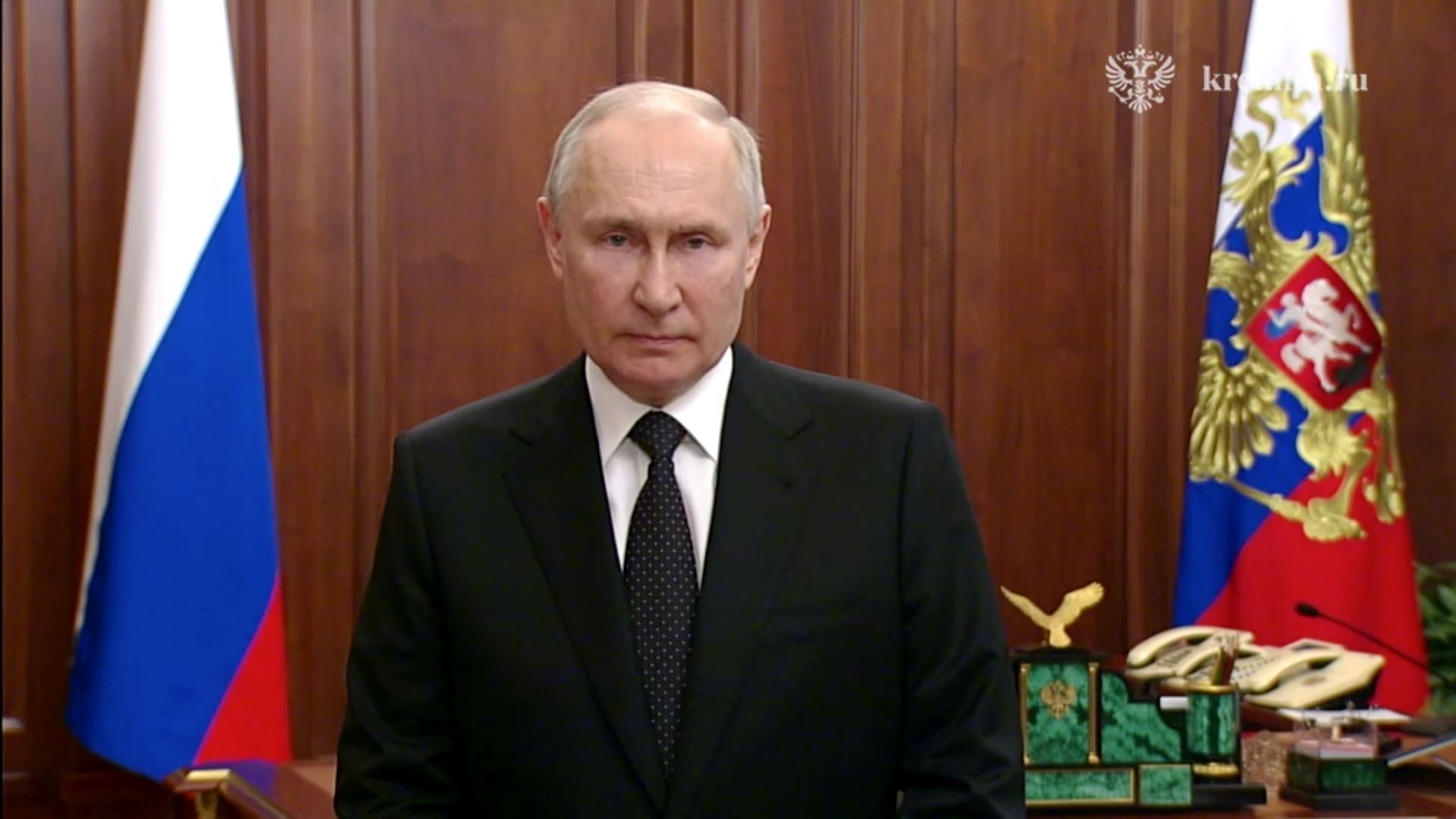 Russian President Vladimir Putin on Saturday vowed to quash an uprising led by Wagner mercenary boss Yevgeniy Prigozhin, who claimed to have seized the southern Russian city of Rostov-on-Don.
The latest: Prigozhin said in an audio message late Saturday local time that he had ordered his fighters to halt their advance toward Moscow to avoid Russian bloodshed.
Prigozhin's message came shortly after the Belarusian presidential press office said Alexander Lukashenko held negotiations with Prigozhin and the mercenary boss agreed to "stop the movement of armed people of the Wagner company" on Russian territory and "take further steps to de-escalate tensions" in a deal that includes security guarantees for Wagner fighters. No other details of the deal were announced.
The Kremlin has not confirmed the deal, and it was unclear if Putin made any concessions.
Why it matters: The uprising was the biggest threat to Putin's rule since he came to power more than two decades ago. It also threatened Russia's operations in its invasion of Ukraine.
Catch up quick: Prigozhin in a series of videos and audio messages posted to Wagner's Telegram on Friday and Saturday accused Russia of striking a Wagner camp and killing "a huge amount" of his fighters — a claim the Russian Defense Ministry rejected. He also openly criticized the war, claiming it was "needed by oligarchs" and had turned into a "racket."
Wagner fighters have fought in some of the bloodiest and fiercest battles over the last 16 months in Ukraine, including aiding Russia's effort to take the southern city of Bakhmut.
The uprising followed months of tensions between Prigozhin and Russia's senior military brass.
Details: Prigozhin called Russian Defense Minister Sergey Shoigu, who he has publicly feuded with for months, a "weak grandfather" and said there's been a "total absence of management" during the war.
"There are 25,000 of us and we are going to find out why there is such chaos in the country," Prigozhin said. "There are 25,000 of us waiting as a tactical reserve and a strategic reserve. It's the whole army and the whole country, everyone who wants to, join us. We must end this debacle,"
Russian officials accused Prigozhin of "organizing an armed rebellion" and ordered his arrest.
What they're saying: "All those who prepared the rebellion will suffer inevitable punishment," Putin said ealier Saturday in his first public comments since the uprising began.
"Those who organized and prepared the armed rebellion, those who raised weapons against comrades in arms, betrayed Russia," he said without mentioning Prigozhin by name. "Exorbitant ambitions and personal interests have led to treason."
Prigozhen responded, saying "this is not a military coup, but a march of justice."
"The president makes a deep mistake when he talks about treason. We are patriots of our motherland, we fought and are fighting for it," Prigozhen added. "We don't want the country to continue to live in corruption and deceit."
State of play: Prigozhin on Saturday claimed control of Rostov, appearing in a video at the Russian military headquarters in the city. Putin said in his address that he has ordered "decisive actions to stabilize the situation" in Rostov.
"In Rostov-on-Don, Wagner has almost certainly occupied key security sites, including the [headquarters] which runs Russia's military operations in Ukraine," Britain's Ministry of Defense said in an intelligence briefing earlier on Saturday.
Prigozhen demanded to see Shoigu and Russian Gen. Valery V. Gerasimov. "So long as they are not here, we will be staying here, blocking the city of Rostov."
It was unclear late Saturday whether Wagner fighters would leave the city after Prigozhen ordered the group to halt its advance.
Russian officials declared a "counterterrorist operation regime" in Moscow and surrounding areas, giving authorities broader powers.
At the same time, Russia continued its assault on Kyiv early Saturday. At least three people were killed and several others injured after Russian forces fired more than 20 missiles toward the capital, per the New York Times.
G7 ministers on Saturday held a call to consult about the escalating situation in Russia, Axios' Barak Ravid reports.
Editor's note: This story has been updated with additional details throughout.
Go deeper