Updated Jun 24, 2023 -

World
Kremlin drops charges against Wagner boss who led uprising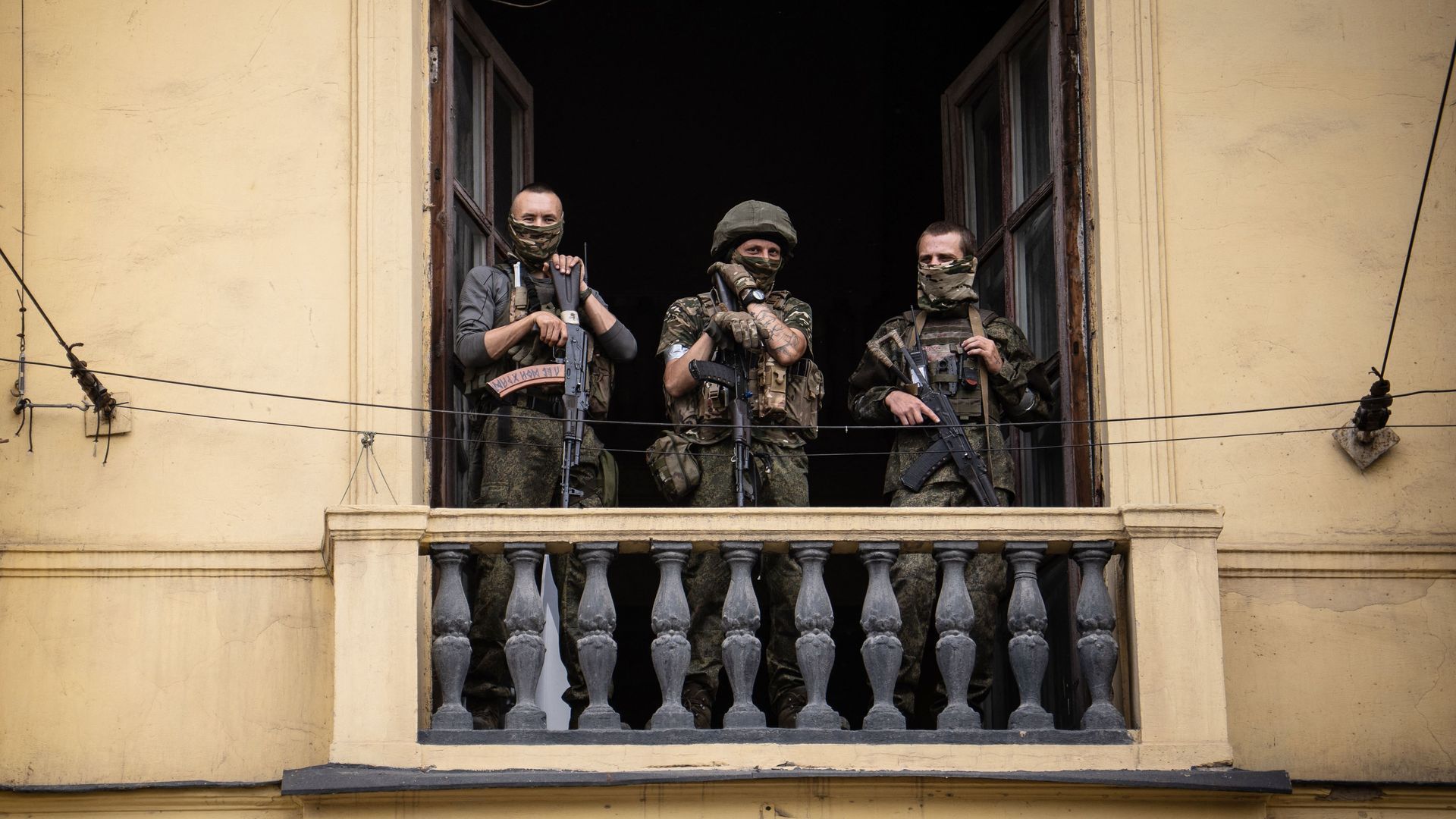 Wagner boss Yevgeniy Prigozhin will leave Russia for Belarus and criminal charges against him for organizing a rebellion against Moscow will be dropped, the Kremlin said late Saturday, after a deal was reached that saw the mercenary group halt its advance toward the Russian capital.
Why it matters: The nearly 24-hour uprising was the biggest threat to Russian President Vladimir Putin's rule since he came to power more than two decades ago.
Driving the news: Prigozhin said Wagner fighters got within about 120 miles of Moscow before he ordered them to stop their advance and return to Ukraine to avoid "Russian bloodshed."
The orders came as part of a deal, negotiated by Belarusian President Alexander Lukashenko, that was welcomed by Russia.
As part of the deal, Prigozhin will go to Belarus and charges against him and Wagner mercenaries who participated in the uprising will be dropped, Kremlin spokesperson Dmitry Peskov said late Saturday. Wagner fighters who did not take part in the rebellion will be allowed to sign contracts with Russia's Defense Ministry, Peskov added.
"There was a higher goal — to avoid bloodshed, to avoid an internal confrontation, to avoid clashes with unpredictable consequences," Peskov said.
How it happened: Prigozhin in a series of videos and audio messages posted to Telegram on Friday and early Saturday accused Russia of striking a camp and killing "a huge amount" of his fighters — a claim the Russian Defense Ministry rejected. He also openly criticized the war, claiming it was "needed by oligarchs" and had turned into a "racket."
By early Saturday, Prigozhin claimed to have seized Rostov-on-Don — a southern Russian city key to the Kremlin's military operations in Ukraine — and said his fighters were advancing toward Moscow.
Putin in an address Saturday accused the mercenary chief of treason and vowed to squash an armed rebellion, which Prigozhin claimed was a "march of justice."
Several hours later, Lukashenko said Prigozhin had agreed to halt his fighters' advance. Prigozhin confirmed shortly after that he had ordered his fighters to return to Ukraine.
State of play: Russian state media reported Wagner fighters were leaving Rostov late on Saturday.
Peskov claimed the uprising will not affect Russia's military operations in Ukraine, per state media.
Wagner mercenaries have fought in some of the bloodiest and fiercest battles over the last 16 months in Ukraine, including aiding Russia's monthlong effort to take the southern city of Bakhmut.
Peskov also said he was "not aware of any changes in the issue of Putin's trust" in Russian Defense Minister Sergey Shoigu, with whom Prigozhin openly feuded. Prigozhin had demanded Shoigu be ousted from his post.
Go deeper