How Kevin McCarthy won over Marjorie Taylor Greene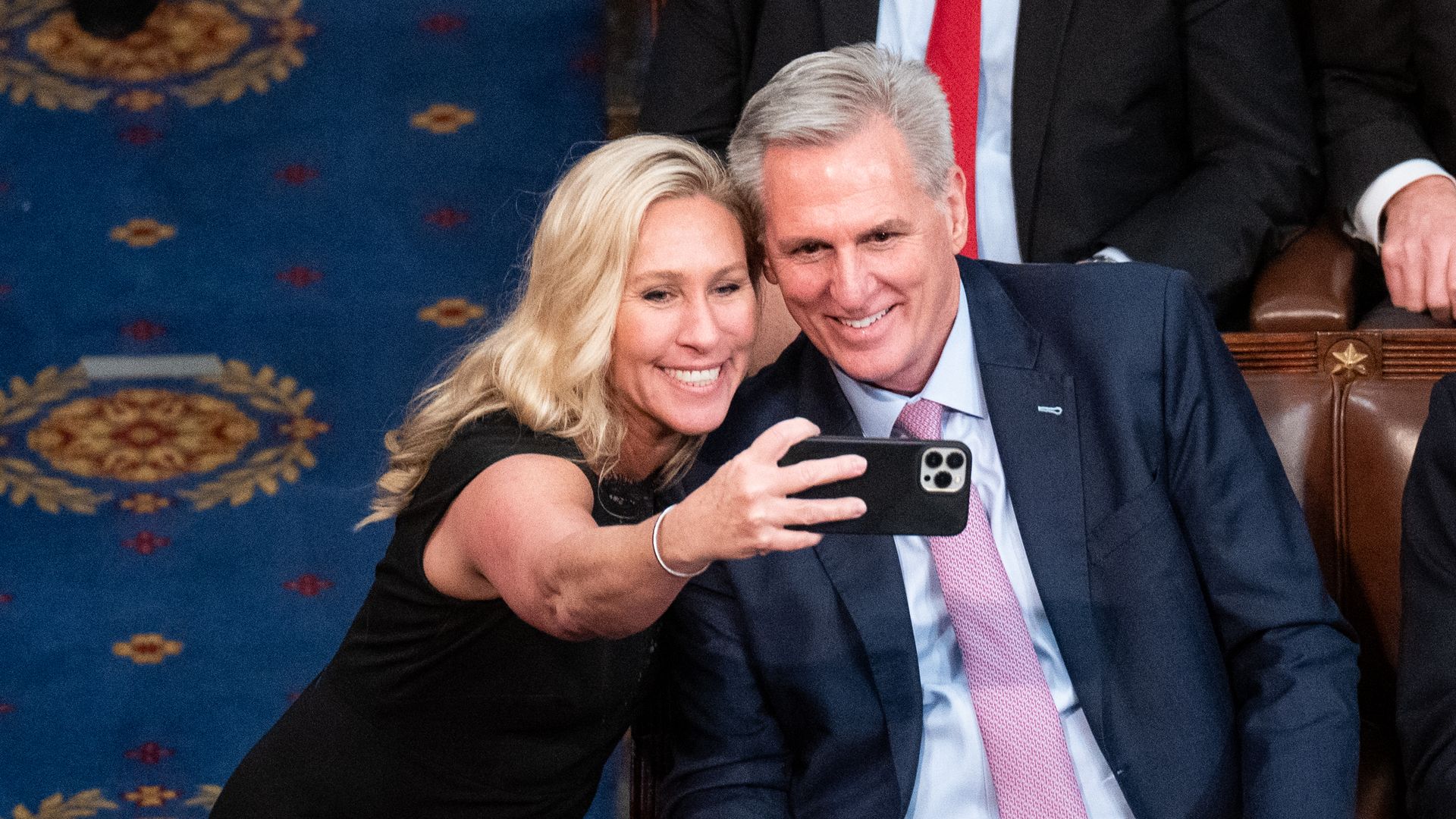 The backstory is now emerging over how Speaker Kevin McCarthy secured the loyalty of Rep. Marjorie Taylor Greene ahead of the most contentious speaker election in a century.
Why it matters: In less than two years, Greene evolved from calling conversations with McCarthy a "trip to the principal's office" to becoming his most vocal far-right defender, the New York Times' Jonathan Swan and Catie Edmondson report.
Among the revelations from the NYT report:
McCarthy avoided publicly criticizing Greene, choosing instead to have private conversations she referred to as "visits to the principal's office."
McCarthy reportedly took a lesson from former speakers Paul Ryan and John Boehner, deciding it was better to work with the far-right than alienate them.
One noteworthy example: McCarthy's chief counsel worked for hours to try to overturn Twitter's ban on Greene's personal account in 2022.
A tipping point for their relationship was when former Rep. Devin Nunes told Greene that McCarthy yelled at Democratic House Majority Leader Steny Hoyer over her removal from committees in 2021.
What they're saying:
McCarthy to NYT: "If you're going to be in a fight, you want Marjorie in your foxhole ... When she picks a fight, she's going to fight until the fight's over. She reminds me of my friends from high school, that we're going to stick together all the way through."
Greene to NYT: McCarthy's agenda, if he holds firm, "will easily vindicate me and prove I moved the conference to the right during my first two years when I served in the minority with no committees."
Zoom out: This relationship is already reflected in the GOP agenda.
McCarthy listened to Greene's advice on the coronavirus vaccine mandate for the armed forces, Ukraine spending and public statements about the Jan. 6 Committee, the Times reports.
Go deeper