Trump's historic mug shot released in Georgia election case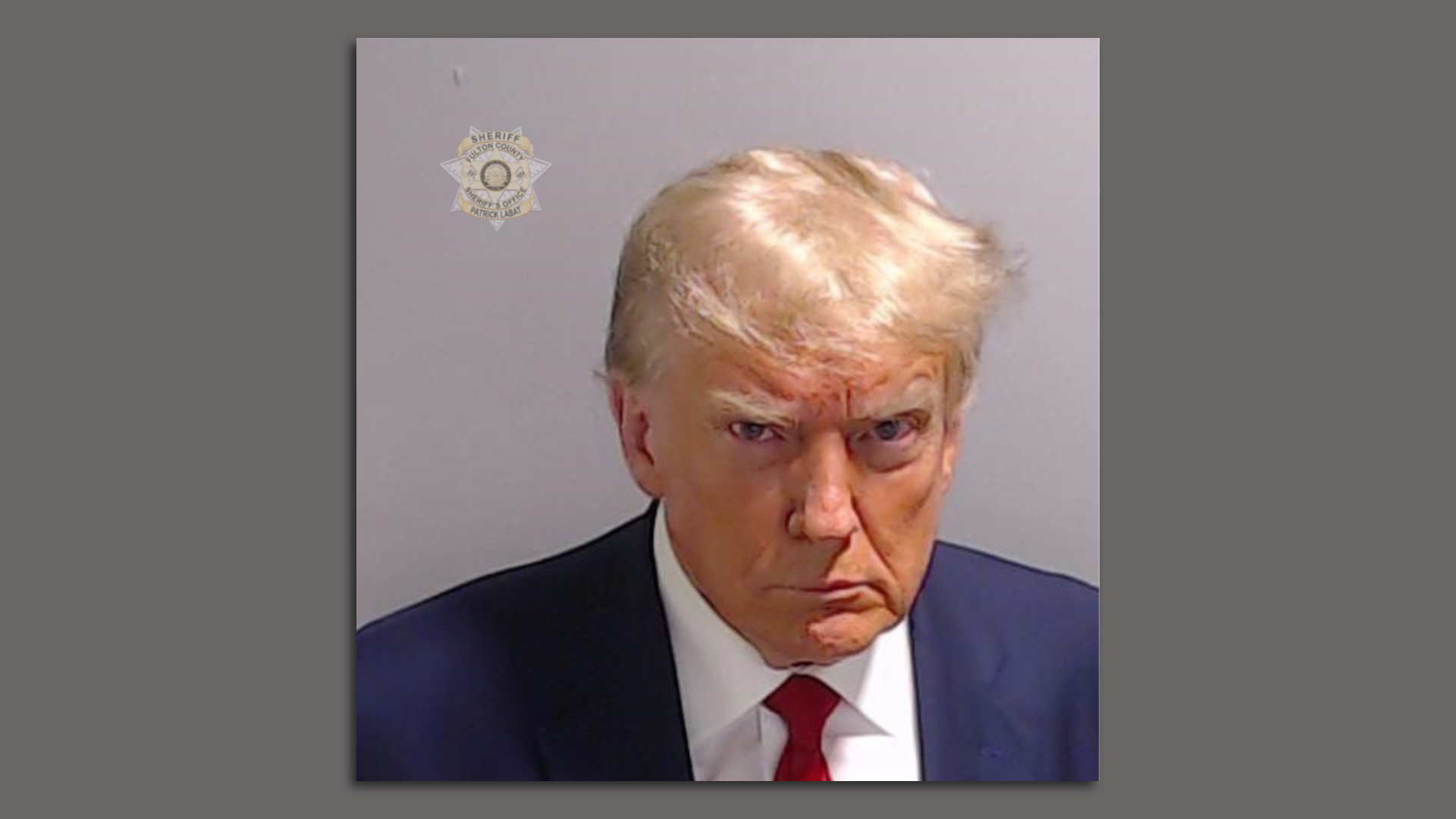 Inmate No. P01135809 — that's how Donald J. Trump of Palm Beach, Fla., is listed in the jail records of Fulton County, Ga., after Thursday night's 20-minute booking.
Why it matters: Trump has now made history as not only the first U.S. president — sitting or former — to face criminal charges, but the first to have their mug shot taken.
The Fulton County Sheriff's Office released the first-ever mug shot of former President Trump following his surrender to authorities in the Georgia election interference case.
Although it's Trump's fourth indictment, he has managed to dodge taking mug shots in the other cases.
But Fulton County Sheriff Pat Labat warned ahead of the Georgia indictment that authorities there intended to follow regular procedures when it came time to book the former president.
Details: Trump described himself as 6 foot 3 inches, 215 pounds — 24 pounds less than the White House doctor reported in 2018.
He's listed as having blue eyes, and blond or strawberry hair.
Of note: Moments after his mug shot was taken Thursday, Trump posted the image to his Truth Social platform, along with a fund-raising link.
What he's saying: Trump told Newsmax in an interview aboard his private plane on the way back from his booking that it been a "terrible experience," but added that he was "treated very nicely."
He told Fox News Digital late Thursday that Georgia officials had "insisted on a mug shot and I agreed to do that," which he said was "not a comfortable feeling — especially when you've done nothing wrong."
The big picture: The notorious Fulton County jail where Trump's mug shot was taken has also now made history as the first institution to ever take a U.S. president's mug shot.
The detention center, known among locals as "Rice Street," has been criticized for its dangerous conditions and detainee deaths.
In July, the U.S. Justice Department announced an investigation into the jail following the death of Lashawn Thompson, who was found covered in "insects and filth."
An independent autopsy of Thompson ruled his death a homicide resulting from "severe neglect."
Zoom out: Trump faces a total of 13 counts related to alleged efforts to subvert Georgia's 2020 election results, including violating Georgia's racketeering law, or RICO.
Go deeper: Trump legal peril enters new phase
Editor's note: This article has been updated with details of Trump's online posts and comment from the former president.
Go deeper