Lashawn Thompson died from "severe neglect," autopsy says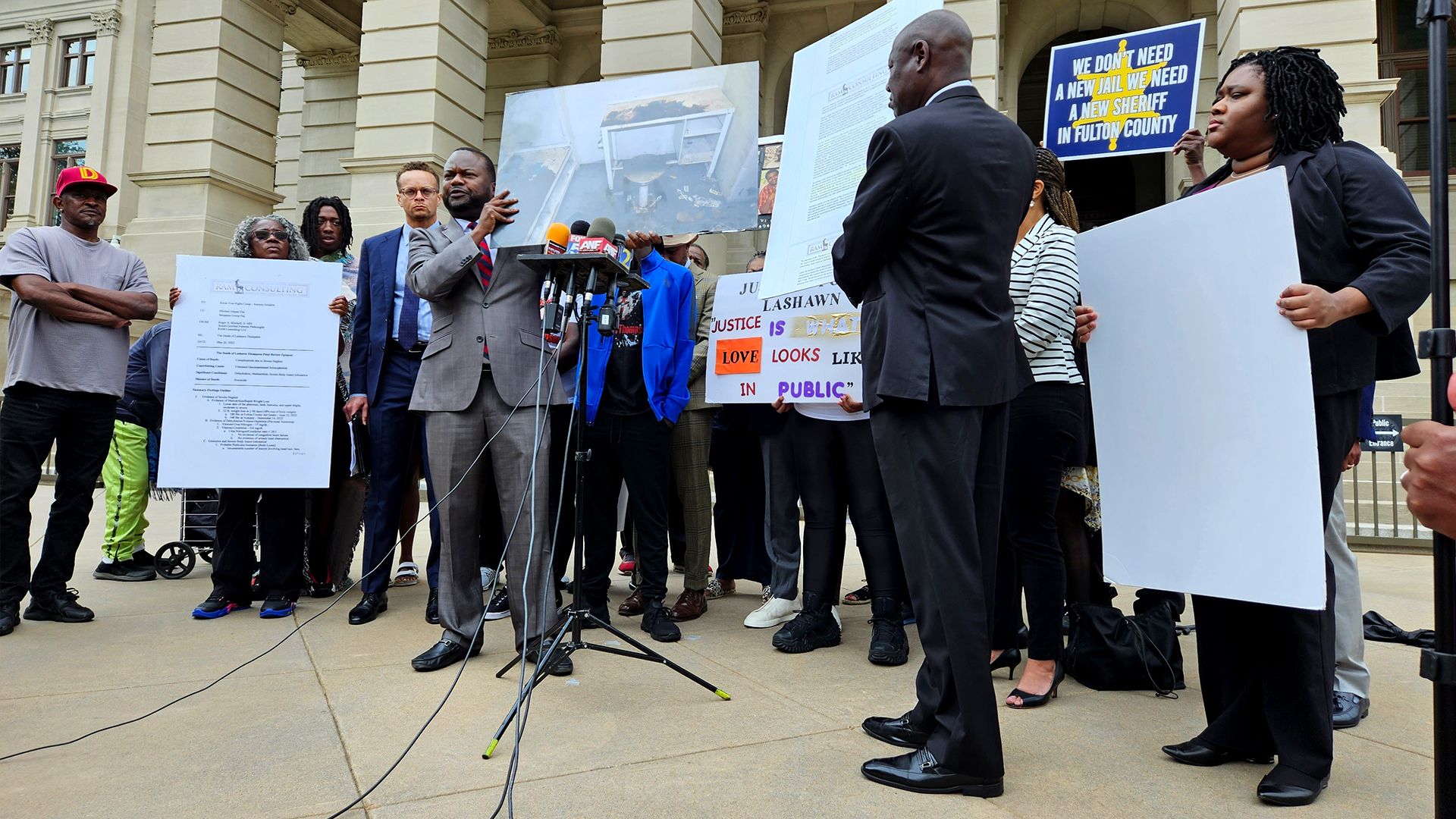 An independent autopsy on a man who died last year in the Fulton County Jail ruled his death a homicide resulting from "severe neglect."
Driving the news: Lashawn Thompson's family and their attorney, Ben Crump, held a news conference Monday at the state Capitol to announce the results of the autopsy, which was performed by Dr. Roger A. Mitchell, who chairs the pathology department at Howard University.
The report found Thompson's untreated worsening schizophrenia contributed to his death, and that dehydration, malnutrition, rapid weight loss and "severe body insect infestation" were significant factors leading to a fatal cardiac arrhythmia.
The manner of death was classified as homicide because Thompson "was completely reliant on his caregivers to provide both day-to-day care as well as the acute life-saving care that was needed to save him from the untreated decompensated schizophrenia," Mitchell wrote in the autopsy report.
What they're saying: Crump said it was "one of the most deplorable in-custody deaths" in the country.
The independent autopsy shows that Thompson did not have any medication in his system, which could indicate he was not being treated for his mental illness, Crump said.
Crump and fellow attorney Michael Harper said the Fulton County Commission was responsible for the jail's conditions.
"We must all speak out and let the Fulton County commissioners know that we will not stand for this," Harper said at the news conference. "It is one thing … to try to make changes at the jail, but you must make this family whole."
Fulton Sheriff Pat Labat said he hasn't had a chance to review the independent report, but "it was painfully clear there were a number of failures that led to Mr. Thompson's tragic death."
"Repercussions for anyone found to be negligent in Mr. Thompson's care could come once the full investigation is turned over to the [Georgia Bureau of Investigation] for review," he said.
"I remain committed to making sure the Thompson family receives the answers they need and deserve about the unconscionable circumstances surrounding Mr. Thompson's death. "
Timeline: According to the report, Thompson, 35, was alert when booked into the jail on June 12, and was prescribed medication.
By July 14, he was observed "pacing around the cell talking to himself," but did not show any signs of distress.
From July 27 to Sept. 8, there was a "significant gap" in documentation of Thompson's care. Additionally, no medication was logged from Aug. 11 to Sept. 13.
By Sept. 8, it was determined that Thompson would be transferred for a "psych observation" after he was seen lying on the floor of his cell.
Two days later, a report noted that Thompson's condition continued to decline, and by Sept. 12, he experienced "severe deterioration and inability to care for himself" while waiting to be transferred.
Thompson died Sept. 13, 2022, three months after he was booked into the jail.
Of note: The condition of Thompson's body suggests he suffered from "a severe body insect infestation" that lasted longer than 28 days, Mitchell's report reads.
During a news conference last month, Thompson's family showed photos of his body covered with bug bites and the state of his jail cell, which was full of trash and furniture that was covered in rust and mold.
The Fulton County medical examiner ruled his cause of death was undetermined.
Thompson's family sought an independent autopsy, which was paid for by activist and former NFL star Colin Kaepernick.
What we're watching: Labat is lobbying for the county to build a new jail to help with overcrowding and other issues. A study released earlier this year suggests a new detention center could cost $2 billion, according to the AJC.
More Atlanta stories
No stories could be found
Get a free daily digest of the most important news in your backyard with Axios Atlanta.