Mortgage applications submitted by Black people in Georgia were rejected nearly two times the rate of their white counterparts in 2020, according to Home Mortgage Disclosure Act data analyzed by Zillow.
Why it matters: Home ownership is the primary way to build wealth, and Black Americans have historically been shut out of this opportunity due to systemic racism and segregation policies.
A new study of the effort that transformed East Lake from a pocket of poverty into a mixed-income success story says that the initiative improved home values, schools, and crime in the east Atlanta community.
But what's less clear is whether original residents saw the benefits.
Why it matters: The decades-long revitalization initiative has become a national model often praised by community development researchers and equity advocates for reducing crime, improving educational outcomes and uplifting communities.
More than 100 affordable apartment units will be constructed along the Atlanta BeltLine in Reynoldstown.
Why it matters: After years of prioritizing building trails and parks, BeltLine officials are playing catch-up to create a promised number of affordable units so everyone — not just the well off — can enjoy the project.
If it seems like every block in Midtown Atlanta has been commandeered by crews building another high-rise, then you're not exactly wrong.
Why it matters: The building boom in Midtown Atlanta goes hand-in-hand with efforts to redevelop the neighborhood to include skyscrapers and street-level retail options.
A developer wants to transform 10 acres of industrial land in South Downtown into a mixed-use community where technology plays a central role.
Urbantec Development Partners LLC is the brainchild behind Forge Atlanta, a "technology-infused" project that will feature multifamily housing, retail and entertainment shops and a life sciences center, the company said.
Why it matters: If Forge Atlanta proceeds, it would join Newport's redevelopment of South Downtown's historic buildings, CIM Group's plans to revamp the Gulch, and the planned reboot of Underground Atlanta to resuscitate the historic heart of the city.
A $20 million commitment from Fifth Third Bank will help the Grove Park Foundation revitalize a neighborhood under the spotlight for potential redevelopment.
The bank said last week it will commit $2 million in grants and $18 million in affordable financing for homes and small business loans through its Neighborhood Investment Program.
Why it matters: The investment will help the Grove Park Foundation "expand and amplify their efforts of equitable revitalization that provides access to opportunity for all residents," Fifth Third Bank said.
When Mayor Keisha Lance Bottoms struck a nearly $2 billion incentives package with a Los Angeles-based developer to develop a mixed-use mini-city in Downtown's "Gulch" called Centennial Yards, the company promised tens of millions of dollars in return to combat inequity.
Yesterday, that developer literally handed Bottoms a $33.5 million check — and the Mayor knows how she wants to spend it.
New affordable housing options are coming to three neighborhoods in northwest Atlanta.
Why it matters: Invest Atlanta, the city's economic development arm, said the project is unique because "for-sale affordability can be difficult to create and preserve."
Details: A $2.6 million forgivable loan will be used to acquire and build new housing in the Almond Park, Carey Park and Grove Park neighborhoods, Invest Atlanta said in a news release.
The homes will be built on 11.5 acres and offer a mix of 55 for-sale and 10 for-rent residences, including single-family houses, duplexes and accessory dwelling units (smaller living spaces that have their own kitchen, bathroom and bedroom).
Documents shared by Invest Atlanta and reviewed by Axios show construction will last about 18 months and should wrap up by 2023.
The homes will be located in the Hollywood Road area near Westside Park, Atlanta's newest and largest park.
What they are saying: Gavin McGuire, the incoming executive director of the Grove Park Foundation, said Invest Atlanta's initiative aligns with the organization's goal of equity, providing access to affordable housing and improved quality of life.
"Homeownership is the key component of legacy wealth building and sustaining families," he said.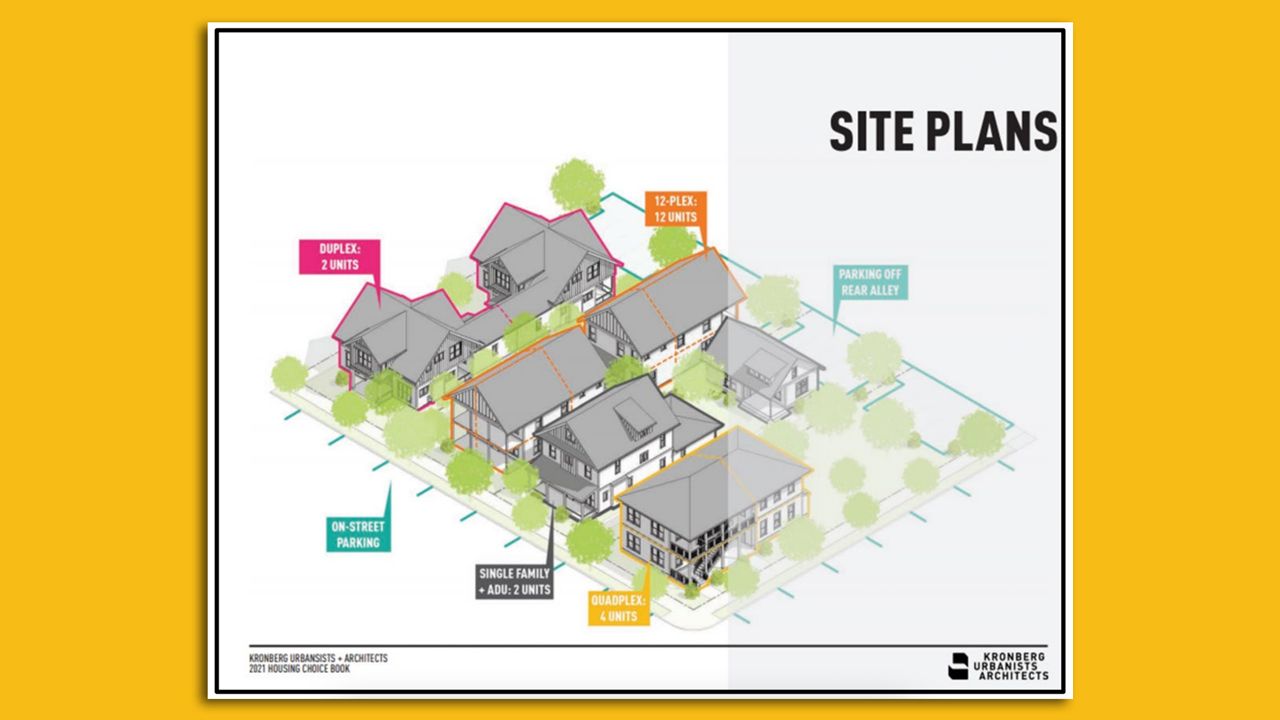 Context: Atlanta's west side has been under the microscope since January, when Microsoft announced it would build a new data center region at the Quarry Yards development.
The construction of the park and increased attention by developers led Grove Park residents to express concerns to city officials about being displaced from their homes, Invest Atlanta public relations manager Katrice Mines told Axios Atlanta.
The average home value in Grove Park grew 29% between August 2020 and August 2021 to $253,830, Zillow notes.
Mines said the Westside Equitable Task Force was created so that "we could begin to collaborate and to strategize to figure out ways that we can advertise anti-displacement efforts."
The Atlanta City Council in March passed an ordinance to require any future residential development to set aside affordable housing in neighborhoods around the new park.
Our thought bubble: With the opening of Westside Park, it is inevitable that people and companies will flock to the neighborhoods on this side of town.
Any redevelopment that follows should not happen at the expense of longtime Atlanta residents whose roots in these neighborhoods stretch back decades.
Get a free daily digest of the most important news in your backyard with Axios Atlanta.
🌱
Support local journalism by becoming a member.
Learn more