Trump, 18 others indicted by Atlanta grand jury in election interference probe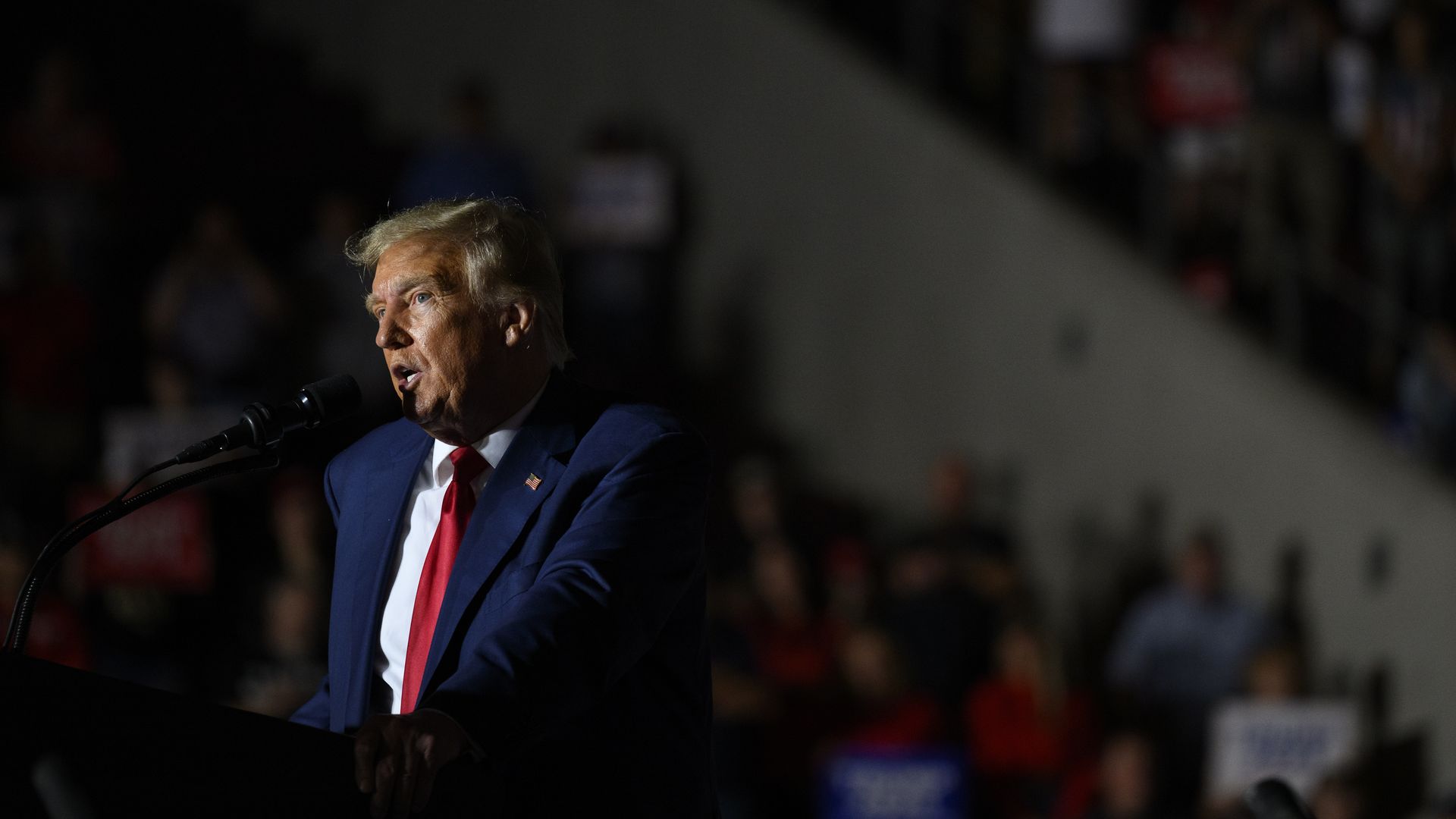 An Atlanta grand jury indicted former President Trump and over a dozen allies Monday in the probe into his alleged efforts to flip Georgia's 2020 election results.
Why it matters: Trump, a top GOP 2024 presidential candidate, already became the first U.S. president in history to be criminally charged earlier this year. He has pleaded not guilty to state charges in a hush-money case, federal charges in a classified documents case and federal charges in a Jan. 6 case.
Driving the news: The 41 felony counts in the 98-page indictment include racketeering charges, conspiracy to commit forgery and perjury.
Trump is charged with 13 counts, including soliciting the then-Georgia House Speaker David Ralston and Georgia Secretary of State Brad Raffensperger to break their oaths of office with regard to overturning the election.
The defendants include former Trump lawyer Rudy Giuliani, who was compelled to testify before the Atlanta special purpose grand jury, and former Trump chief of staff Mark Meadows, who was a part of the Jan. 2021 phone call to Raffensperger in which Trump told the Georgia secretary of state to "find" the necessary votes for him to win.
Also charged are former members of Trump's legal team, including John Eastman, Kenneth Chesebro, Jenna Ellis, Robert Cheeley and Sidney Powell.
11 individuals with other ties to the effort were also named, including fake GOP electors and a former Coffee County election supervisor.
Of note: All 19 individuals named in the indictment are charged with one count of violating Georgia's racketeering law.
Fulton County District Attorney Fani Willis affirmed during a press conference late Monday that she intends to try all the defendants together.
Willis is requesting a trial within six months, but scheduling the date will be at the discretion of Judge Scott McAfee. McAfee was randomly selected to oversee the case.
What they're saying: The Trump campaign released a statement Monday just before the charges were revealed, accusing Willis of being "rabid partisan" and calling the indictment "bogus."
"Call it election interference or election manipulation — it is a dangerous effort by the ruling class to suppress the choice of the people," the statement said.
Trump's attorneys in an emailed statement Tuesday morning called the grand jury presentation "one-sided" and claimed it "relied on witnesses who harbor their own personal and political interests."
The attorneys, Drew Findling, Jennifer Little and Marissa Goldberg, added that they looked forward to "a detailed review of this indictment which is undoubtedly just as flawed and unconstitutional as this entire process has been."
Meanwhile, Giuliani in a statement to media called the charges "an affront to American Democracy."
Background: Willis' investigation has focused on alleged efforts to pressure Georgia officials to change the results of the 2020 presidential election in the state — which Trump lost by just under 12,000 votes.
Days after Willis took office in January 2021, she had to decide whether to pursue the unprecedented investigation — after a now-infamous phone call to Raffensperger.
Catch up quick: Last year, Willis requested the formation of a "special purpose grand jury" to hear evidence focused on the wide-ranging investigation. The 23-member panel spent seven months hearing testimony from 75 witnesses. It did not have the power to indict — only to recommend indictments to Willis.
Meanwhile, Trump's Georgia legal team filed a motion in March to disqualify Willis from any prosecution on the topic, invalidate all evidence gathered as "unconstitutionally derived," and quash the investigation altogether.
His lawyers argued the process was "confusing, flawed and at-times, blatantly unconstitutional."
Trump has neither been subpoenaed in the last two years nor asked to speak to the Fulton DA voluntarily, his lawyers say.
Fulton County Superior Court Judge Robert McBurney late last month rejected Trump's bid to have Willis disqualified and evidence thrown out. Trump's team has signaled they intend to appeal the decision.
Flashback: After narrowly losing Georgia in November 2020, Trump became fixated on the swing state, which he had won in 2016 by more than 200,000 votes.
He called the state's governor, secretary of state and speaker of the state House asking for a "special session" to "investigate" disproven election fraud allegations. Those officials — all Republicans — rebuffed the requests at the time.
Georgia election officials counted the nearly five million ballots three times, including once by hand. Each recount affirmed Joe Biden's victory.
Context: Georgia's racketeering law (or RICO) allows prosecutors to string together crimes by various people if committed towards one common goal.
Willis is considered an expert in the state law after, among much else, successfully prosecuting one of the state's largest criminal cases to prove a cheating scandal in the Atlanta Public School System in 2015.
What's next: Arrest warrants were issued for all those who were charged and Willis gave the defendants until noon on Friday, Aug. 25 to voluntarily surrender.
Go deeper:
Editor's note: This article has been updated with new details throughout.
Go deeper