Trump pleads not guilty to all federal charges in classified docs probe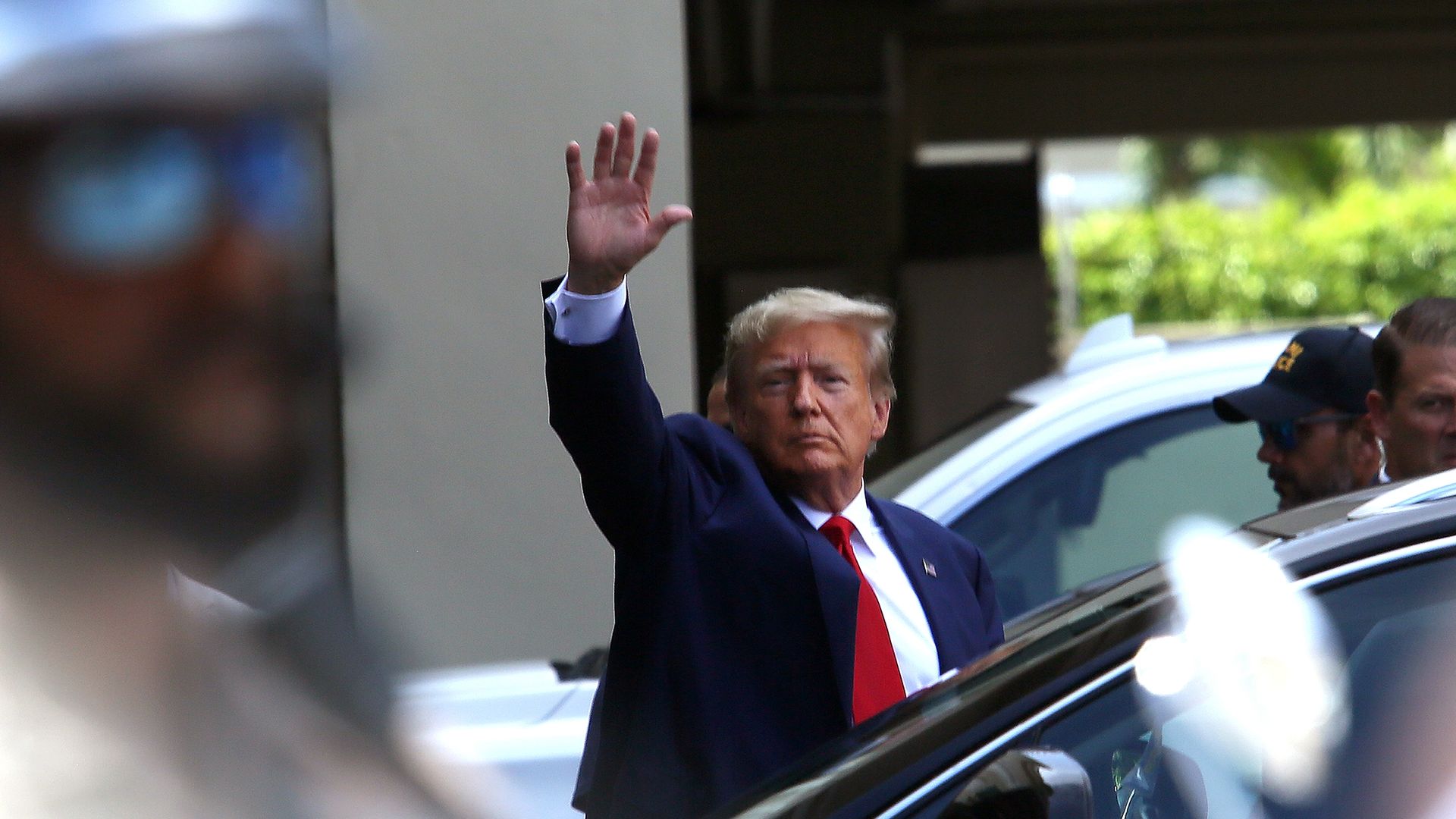 Former President Trump pleaded not guilty Tuesday to charges related to retaining classified information and obstruction of justice at a Miami federal courthouse, multiple outlets reported.
Why it matters: Trump, the 2024 GOP presidential frontrunner, faced a historic 37-count indictment related to his handling of classified documents at his Mar-a-Lago resort in Florida after he left the White House.
"We most certainly enter a plea of not guilty, your honor," Todd Blanche, the attorney who stood for Trump, said inside the courtroom.
Trump surrendered to authorities earlier Tuesday. The former president, who frequently insists that he is the victim of politically-motivated investigators, has denied wrongdoing.
The big picture: The indictment unsealed Friday by a Miami grand jury followed a months-long probe led by special counsel Jack Smith.
Smith was seated in the front row during Trump's arraignment behind Jay Bratt, David Harbach and Julie Edelstein, who are the prosecutors representing the Justice Department in Miami.
State of play: Trump was last indicted in March by a grand jury in New York on charges related to a hush money payment.
What's next: The former president will travel to New Jersey for a planned fundraiser. He is expected to deliver remarks around 8pm ET at Trump National Golf Club Bedminster.
Go deeper: Listen to the Axios Today podcast, where host Niala Boodhoo and Alex Thompson unpack Trump's argument about the Presidential Records Acts and a call to his supporters.
Editor's note: This story has been updated with additional reporting and background. Axios' Jacob Knutson, Sri Ravipati and TuAnh Dam contributed to this report.
Attorney General Merrick Garland tapped veteran prosecutor Jack Smith, 54, last November to oversee federal investigations into Trump.
The big picture: The appointment of a special counsel came days after Trump declared his 2024 run for president, to avoid the perception of a conflict of interest.
As part of the classified docs probe, Smith reportedly conducted interviews with nearly every employee at Trump's Mar-a-Lago home in Florida, serving up key witnesses like Corcoran to the grand jury.
What they're saying: Trump has called the prosecutor a "political hit man" among other insults.
After Trump's indictment was announced, Smith said: "We have one set of laws in this country, and they apply to everyone."
Background: Smith previously was a chief prosecutor at The Hague, where he investigated war crimes in Kosovo.
He's a New York native, Harvard Law graduate, registered independent and triathlete.
Read more about his life inside and outside the courtroom.
Government secrets — including about its nuclear program, military plans and intelligence briefings — were stuffed into cardboard boxes at Mar-a-Lago where "tens of thousands" of people might have come across them, Axios' Stef Kight reports.
Why it matters: Boxes were kept in a bedroom, bathroom and even a shower at Trump's club. According to the indictment, papers were even allegedly shuffled between Mar-a-Lago and Trump's summer home in Bedminster, N.J.
Read more about where docs were found after Trump left office.
The judge did not impose travel restrictions on Trump as part of his pretrial conditions, multiple outlets reported.
State of play: Under normal circumstances, a judge could order a defendant to post a bond or restrict a defendant's travel, said Craig Trocino, an associate professor of clinical education at the University of Miami School of Law.
Trump, as an easily recognizable figure who is also campaigning, would not be considered a flight risk, said Trocino, who is also the director of the university's Innocence Clinic.
"He has an incentive to stay right where he is," he added.
Yes, but: Judge Goodman indicated that Trump won't be able to communicate with a list of witnesses — or Nauta — about the case, multiple outlets reported.
What's next: It is not yet clear when Trump's trial will be held.
After leaving the court house, the presidential motorcade carrying Trump and Nauta stopped at Versailles, a popular Cuban restaurant in Miami's Little Havana.
Trump has been indicted twice and faces potential criminal convictions, but these do not legally disqualify him from running for president in 2024 or from serving if elected.
He is the first former U.S. president to face criminal charges.
The big picture: Trump fits the three qualifications under the Constitution to seek the presidency:
Must be at least 35 years old
Must be a natural born citizen
Must have lived in the U.S for at least 14 years
Sen. J.D. Vance (R-Ohio) announced Tuesday that he'll place a hold on President Biden's Justice Department nominees, citing the indictment of former President Trump, Axios' Sophia Cai reports.
Why it matters: The latest move by Vance — a close Trump ally — would prevent the Senate from approving Biden's nominees by unanimous consent, forcing floor votes and elongating the confirmation process.
"If [Attorney General] Merrick Garland wants to use these officials to harass Joe Biden's political opponents, we will grind his department to a halt," Vance said in a statement.
Vance's hold on DOJ nominations will not apply to individuals nominated to the U.S. Marshals Service.
Republican voters remain overwhelmingly loyal to former President Trump after the Department of Justice filed 37 new criminal charges against him last week, recent polls show.
Why it matters: Despite the charges — and his several other legal perils — two polls indicate that he continues to be Republicans' preferred candidate for the 2024 election.
Yes, but: Trump's indictment did highlight the gap between House and Senate Republicans on their opinion of the former president, with some GOP senators even praising the charges.
And while some of his fellow 2024 Republican candidates have lent Trump support and have questioned the motivations behind the indictment, others have condemned his handling of the classified documents.
The DOJ's classified documents probe is just one of several known probes surrounding Trump as he pursues a second presidential campaign. Other probes into Trump focus on:
A 2016 hush money payment to conceal an alleged affair with porn star Stormy Daniels
His efforts to subvert the 2020 election results
The big picture: Trump earlier this year became the first U.S. president to ever face criminal charges when he was indicted by a Manhattan grand jury in the hush money case.
Read more about the known criminal investigations of Trump.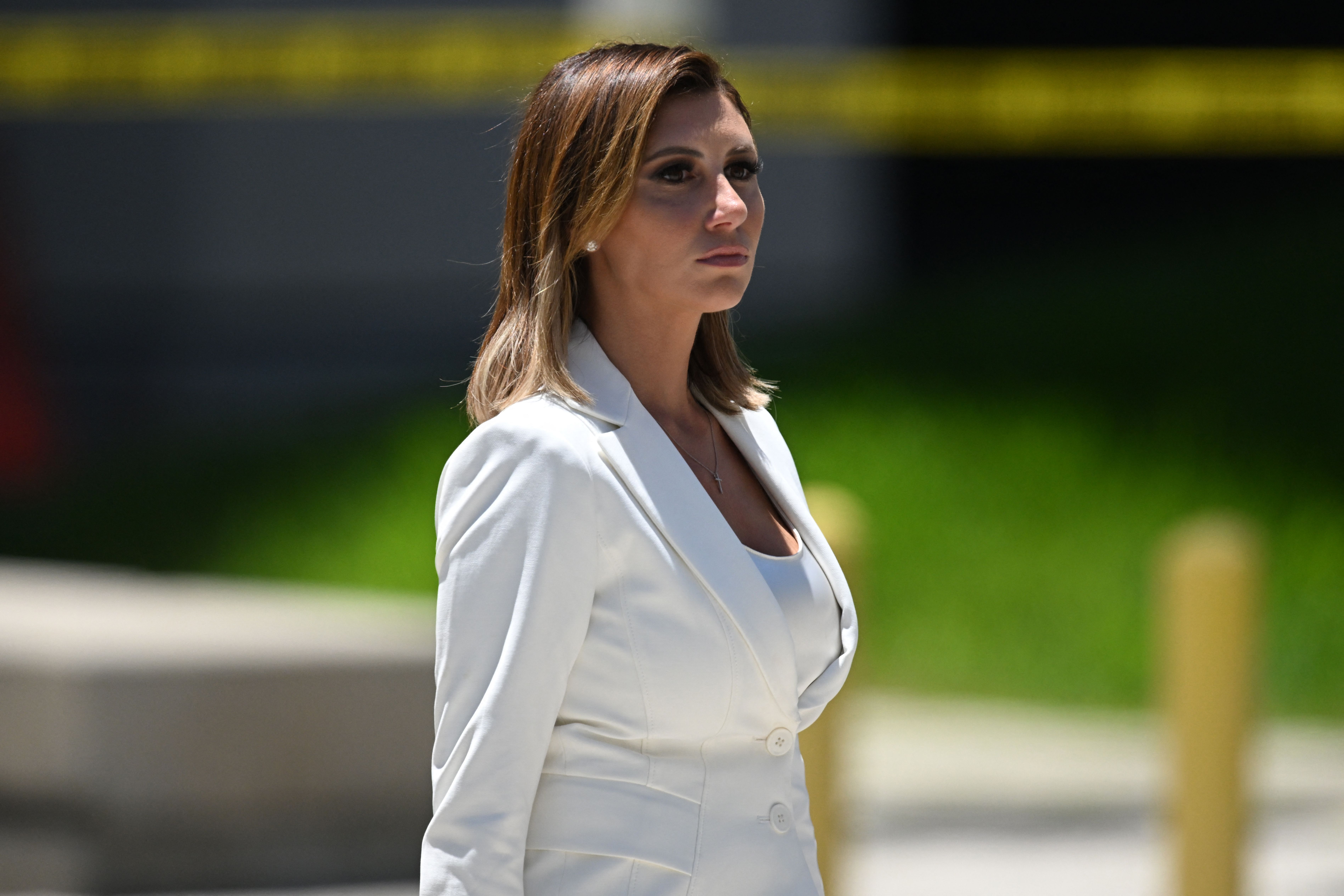 Trump lawyer Alina Habba, who is not representing him in the Florida case, railed against the arraignment outside the courthouse at a press gaggle broadcast by multiple networks.
What she's saying: "The decision to pursue charges against President Trump while turning a blind eye to others is emblematic of the corruption that we have here. We are at a turning point in our nation's history," she said, adding that the people in charge of the U.S. "do not love America. They hate Donald Trump."
Trump's criminal trial will likely not be resolved before the 2024 election, putting whoever wins in a position to influence his case, Axios' Alex Thompson reports.
Why it matters: If he wins, Trump could install sympathetic Justice Department officials or try to pardon himself.
Even if Trump isn't the Republican nominee next year, some of his GOP rivals have also pledged to either pardon him or significantly restructure the DOJ in ways that might help him if they win.
Read more on why Trump's campaign is now a fight to stay out of prison.
Trump will be in part represented by Christopher Kise, a former Florida solicitor general, and Todd Blanche, a former federal prosecutor and a white-collar criminal defense lawyer, during his arraignment.
The big picture: Trump, whose relationships with his lawyers have put him in legal peril several times, spent Monday interviewing candidates to join his legal team after reportedly struggling to find qualified lawyers to defend him against the federal charges, Axios' Zach Basu reports.
Kise was hired to join Trump's legal team last year as part of the classified docs probe, while Blanche is representing Trump in New York on grand jury charges related to a state hush-money case.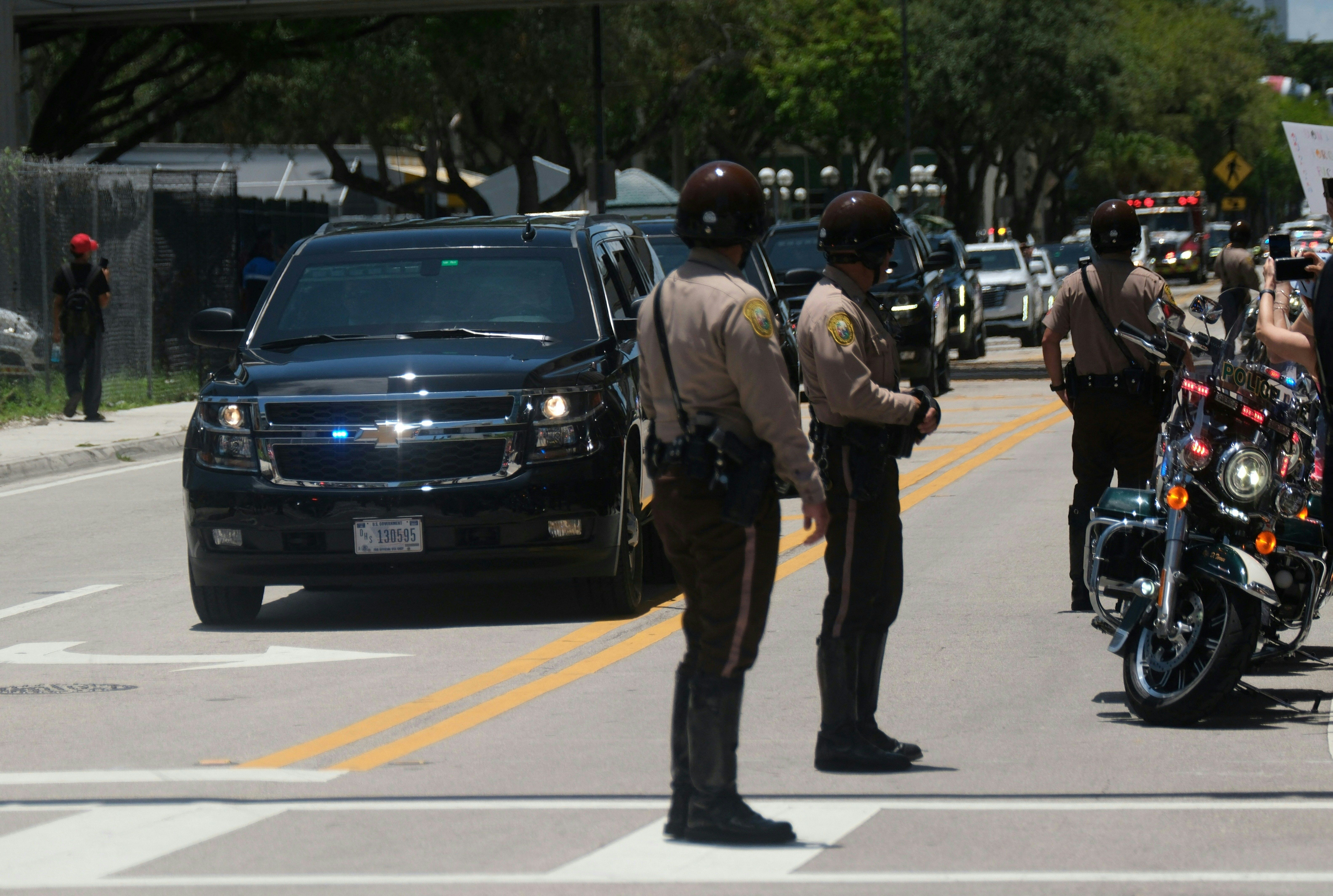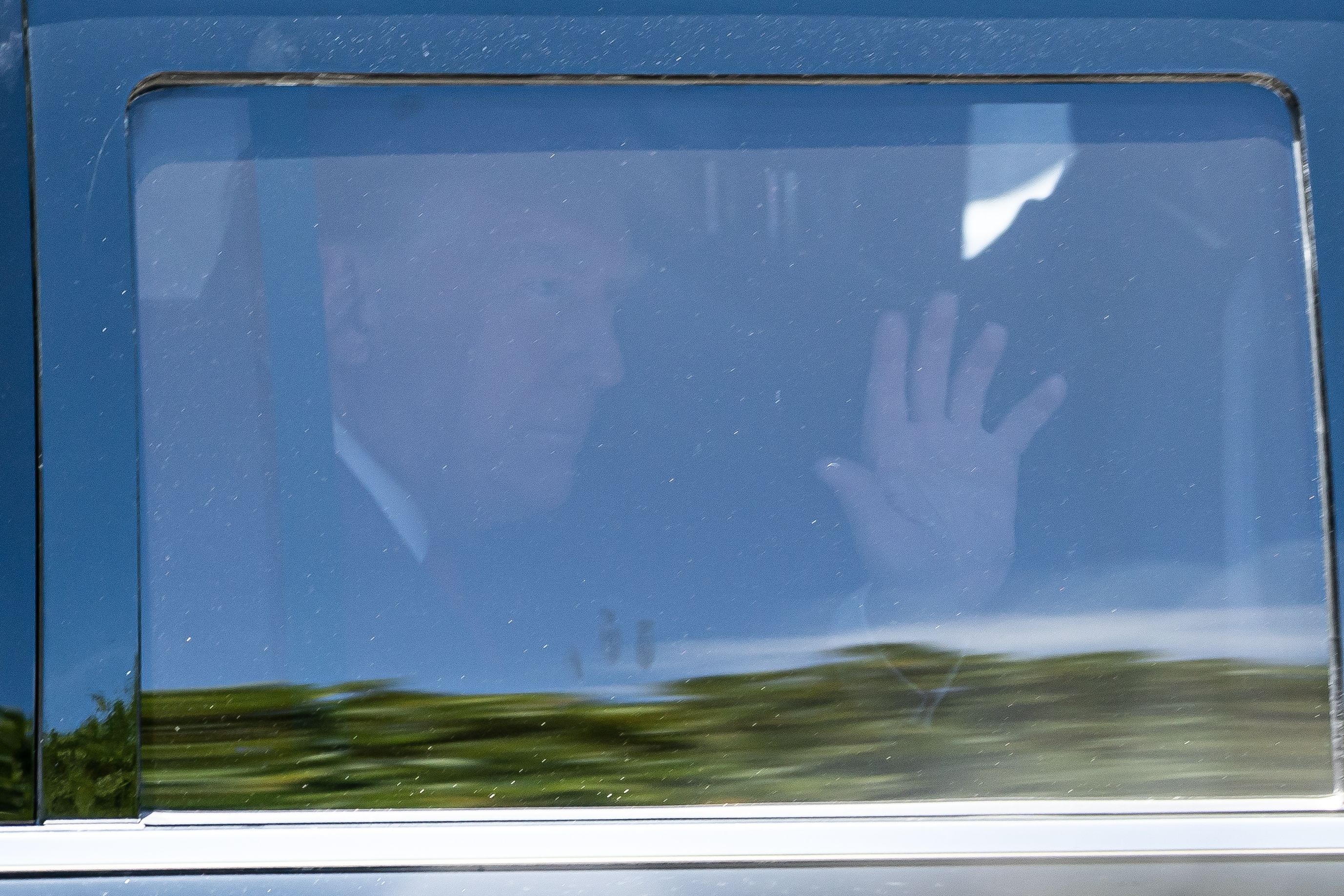 Trump and Nauta were booked in the Miami federal court ahead of the expected arraignment, per multiple reports
Trump wrote on his Truth Social account Tuesday just before 2pm ET that he was en route to the courthouse and decried the investigation as a "witch hunt."
Editor's note: This post was updated to reflect Nauta was not arraigned Tuesday.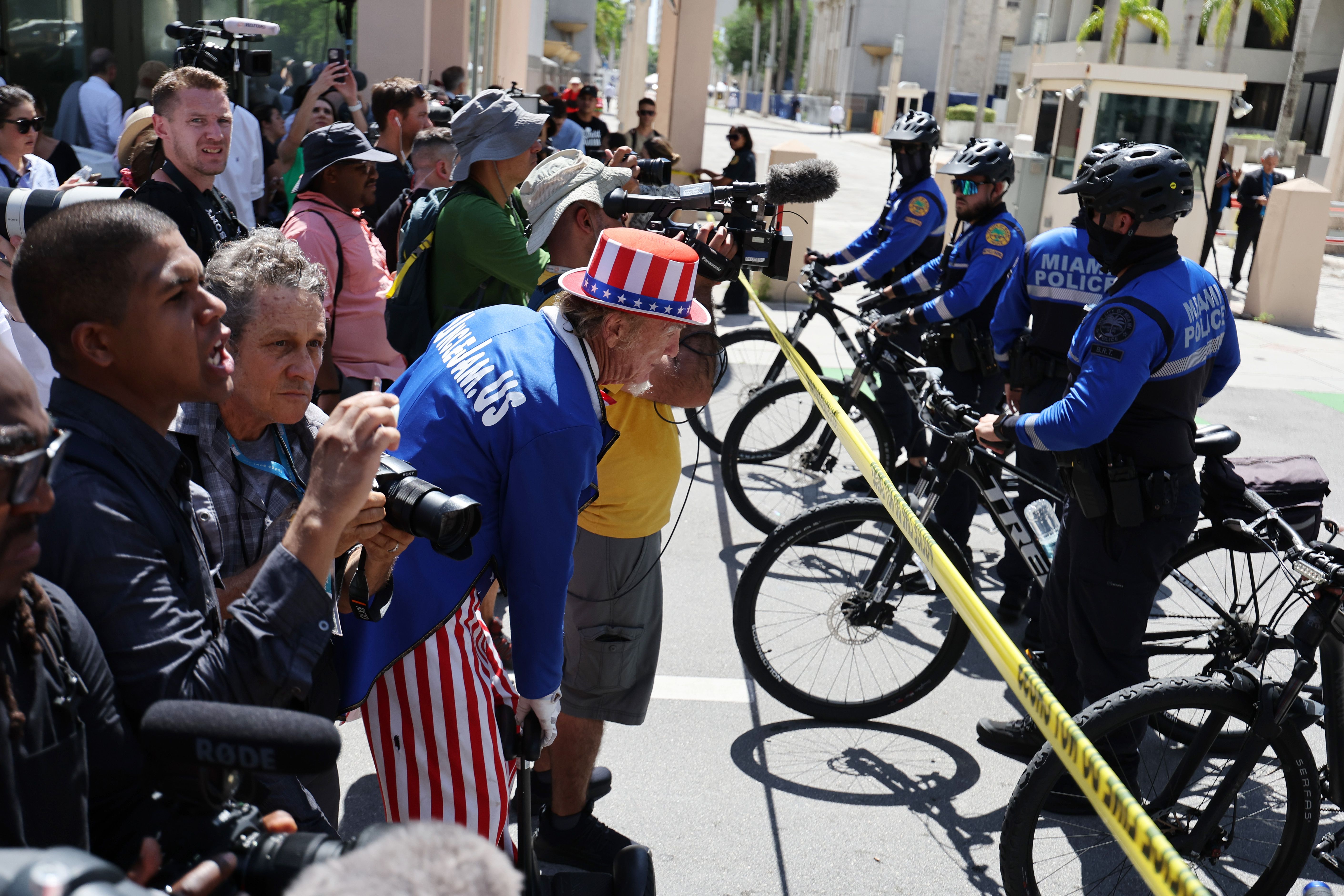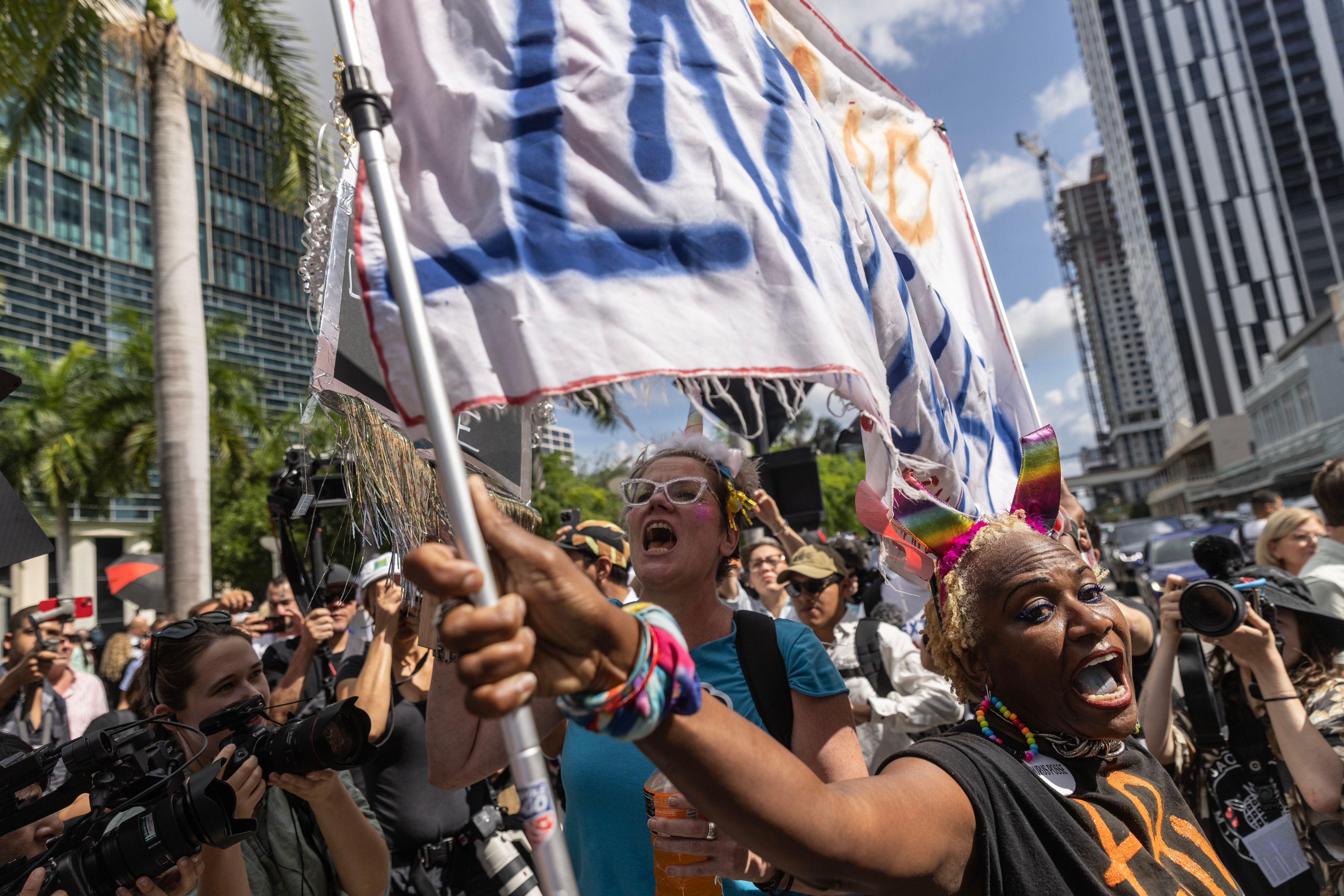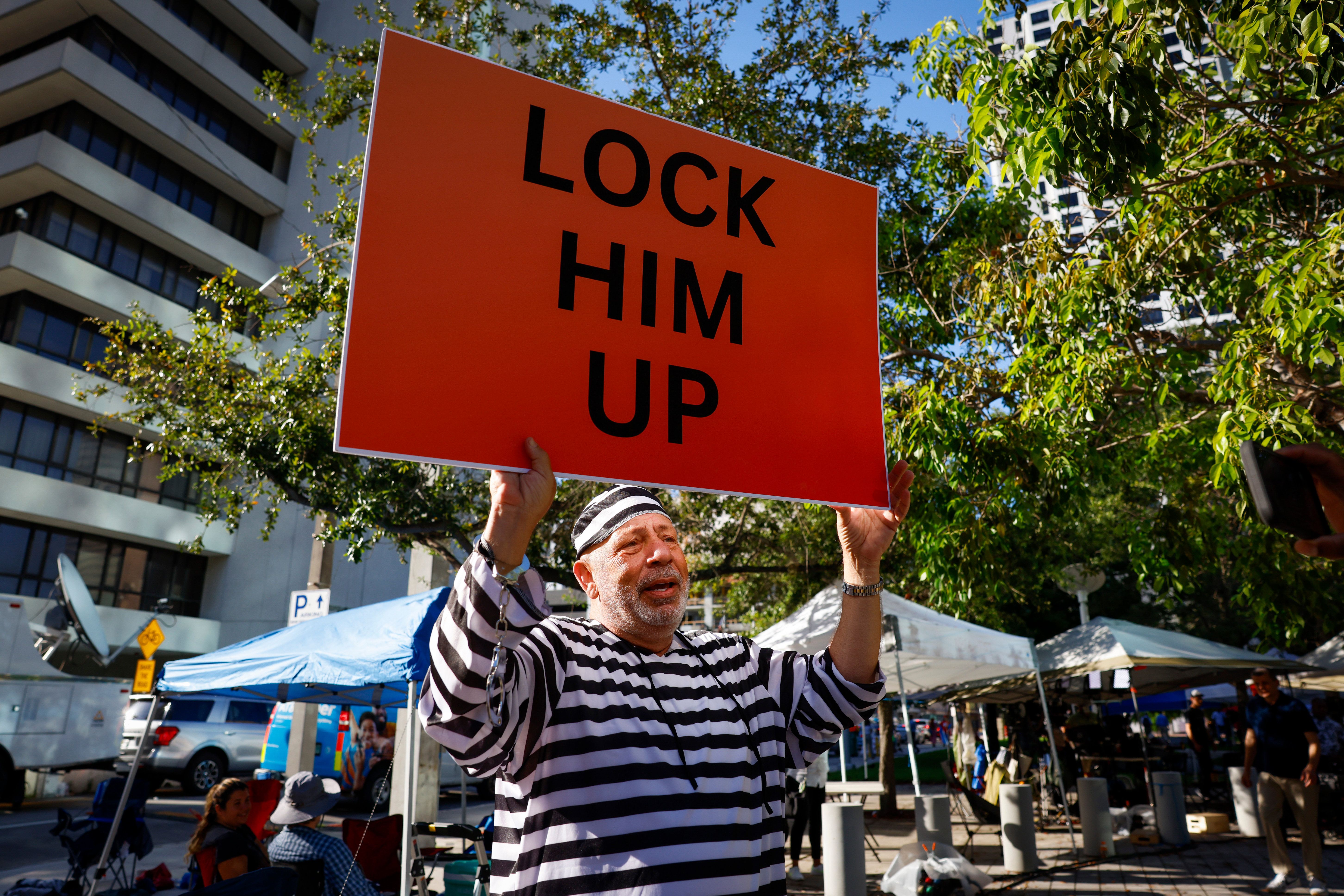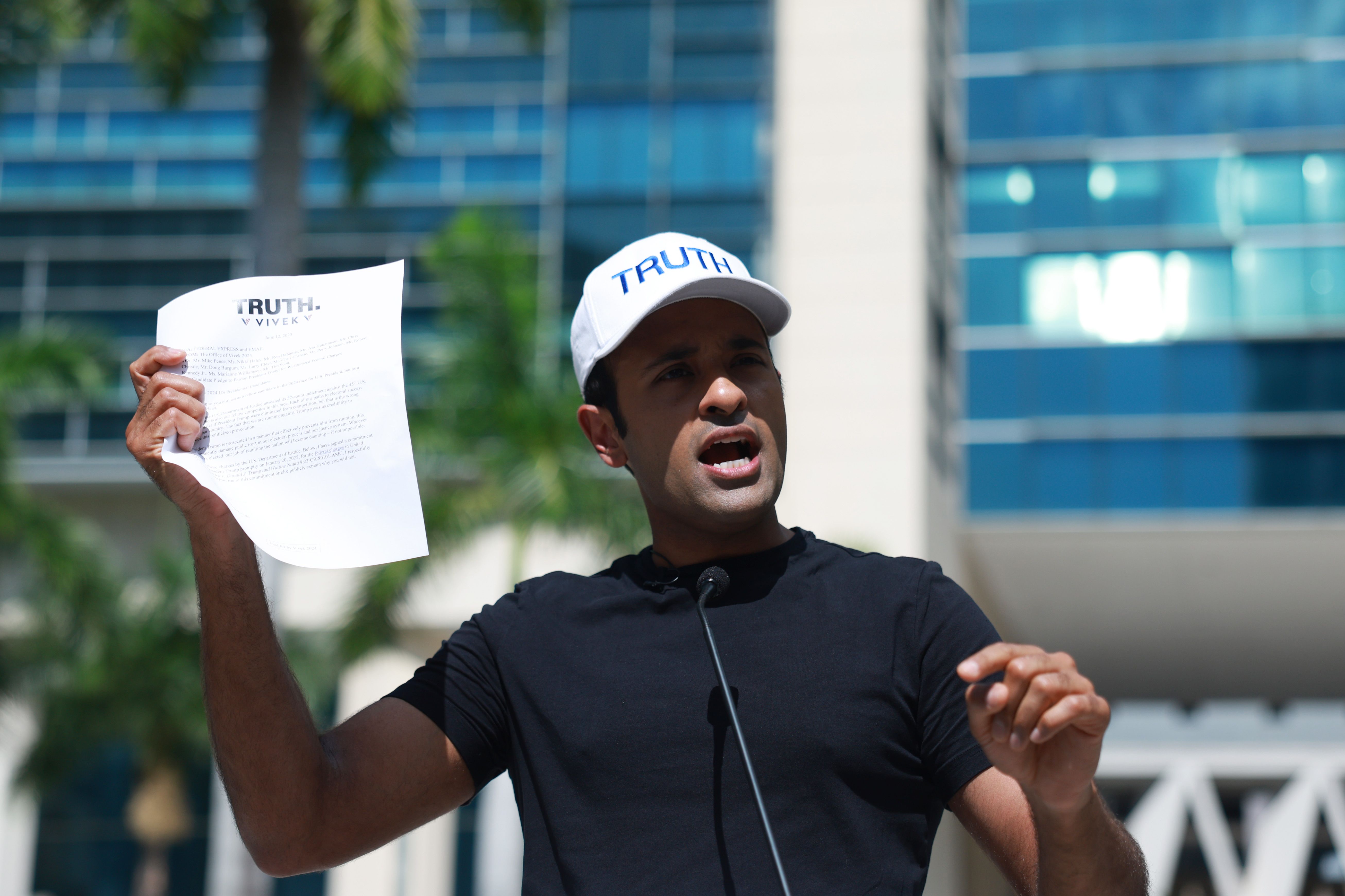 Trump's campaign sent fundraising emails Tuesday morning reiterating that the former president did not commit a crime.
"Please say a prayer for America today," Trump said in an email. "Because our justice system is DEAD."
The campaign said Trump is the Justice Department's leading opponent.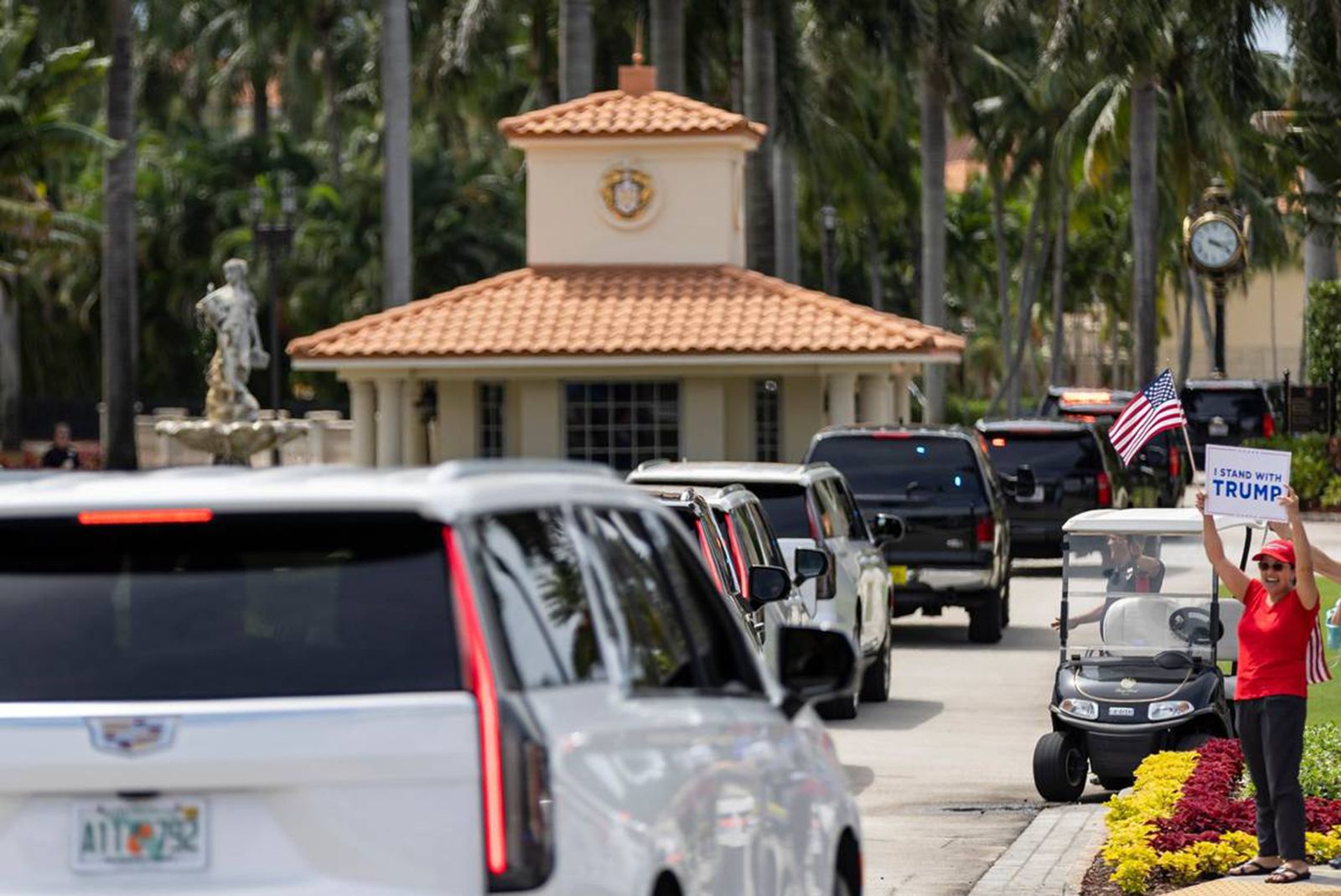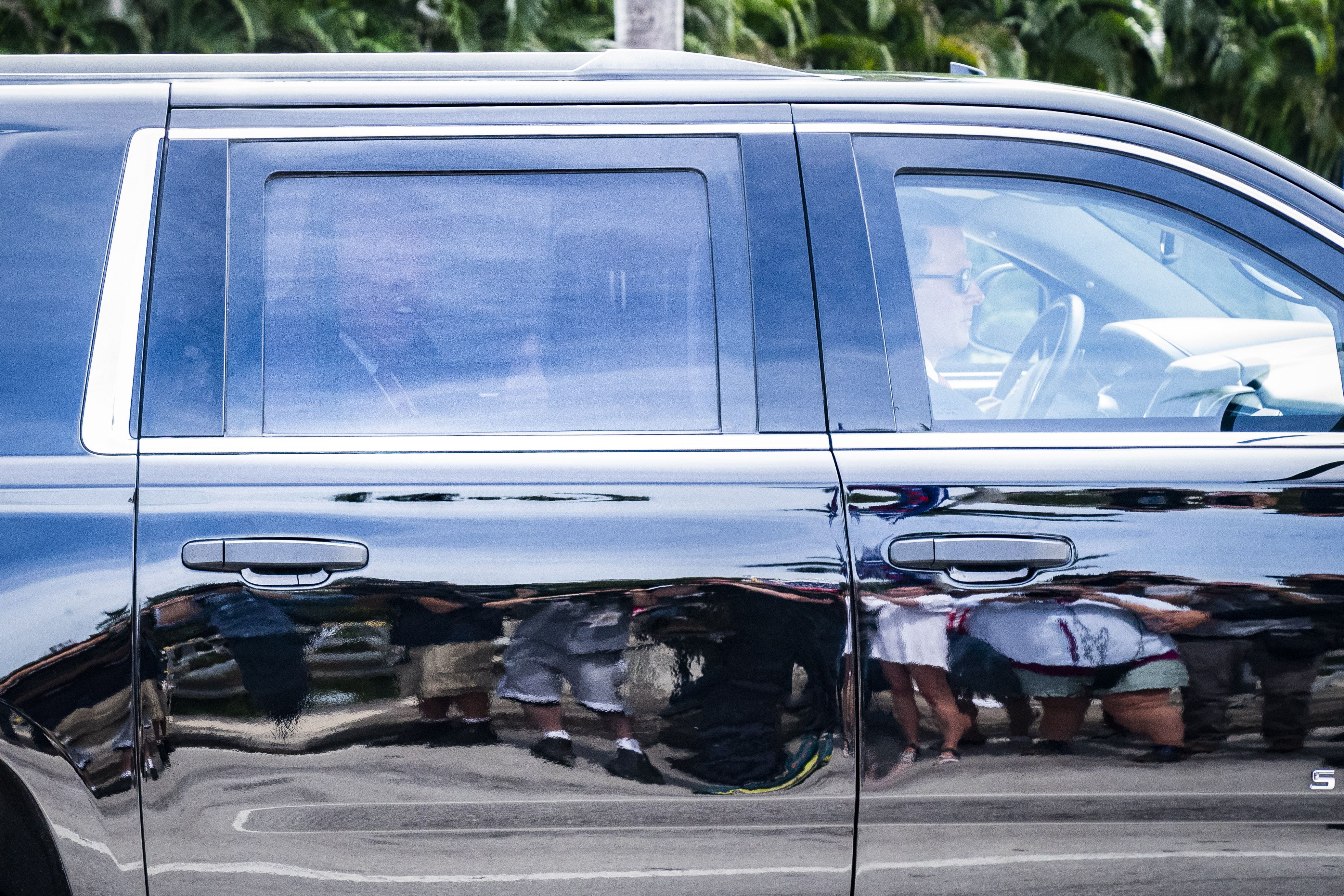 Duty Magistrate Judge Jonathan Goodman is scheduled to oversee the hearing, which will not be live streamed.
Officials in Miami said on Monday that they were preparing security and safety measures ahead of potential crowds and protests. As of Tuesday afternoon, media — including journalists from around the world — outnumbered protesters, the AP reported.
Of note: A federal judge in the Southern District of Florida also issued an order on Monday evening prohibiting the use of all cell phones and other electronic equipment inside the courthouse during the arraignment.
Go deeper