U.S. secrets were everywhere at Trump's club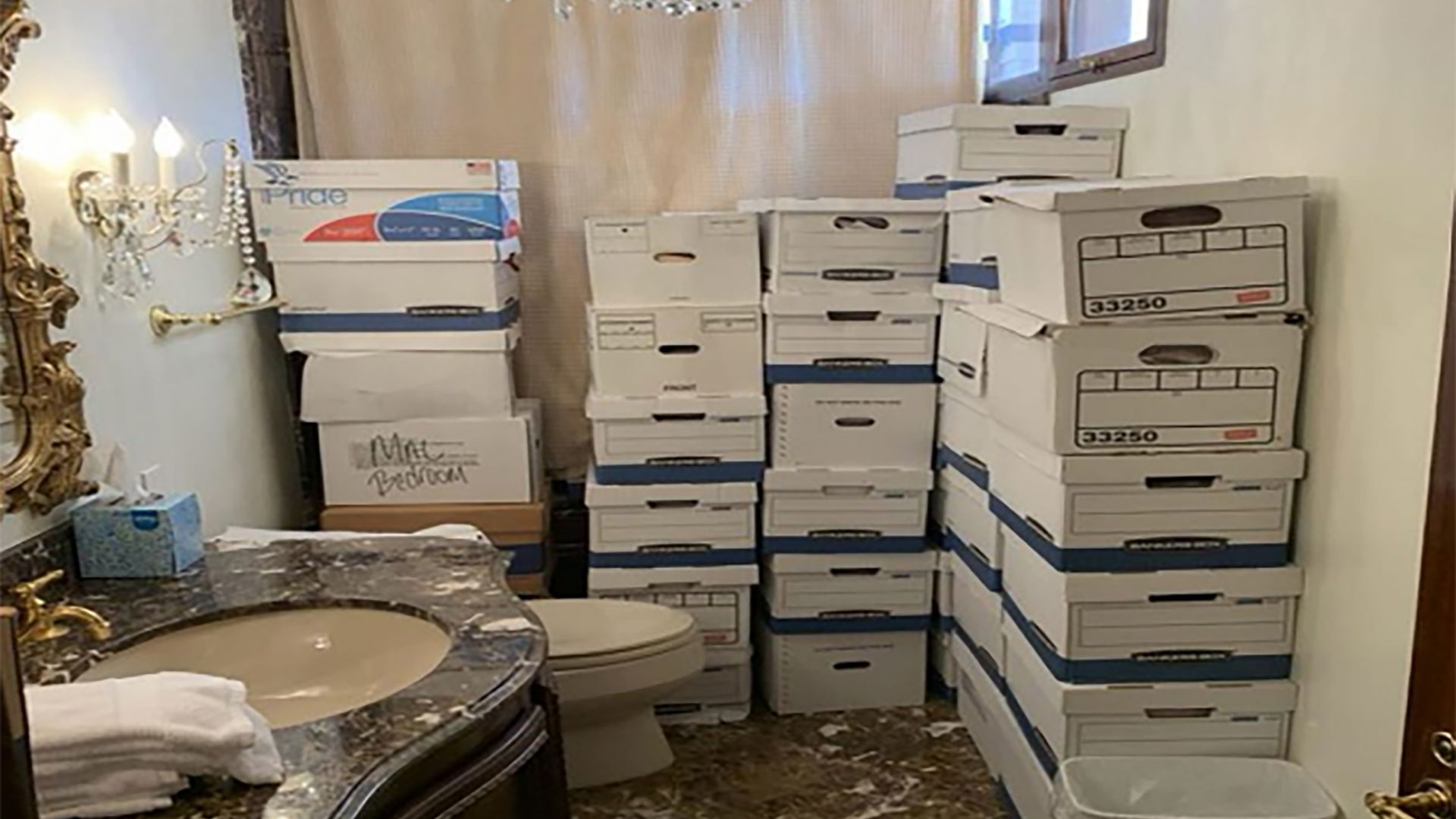 Former President Trump's indictment paints an astonishing picture: U.S. government secrets — about its nuclear program, military plans, intelligence briefings and more — were stuffed into cardboard boxes at Mar-a-Lago where "tens of thousands" of people might have come across them.
Why it matters: The 49-page indictment details how boxes were kept on a ballroom stage, in an office, a bedroom, a bathroom and even a shower at Trump's club.
It also alleges he tried to hide documents and mislead federal investigators who sought to retrieve them.
"Wouldn't it be better if we just told them we don't have anything here?" Trump allegedly asked one of his attorneys, as they discussed a grand jury subpoena last May.
Zoom in: The 37-count indictment — roundly praised by legal analysts and former prosecutors Friday for its detail — uses photos, interview transcripts and detailed timelines to describe the haphazard ways the documents were moved from one room to another.
Secret documents alongside other papers and news clippings were photographed strewn across the floor of a basement storage room — documents marked "FVEY," for Five Eyes.
That means they include intelligence meant to be shared only among U.S. officials and those from four close allies — Australia, Canada, New Zealand and the United Kingdom.
Dozens of boxes were shown stacked on a stage in Mar-a-Lago's White and Gold ballroom at one point; some later were moved to a business center and then a bathroom and shower, the indictment said.
With the help of Trump "body man" Walt Nauta — who also was charged in the case — papers that included classified information allegedly were shuffled between a Mar-a-Lago storage room, Trump's residence and even his summer home in Bedminster, N.J.
In Bedminster, the indictment alleges, Trump showed a writer a classified military attack plan and Trump showed a PAC official a classified map involving a country where the U.S. has ongoing military operations.
During that meeting — which was recorded — Trump said he could have declassified the document while he was president, but that "now, I can't."
That recorded acknowledgement could help prosecutors seeking to show that Trump was showing documents that he knew were classified.
By the numbers: After leaving the White House, the indictment says, Trump held on to classified documents created by the departments of State and Defense, the CIA, the NSA, the National Reconnaissance Office, the National Geospatial Intelligence Agency, and others.
When asked to return them, Trump initially turned over 15 boxes to the National Archives, including 197 classified documents.
30 were marked "top secret"
98 were marked "secret"
The rest were "confidential," except for some that had even higher levels of classifications than "top secret" — some of them meant to be viewed only in a secure setting.
After a grand jury subpoena, another 38 documents were handed over.
When the FBI searched Mar-a-Lago last August, an additional 102 classified documents were found in a storage room and Trump's office.
17 were "top secret"
54 were "secret"
31 were "confidential"
Go deeper