Pence says it'd send a "terrible message" if DOJ indicts Trump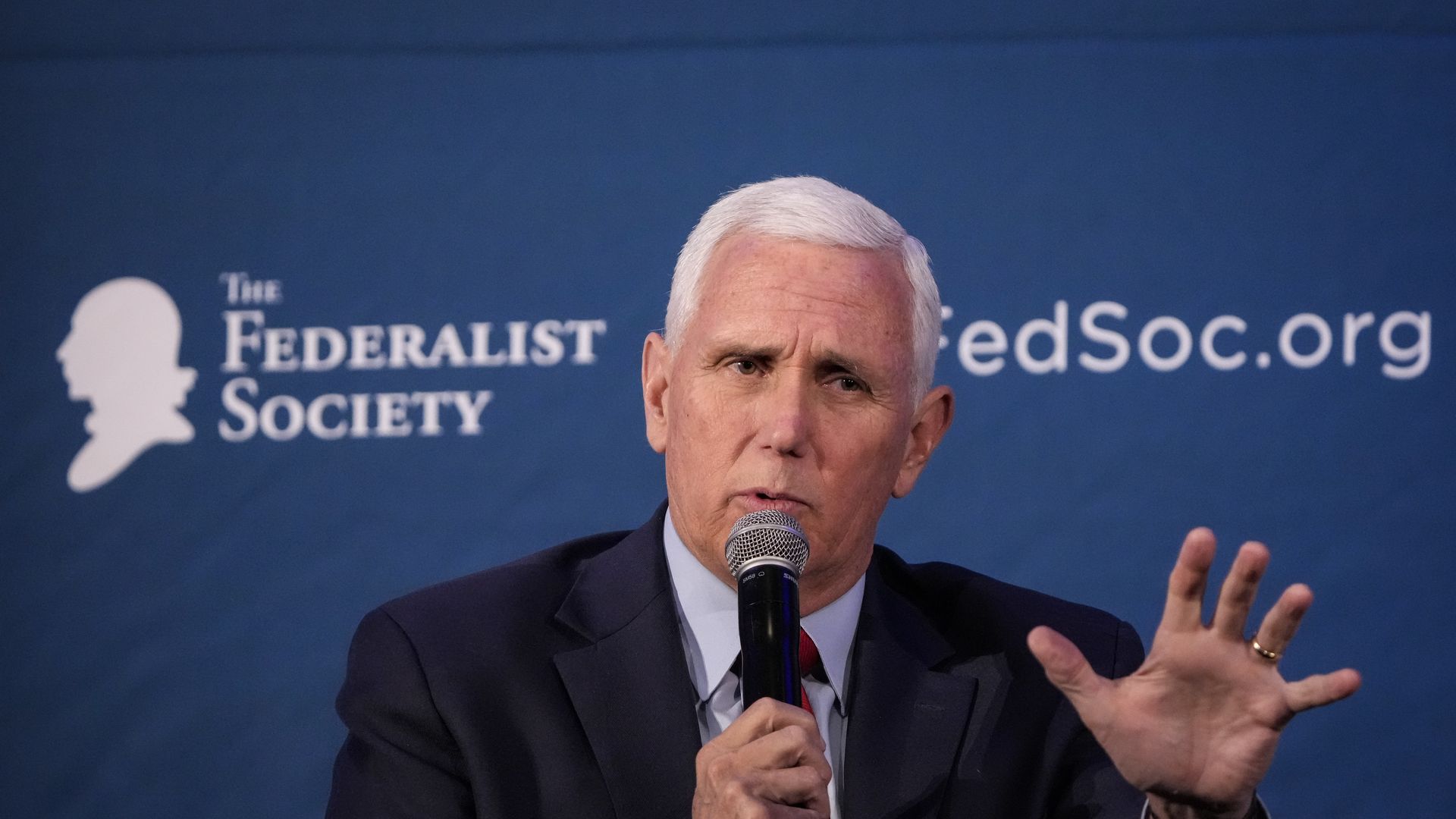 Former Vice President Mike Pence said during a CNN presidential town hall that the Justice Department indicting former President Trump, would exacerbate the country's divisions and send a "terrible message" to the world.
Driving the news: "I hope the DOJ thinks better of it and resolves these issues without an indictment," Pence, 64, said Wednesday at the town hall in Des Moines, Iowa, hours after launching his campaign with a rebuke of Trump.
The New York Times reported Wednesday that the DOJ has informed Trump that he is a target of the investigation into his handling of classified documents — the clearest signal yet the former president could face federal criminal charges.
Pence, when pressed by moderator Dana Bash on whether Trump should be indicted if he is found guilty of a crime, said that "no one is above the law."
The big picture: Pence's campaign sets up a rare contest between an ex-president and ex-vice president, but it's the latest fission between Pence and former President Trump that has been growing since the Jan. 6 Capitol riot.
Flashback: Pence echoed a similar sentiment following Trump's indictment earlier this year relating to 2016 hush money payments, when the former vice president called the the New York grand jury's decision an "outrage."
State of play: An evangelical Christian, Pence is a strong opponent of abortion rights and he is expected to appeal to evangelical conservatives in Iowa as part of his campaign. He was formerly the governor of Indiana and a member of the U.S. House.
Go deeper... Pence allies create super PAC to bolster likely presidential bid
"Clearly the climate is changing," Pence said when asked a question related to the stunning Canadian wildfire smoke billowing across the Northeast.
Why it matters: Some Republican lawmakers have shifted from denying climate change's existence to opposing or delaying policy that would address it.
Driving the news: Air quality in parts of the U.S., including New York City, reached hazardous levels on Wednesday because of smoke extending south from wildfires in Canada.
Pence said he would be a part of "bringing more common sense" to forest management in the U.S. if elected president.
Other contenders include Florida Gov. Ron DeSantis, South Carolina Sen. Tim Scott, former UN ambassador Nikki Haley and former New Jersey Gov. Chris Christie.
His stance on gender-affirming care aligns with GOP attacks on LGBTQ+ rights via a wave of bills across the country.
Some states have begun enacting bans on gender-affirming care for transgender youth, barring access to care such as surgery, hormone therapy and puberty blockers.
In the town hall, Pence said he backed legislation such as his home state Indiana's Senate Bill 480 .The bill passed earlier this year prohibits physicians from providing gender transition procedures to minors.
Health experts say most anti-trans state bills are based on scientifically inaccurate information.
Axios Explains: Gender-affirming care in the U.S.
Pence diverged from some of his Republican rivals on providing aid to Ukraine and issued a strong rebuke of characterizations that the ongoing war is a "territorial dispute."
He added that the U.S. "needs to continue to provide the courageous soldiers in Ukraine with the resources they need to repel that Russian invasion and restore their territorial integrity."
Between the lines: Trump during a CNN town hall in May repeatedly declined to say whether he wants Ukraine or Russia to win the war.
"Some in this debate have called the war in Ukraine a territorial dispute. It's not," Pence said in response to a question from a Republican voter.
Go deeper: Senate Republicans criticize DeSantis over Ukraine comments
Pence said those involved in the insurrection need to "be answerable to the law."
"I have no interest and no intention of pardoning those that assaulted police officers or vandalized our Capitol," he said.
Former President Trump has said he would pardon rioters if re-elected, a vow he re-iterated at a recent town hall on CNN.
When asked about a report on the DOJ's escalating Trump classified documents probe, Pence said he doesn't "know the facts" of Trump's or Biden's cases related to the matter.
The New York Times reported Wednesday that the DOJ has informed Trump that he is a target of the investigation into his handling of classified documents — the clearest signal yet the former president could face federal charges.
Pence, who faced his own now-closed probe over classified documents, noted that a potential indictment against his ex-boss would be "terribly divisive to the country."
He added that "no one is above the law," but said he hopes the investigation moves "forward without the dramatic and drastic and divisive step of indicting a former president of the United States."
Unlike other 2024 GOP hopefuls who have often dodged abortion questions, Pence is known for his staunch anti-abortion beliefs, Axios' Oriana Gonzalez reports. He doubled down on that position during the town hall.
Why it matters: Shortly after the Supreme Court overturned Roe v. Wade, the former vice president said that Americans "must not rest" until abortion is outlawed in every state.
Pence recently said that the widely used abortion pill mifepristone, which is used in most abortions in the U.S., should be taken off the market to "protect the unborn."
He has promoted the idea that eliminating abortion access is one of the most important goals of the conservative movement.
The big picture: While some Republicans — such as Trump — have said that abortion decisions should be left to the states, Pence said in April that the federal government had a role to play in regulating abortion, including potentially banning abortion after 15 weeks.
Pence wouldn't directly answer Bash's question on whether a vote for former President Donald Trump is a vote against the Constitution. In discussing the Jan. 6 insurrection, Pence said Trump "was wrong then, he's wrong now."
Pence said he did his duty to defend the U.S. Constitution following the 2020 presidential election.
Pence leaned heavily on GOP talking points, including raising fears about crime in the U.S. and criticizing President Biden, while pitching himself as a presidential candidate during the opening of the town hall.
He said he is running for president because America is "in a lot of trouble" and criticized President Biden and Democrats over a "crisis at our border," inflation and a "disastrous withdrawal from Afghanistan."
"Now more than ever, I think those of us that have the experience to bring back real change to put America back on a track of common sense, conservative principles have a responsibility to step forward," Pence said.
Pence was a loyalist of his former boss while he was in the White House, but he in recent months has criticized Trump's connection to the Jan. 6 Capitol riot.
Driving the news: In one of his sharpest rebukes of Trump before launching his bid, he said the ex-president's "reckless words endangered my family and everyone at the Capitol" on Jan. 6.
Of note: Pence defied Trump's attempt to convince him to overturn the 2020 election results.
Flashback: Cassidy Hutchinson, the former top aide to ex-White House chief of staff Mark Meadows, testified last year that Trump said on Jan. 6 that Pence "deserves" to be hanged.
Read more: Exclusive audio: Trump defends threats to "hang" Pence
The Department of Justice last week informed Pence's legal team that it was closing the investigation into the discovery of classified documents at his Indiana residence and that he will not be charged.
The big picture: The FBI earlier this year retrieved a "small number of documents" with classified markings from Pence's home in Carmel, Indiana, shortly after the discovery of classified documents from President Biden's time as VP in various locations was made public.
State of play: Special counsel Jack Smith may be nearing the end of his investigation into Trump's handling of classified documents. That probe could result in Trump's indictment on federal charges.
Read more: Pence complicates GOP's classified documents messaging
The town hall comes against the backdrop of ongoing drama at CNN, which reached a fever pitch Wednesday when Chris Licht, the company's embattled CEO, confirmed that he is leaving the network.
The profile included a number of revelations, including detailed reporting underscoring how Licht had lost the support of his staff and his boss, David Zaslav, president and CEO of Warner Bros. Discovery.
What's next: Zaslav said Wednesday the search for a new CEO is underway, Axios' Sara Fischer reports.
Read more: Pence announces campaign with a blast at Trump
Pence delivered his harshest rebuke of Trump at his campaign kickoff event Wednesday, saying that he should "never be president of the U.S. again."
Driving the news: The former vice president recalled how Trump pressured him to block the certification of the 2020 election results on Jan. 6.
Pence said that "Trump also demanded that I choose between him and Constitution."
Pence added that he chose the Constitution — and "always will."
"Anyone who puts themselves over the Constitution should never be President of the United States, and anyone who asks someone else to put them over the Constitution should never be President of the U.S. again," he said.
Go deeper