Key takeaways from Trump's CNN town hall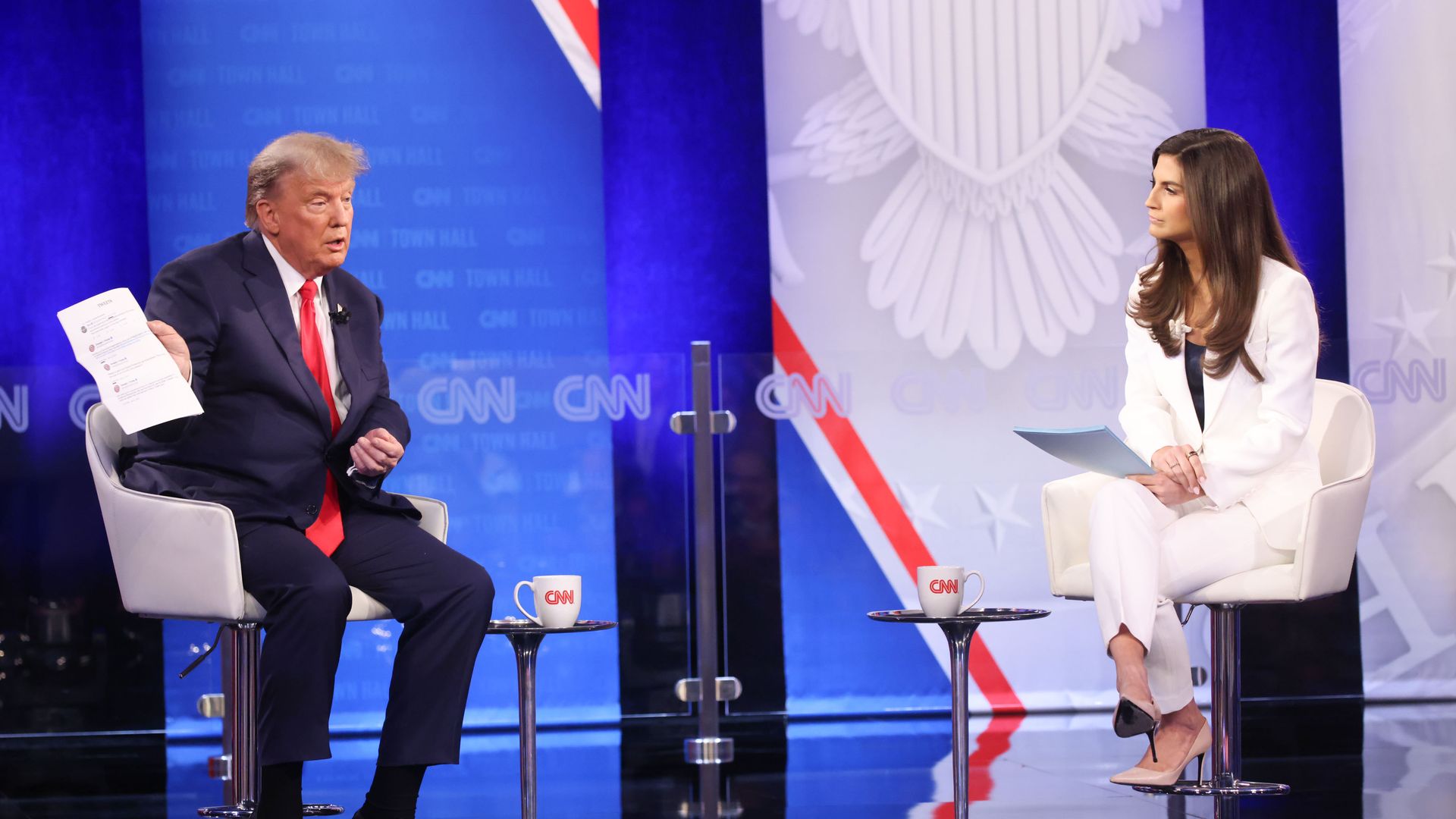 Forget the theatrics in former President Trump's falsehood-filled town hall on CNN and the Twitter-bubble hysterics; Trump actually made lots of news at Saint Anselm College in Goffstown, N.H., last night.
Driving the news: The primetime town hall moderated by Kaitlin Collins was Trump's first reentry with CNN since the 2016 campaign, and the start of a more combative stage of the 2024 Republican primary.
Some of Trump's newsier comments include:
He inserted himself into the delicate negotiations over the debt ceiling and said congressional Republicans should let the U.S. government default unless Democrats agree to "massive" budget cuts.
He downplayed the potential fallout from a default, saying it's largely "psychological" and could be "a bad week, or a bad day."
Trump promised to pardon "a large portion" of his supporters who rioted at the U.S. Capitol on Jan. 6, 2021, to disrupt the certification of President Biden's victory and said that "a couple of them probably got out of control."
Asked five times whether he'd sign a national abortion ban, Trump declined to say yes or no. "President Trump is going to make a determination what he thinks is great for the country," he said.
He refused to call Russian President Vladimir Putin a war criminal over the killing of Ukrainian civilians. "If you say he's a war criminal, it will be a lot tougher to get a deal to get this thing stopped," Trump said.
He repeatedly declined to say whether he wants Ukraine or Russia to win the war.
Trump refused to commit to recognizing the 2024 election results unless he deemed it to be an "honest election."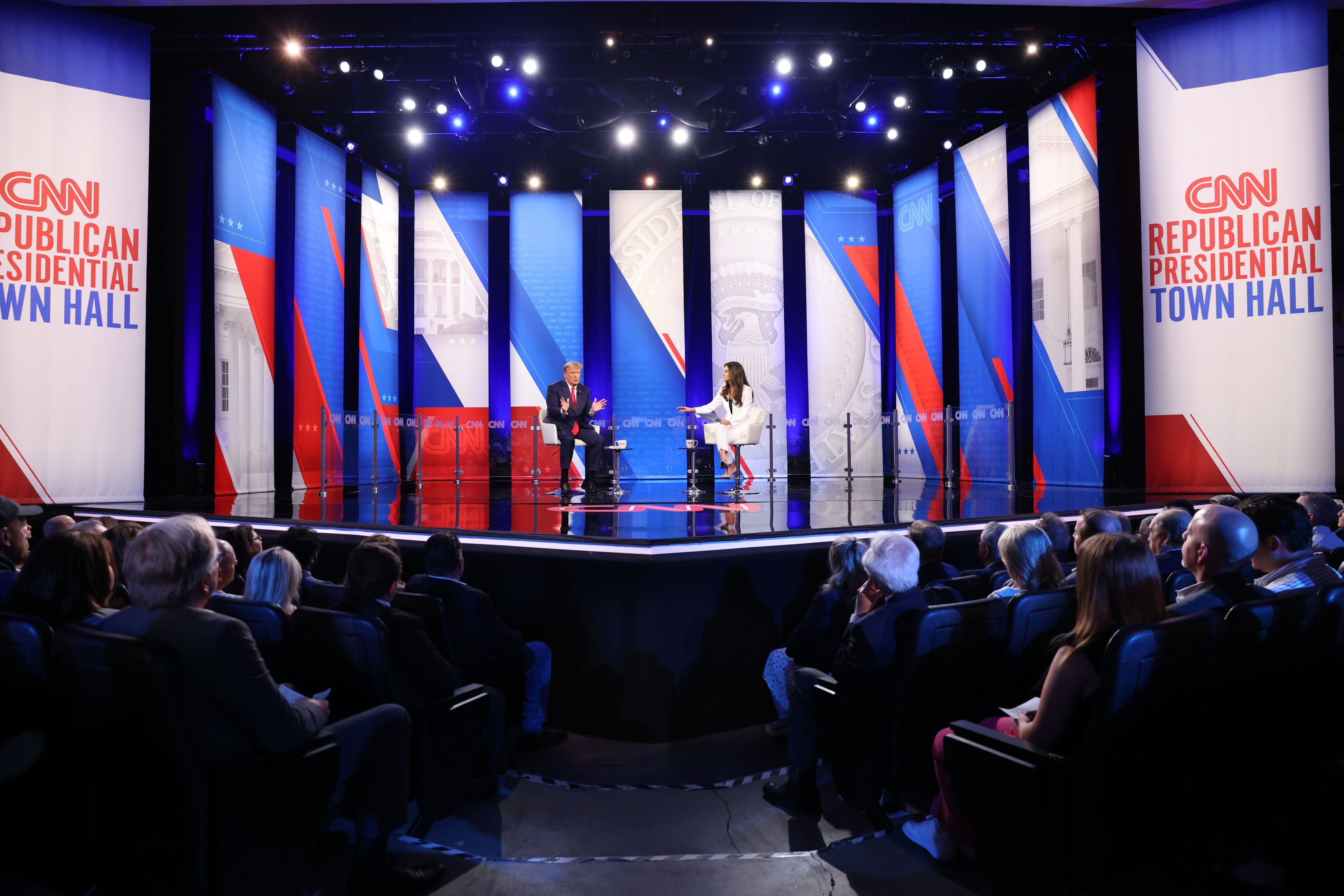 Yes, but: Trump repeated many of his long-held falsehoods about the 2020 election and other topics.
Pushed repeatedly about his unsubstantiated claims of widespread fraud in 2020, Trump made a series of false statements, claiming that "millions" of votes were illegal. "Unless you're a very stupid person … most people understand what happened was a rigged election," he said.
He made contradicting claims about his January 2021 call with Georgia Secretary of State Brad Raffensperger, in which Trump pressured Raffensperger to overturn the state's 2020 election results — a call that's being investigated by Fulton County District Attorney Fani Willis.
Trump falsely claimed, "I didn't ask (Raffensberger) to find anything," before later conceding: "I said, 'You owe me votes because the election was rigged.'"
He denied that it took him three hours to tell Jan. 6 rioters to go home, which is contradicted by his public tweets that day.
Trump also said he "did finish" the border wall. In fact, most of the wall construction was replacing existing barriers and only a few dozen miles of new wall were built along the nearly 2,000-mile southwest border during his term.
A Trump adviser tells Axios that Trump's decision to participate in the town hall was driven by the wish to go outside the traditional GOP "comfort zone," which his team sees as a key to his win in 2016.
The advisor accused other GOP candidates of being afraid to venture beyond the comfort of Fox News.
The Super PAC supporting Florida Governor Ron DeSantis said in a statement that "the Trump town hall on CNN is a true marriage of equals: A candidate who has lost his luster appearing on a network that's lost its ratings. Both ignore a key fact: 2024 isn't 2016."
The group also mocked Trump's performance and asked, "How does this Make America Great Again?"
President Biden's reelection campaign also responded on Twitter: "It's simple, folks. Do you want four more years of that?"
Go deeper:
Trump takes aim at E. Jean Carroll at CNN town hall after lawsuit loss
Go deeper