How to protect yourself from wildfire smoke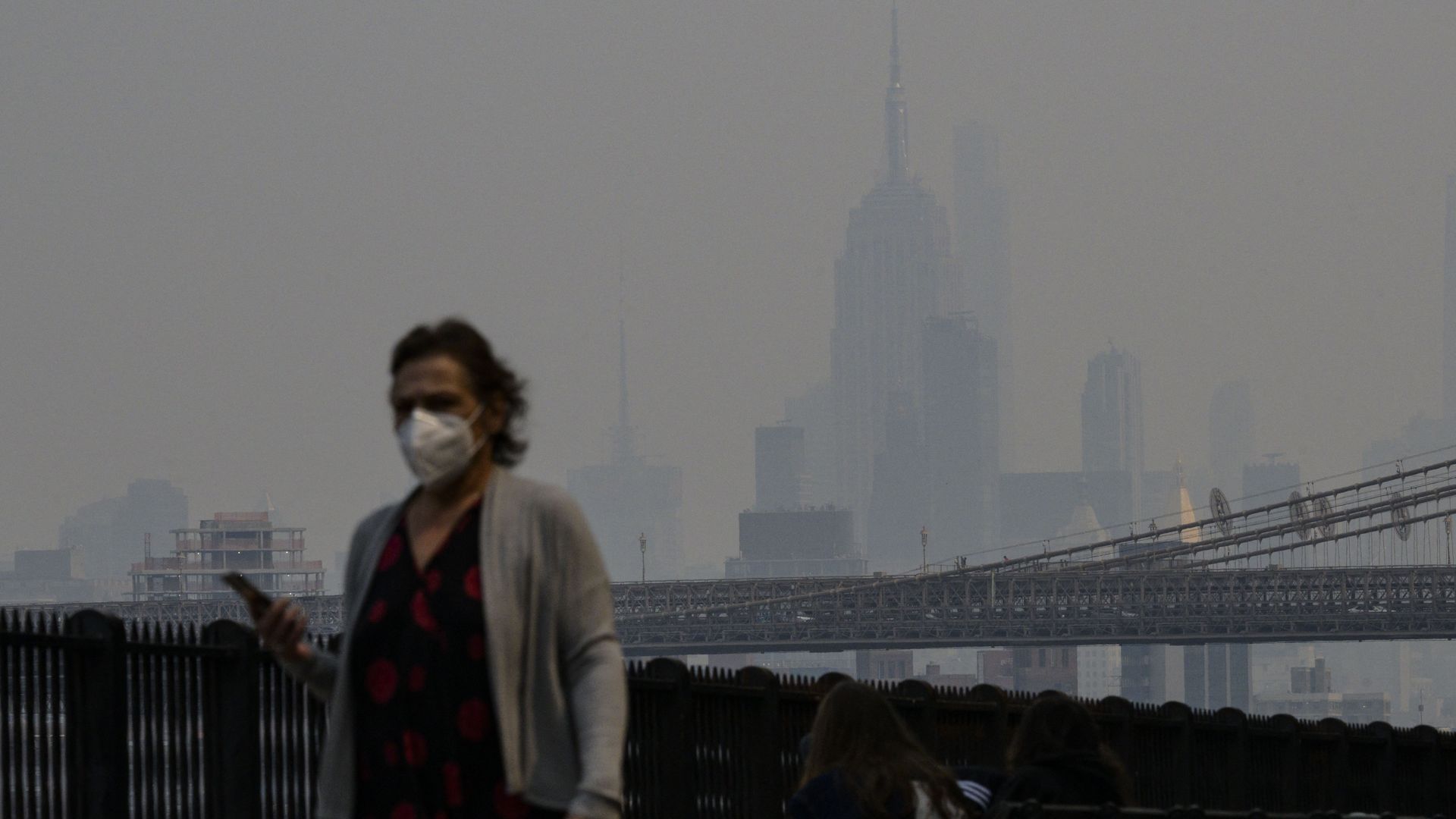 As wildfire smoke envelops sections of the U.S. Great Lakes, Northeast and mid-Atlantic, mitigating risk is essential.
Why it matters: As record poor air quality stemming from Canadian wildfires impacts the eastern U.S., pollutants in wildfire smoke can seriously affect the body — a reality the western U.S. knows well.
"Our exposure to that wildfire smoke and those particles are well above what's considered safe from a health perspective," Peter DeCarlo, associate professor of environmental health and engineering at Johns Hopkins University, told Axios.
The pollutants in wildfire smoke can cause eye and respiratory tract irritation, coughing, wheezing and difficulty breathing, per the Environmental Protection Agency.
They can can increase a person's risk of developing lung and heart conditions, per the EPA, as well as exacerbate pre-existing lung and heart conditions and can trigger asthma and heart attacks.
Who is most at risk?
Children, the elderly and people who have pre-existing health conditions, particularly respiratory or heart related, are most at risk, DeCarlo said.
Those who are pregnant are also advised to limit outdoor activities.
"Everyone can take the same precautions but it's especially important for these groups," DeCarlo said.
How can I reduce risk?
Stay inside. Protect yourself by minimizing exposure as much as you can.
Limit physical activity and avoid doing anything strenuous. That includes walking slowly to reduce how heavily you're breathing, DeCarlo advised.
Keep windows and doors closed to keep the concentration of air pollution low.
Set any central air conditioning system to re-circulate the air or shut off the outdoor intake to avoid bringing in smoky air, per California's health department.
If you're driving, keep the windows shut. Use a car ventilation system to recirculate the air.
Should I wear a mask?
If you have to be outside, wear an N95 OR KN95 mask that's well-fitting to filter the air you're breathing, DeCarlo said.
An N95 respirator can filter up to 95% of smoke particles when properly fitted, according to California's Department of Public Health. It does not, however, filter toxic gases, vapors or the smell of smoke.
The EPA also recommends P100 respirator if you plan to be outdoors for a long period in an environment with heavy smoke or ash.
Of note: Dust masks and surgical masks, meanwhile, don't offer sufficient protection from particles during wildfire conditions.
A wet towel or bandana could stop large particles, but won't capture the small ones that can get into the lungs, per the health department.
Those with heart and respiratory conditions should check with their doctor before wearing an N95 respirator as it could make breathing more difficult and lead to an increased heart rate, per California's health department.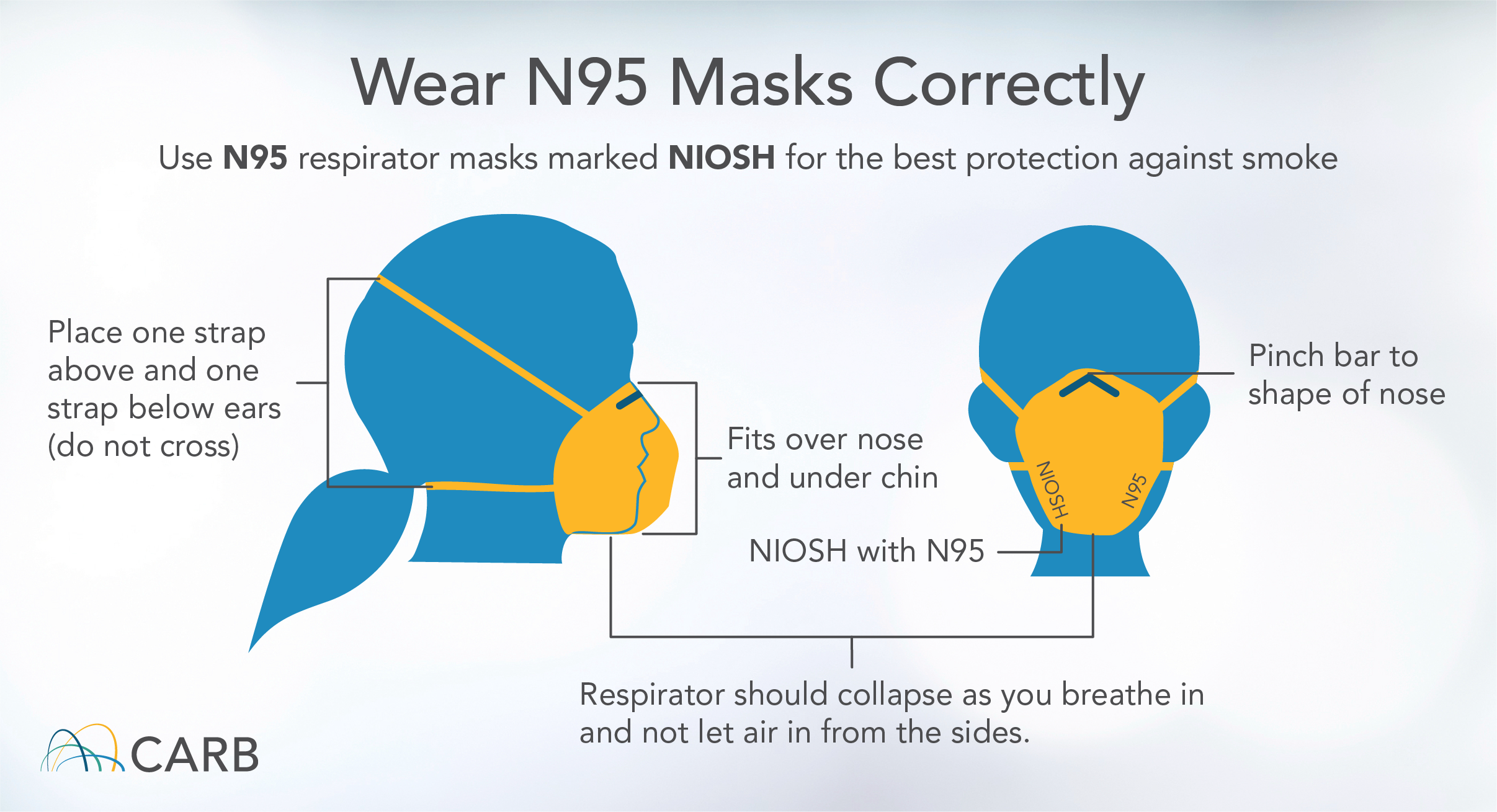 Should I get an air purifier?
Using an air filtration system or an air purifier with a HEPA filter can reduce indoor particle levels, DeCarlo told Axios.
A good air filtration system can lower indoor pollution levels by about 50-80%, according to estimates from the Pediatric Environmental Health Specialty Unit.
You can also make an air purifier yourself.
Also consider avoiding smoking cigarettes, using gas, propane and wood-burning stoves and furnaces, spraying aerosol products, frying or broiling meat, burning candles and incense and vacuuming, per California's health department.
What about pets?
The American Veterinary Medical Association recommends that pet owners keep animals indoors as much as possible and keep windows shut during periods of poor air quality, as they are also affected by air pollution — especially birds.
Go deeper: Listen to the Axios Today podcast, where host Niala Boodhoo and Jacob Knutson talk about the air quality levels in the eastern U.S. and what else people can do to protect themselves.
Go deeper