Canadian wildfire smoke drives record poor air quality in East Coast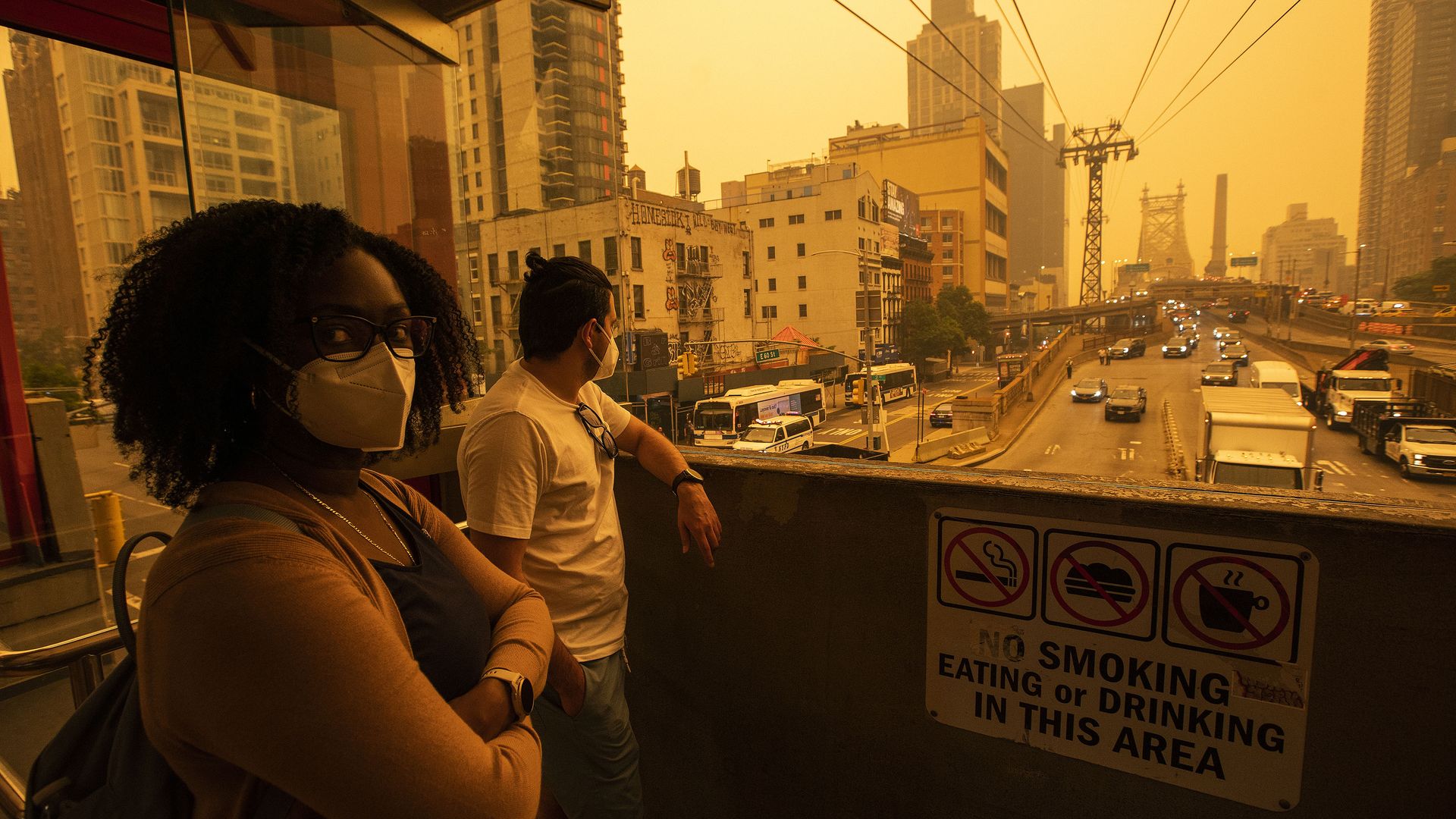 Hazardous smoke from Canada's wildfires that has triggered air quality alerts across the East Coast this week was lingering in the Northeast and Mid-Atlantic Thursday.
Why it matters: Wildfire smoke, when present in high concentrations at ground level, can cause serious health complications, especially for elderly populations and people with heart ailments or asthma.
Air quality levels were expected to remain hazardous across the Northeast and Mid-Atlantic throughout Thursday due to the smoke, which was forecast to move westward into Ohio Valley on Friday, per the National Weather Service.
The latest: Conditions were at hazardous levels in several U.S. cities Thursday morning, including Philadelphia and Washington, D.C.
Of note: Early data suggests this has been the worst air quality event in New York City since EPA AQI records began in 1999 and it's among the most dire for wildfire pollution ever seen in the U.S.
Similar data indicates that Wednesday was likely the worst day for wildfire smoke in the U.S. — and Tuesday the fourth worst — since 2006.
Since Tuesday, New York City and Detroit have recorded some of the world's worst air pollution levels due to the fires.
Zoom in: Visibility deteriorated to a rare one-half mile in upstate New York, with air quality indices above 400 (readings greater than 100 are generally considered unhealthy) on Wednesday.
The air quality index reached 484 by 5pm Wednesday — "the highest level index to our knowledge since the '60s," New York Mayor Eric Adams said during an evening briefing.
Visibility temporarily dropped below one mile at New York's Central Park Wednesday afternoon, while air in the area fell to levels considered very unhealthy and hazardous on the Air Quality Index.
Smoke breaks records, and gets worse for many
State of play: Satellite imagery, surface observations and computer models show a thick wall of smoke sliding southward from upstate New York into New York City and points southward.
It's likely the heavily populated N.Y.C. metro area will be affected by extremely dense smoke, including fine particulate matter, also known as pm2.5, through Thursday.
This is also likely to be the case for areas of the New York to Washington, D.C., corridor.
The thick smoke snarled air travel Wednesday in the Philadelphia and New York City metro areas.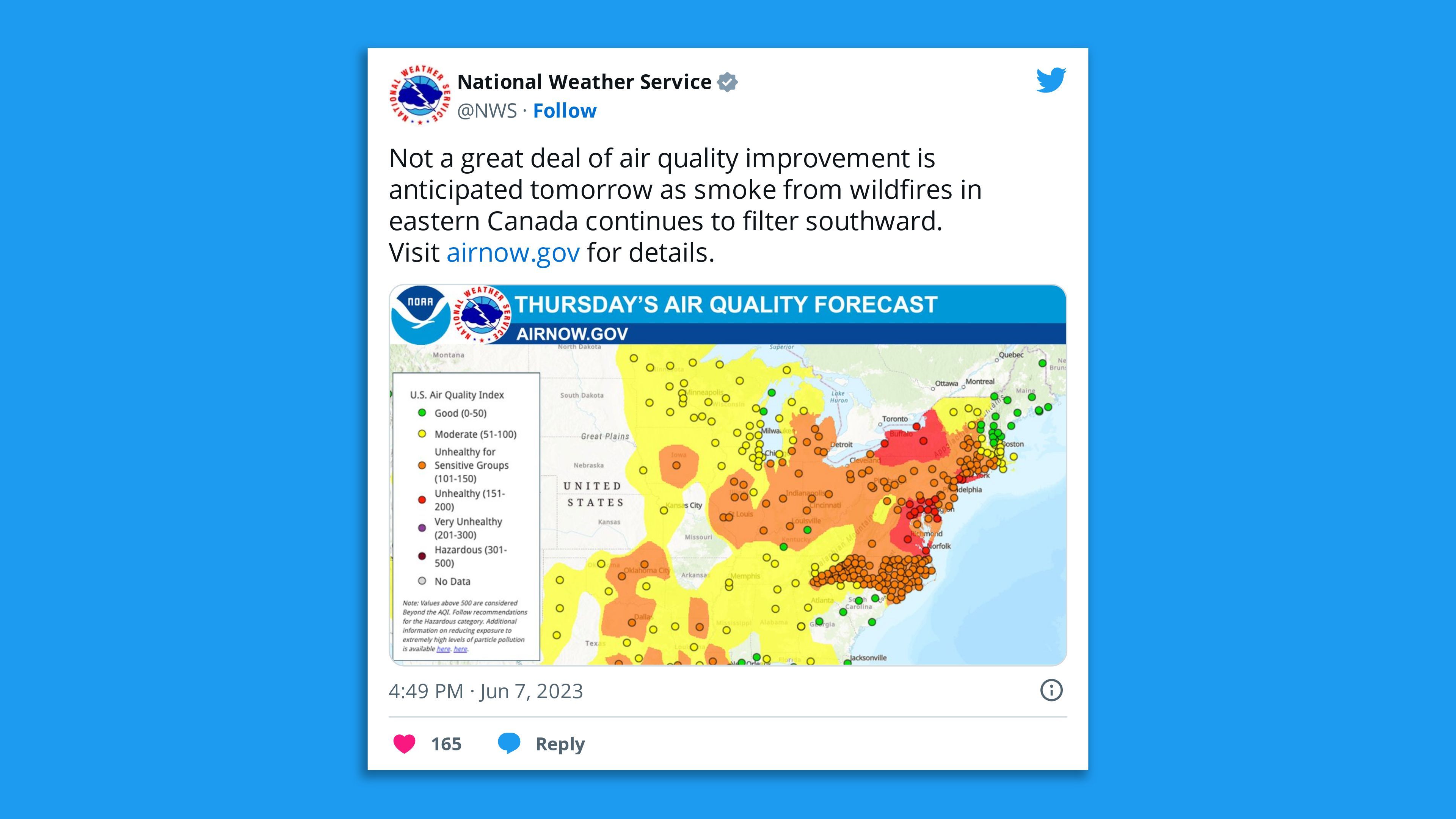 Health precautions to take to protect yourself from the smoke
Threat level: Though the wildfires are occurring across the border in Canada, people hundreds of miles away can still be negatively affected by the hazardous microscopic particles they produce, which can trigger inflammation in the lungs when inhaled and worsen medical conditions like asthma and heart disease.
The NWS and public officials urged residents in affected areas to stay indoors as much as possible through Thursday due to poor air quality.
Many people donned masks to protect against the hazardous smoke in cities including New York, Philadelphia, Baltimore and Washington D.C.
Between the lines: The smoke plumes were moving southward into the Northeast and Mid-Atlantic from wildfires in Quebec, which have been so severe in recent days that they have given rise to fire-induced thunderstorms, known as pyroCb clouds.
From British Columbia to Nova Scotia, wildfires have burned more acreage in Canada through June than is typically seen in an entire year.
For the record: Canadian officials said Monday that this is one of the country's worst wildfire seasons on record and urged citizens to prepare for a long summer.
Smoke from Canadian wildfires has triggered air quality alerts in North America several times in recent months, but this is the first time that it has wafted into the heavily populated East Coast at ground level.
Context: Climate change is worsening the wildfires in Canada, with extreme heat events hitting northwestern Canada, exacerbating drought conditions and priming the region for major blazes.
Numerous studies show close ties between climate change and wildfires, in addition to land use changes and other factors at play.
What they're saying: "Wildfires certainly took place before we started to clearly see the acceleration of the effects of climate change," Canada's minister of natural resources, Jonathan Wilkinson, told reporters Tuesday.
"However, we are now experiencing a new reality. One where we need to pay attention to what science is telling us."
Go deeper: How to protect yourself from wildfire smoke
Listen to the Axios Today podcast, where host Niala Boodhoo and Jacob Knutson talk about the air quality levels in the eastern U.S. and what people can do to protect themselves.
Editor's note: This article has been updated with new details throughout.
Go deeper