Wildfires mushroom in West amid heat, drought, prompting evacuations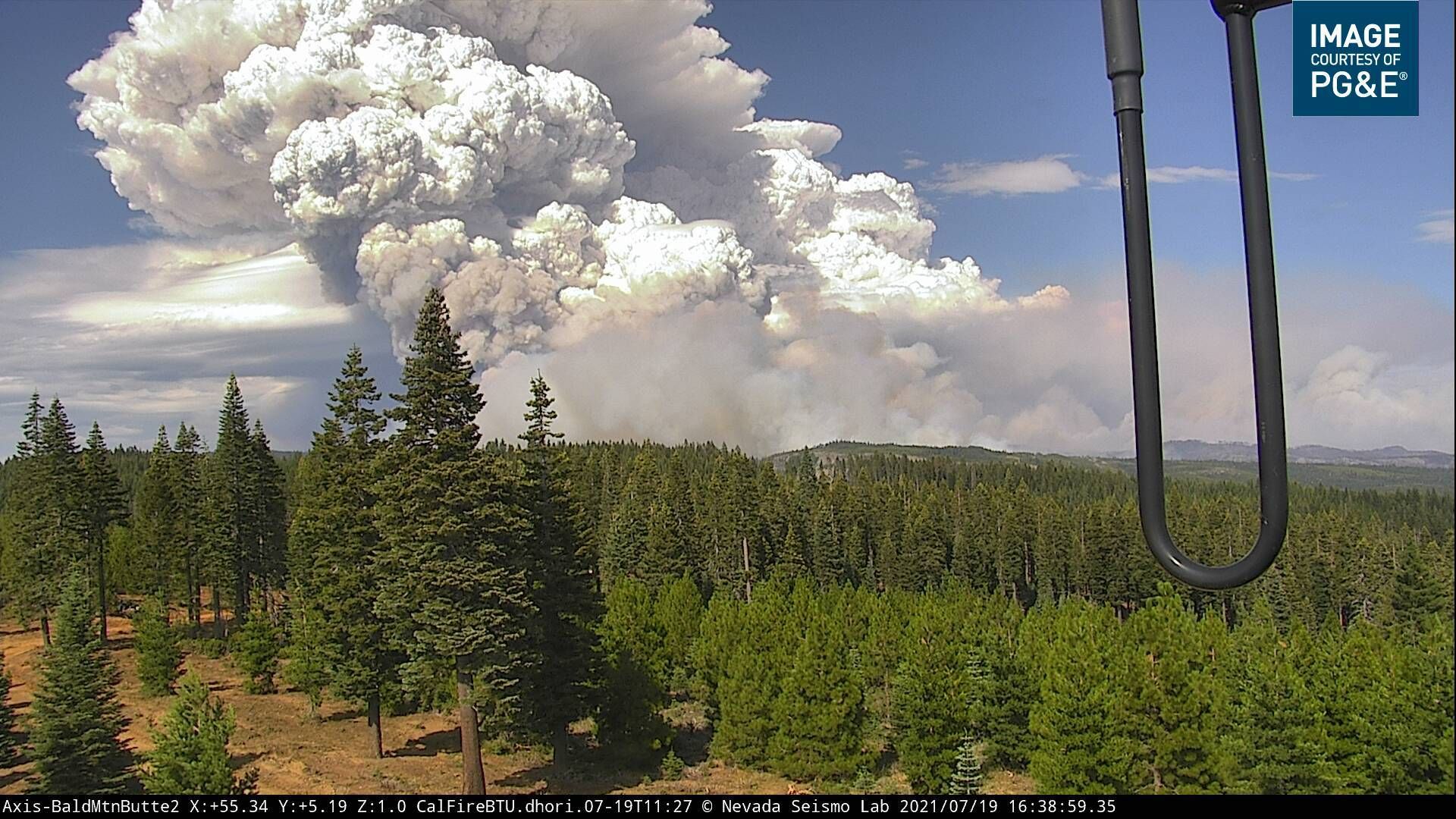 Wildfires across the West dramatically increased in size from Monday through Tuesday, with 83 large blazes now burning in the U.S. and about 300 to the north in British Columbia.
Why it matters: The western wildfire season has kicked into high gear about two months early, as climate change-related drought and heat waves have dried out vegetation to levels not typically seen prior to late summer. About 20,000 firefighters are already deployed to blazes.
Driving the news: Wildfires in California and Canada blew up on Monday afternoon and into the night thanks to extreme heat and dryness. Evacuations expanded around the Bootleg Fire in southern Oregon, the Dixie Fire in California, and numerous fires in Canada.
The intrigue: In a filing with the California Public Utilities Commission, PG&E said blown fuses on its power equipment may have sparked the Dixie Fire. This would be the latest in a string of large California blazes started by the company's equipment.
That blaze dramatically grew in size Monday, forcing fire crews to retreat as a towering fire-related thunderstorm cloud, known as a pyrocumulonimbus, billowed above the blaze.
This cloud, often referred to as pyroCb, resembled a large explosion, and vaulted smoke and ash as high as 45,000 feet into the atmosphere. It produced its own rain and lightning strikes, as well as erratic winds.
At the Bootleg Fire, the nation's largest at more than 388,000 acres, erratic winds and towering clouds forced firefighters to temporarily retreat from the blaze for the ninth straight day, according to the Associated Press.
Details: The wildfires on Monday occurred on a day featuring triple-digit temperatures in several western states, with records falling in Montana in particular.
In Canada, extreme heat helped set the stage for explosive fire growth that forced firefighters to back off from the flames due to the dangerous conditions there.
Some of the fires prompted evacuations, but evacuees are having trouble finding places to stay.
Heat warnings are still in place in northeastern Montana, though the heat wave there likely peaked on Monday, when Glasgow reached a daily temperature record of 110℉.
In Billings, the temperature peaked at 107℉, setting a daily record and coming just 1℉ shy of tying the all-time record high.
In Oregon, officials have called in firefighting support from outside the Pacific Northwest — to battle the Bootleg Fire.
Thunderstorms delivering little rain on Monday are now likely in the Pacific Northwest and Intermountain region on Tuesday. Lightning bolts from these storms started new fires in the Sierra Nevada mountains of California, and the potential for more "dry lightning" has made Oregon officials concerned that more wildfires could ignite.
So they've turned to authorities in Arkansas, Nevada and Alaska for equipment including fire engines, according to a statement by Rogue River-Siskiyou National Forest officials Monday.
Context: In California, twice as many acres have burned so far this year than had burned by this point last year — and 2020 was California's worst wildfire year on record.
Smoke from western wildfires is blanketing the skies in the Mid-Atlantic on Tuesday, with air quality alerts in place for the Philadelphia area. The sky over the nation's capital took on a milky haze during sunrise.
Between the lines: Human-caused global warming is a major factor behind the severity, longevity and frequency of the heat waves in the American West and other parts of the world.
In addition, studies show that the West is seeing more frequent and larger wildfires as climate change alters precipitation patterns, temperatures and the timing of the wet and dry seasons.
Climate change is also leading to more days like Monday with extreme fire weather conditions that feature unusually high temperatures, strong winds, and extremely low humidity values.
What's next: More wildfires are expected to be set off on Tuesday due to the dry lightning threat, with more than a half-dozen states under Red Flag warnings for dangerous fire weather conditions. This includes the entire state of Idaho.
Many of the large blazes currently burning across the West are expected to continue to do so until steady and significant precipitation reaches the area this fall or early winter.
In other words, it's going to be an extremely long and grueling fire season, for firefighters and residents of the affected areas.
Go deeper: FEMA chief heads West as large wildfires rage, heat wave peaks
Rebecca Falconer contributed reporting.
Go deeper