Pence announces campaign with a blast at Trump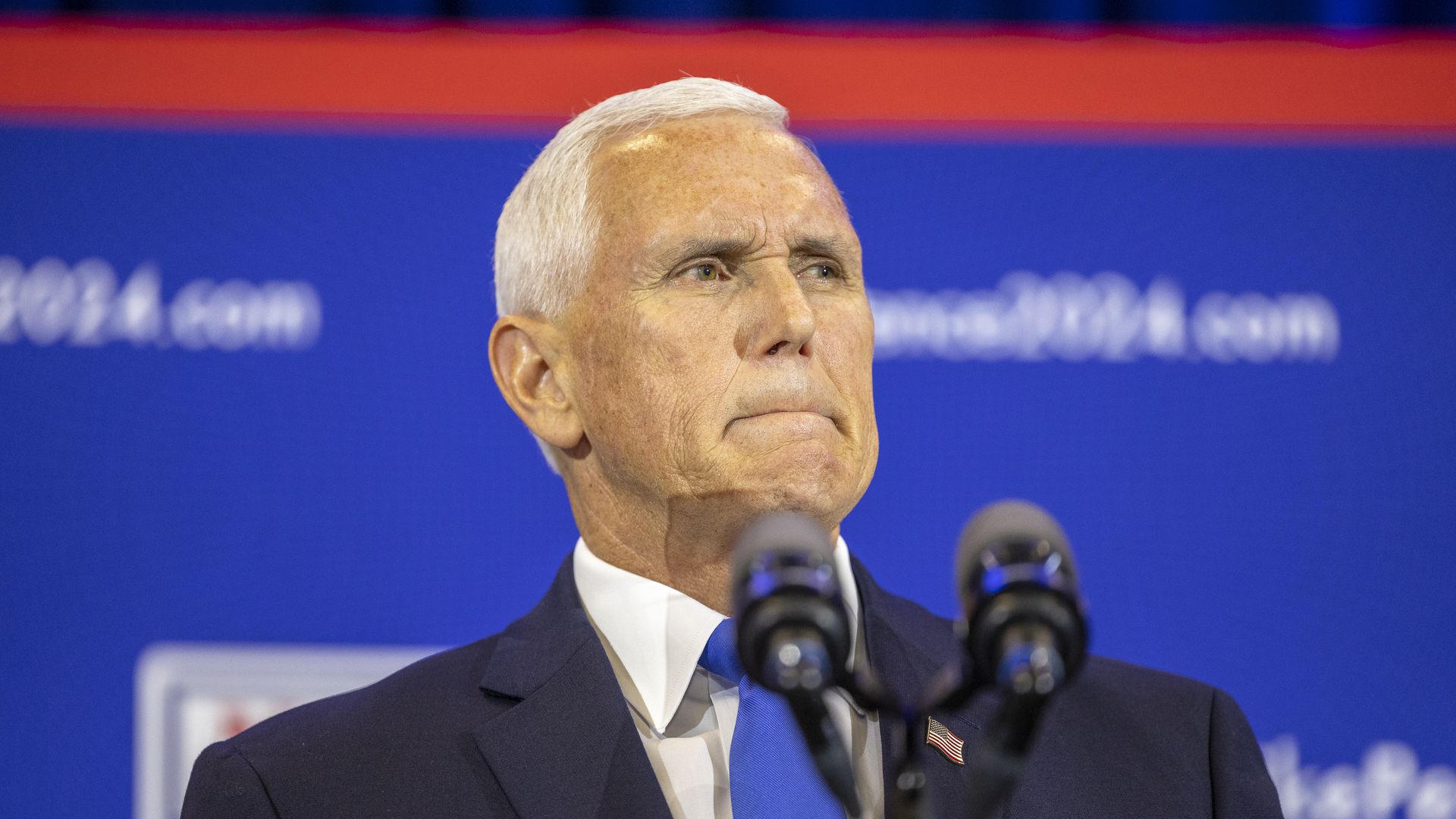 Former Vice President Mike Pence jumped into the 2024 presidential campaign Wednesday by doing what he'd avoided for years: blasting Donald Trump, his former boss, as unfit for the presidency.
"Anyone who puts themselves over the Constitution should never be president of the United States," Pence said, recounting how Trump pressured Pence, as president of the Senate, to reject states' electoral counts on Jan. 6, 2021, and overturn the 2020 election.
"And anyone who asks someone else to put themselves over the Constitution should never be president of the United States again."
Why it matters: Pence said he was proud of what he and Trump accomplished in office, from tax cuts to the pre-pandemic economy. But then he made a dramatic break from his typically muted criticism of the former president — which he'd maintained even after a Trump-inspired mob rushed the Capitol on Jan. 6.
Pence said Trump had "demanded that I choose between him and the Constitution. Now voters will be faced with the same choice. ... I chose the Constitution, and I always will."
"I prayed for him," Pence said of Trump. "I had hope he would come around and see he'd been misled about my role that day. But that was not to be."
The other side: "Good luck trying to sell that to Republican primary voters who are watching Joe Biden and the current administration tear our Constitution to shreds every single day," said Karoline Leavitt, a spokeswoman for a Trump-backing super PAC.
Zoom in: Pence went on to question Trump's commitments to maintain democracy and to fight abortion, citing the former president's opposition to military aid for Ukraine and his suggestion after the 2020 midterms that new abortion restrictions were hurting GOP candidates.
"After leading the most pro-life administration in American history, Donald Trump and others in this race are retreating from the cause of the unborn," Pence said.
A key part of Pence's campaign strategy is appealing to evangelical conservatives in Iowa and other early primary states.
"The sanctity of life has been our party's calling for half a century — long before Donald Trump was ever a part of it. Now he treats it as an inconvenience, even blaming our election loses on overturning Roe v. Wade."
The intrigue: Trump has pledged to pardon nearly all Jan. 6 protesters imprisoned for their participation that day.
On Wednesday, Pence seemed to be trying to appeal to those voters without offending them: He had them consider a hypothetical scenario in which Democrats tried to discredit the 2024 election results.
Vice President "Kamala Harris will have no right to overturn the election when we beat them in 2024," Pence said.
Go deeper