Pence 2024 video ignores Trump, slams Biden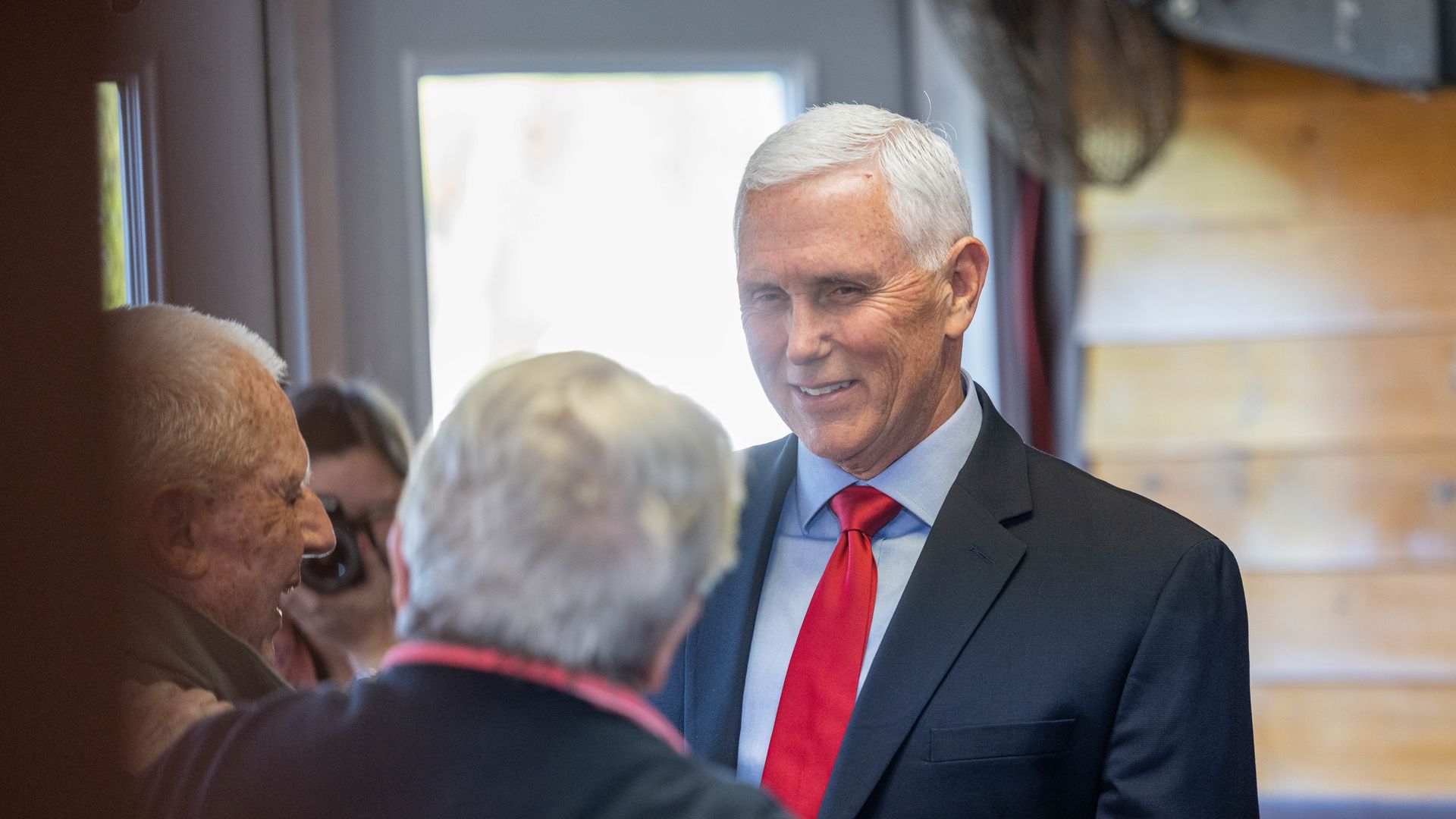 Former Vice President Mike Pence blasts President Biden and "the radical left" in his 2024 campaign announcement video — but makes no mention of his former boss, Donald Trump.
Why it matters: The video, called "Best Days," is a reintroduction of sorts for Pence, who has made clear that he wants to share credit for certain accomplishments of the Trump administration — even as he distances himself from Trump and their divide over the Jan. 6 insurrection.
Pence's video — released today, his 64th birthday — is wrapped in frequent mentions of his faith and praise of American values.
There's no reference to Trump, who on Jan. 6, 2021, urged followers to go to the U.S. Capitol to try to stop the electoral vote certification that Pence was presiding over.
Pence said in March that Trump's words that day were "reckless" and "endangered my family and everyone at the Capitol."
In the video, Pence focuses on better days as vice president: "I'll always be proud of the progress we made together, for a stronger, more prosperous America."
Driving the news: Pence filed paperwork Monday to launch his presidential bid against Trump and an increasingly crowded GOP field.
He'll make it official today with the video, an announcement in Des Moines and a CNN town hall at 9 p.m. ET.
The big picture: By the end of the day Wednesday there likely will be 10 Republicans in the presidential race. Three — Pence, former New Jersey Gov. Chris Christie (Tuesday) and North Dakota Gov. Doug Burgum (Wednesday) — are this week's new contenders.
What they're saying: Pence paints a bleak picture of America under Biden's leadership, slamming him over inflation and a "looming" recession, a southern border that's "under siege," and a "weakened" foreign policy.
He also makes an appeal to the GOP base, saying "traditional American values are under assault," while showing headlines and clips about a transgender athlete, drag queens, and broken cop cars riddled with graffiti.
Other GOP candidates have called out Trump's character and explicitly said he shouldn't be in the race. Pence doesn't go that far.
"We can turn this country around, but different times call for different leadership," he says. "Today, our party and our country need a leader that will appeal, as Lincoln said, to the better angels of our nature."
Go deeper