Pence allies create super PAC to bolster likely presidential bid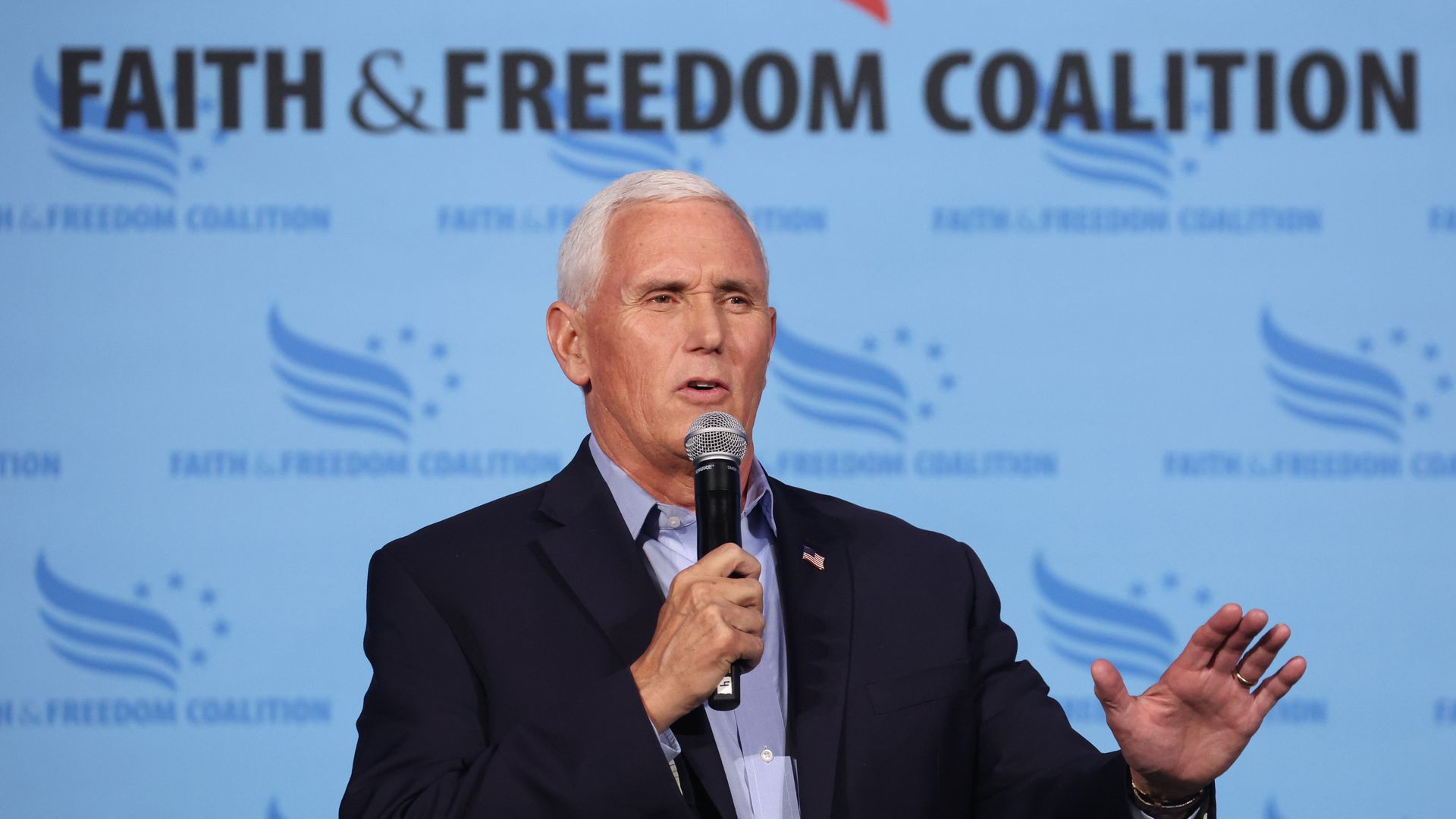 Close allies of former Vice President Mike Pence are launching a super PAC to serve as springboard for his GOP presidential campaign, a clear indication that Pence plans to challenge former President Trump.
Why it matters: The "Committed to America" PAC will allow Pence allies to raise unlimited donations and lay the groundwork for an official presidential campaign, with a formal announcement likely in the coming weeks.
The PAC will focus on building a ground organization in early primary and caucus states and running paid advertisements to boost Pence's popularity. Pence will be in New Hampshire today and Iowa next week.
"We're going to organize Iowa, all 99 counties, like we're running him for county sheriff," Scott Reed, a longtime GOP campaign operative who will serve as co-chairman of the PAC, told reporters.
"This campaign is going to reintroduce Mike Pence to the country as his own man, not as vice president, but as a true economic, social, and national security conservative — a Reagan conservative."
What we're watching: Reed will be joined by former Rep. Jeb Hensarling (R-Texas), a close friend of Pence from the House of Representative, as co-chairman.
A former chair of the Financial Services Committee, Hensarling has deep ties to both the conservative community and Wall Street.
The super PAC's executive director will be Bobby Saparow, who led Georgia Gov. Brian Kemp to a primary victory over the Trump-endorsed David Perdue, a former senator.
Michael Ricci, who served as communications director for former Maryland Gov. Larry Hogan, will serve in a similar role for the PAC.
Between the lines: Kemp's 2022 Georgia primary win will serve as a blueprint for Pence.
"We have all the confidence in the world that the results that we were able to garner for Gov. Kemp we can duplicate for the vice president," Saparow told reporters.
"We will also be doing a very extensive paid voter contact program through Committed to America."
The big picture: With President Biden's approval ratings hovering in the low 40's, the Republican field to replace him is getting crowded. But candidates recognize that they first need to get past Trump before they can challenge Biden.
The intrigue: Allies of Florida Gov. Ron DeSantis are also taking the Super PAC route.
As DeSantis makes it clear he is preparing his own official campaign, their "Never Back Down" PAC is running ads and taking direct shots against Trump.
In Iowa this weekend, DeSantis made the case that he can replicate his electoral success in Florida on national stage, telling potential caucus-goers that his party needs to reject a "culture of losing" — a not-so-subtle shot at Trump, who lost the House in 2018 and the presidency in 2020.
The bottom line: Pence's team is relying on a tried-and-true strategy to separate their candidate from a crowded GOP pack: Win Iowa.
They plan to appeal to evangelical conservatives in Iowa, out organize their opponents on caucus night and then head into New Hampshire with momentum.
Go deeper