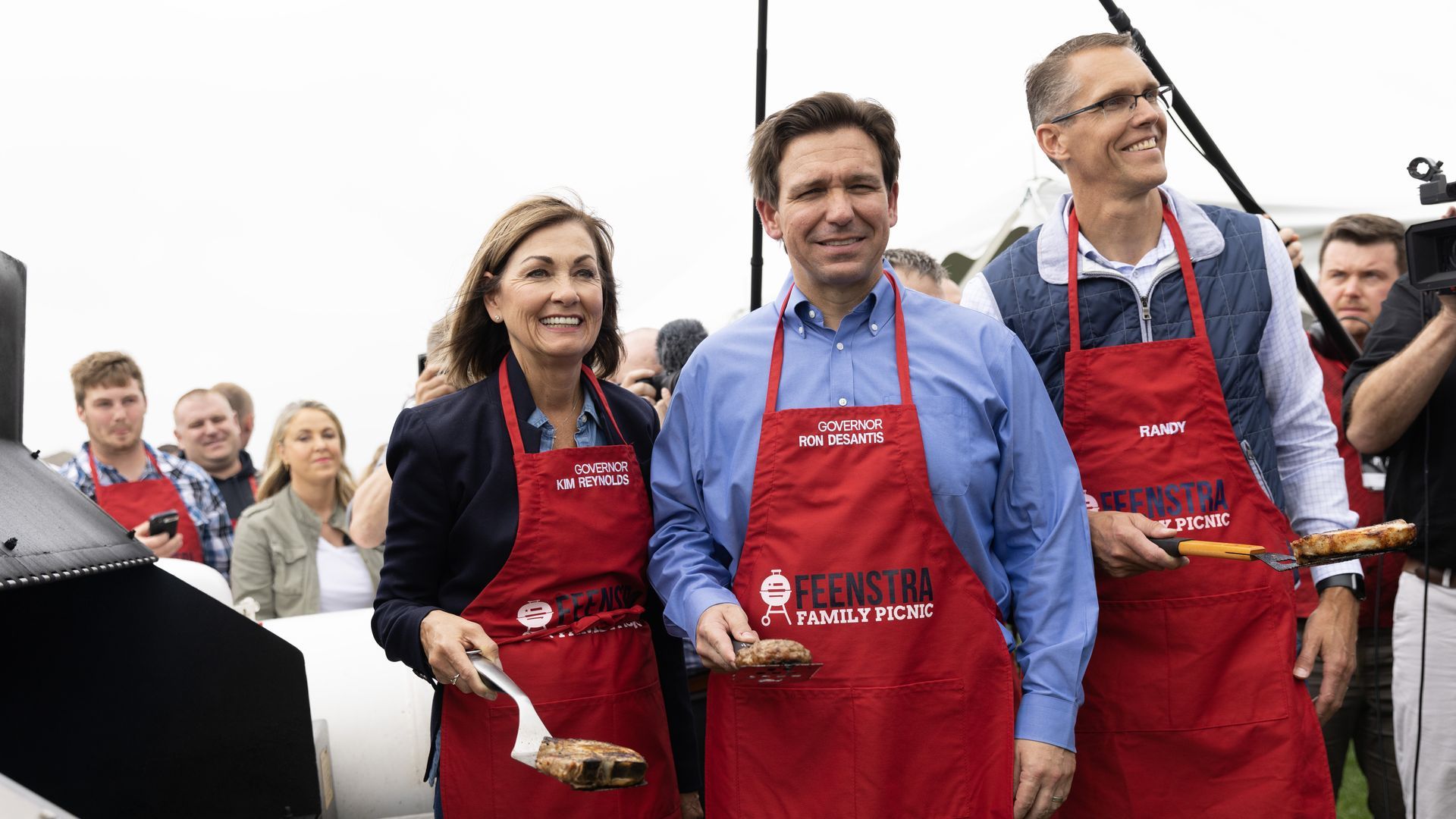 Florida Gov. Ron DeSantis got the contrast he desperately needed this weekend in Iowa, where former President Trump's no-show provided a jolt of momentum in an early primary state key to DeSantis' presidential fortunes.
Why it matters: Trump — who canceled his rally in Des Moines because of "severe weather" — is dominating DeSantis in the polls. The first-in-the-nation Iowa caucuses, which Trump lost to Sen. Ted Cruz (R-Texas) in 2016, could be DeSantis' best bet to prove he's got a fighting chance.
Driving the news: Ahead of a formal campaign launch in the coming weeks, DeSantis headlined two Iowa events on Saturday that were packed with state officials and Republican caucus-goers.
DeSantis flipped burgers at an annual picnic hosted by Rep. Randy Feenstra (R-Iowa), clearing a bar lowered by months of speculation about his comfort with retail politics.
A day earlier, the pro-DeSantis super PAC Never Back Down rolled out endorsements from more than a third of the Republicans in Iowa's state legislature — more than any GOP candidate received in 2016.
The intrigue: Trump on Saturday rolled out his own slate of 150 endorsements from "elected and grassroots leaders" in Iowa — but at least three people on the list tell Axios they were not consulted and remain undecided.
Former GOP congressional candidate Gary Leffler told Axios that a reporter alerted him that his name was on Trump's list on Saturday — while he was attending DeSantis' event.
"I lean Trump, but I 100% believe that DeSantis is the future of the party for 2028," Leffler said, adding that he met with officials on both the Trump and DeSantis teams on Monday to discuss his support.
Laura Carlson, vice president of the Iowa Federation of Republican Women and founder of the club Republican Women of Central Iowa, was also surprised to see her name on the list — and told Axios she now wonders about the veracity of the other endorsements.
Another longtime GOP activist, who did not wish to be publicly named, told Axios that she was added to the list without a request from the Trump campaign, or any agreement from her.
The Trump campaign called a number of the people on the Iowa endorsement list after Axios reached out for comment.
Zoom in: The biggest moment of the weekend was an impromptu stop at a barbecue joint in the area of Trump's canceled rally, where DeSantis and his allies trolled the former president with praise for the "beautiful" weather.
"We must reject the culture of losing that has infected our party in recent years," DeSantis said at his earlier event in northwest Iowa, another pointed jab at Trump.
"If we get distracted, if we focus the election on the past or on other side issues, then I think the Democrats are going to beat us again."
Between the lines: A day after the visit, Trump slammed DeSantis for signing a six-week abortion ban in Florida — claiming "many people within the pro-life movement feel that that was too harsh."
The comment is unlikely to go over well with Christian conservatives in Iowa, where Republican Gov. Kim Reynolds signed a similar six-week abortion ban.
"The #IowaCaucus door just flung wide open," Bob Vander Plaats, an influential evangelical leader in Iowa, tweeted in response to Trump's comment.
The bottom line: Winning in Iowa would be a massive coup for DeSantis, but recent history shows it's not enough to rely solely on that momentum. Not since 2000 has the Republican who won the Iowa caucuses gone on to be the nominee in a contested cycle.
Go deeper