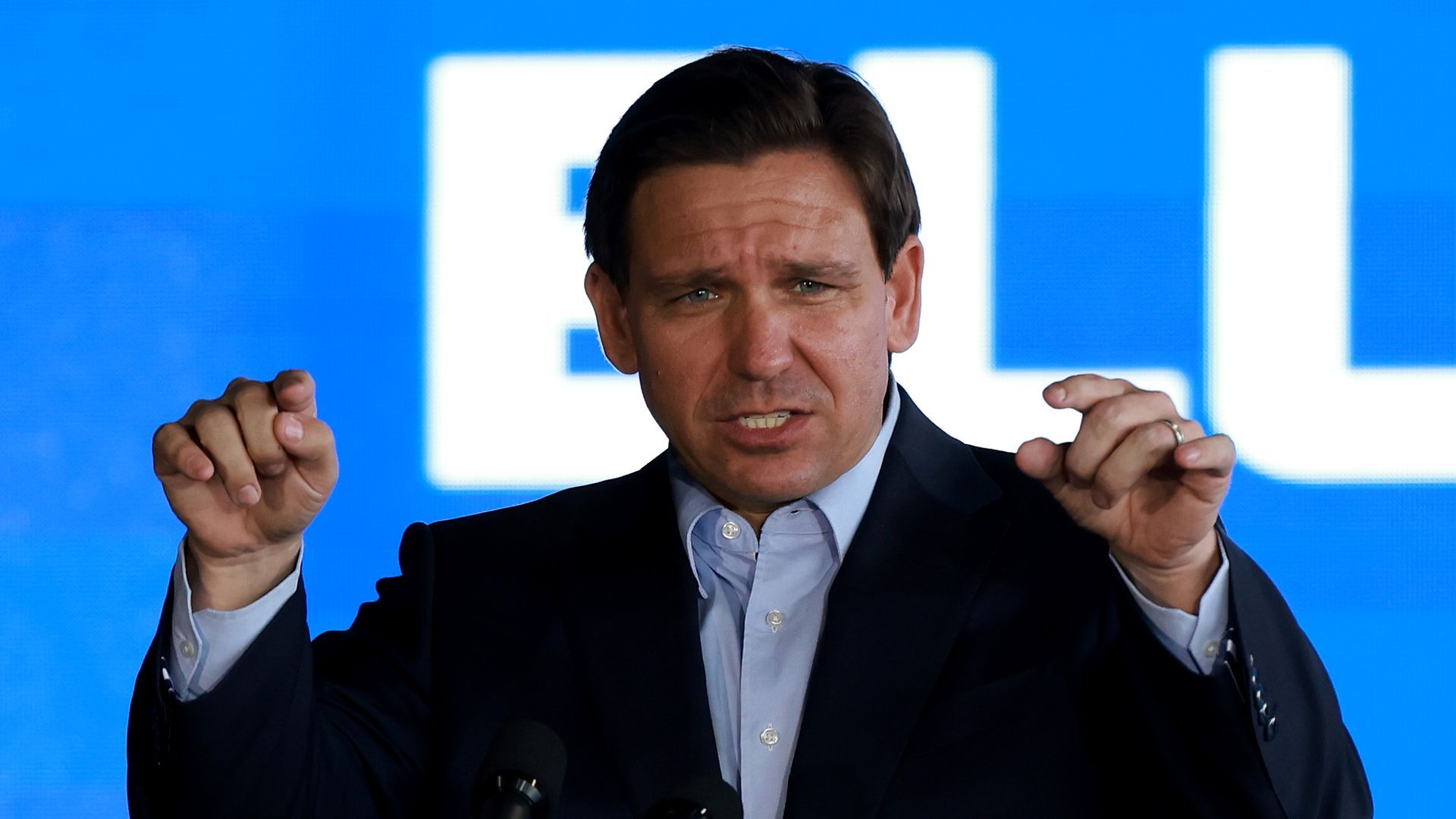 Florida Gov. Ron DeSantis' biggest political asset is that he's viewed favorably by nearly all of the Republican Party's voters — across the ideological spectrum.
Yes, but: His biggest challenge is that those sky-high approval numbers are likely to falter now that he's sparring with former President Trump — and as he makes tough decisions on where he stands on hot-button national issues.
Why it matters: So far in his public pronouncements, DeSantis has left little daylight between himself and Trump on policy — on Ukraine (at first), his combative tone on cultural fights and skepticism toward COVID-19 vaccines (where he's positioned himself to Trump's right).
But by siding with the MAGA wing of the party, he risks alienating traditional Republicans, who still make up a majority of the GOP electorate.
Zoom in: Polling shows that DeSantis' core support is from Republicans who identify themselves as "somewhat conservative." Trump's base is predominantly among those who consider themselves "very conservative."
DeSantis' plan is to peel off some MAGA voters from Trump by questioning the former president's character and competence and positioning himself as a younger, more electable alternative.
That strategy assumes he'll hold more moderate Republicans as he courts Trump's base.
His labeling of Russia's invasion of Ukraine as a "territorial dispute," which drew broad condemnation from Senate Republicans, is an example of the risks of alienating the center-right. (He later backtracked in an interview with Piers Morgan.)
Reality check: With Trump's lead over DeSantis growing over the last month, it's likelier that Trump's support among the MAGA base will be hard to dislodge.
If Trump doesn't falter on his own, trying to out-Trump the former president could become a fruitless strategy.
By the numbers: Polling suggests that a clear majority of GOP voters consider themselves party-first Republicans rather than Trump-first Republicans.
A January NBC News poll found 33% of Republicans identified with Trump more than the GOP, while 62% allied more with the party than the former president.
A new Monmouth poll finds 38% of Republicans consider themselves strong MAGA supporters, 28% support the MAGA movement "somewhat" and 28% don't see themselves as aligned with MAGA.
But Trump holds an iron grip on the most MAGA-oriented Republicans: The Monmouth poll finds that Trump holds a whopping 73%-25% advantage over DeSantis among MAGA devotees.
Our thought bubble: If DeSantis doesn't live up to expectations, the most apt comparison to his campaign could end up being that of Sen. Ted Cruz (R-Texas) in 2016.
Cruz mistakenly assumed that a majority of Republicans would support him as the last candidate standing against Trump. He spent much of the primary holding his fire against Trump before going on the attack.
But many Republicans viewed Cruz as the more ideological candidate and thought Trump was more moderate.
The intrigue: If he keeps pandering to the most hardline conservative voters, DeSantis risks being caricatured as too hard-edged, even for some Republicans.
His first congressional endorsement was for Rep. Chip Roy (R-Texas), who hails from the House Freedom Caucus.
Former Virginia Attorney General Ken Cuccinelli, an architect of Trump's controversial immigration policies, is chairing the Never Back Down super PAC. (Roy and Cuccinelli were both among Cruz's leading supporters in 2016.)
The bottom line: DeSantis has already built up a deep well of credibility with the GOP base because of his opposition to COVID regulations and success in enacting "anti-woke" policies.
Those positions were polarizing but also broadly popular with Floridians. He generated excitement with MAGA voters while winning support with swing voters — underscored by his 19-point re-election victory.
Having built up political capital with the base, DeSantis shouldn't have needed to pander to the MAGA crowd — especially on a topic that divides the GOP like foreign policy.
The fact that his camp feels it still needs to win over the MAGA crowd doesn't bode well for his chances. It means that despite his deep credibility with conservatives, he's still beholden to the populism of a Trumped-up electorate.
Editor's note: This story originally published on March 26.
Go deeper