Inside the GOP's "Save the kids" strategy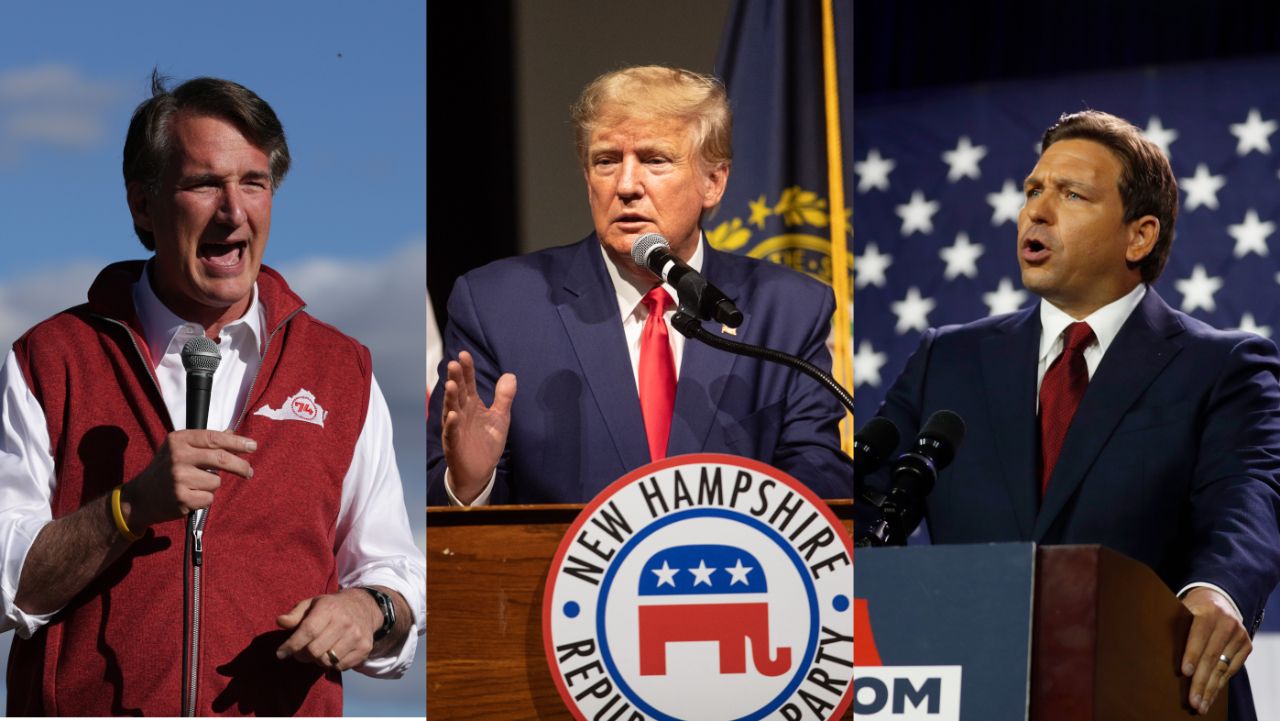 The fractious Republican Party is consolidating around a "Protect the children" platform for 2024 that aggressively targets school policies on gender identity and how racial issues are taught.
Why it matters: A year before presidential primaries begin, Republicans see this as a winning formula that can fire up their base and attract some independents, pointing to the recent electoral success of Florida Gov. Ron DeSantis and Virginia Gov. Glenn Youngkin.
Much of the battle is being fought at the state and local levels, giving an edge to GOP officials such as DeSantis and Youngkin — both potential presidential candidates who recognized the potency of educational issues early on.
Driving the news: Former President Trump is now leaning hard into this strategy, unveiling sweeping proposals in the past week to ban gender-affirming care for minors nationwide and cut off federal funding for schools that teach "critical race theory" and "gender ideology" — without defining what exactly those terms mean.
Trump's proposals targeting trans rights would be more restrictive than any being pursued by Republican-led state governments, in what could be seen as an attempt to outflank DeSantis on the issue.
DeSantis notched a major victory today when the College Board announced it would revise its curriculum for AP African American Studies after heavy criticism from the Florida governor.
The big picture: These debates often are tagged as part of the "culture wars," but many parents see them as fights over the quality of their kids' educations. Under the banner of parental rights, Republicans are seeking to build a broad coalition centered on frustrations that schools are acting against their kids' best interests.
The other side: Polls show most Americans favor discrimination protections for trans people but are divided on teaching about gender identity in schools.
Critics of Republicans' push to restrict teaching of racial issues view the GOP's efforts as attempts to bury America's history of racism and its impacts today.
How we got here: The GOP began to gain momentum on educational issues after lengthy school closures during the pandemic fueled opposition from frustrated parents.
Youngkin emphasized "parents' rights" in an upset victory in blue-leaning Virginia in 2021 — an outcome that put education on the national map for Republicans.
After a successful bipartisan vote to overturn the mask mandate for some public school students, Youngkin also unveiled policy changes requiring schools to inform a student's parents if the student wants to change their name or pronouns on their official records.
DeSantis took heat for championing legislation that would limit discussions about sexual orientation or gender identity for Florida students in third grade or below. But polls showed the legislation was broadly popular in Florida, and in November he was re-elected governor by 19 points.
By the numbers: An October 2022 Pew Research Center poll found Democrats' edge over Republicans on education was just five points. Education ranked the third most important of 12 issues tested, below the economy and the future of democracy.
A summer 2022 poll conducted in battleground states for the American Federation for Teachers union found that 39% of voters trusted Republicans more on education, while 38% favored Democrats.
Polls also show widespread opposition to age-inappropriate curriculum in K-12 education, though the details of what's appropriate for kids have been the subject of heated local fights.
What to watch: Much of DeSantis' energy, as he mulls a presidential campaign, is focused on educational changes. He's working to transform a progressive public honors university — the New College of Florida — to be more conservative-friendly.
He appointed six ideologically aligned trustees (including educational activist Chris Rufo) to the board. Already the new board has ousted the school's president and taken steps to eliminate its diversity, equity and inclusion (DEI) staff.
After DeSantis banned the new AP African-American history course in Florida, the College Board stripped topics from the curriculum that had drawn scrutiny, including "Intersectionality and Activism," "Black Queer Studies" and "Incarceration and Abolition."
The College Board also added "black conservatism" as a research topic, though its president denies that the organization succumbed to political pressure.
The bottom line: Republicans are tapping into broad parental discontent over educational issues and have achieved victories by rallying conservatives while engaging suburban independents.
The risk for the party, however, is that the often-harsh rhetoric that draws in the base is alienating to many swing-voting suburbanites who determine elections.
Youngkin has been more effective at messaging his educational reforms to win over moderate suburbanites, while DeSantis' rhetoric has been tailored to the conservative base.
Go deeper