Trump unveils sweeping attack on trans rights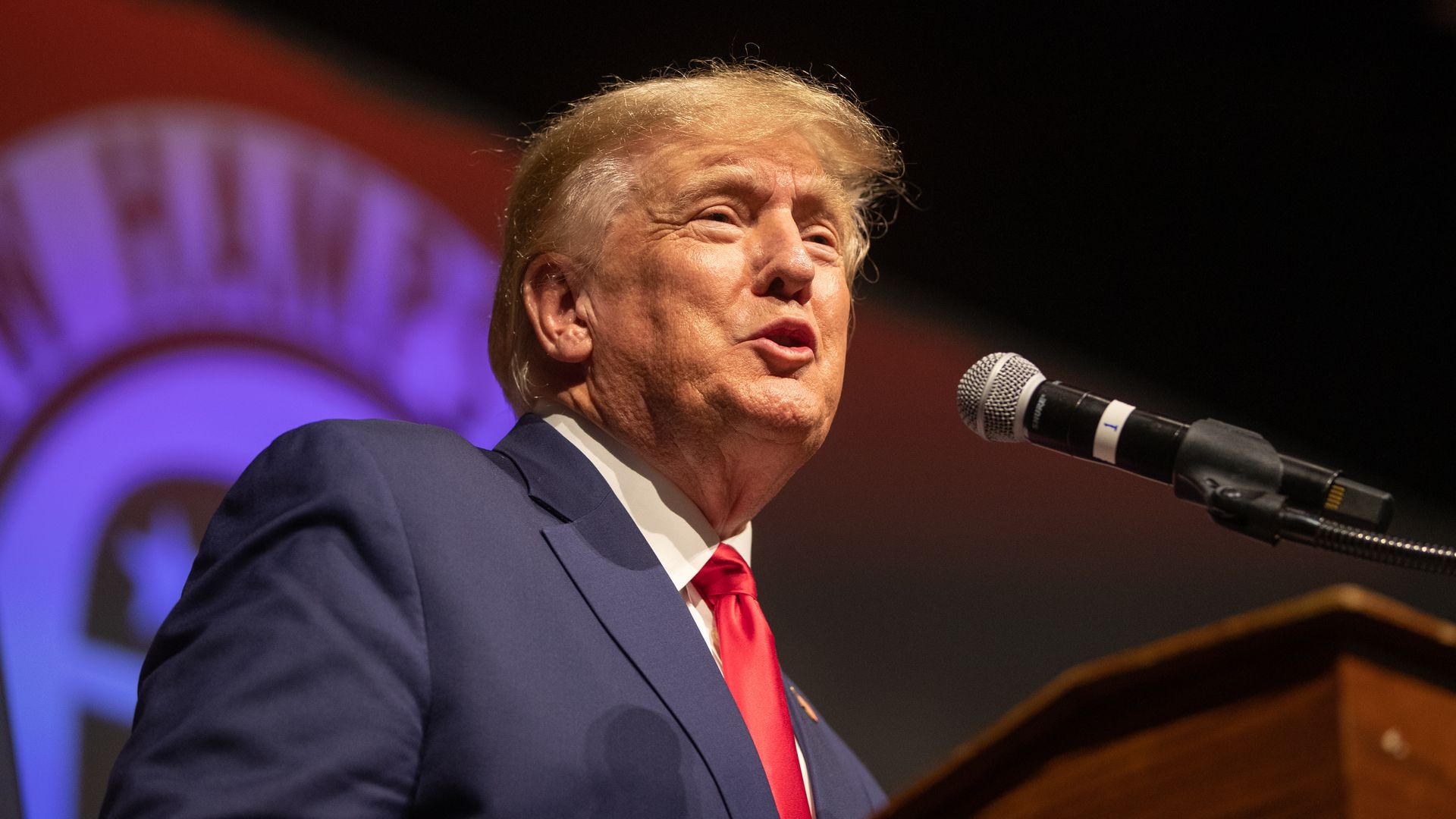 Former President Trump is promising to radically roll back transgender rights if elected president in 2024.
The big picture: Gender-affirming care would be directly under threat from Trump, who vowed in a video posted to his social network to punish doctors and hospitals who provided the services to trans and nonbinary people.
What he's saying: In the video, Trump says he will push Congress to pass a law to ban gender-affirming care for minors nationwide.
Under his pledge, medical professionals who do provide gender-affirming care to youth would be cut off from Medicare and Medicaid, which serves as a major source of financial support for hospitals and physicians.
Teachers or school officials who "suggest to a child that they could be trapped in the wrong body" would face "severe consequences," Trump added. That could take the form of civil rights penalties and loss of federal funds, NBC News reports.
Reality check: Gender-affirming care is widely supported as appropriate and medically necessary by major health groups, including the American Medical Association and the American Academy of Pediatrics, Axios' Oriana Gonzalez reports.
Health experts have said that restricting access to care can have severe and negative impacts on transgender youth.
Rates of depression and suicidal thoughts dropped significantly among transgender or nonbinary teens within a year of receiving puberty blockers or gender-affirming hormones, according to a 2022 study published in JAMA Network Open.
Zoom out: Trump's attacks on LGBTQ rights have escalated as he looks to regain momentum for his presidential campaign.
Yes, but: It's unclear how he would implement and enforce restrictions on LGBTQ rights if they have to go through Congress.
Worth noting: A 2021 Trevor Project poll found that over two-thirds of LGBTQ youths said their mental health was harmed by laws that target transgender people.
Don't forget: Under Trump, the Department of Health and Human Services considered narrowly defining gender as a biological status consisting of male or female.
The Trump administration also removed Title IX protections that ensured trans youth had access to bathrooms and facilities of their choice and later took steps in 2020 to reverse protections for trans people as established under the Affordable Care Act.
Go deeper: All the times the Trump administration weakened LGBTQ protections
Go deeper