Nikki Haley formally enters 2024 presidential race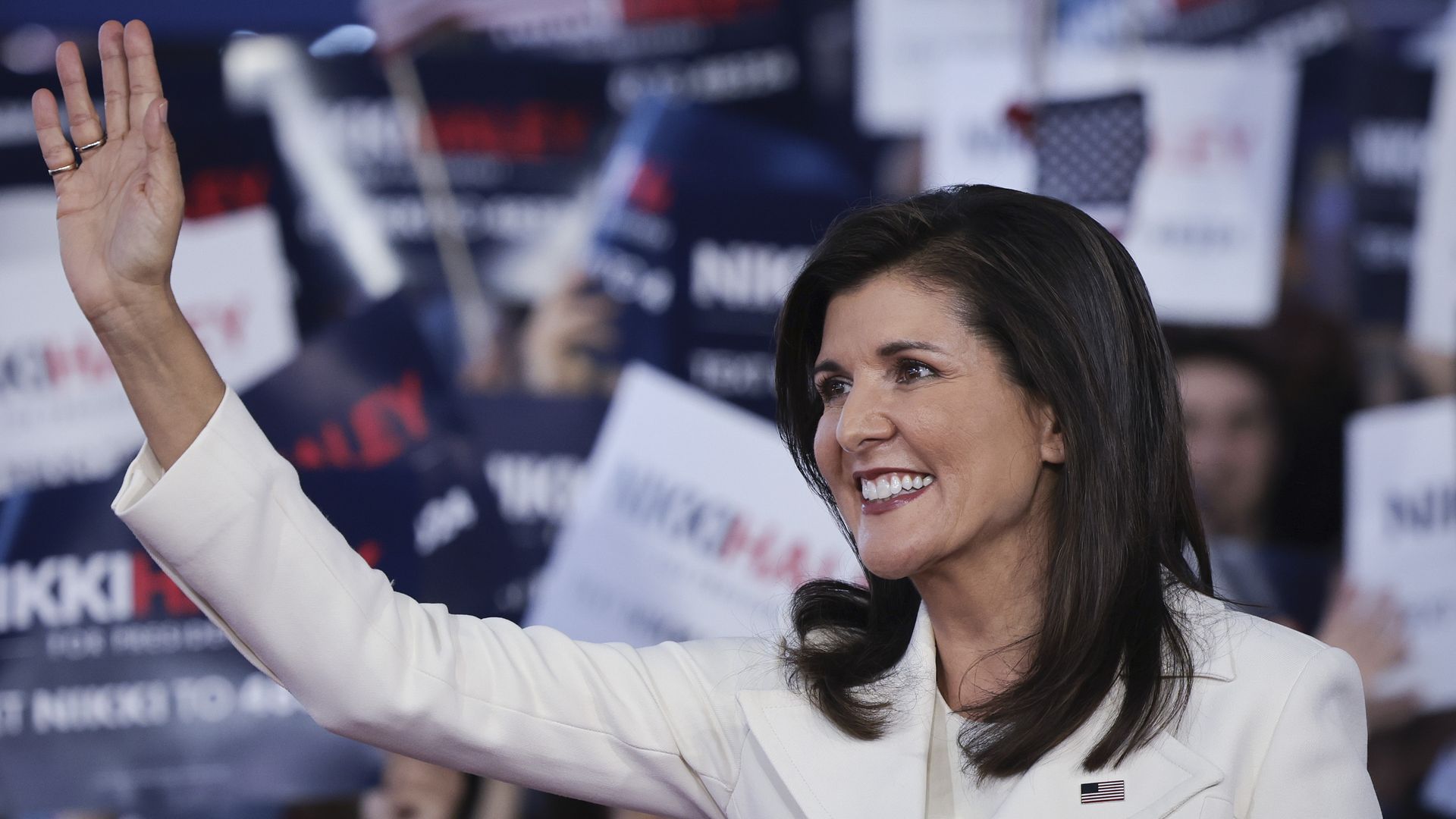 Former U.S. ambassador to the United Nations Nikki Haley announced at a campaign event in South Carolina on Wednesday that she is running for president.
Why it matters: Haley is the second Republican to officially enter the 2024 presidential race and her announcement pits her against former President Trump, who was her boss, in the Republican primary.
"For a strong America, for a proud America, I am running for President of the United States of America," Haley said.
Haley, 51, was the U.S. ambassador to the UN under Trump from 2017 through 2018. She was the governor of South Carolina from 2011 to 2017.
Driving the news: Haley during her official campaign announcement touted her track record as former governor of South Carolina, called for "mandatory mental competency tests for politicians over 75" and took direct jabs at President Biden.
"Our future is slipping, our leaders are failing us and no one embodies that failure more than Joe Biden," Haley said.
"America is not past our prime. It's just that our politicians are past theirs," she said.
State of play: Haley did not directly criticize former President Trump in her speech. Instead, she focused on calls for a "new generation" of leadership.
"We're ready, ready to move past the stale ideas and faded names of the past. And we are more than ready for a new generation to lead us into the future," she said.
She also touted the cause of the Republican Party, but she said that "we have failed to win the confidence of a majority of Americans."
"If you're tired of losing, put your trust in a new generation. And if you want to win not just as a party, but as a country, stand with me."
Trump sent out an email blasting what he termed "the real Nikki Haley," in which he criticized Haley's support for entitlement reform and said that she "is weak on immigration," among other things.
Haley at the beginning of her speech praised John Hagee, a pastor and televangelist, who offered the invocation during Wednesday's event. "I still say I want to be you when I grow up," Haley said of the pastor.
Hagee has a history of making controversial remarks.
Former Republican presidential candidate John McCain rejected an endorsement from Hagee in 2008 after a watchdog group released a video of a sermon where he said that the Holocaust was part of God's plan to drive Jewish people to Palestine, the Washington Post reports.
Catch up quick: Haley soft-launched her campaign on Tuesday with a video that previewed her life and work background.
"Time for a new generation," she tweeted on Tuesday.
She has been hiring key staff members and ramping up fundraising efforts in recent weeks, per CNBC.
The big picture: Trump announced in November that he was seeking the Republican nomination.
Editor's note: This story was updated with additional reporting and a new photo from Wednesday's event.
Go deeper... Nikki Haley avoids a Trump nickname on her 2024 launch day
Go deeper