Scoop: Nikki Haley campaign memo rips Trump "drama"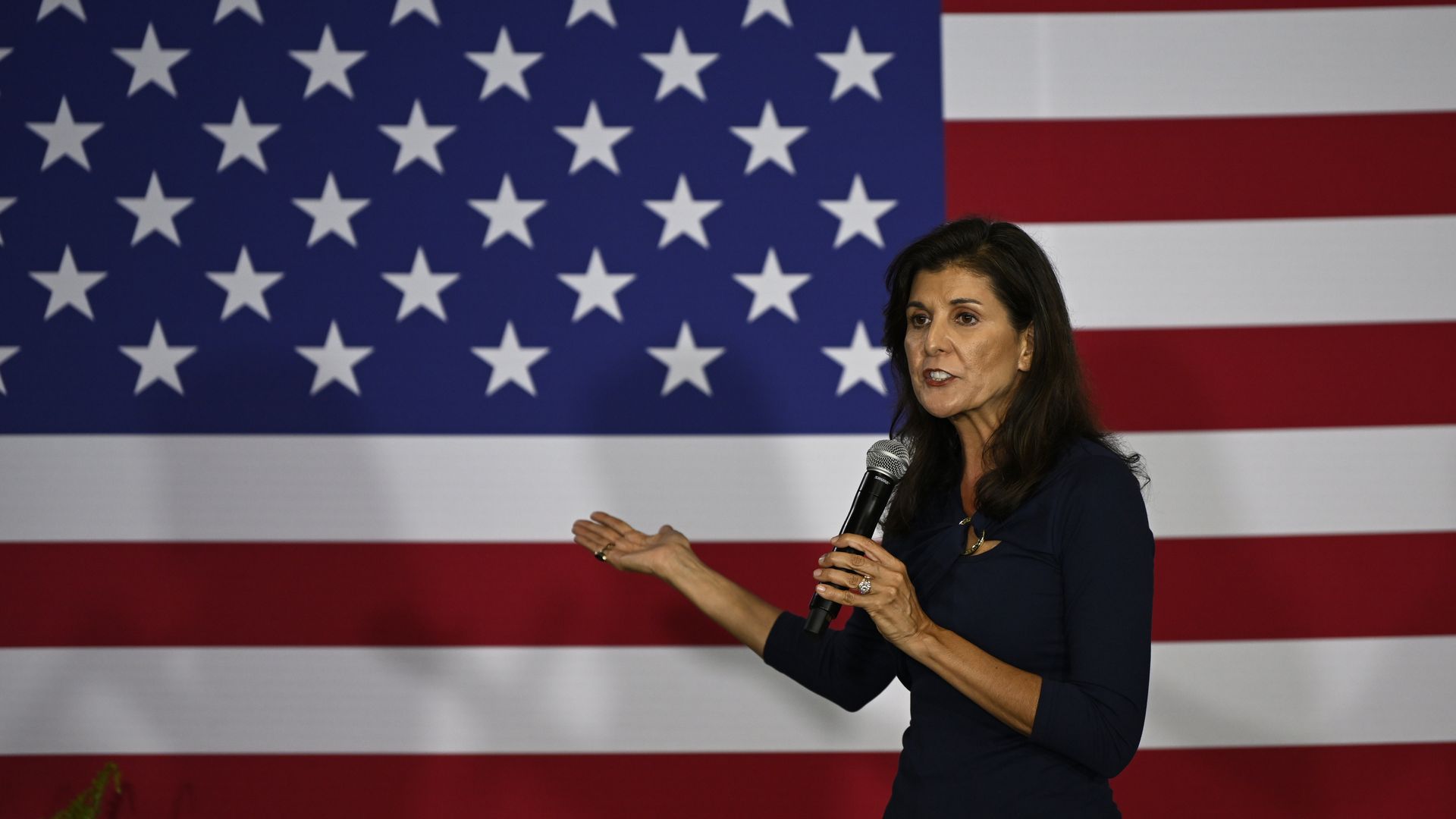 Nikki Haley's 2024 campaign is telling donors that former President Trump is "consumed by the grievances of the past and the promise of more drama in the future," according to a memo obtained by Axios.
Why it matters: The primary dynamics are changing against Trump. Haley has been polling in single digits, but a fundraising haul of $11 million in six weeks gives her campaign an opening against her rivals.
Haley's campaign raised more than nearly all the 2016 GOP candidates in their first quarter — and more than Trump in the first quarter of this cycle.
Trump's campaign hasn't released its full Q1 fundraising numbers yet, but announced raising over $12 million in the week after his indictment.
Driving the news: "Donald Trump had a pretty good Q1, if you count being indicted as 'good,'" Haley's campaign manager Betsy Ankney wrote in the memo.
"Still, it's increasingly clear that Trump's candidacy is more consumed by the grievances of the past and the promise of more drama in the future, rather than a forward-looking vision for the American people," the memo went on.
Zoom in: Haley's campaign isn't aiming only at Trump. Florida Gov. Ron DeSantis is "not ready for prime time," the memo said.
"And then there are the others," the memo says. "Wait, what others?"
It's an attempt to celebrate and broadcast their early monetary success while defending their low numbers ("polls at this point are meaningless") and seemingly outdated campaign style — all while trying to peel off more donors from her rivals.
The other candidates might offer a "quick flash," but Haley's campaign says they're outpacing the competition on policy: "We put forward concrete policy plans on foreign aid, immigration, spending restraint, entitlement reform, and yes, mental competency tests for politicians over age 75."
Zoom out: Most of the GOP has come to Trump's defense after he was charged with 34 counts of falsifying business records.
But the unprecedented, history-making development is changing the contours of the Republican presidential primary, opening a lane for anti-Trump voices.
Former Arkansas Gov. Asa Hutchinson announced his '24 bid after the indictment and said Trump should drop out of the race altogether.
The backdrop: Haley has so far rejected the "splashy" campaigning of her competitors, instead sticking to traditional retail politics during an election in which the GOP primary and electorate have been completely refashioned in Trump's image.
The former UN ambassador has barnstormed Iowa and New Hampshire, holding nearly 20 events with voters in the last six weeks. She's also held events in South Carolina and talked about immigration at the southern border.
The bottom line: As Republicans will try to distinguish themselves from Trump without perturbing his base, Haley's campaign will try a "discipline" versus "drama" approach to taking out the party's leader.
Go deeper