Democrats split on all-in-on-abortion plan for '24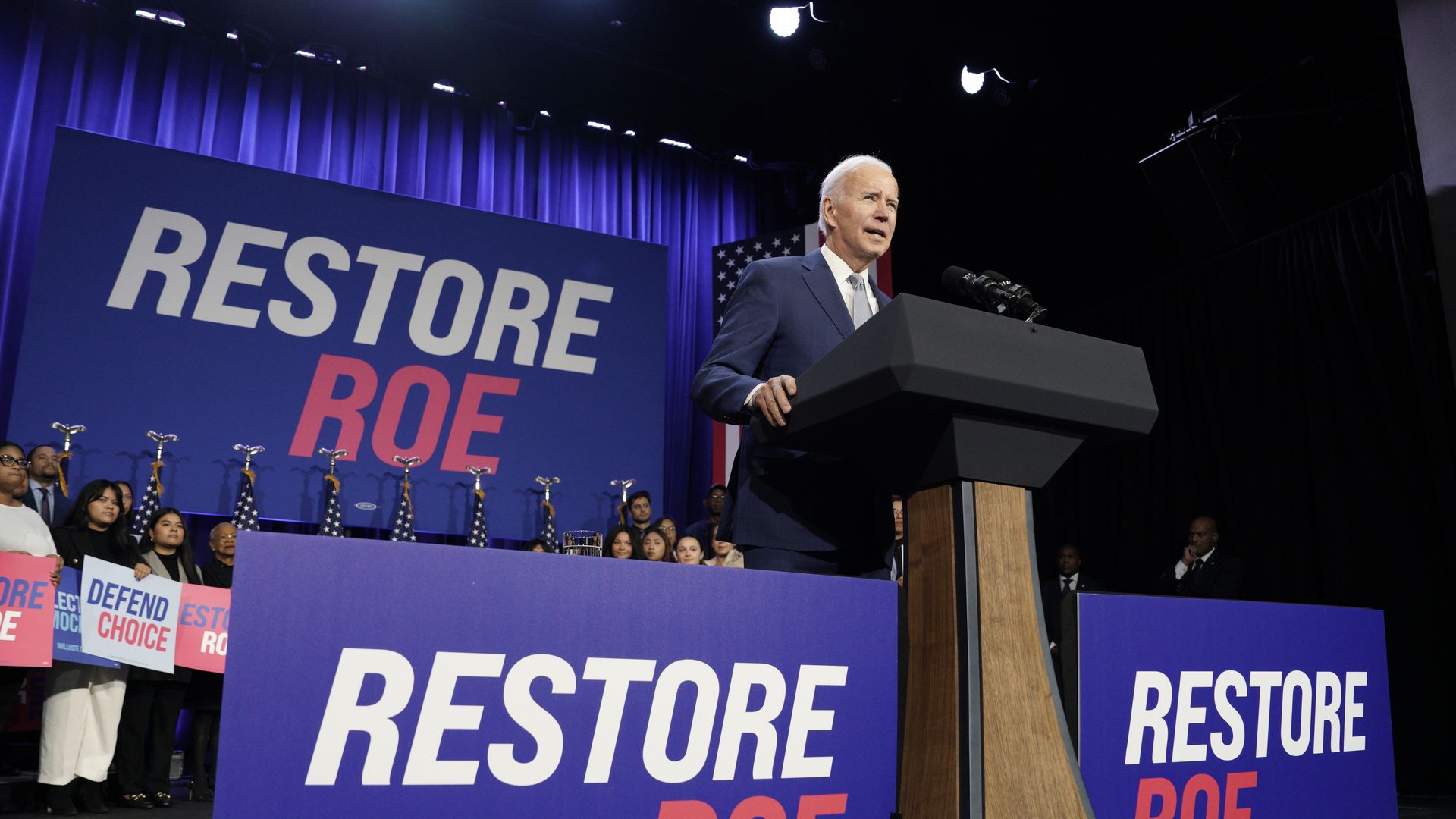 Top Democrats are divided on whether to make abortion the central issue of the 2024 elections, with centrists warning it could undercut efforts to focus on more broadly appealing economic topics.
Why it matters: Tuesday's results in Ohio, Kentucky and Virginia gave Democrats ample evidence that a solid majority of Americans — including many independents and suburban Republicans — want to preserve access to abortion.
But some Democrats wonder if relentlessly focusing on abortion could drown out their messaging on an improving economy and protecting democracy from the forces that led to Jan. 6 — themes they hope will resonate more with voters than polls suggest.
The concern is that abortion rights — while highly motivating for the Democratic base — might not attract enough swing voters who are more concerned about inflation, crime and immigration.
Between the lines: And then there's the Joe Biden Factor.
"I happen to be a practicing Catholic. I'm not big on abortion," Biden told donors at a fundraiser in June — while also mentioning his support for abortion rights under Roe v. Wade, the abortion-access standard overturned last year by the conservative-led Supreme Court.
For the vast majority of his half-century in national politics, Biden opposed federal funding for abortion — reversing his position only under pressure in 2019, as he ran for president.
As the Democratic Party's leader, he's made abortion rights part of his political identity: His support of access to abortion was featured prominently in his campaign's launch video in April.
Since then, however, the overwhelming majority of the ads in his initial $25 million ad buy have focused on the economy — as he tries to convince a skeptical public that Bidenomics is working for them.
What they're saying: The GOP's attack on abortion rights in several states "is alienating a large percentage of the electorate in this country, and Republicans have doubled down on it,' said former Virginia Gov. Terry McAuliffe, a Democrat. "This issue is not going away."
But "we got to be out there in a positive way," McAuliffe added. "We have to talk about a whole basket of issues."
Abortion "should certainly be one of the issues that Democrats run on," said Sen. Chris Van Hollen (D-Md.), but "obviously there are really important issues regarding the economy and other pocketbook issues."
Other voices in Democratic circles insist the party can't talk about abortion enough.
"Abortion is health care, it's economic, and it's about fundamental freedoms," Rep. Sara Jacobs (D-Calif.) told Axios.
"We are not going to let anyone tell us that we talk about it too much on the campaign trail. Because every time we talk about it, we win."
Flashback: Some Democrats look back to then-Sen. Mark Udall's (D-Colo.) loss in 2014 as an example of a candidate who focused too much on one issue — women's access to contraception and abortion.
Zoom out: Less than a year from the 2024 election, Biden's campaign is bracing for a close contest.
Zoom in: Biden's team scoffs at public surveys and notes that Democrats have over-performed at the polls since Roe v. Wade was overturned.
Tuesday's results "proved the pollsters and pundits wrong once again" Michael Tyler, the communications director for the Biden-Harris campaign, wrote in a memo.
Vice President Harris said that voters on Tuesday essentially said, "Look, the government should not be telling a woman what to do with her body."
The bottom line: Biden, with $91 million in campaign cash on hand, will be able to broadcast different messages on different frequencies.
But voters' attention spans are limited — and Biden likely will need more than abortion rights in his favor to stay in the White House.
Go deeper