Abortion rights win big in 2023 off-year elections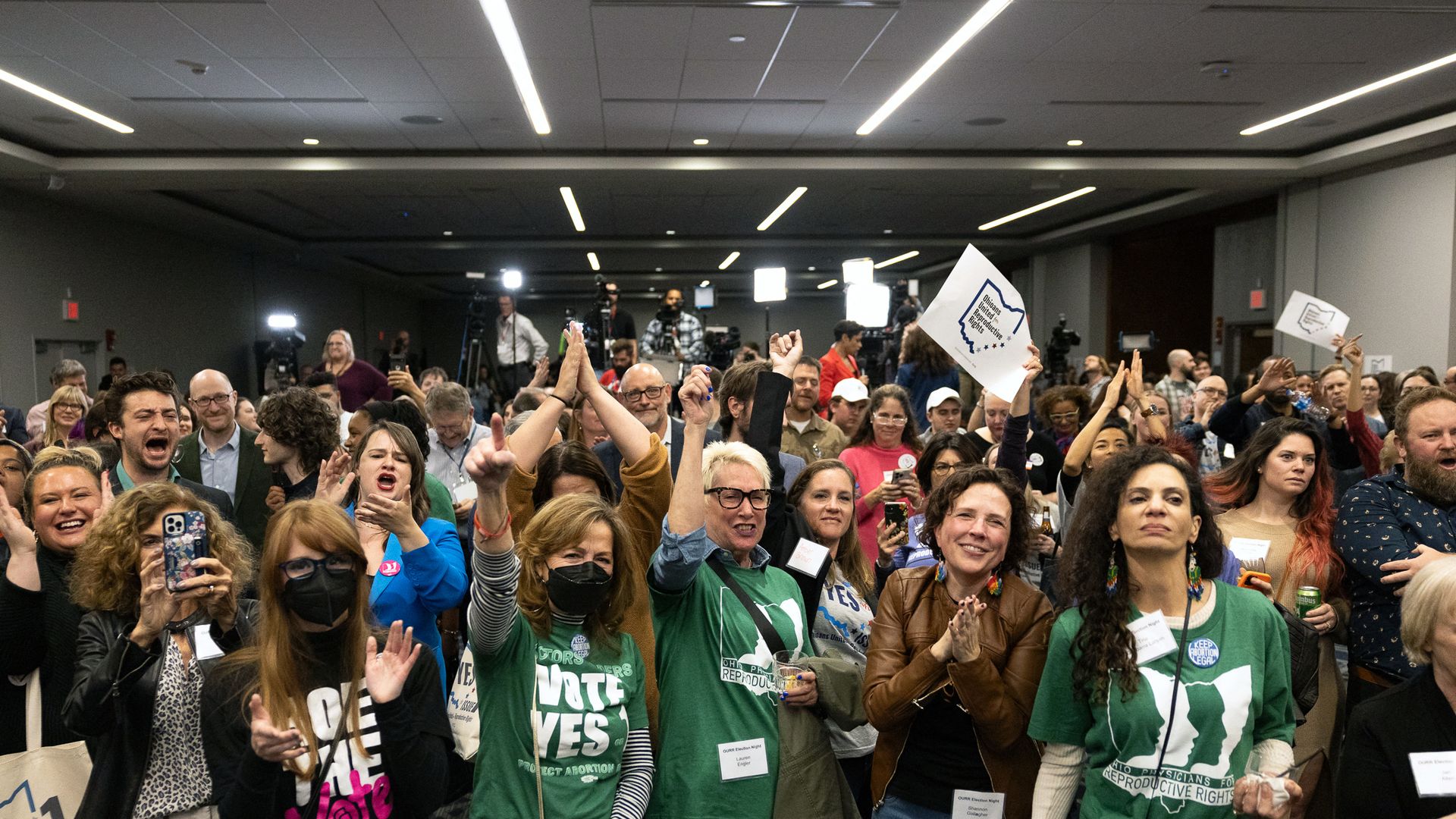 Tuesday's off-year elections proved the recent staying power of abortion rights to bolster Democratic success, even in red states like Ohio and Kentucky.
Why it matters: Abortion rights have won every time they've been on the ballot since the Supreme Court overturned Roe v. Wade.
Ohio voters added the right to abortion into the state constitution — a major win for abortion rights in a ballot measure.
Democratic Gov. Andy Beshear kept his seat in the deep red state of Kentucky, after an election often defined by his support for abortion rights.
Virginia Gov. Glenn Youngkin (R) failed to gain control of the state legislature. It means he will not be able to pass his 15-week "limit" on abortions — and casts a shadow over a potential 2024 presidential bid.
What we're watching: The success for abortion rights in Ohio likely provides a template for advocates in other red and purple states hoping to push similar measures.
Groups in Arizona, Florida, Nevada, Colorado and South Dakota are all in the process of getting abortion rights measures on the ballot for next year's elections, one advocate told Axios.
What they're saying: "Ohioans and voters across the country rejected attempts by MAGA Republican elected officials to impose extreme abortion bans," President Biden said in a statement last night.
"Voters in Mitch McConnell's Commonwealth of Kentucky sent a clear message to the Republican Party that their relentless opposition to the fundamental right to an abortion will continue to cost them election after election," American Bridge President Pat Dennis wrote.
Between the lines: The Virginia GOP's failure in particular is a blow for Republicans hoping to prove that rallying around what they believe to be a middle ground on abortion will win over voters.
Had they succeeded, it would have provided the GOP with a potentially powerful way to neutralize one of Democrats' primary political advantages heading into 2024.
"I think voters have made it really clear that they are not willing to accept the Republicans position on abortion bans," DLCC President Heather Williams told Axios.
The bottom line: "I think one thing that '23 has made clear, is that we have a really strong strategy to build power in the states," Williams said.
Go deeper