Ohio votes to protect abortion rights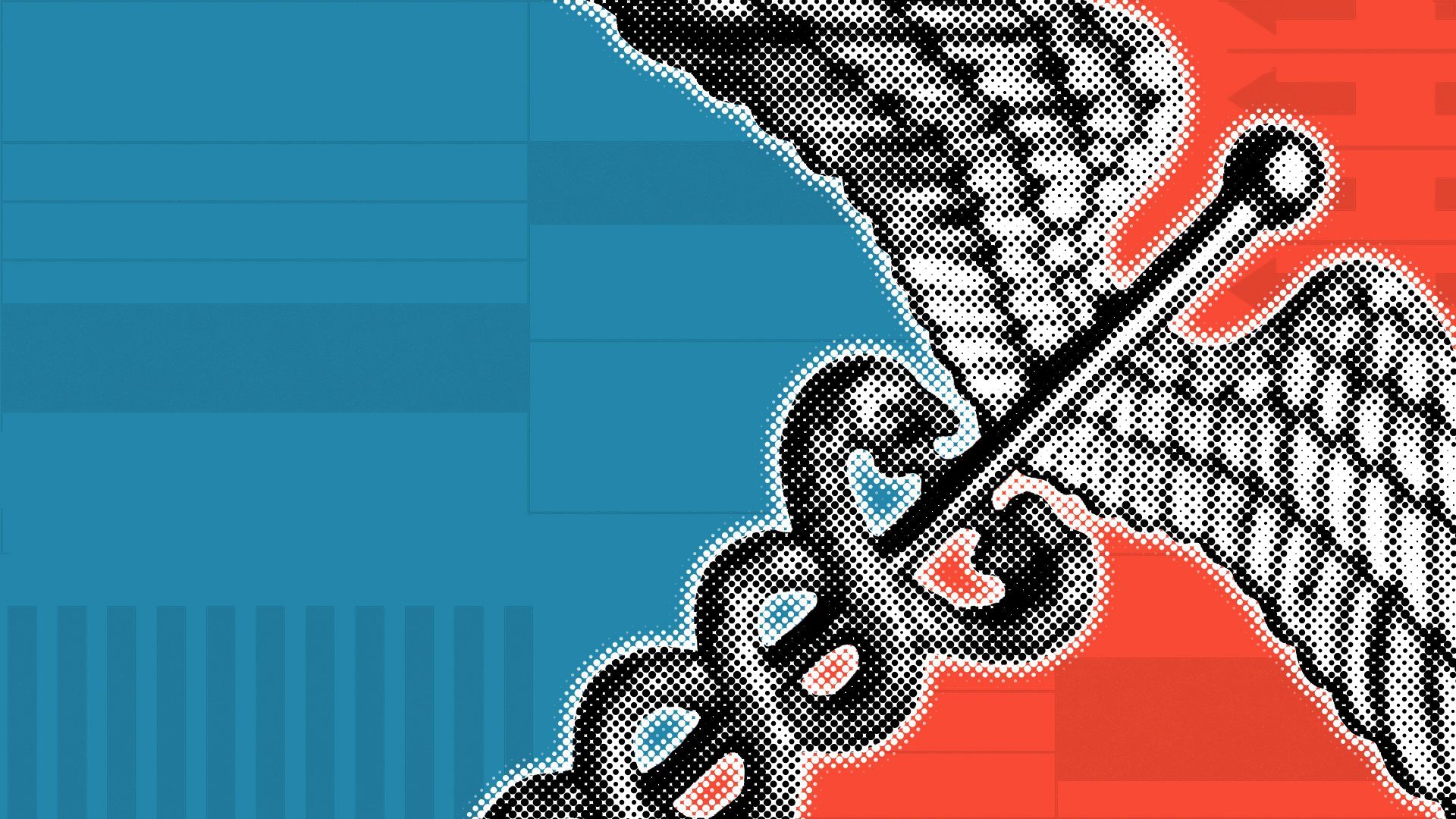 Ohio voters have adopted an amendment enshrining abortion rights in the state constitution.
Why it matters: The amendment, labeled Issue 1 on Tuesday's ballot, guarantees a person's right to an abortion and other reproductive care up until fetal viability, which is usually about 23 to 24 weeks.
What happened: AP called the race with early votes plus about 25% of Ohio's precincts reporting, with roughly 57% voting for the proposed amendment.
Flashback: Abortion rights advocates overcame several obstacles in the lead-up to Tuesday's vote.
Anti-abortion rights groups tried to make it more difficult for the amendment to succeed by raising the passage threshold of constitutional amendments to 60%.
But Ohio voters rejected that proposal in the August special election with 57% opposing it, so Tuesday's ballot issue needed only a simple majority to pass.
Meanwhile, there was some confusion over the measure being called Issue 1, which was what the August ballot measure to raise the voting threshold was called.
Abortion rights supporters had campaigned against Issue 1 in August, but campaigned for the new Issue 1 on Tuesday's ballots.
Plus: Anti-abortion groups also launched ad campaigns suggesting the amendment promotes "partial-birth" or "late-term" abortions.
Reality check: The language in the amendment states, "Abortion may be prohibited after fetal viability."
"But in no case may such an abortion be prohibited if in the professional judgment of the pregnant patient's treating physician it is necessary to protect the pregnant patient's life or health."
Zoom out: Ohio is now the seventh state to protect abortion rights through a ballot measure since the U.S. Supreme Court overturned Roe v. Wade last year.
What they're saying: "Tonight, Americans once again voted to protect their fundamental freedoms — and democracy won," President Biden said in a statement. "Ohioans and voters across the country rejected attempts by MAGA Republican elected officials to impose extreme abortion bans that put the health and lives of women in jeopardy, force women to travel hundreds of miles for care, and threaten to criminalize doctors and nurses for providing the health care that their patients need and that they are trained to provide."
"This extreme and dangerous agenda is out-of-step with the vast majority of Americans. My Administration will continue to protect access to reproductive health care and call on Congress to restore the protections of Roe v. Wade in federal law once and for all."
Planned Parenthood Advocates of Ohio said the results mark "a new beginning for Ohio, where individuals now have the right to make their own reproductive decisions without government interference. ... Our state remains a beacon of hope to so many across the nation and once again proves that voters will show up to defend their right to abortion."
The other side: "This isn't the end. It is really just the beginning of a revolving door of ballot campaigns to repeal or replace Issue 1," Ohio Senate President Matt Huffman said.
Ohio House Speaker Jason Stephens said "this is not the end of the conversation."
"I remain steadfastly committed to protecting life, and that commitment is unwavering. The legislature has multiple paths that we will explore to continue to protect innocent life," Stephens said.
What's next: Tuesday's result will effectively prevent a law banning abortions once fetal cardiac activity is detected — usually at about six weeks of pregnancy — from standing.
Yes, but: Republican state Attorney General Dave Yost insists legal questions surrounding the amendment still need to be addressed.
Among them is whether minors could receive abortions without parental consent, and if the reproductive rights mentioned in Issue 1 could apply to non-abortion procedures like gender-affirming care.
Other existing state laws could also be challenged in court, such as requiring those seeking an abortion to wait 24 hours.
What we're watching: Republican state lawmakers may act to ban abortion after fetal viability, as the new amendment allows.
The bottom line: While legal questions may loom, the amendment limits the state's power to restricting abortions after fetal viability.
Go deeper: Abortion seizes the spotlight in 2023's off-year elections
Editor's note: This story has been updated with reactions.
Go deeper