Answering questions about Ohio Issue 1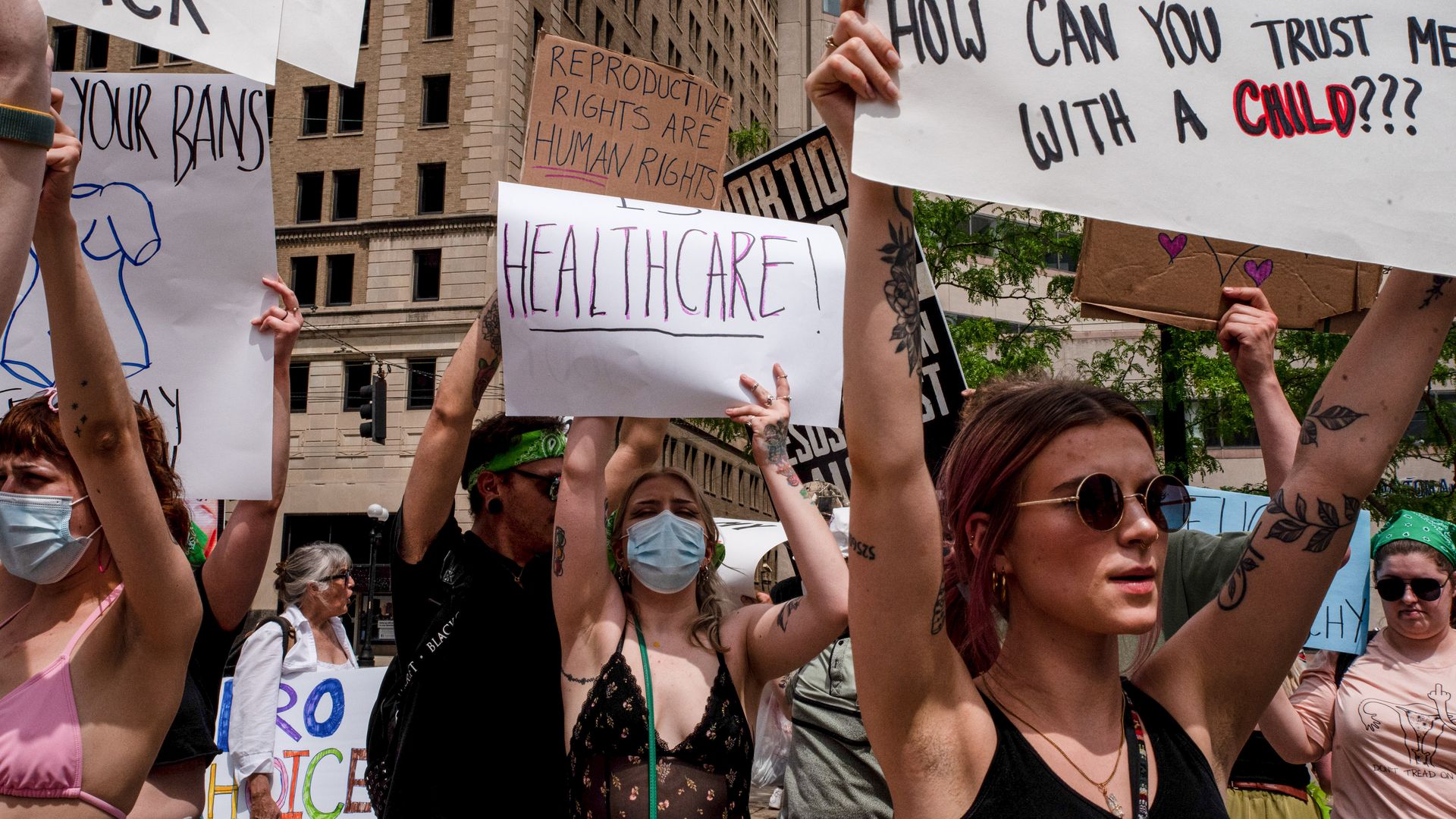 By now you've probably seen ads for and against Issue 1, which would enshrine abortion rights into the Ohio Constitution.
But some of those arguments have caused confusion among voters. Here are a few questions we've heard:
What does Issue 1 have to do with parents' rights?
If passed, the amendment establishes an "individual right to one's own reproductive medical treatment."
Zoom in: Ohio law generally requires parental permission for a minor to receive an abortion.
Issue 1 critics interpret "individual" to include minors as well as adults and believe if it passed, minors could receive abortions without parental consent.
What they're saying: The amendment "would deny parents the right to be involved when their daughter is making the most important decision of her life," First Lady Fran DeWine claimed in a recent campaign ad.
The other side: Various legal experts have said the amendment is not expected to impact existing parental consent law.
Between the lines: Attorney General Dave Yost notes the amendment "does not specifically address parental consent," but still thinks it's an open question.
"If Issue 1 passes, the question for a court will be whether the term 'individual' includes a 'minor.' There is no guarantee that Ohio's parental-consent law will remain in effect."
Yes, but: For this to occur, as AP reports, Ohio's parental consent law would have to be challenged and ultimately struck down by the Ohio Supreme Court, which is dominated by conservatives.
How would the Issue 1 result impact Ohio abortion law?
Abortion is currently legal in Ohio up to 22 weeks of pregnancy.
State of play: A law prohibiting abortions after fetal cardiac activity is detected, or around six weeks, was briefly enacted when Roe v. Wade was overturned.
That law is on hold amid a legal challenge.
If passed, Issue 1 would limit the state's power to restricting abortions after fetal viability, or around 23-24 weeks of pregnancy, and the outcome of the challenge to the six-week abortion ban wouldn't matter.
If Issue 1 fails, the forthcoming legal decision would determine Ohio's abortion law.
The bottom line: Ohio's abortion law could vary greatly depending on what voters and judges decide.
Would passage be the final word on Ohio abortion law?
For the most part. A constitutional amendment cannot be undone by the governor and state legislature.
Yes, but: Yost predicts several legal questions would need to be straightened out if voters approve the amendment.
Besides the parental rights issue, Yost questions if reproductive rights mentioned in Issue 1 could apply to non-abortion procedures like gender-affirming care.
Other existing laws could also be challenged in court, such as requiring those seeking an abortion to wait 24 hours.
Worthy of your time: An Issue 1 forum featuring arguments for and against the amendment, featuring Tyler as a co-moderator.
Editor's note: This story has been corrected to say the Ohio Supreme Court has jurisdiction over the parental consent law, not the U.S. Supreme Court.
More Columbus stories
No stories could be found
Get a free daily digest of the most important news in your backyard with Axios Columbus.