Abortion rights groups claim victory in Ohio special election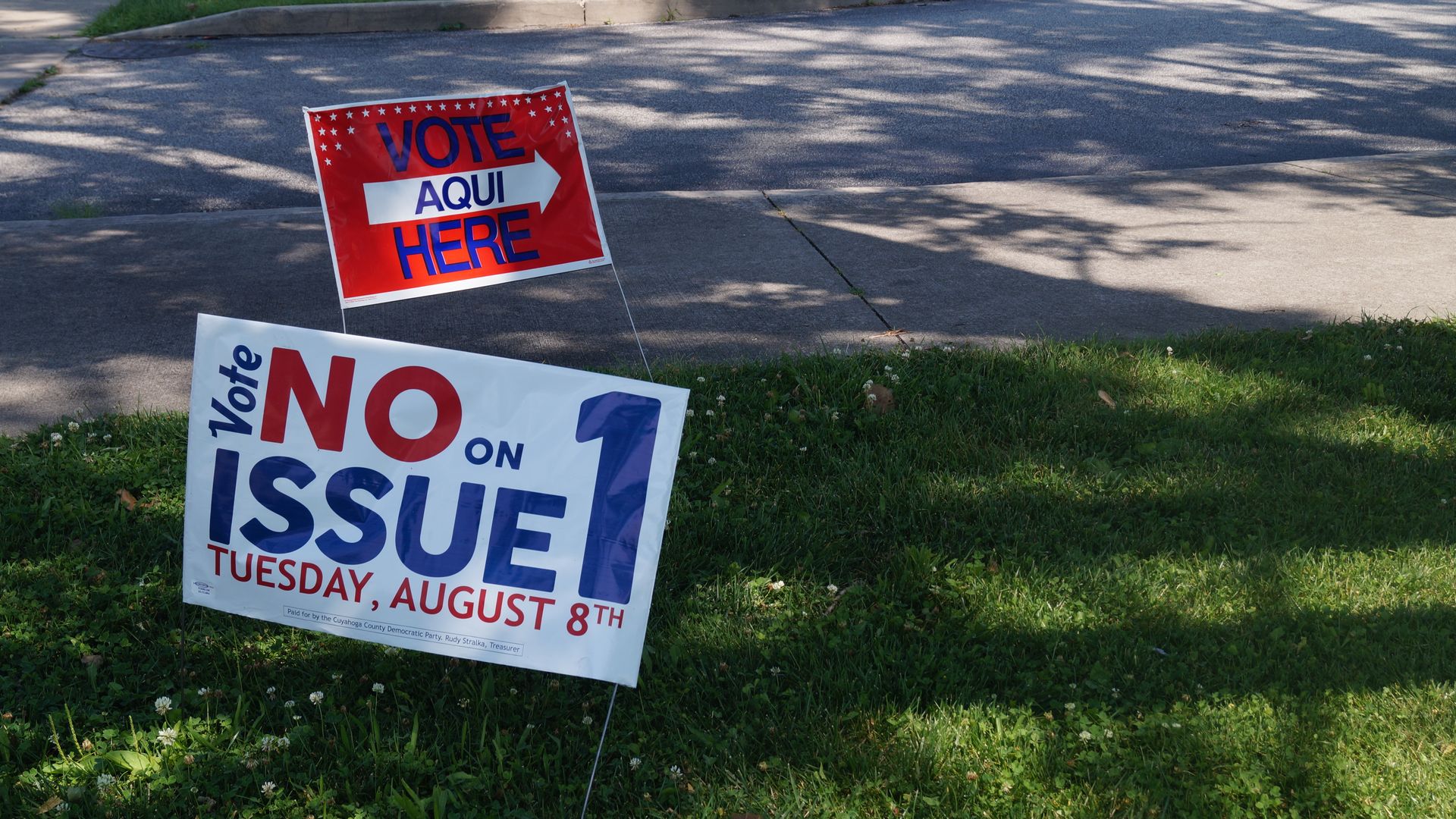 Ohio voters decisively rejected Issue 1, Tuesday's sole ballot item that sought to make it tougher to amend the state constitution, per AP.
Why it matters: The results are a victory for abortion rights advocates ahead of a constitutional amendment on November's ballot that proposes to guarantee abortion access up until fetal viability.
What they're saying: President Biden said in a statement late Tuesday that the result meant that Ohio voters had "rejected an effort by Republican lawmakers" and special interest groups to change the state's constitutional amendment process.
"This measure was a blatant attempt to weaken voters' voices and further erode the freedom of women to make their own health care decisions," he added. "Ohioans spoke loud and clear, and tonight democracy won."
Details: Issue 1 would have raised the passage threshold for future constitutional amendments from a simple majority to a 60% supermajority, along with stricter signature requirements to get amendments on the ballot.
State of play: Abortion and voting rights groups, labor unions and major newspapers' editorial boards made up the "no" bloc, contending Issue 1 would have taken away a democratic right Ohioans have had since 1912.
The other side: Republicans publicly and privately acknowledged Tuesday's election was meant to preempt November's abortion vote.
Secretary of State and U.S. Senate candidate Frank LaRose also argued the amendment process should gain broader consensus and be protected from out-of-state interest groups.
Anti-abortion group Susan B. Anthony Pro-Life America in a statement called Ohio's rejection of the measure "a warning for pro-life states across the nation" and said "liberal dark money" had "flooded" the state.
"So long as the Republicans and their supporters take the ostrich strategy and bury their heads in the sand, they will lose again and again," the group added.
Reality check: Both sides benefited from outside spending and advocacy this summer.
The pro-Issue 1 campaign was largely bankrolled by an Illinois billionaire, while the "no" campaign received millions from D.C. and California political groups, per a Dayton Daily News analysis.
Between the lines: Had Issue 1 passed, Republicans in other states may have tried to replicate the strategy to block other unfavorable ballot initiatives.
What's next: With the proxy fight now over, a heated campaign for the Nov. 7 abortion rights amendment begins.
Issue 1's defeat means the amendment needs a simple majority to pass — a majority recently achieved in Kansas, Kentucky and Michigan.
A July poll from Suffolk University/USA Today shows 58% of likely Ohio voters are in favor of the amendment.
Editor's note: This article has been updated with comment from President Biden and anti-abortion group Susan B. Anthony Pro-Life America.
Go deeper