Democratic Gov. Andy Beshear wins re-election in Kentucky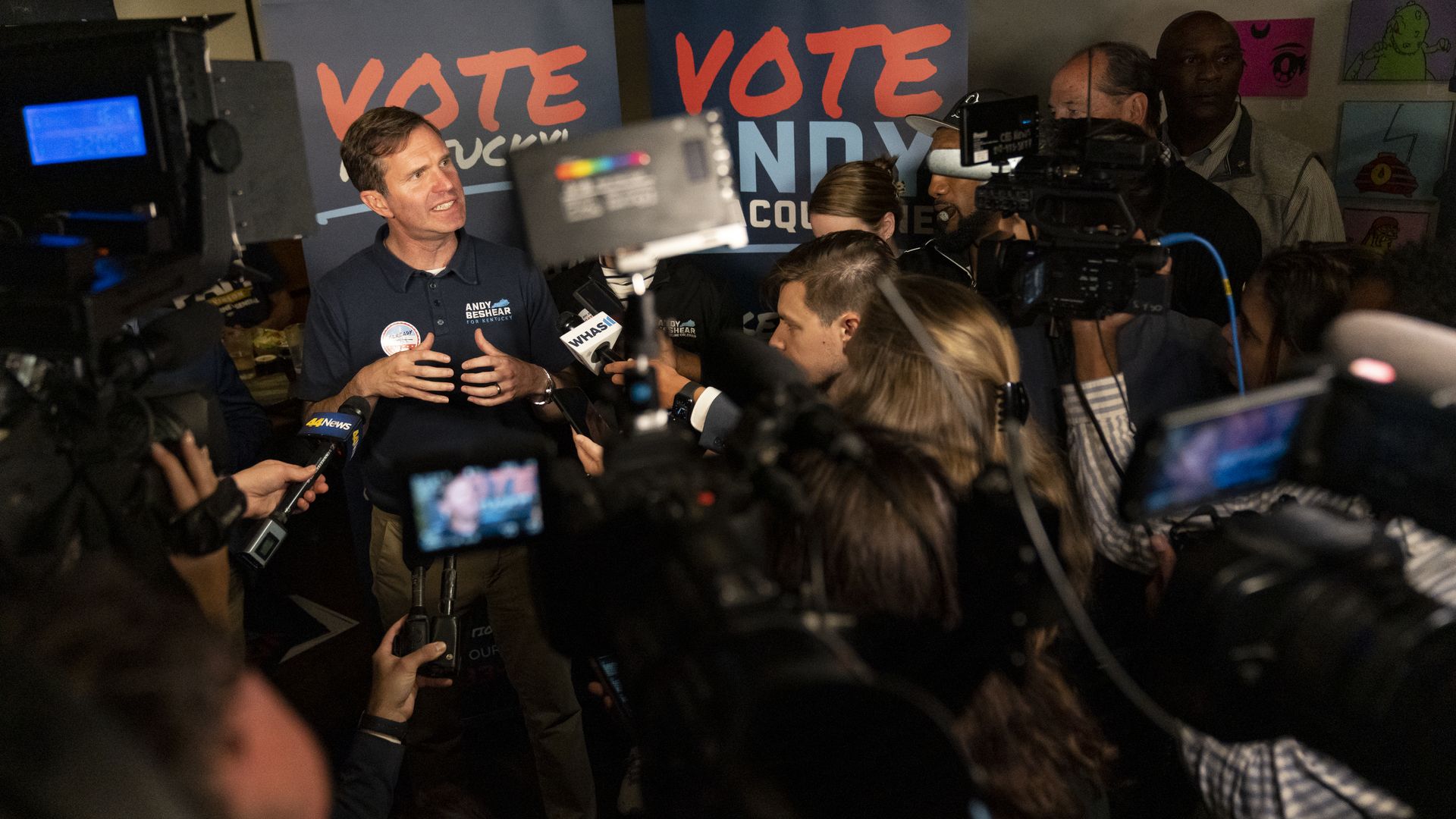 Democratic Gov. Andy Beshear won re-election on Tuesday in Kentucky's gubernatorial election, the Associated Press projects.
Why it matters: The re-election of Beshear, one of the few Democratic red state governors, is a potential sign of the staying power of the abortion rights issue heading into next year's 2024 elections.
He centered his campaign on support for abortion rights to stave off a challenge by Trump-backed GOP state Attorney General Daniel Cameron.
The big picture: Beshear, a former state attorney general and son of a former Kentucky governor, won narrowly in 2019 to clinch his first term.
Beshear boasts a strong approval rating in the deep-red state that former President Trump won by about 26 percentage points in 2020.
Cameron, an ally of Senate Minority Leader Mitch McConnell (R-Ky.), became the state's attorney general in 2019. His close ties with McConnell have boosted his profile with establishment Republicans.
State of play: Beshear touted his leadership during the COVID-19 pandemic and natural disasters in the state, and he slammed Cameron's anti-abortion stance.
Cameron, who defended the state's abortion ban in court, has since said he would sign legislation to allow for some exceptions if elected.
Cameron sought to tie the economy and inflationary pressures to Beshear.
"You've heard the governor ... tell you how well the economy is doing, but chances are you don't feel that way because inflation is rocking your wallet," Cameron said during the debate, per AP.
Between the lines: Beshear sought to distance himself from President Biden, who has a low approval rating nationally and in Kentucky.
"This race is about Kentucky," Beshear said last month. "It's about what's going on in our houses, not about what's going on in the White House."
Go deeper: Abortion seizes the spotlight in 2023's off-year elections
Go deeper