The evolution of Mitch McConnell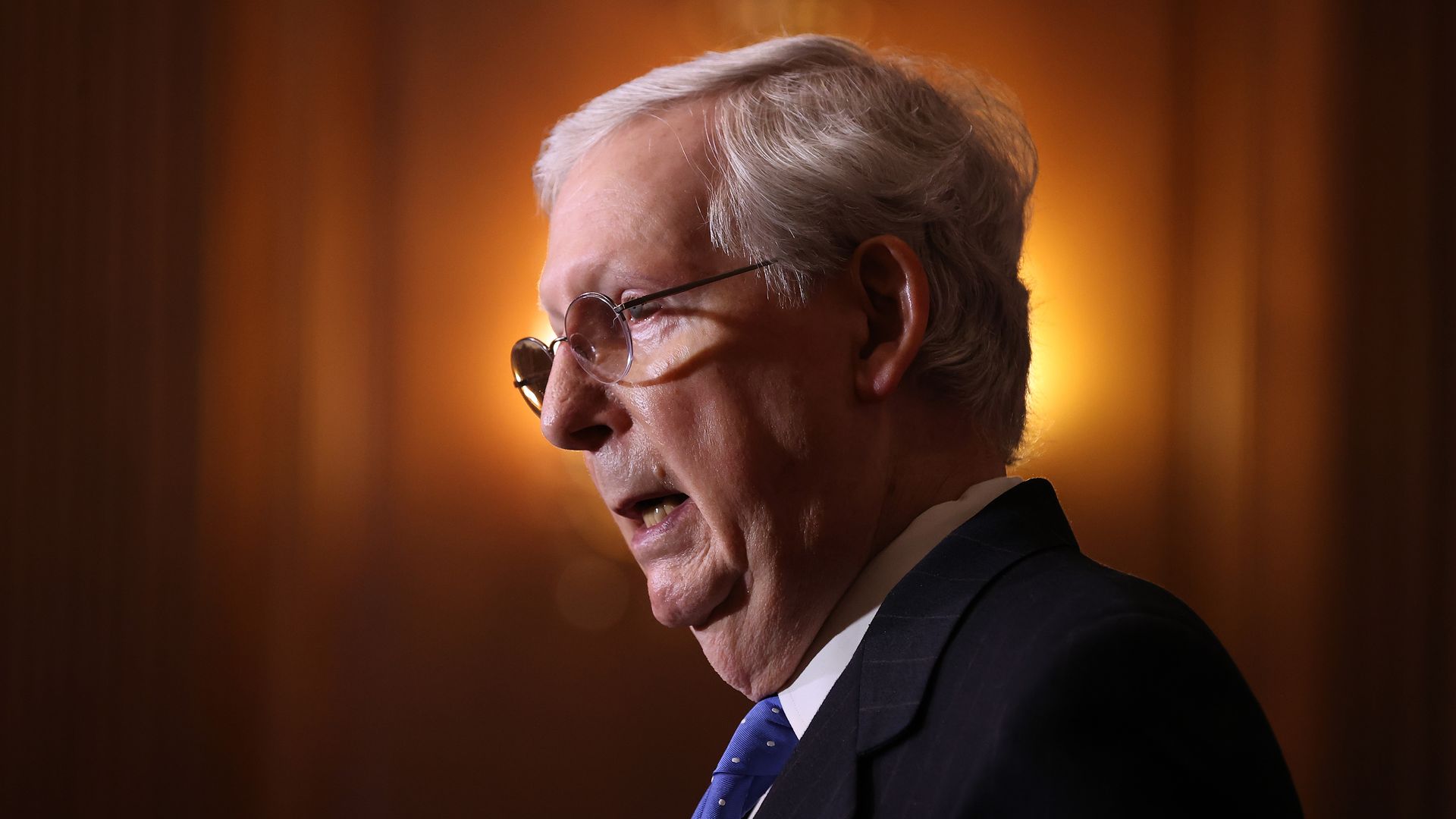 Senate Minority Leader Mitch McConnell (R-Ky.) has spent the last year forging a new path as a bipartisan dealmaker, an understated — but unmistakable — shift in strategy for a man who was Democrats' chief foil for more than a decade.
Why it matters: The self-described "Grim Reaper" of progressive policy has a reputation for ruthlessness. Now the longest-serving Senate leader in U.S. history, the 80-year-old McConnell is changing tack at a time when a string of election defeats has fueled a civil war within the GOP — and made it tougher to attract moderate candidates.
What's happening: McConnell said this week he'll take a back seat to House Speaker Kevin McCarthy (R-Calif.) on debt-ceiling negotiations, publicly deferring one of the messiest partisan clashes of the year.
McConnell was in charge the last time the debt ceiling came up, in December 2021, and angered some Republicans by striking a deal to allow Democrats to raise the limit themselves.
This time, as House Republicans threaten to hold the debt ceiling hostage unless Democrats agree to budget cuts, McConnell has remained quiet while simply promising: "We won't default."
Flashback: McConnell infuriated right-wing Republicans in December by supporting a $1.7 trillion omnibus package in the lame-duck session, taking spending negotiations out of the hands of the incoming House GOP majority.
On Jan. 4, McConnell appeared with President Biden in Kentucky to celebrate the $1.2 trillion bipartisan infrastructure law — a photo op that drew further outrage from the right, including from former President Trump.
With McConnell's blessing, Senate Republicans also worked with Democrats in 2022 to pass the first major gun safety legislation in nearly 30 years, reforms to the Electoral Count Act and a $280 billion China competition bill.
Between the lines: McConnell's evolution can be chalked up in part to the realities of life in the Senate minority, longtime McConnell political adviser Scott Jennings told Axios.
Jennings dismissed the idea that the senator largely operated as an obstructionist a decade ago, and said the Senate's 60-vote threshold for bypassing filibusters has always required cooperation.
McConnell sees protecting the filibuster as a legacy-defining mission; key to his strategy has been showing that the Senate can still be a model of bipartisanship.
Zoom in: McConnell has loudly attributed Republicans' election woes to their failure to recruit quality Senate candidates, indicating that such prospects are being scared off by the chaos in the party.
After the 2022 midterm debacle, McConnell vowed not to let a "diminished" Trump hand-pick Senate candidates, citing the need to win back independents and moderate Republicans. Trump-backed Senate candidates such as Herschel Walker (Georgia) and Mehmet Oz (Pennsylvania) lost races many Republicans deemed winnable.
McConnell's choices for the Senate such as former Arizona Gov. Doug Ducey and New Hampshire Gov. Chris Sununu, meanwhile, chose not to run in 2022.
Sununu, in particular, cited the lack of GOP agenda beyond obstructing Biden until 2024 as the main reason he opted out.
What we're watching: Former Indiana Gov. Mitch Daniels is the latest moderate Republican to weigh a Senate bid. He visited Washington on Wednesday to sniff out whether he wants to risk life in partisan purgatory.
"I'm not the least bit worried, honestly, about losing an election. I'm worried about winning it and regretting it for six years," Daniels told Politico.
What to watch: Democrats could feasibly win the White House, flip the House, and lose the Senate in 2024 because of the GOP's historically favorable Senate map. If McConnell were to emerge as the sole barrier to a Biden second-term agenda, we could see a return of the Grim Reaper.
Go deeper