Democrats' 2023 Trump-country test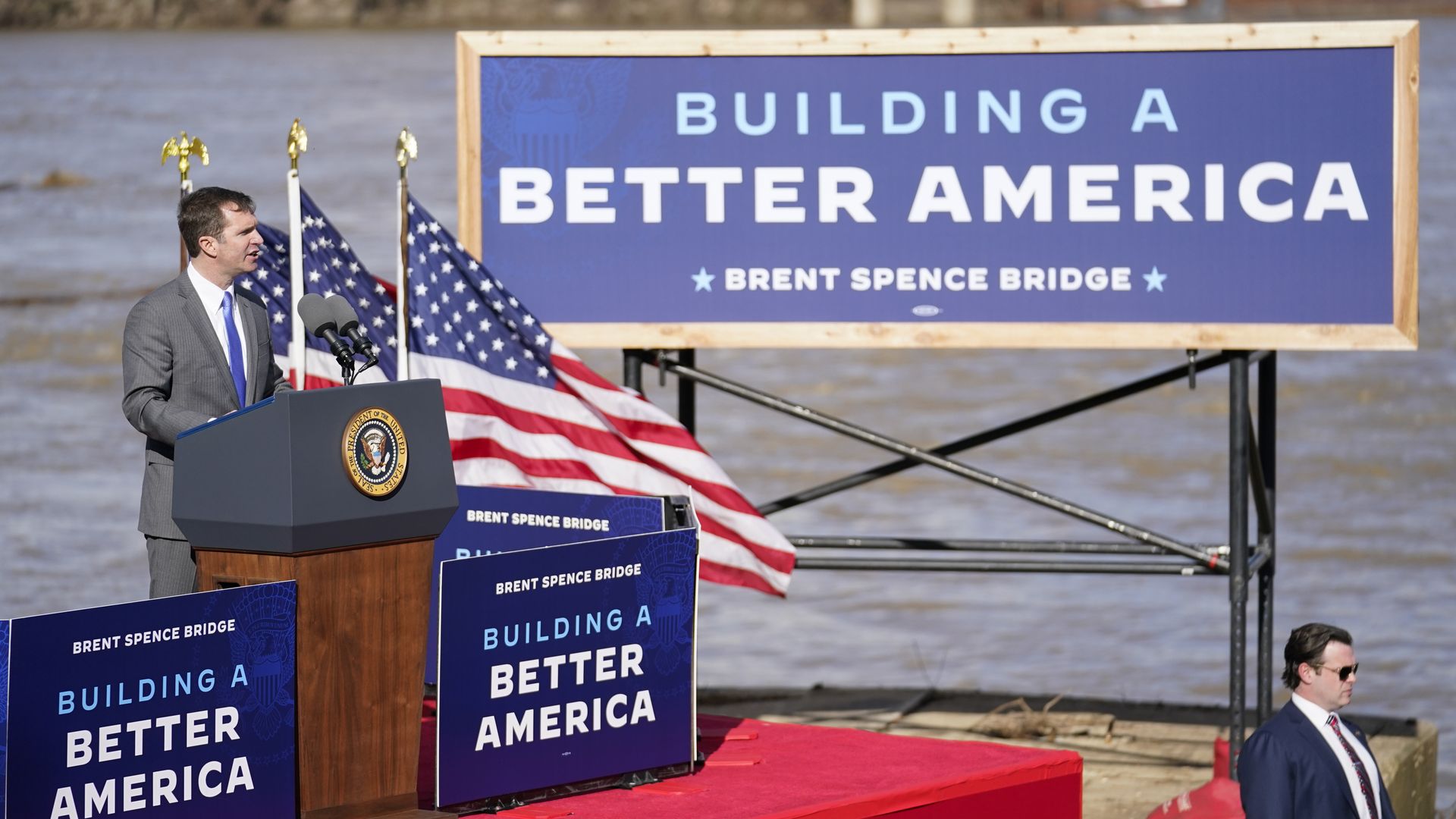 Gov. Andy Beshear's hotly contested re-election in Kentucky is one of three red-state governor's races this year, but the only one with a Democratic incumbent.
Why it matters: Democrats say they have a playbook that's perfect for this moment, after helping Gov. Laura Kelly win in deep-red Kansas for a second time last year. But they concede that abortion might not be the X factor that it was last cycle.
The backdrop: Republicans largely shied away from talking about abortion in the 2022 midterms, which ultimately backfired and helped pro-abortion rights candidates and initiatives win around the country.
Kentucky voters rejected a ballot measure last November that would have changed the state's Constitution to make clear it does not protect the right to abortion, reducing the issue's salience as a campaign message.
Instead, the Democrats' playbook this time focuses heavily on touting bipartisan accomplishments, economic development projects (like a Ford electric battery plant Beshear secured) and speaking to conservative values like family and faith.
Driving the news: President Biden's bipartisan moment in Kentucky last week — standing alongside GOP Minority Leader Sen. Mitch McConnell — is one that has been modeled by Beshear, Democrats say.
Be smart: The GOP's biggest asset is the state's solidly Republican electorate: Former President Trump won Kentucky with 62% of the vote in 2020.
That political makeup means Democrats who want to win statewide must maintain not only a sense of independence from the national party but also a clear willingness to work with Republicans.
A Morning Consult survey conducted last summer showed Beshear is the most popular Democratic governor in the country, with a 59% job approval rating — signaling support from Republican voters.
Even some on the right say Beshear is the front-runner for the general election already — unless Republicans start giving voters a reason to fire him. "He runs around pretending not to be a Democrat. Republicans have to define him before it's too late," one top Kentucky-based GOP strategist told Axios.
The big picture: Democrats have shown that gubernatorial candidates with independent brands can defy the odds in Trump country.
They're drawing on lessons learned from Kelly in Kansas and Pennsylvania Gov. Josh Shapiro in 2022; North Carolina Gov. Roy Cooper in 2020; and Louisiana Gov. John Bel Edwards in 2019 to try to keep Beshear in Kentucky.
Beshear's state of the Commonwealth address this week focused on teacher pay raises while also pushing to legalize sports betting and medical marijuana.
His first term has been dominated by several crises (difficult to make partisan), including the COVID-19 pandemic and devastating flooding and tornadoes that slammed local communities.
The other side: Republicans are facing a contested primary among three candidates: former President Trump's U.N. ambassador Kelly Craft, agriculture commissioner Ryan Quarles and Attorney General Daniel Cameron.
Cameron, the only Black Republican state attorney general, is considered a rising GOP star and won Trump's endorsement early on before returning the favor and backing Trump's 2024 bid.
Senate Minority Leader Mitch McConnell (R-Ky.) has close relationships with the GOP candidates but isn't expected to endorse in the primary.
Craft, who Trump appointed as ambassador, has substantial personal wealth and is already spending money on campaign advertising. And Quarles' farming background is a political asset in a state with a sizable rural electorate.
Go deeper